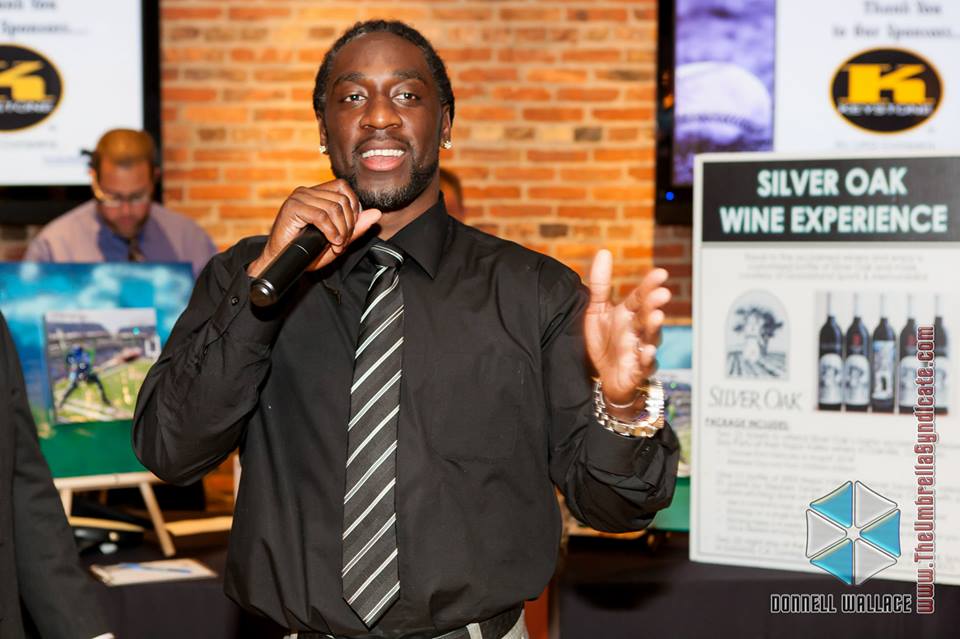 Courtesy of Vibrancy21
Ravens Lardarius Webb, Steve Smith Sr., Justin Tucker, and Brandon Williams will turn in their shoulder pads for aprons when they tackle toiling as servers for a three-course charity dinner at Pazo on Sept. 21 at 7 p.m.
The proceeds from Celebrity Waiter Night, which costs $300 per person, will go to the Lardarius Webb Foundation, an organization that focuses on bettering the lives of underprivileged youth.
In addition to being able to ask Justin Tucker for a water refill, patrons will have a chance to bid on specialty items during the live and silent auctions. Among them: tickets to the Grammys and Country Music Awards and, of course, Ravens memorabilia.
While the Foreman Wolf restaurant group is famous for its top-notch service and staff training, Pazo dining-room manager Kevin Ricker says he's not going to put the teammates through the same paces prior to the event.
"They've done enough training camps for the summer," he says. "Our guests will just be excited to see their faces and interact with them. We have a well-trained staff to handle the details and set them up for success. Whether they want to pour water or run the food, what they want to do will depend on the person."
With players partnered with a Pazo pro, it will be up athletes to define how they want to handle the gig.
"Pazo's waiters and waitresses will still do the food portion, but the players will complement with beer and wine and bread baskets," says Jenna Raglani, COO of Vibrancy21, who is marketing the event. "Justin Tucker is very vibrant. Lardarius is fantastic with fans, and Brandon Williams is a great singer and really funny. It's a pretty good cast of characters."
Even though the players won't have to study the Foreman Wolf employee service handbook, Pazo co-owner Tony Foreman has confidence that the gridiron gang will rise to the challenge.
"Prioritizing the outcome for the team over individual accomplishments is the basic lesson of service we teach," explains Foreman, a former college football player. "Success comes from being able to trust everyone is doing their job—this should be a familiar theme for the Ravens."