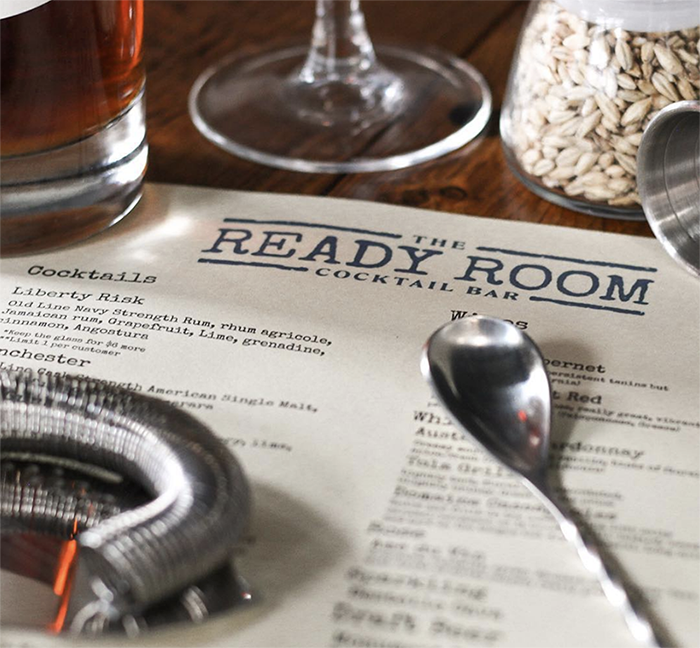 Old Line Spirits
In Naval aviation terms, a ready room is a room on an aircraft carrier where pilots conduct missions and swap stories. Arch Watkins and Mark McLaughlin, co-owners of Old Line Spirits and former Navy pilots, are hoping their bar of the same name can pay homage to that idea.
Opening on June 8, Ready Room will be the first full-service bar to operate out of a distillery in Baltimore City. Inspired by Seacrets in Ocean City, which operates as a bar and distillery thanks to a 2015 bill that created a Class 9 distiller's license, Old Line wanted to create a tavern experience adjacent to its distillery production.
"One of the challenges we've had is that, under our old license, you could do a tour, tasting, and bottles to go. We couldn't do bar service," McLaughlin explains. "It was almost like a museum. You could have a great time and great experience, but there's no reason to come back next month."
The Old Line owners still had to apply for a liquor license in the city, which isn't the easiest of tasks, and were able to piggyback onto a bill in District 46 submitted by Sen. Bill Ferguson and Del. Luke Clippinger. They are hoping this could inspire similar models throughout the city.
"I imagine that this sets a precedent," says Steve Lamb, bar manager at the Ready Room, who helped open Rye on Thames Street. "If this bar is successful and respectful to the community, then others like it can follow this same model."
Lamb and his staff have designed a beverage program loosely based on the Naval theme with a majority of cocktails using Old Line whiskey and rum. The menu will include six cocktails, a section of Port Calls (named after international ports), boilermakers (a shot and a beer), two draft beers, and an approachable wine list. The drafts will rotate, but start out with Monument City and Key Brewing "since they're in the same zip code," he says.
One cocktail they are excited about is called the Liberty Risk, a term describing an officer who is more prone to trouble while visiting a port, which is a take on a zombie made with Old Line Navy Strength Rum, rhum Agricola, Jamaican rum, grapefruit juice, lime juice, grenadine, and bitters.
"The Ready Room is a nod to our heritage and where we came from before we got in this business," McLaughlin says. "But we are trying not to overdue it, so it will just be a subtle nod. The bar is mostly going to be about showcasing our products in delicious cocktails."
The space will be hosting food pop-ups from places like Snake Hill or a catering company started by Tom Hamrick formerly of Modern Cook Shop and Ben Sawyer from Fork & Wrench. Lamb is also excited to feature rotating bartenders on Wednesday nights from places like R. Bar, Sugarvale, and Rye.
Open Wednesday-Saturday, Ready Room will give the community a chance to better experience the distillery's products.
"It's one thing to see Old Line at a shelf at a liquor store. But seeing it presented in cocktails that Steve and his team have put together will be an entirely different experience," McLaughlin said. "We feel like it will be a really nice addition to the neighborhood."