Fancy Feast
Get your food to go and recreate the restaurant experience at home.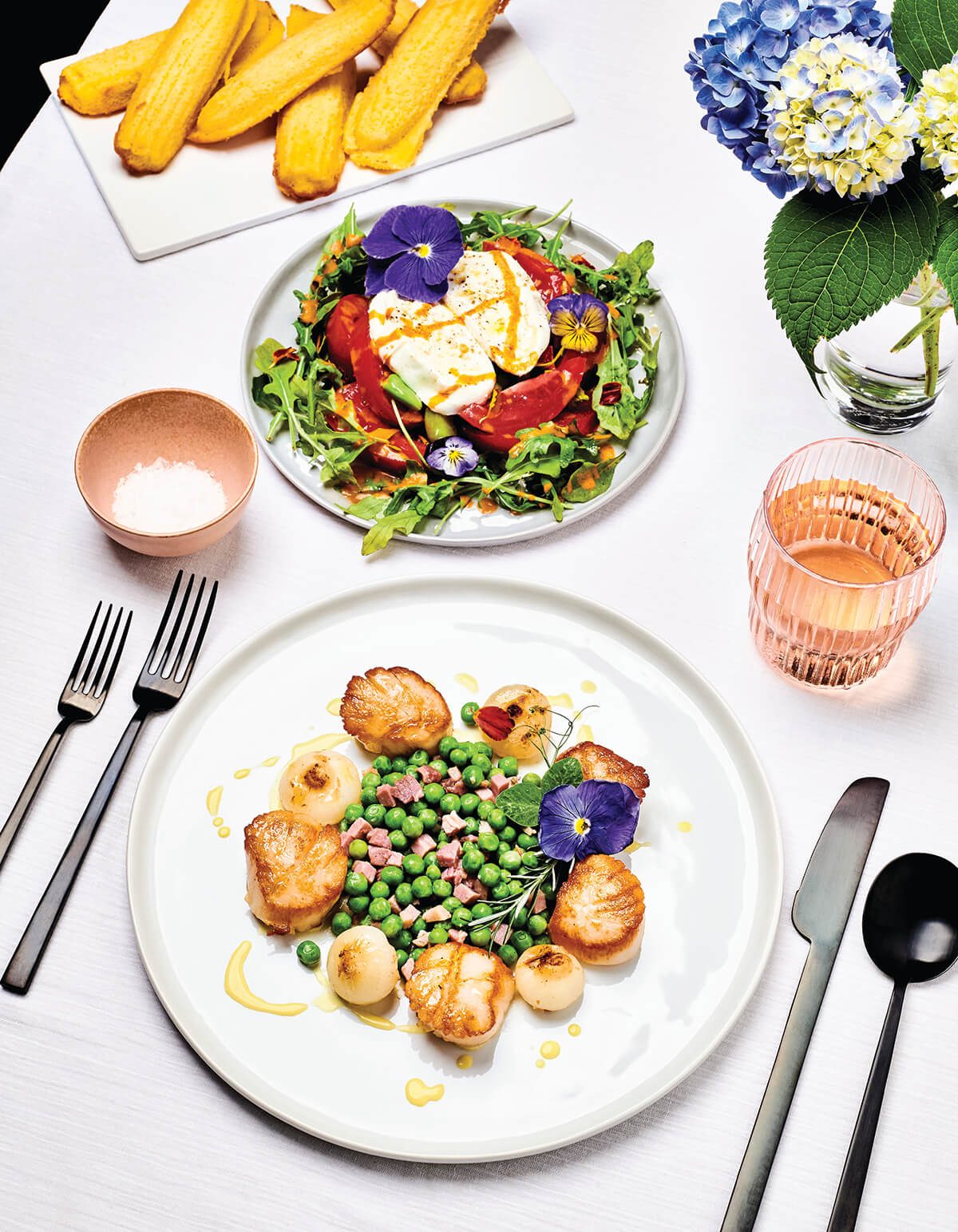 As we've learned over the past few months, dining out is about so much more than just the food. From the décor to the service to the feeling of being indulged, there's nothing like a night out on the town. But as more places pivot their way into a new form of existence, everyone it seems, including spots we never would have expected to brown bag (or box) it, is offering food to go.
From Charleston to Orto to Aldo's Ristorante, fancy food is available for cash (or credit)—and carry (though all are currently open for in-person dining). If you do decide to get carryout with fine-dining leanings, consider making it a festive feast at home.
"I love it when folks do their best to plate up with their best china and really celebrate the table," says Charleston's Cindy Wolf. "Offering takeaway allows us to share what we're doing with more people."
Follow these tips for the perfect backdrop to your fancy feast:
CENTERPIECES: To make a beautiful bouquet and bring a table to life, look no further than your own backyard. Clip wildflowers, get some greenery, or gather fallen tree branches or twigs (and even feathers) to add a more rustic look to your table. Or gather a collection of potted plants to bring in the outdoors and add some flair.
CONVERSATION STARTERS: Give each member of the table a thought-provoking question to get the conversation going. Some sample starters: If you could travel anywhere in the world, where would it be? If you could eat only three foods for the rest of your life, what would they be? (Our picks would include the two dishes, from Charleston, pictured.)
PLACECARDS: Yes, you've likely been staring at the same two
or three people since you began quarantining, but that doesn't mean you should always sit in the same seat. Make it an art project and design pretty placecards to help your table feel both formal and inviting.
DISHES AND GLASSWARE: You've spent a lot on the fare, break out the dishware (and grandma's glass goblets) you never use to make the night feel extra special.
CANDLES: Dim the lights, find some tea lights or tall tapered candles, and your family will literally be glowing all night.
LINENS
AND UTENSILS: Why not use a white tablecloth, if you have one? Invest in patterned napkins in bright colors to give your table personality. Also consider watching a tutorial on the art of napkin folding—it's easier than you think. Skip napkin rings and tie ribbons around your flatware at each place setting. And, if you have it, take out the silver.
MUSIC: The sound of silence is great if you're reading a book or writing a letter. But there's nothing like a little night music to transport you to another place and add to the celebratory mood, whether your tastes tend toward Top 40, classical, jazz, or reggae.