Review: The Rathskeller in Elkridge
Since its rebirth in 2020, the hangout has been serving up some of the most interesting spirits and food in the area.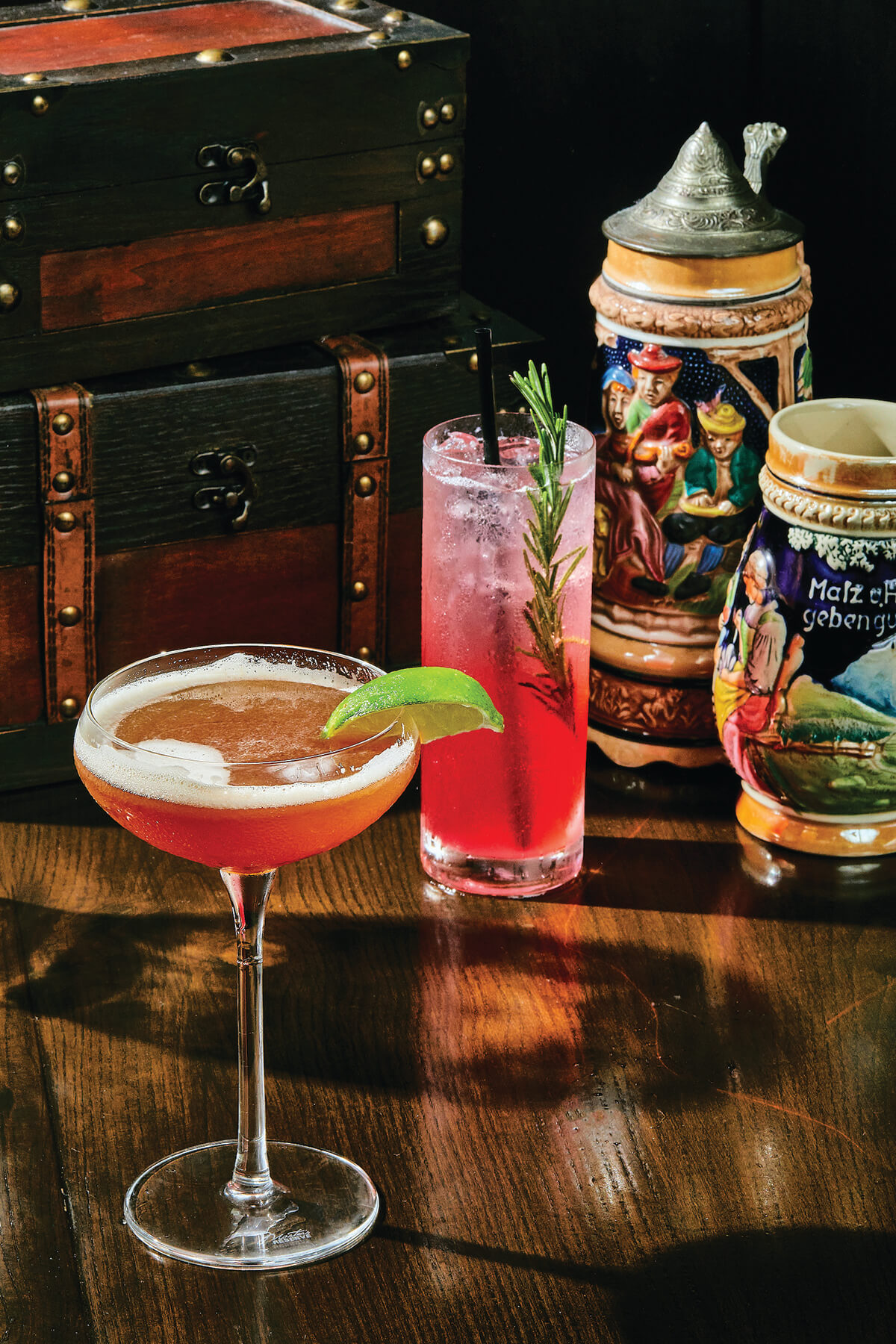 From the outside, the Rathskeller, the German restaurant, bar, and beer garden in Elkridge, doesn't look like any of those things. It's located in a 19th-century residence that used to be the home of a judge, and if you glance at it from the street, you might not know what's inside. Whatever you do, don't overlook it, because since its rebirth in 2020, it's been serving up some of the most interesting spirits and food in the area.
Opened in October 2019 by local businessman John O'Connor, who, despite his surname, is half-German, the establishment changed hands during the pandemic. New owner William Low (since June 2020) simplified the menu while staying true to its German roots. The main bar and dining room are located in the basement. (Thus the name: A Rathskellar is a beer hall in a basement.) An outdoor patio serves as a beer garden and still has the original jail cell that used to hold some of the town's less law-abiding citizens. The menu of classic and modern cocktails, wine, German and local beer, and schnitzels and sausages is available in all sections.
When we visited, the six beers on tap included a German pilsner (Bitburger), an amber (Grevensteiner), an Austrian lager (Ottakringer), and offerings from local breweries Union and Monument. An array of German beers, including märzens, dunkels, and hefeweizens, is available in bottles and can be purchased to-go. The cocktail list is less German, but no less tasty. The Old-Fashioned uses house-blended bitters, and there are several sweeter libations, including a Cucumber Cascade, made with gin, elderflower, and sparkling wine, that hit the right note. Low is particularly proud of his wine list, which features German-inspired varietals from Austria, northern Italy, some regions of France, and of course, Germany.
When he took over in the midst of the pandemic, Low reworked the food menu to make it more takeout-friendly. The extensive selection of schnitzels includes the requisite pork and chicken, but also an eggplant schnitzel and the option of vegan mushroom gravy. The wursts are supplied by the renowned Binkert's in Rosedale, which has provided them to the German Embassy in Washington. The bauernwurst (pork), debreziner (spicy pork), currywurst, bratwurst, and weisswurst (veal) are all available on a pretzel roll with peppers and onions, tomato gravy, and red cabbage.
Don't expect the raucousness of a Munich beer hall. The location near Patapsco State Park means it's a favorite of hikers, bikers, and families. It closes at 8 p.m. on Mondays through Thursdays and there's usually live music on Fridays and Saturdays, when it shutters at nine. But you don't need to stay all night to soak up the genuine German spirit that permeates the place.