Review: The Tilted Row
For a great gathering spot in Bolton Hill, head to The Tilted Row.
For the 20 years I've lived in Baltimore, I've often fantasized about leaving the leafy comforts of the suburbs and moving to beautiful Bolton Hill, with its 19th-century rowhomes and diverse community, from MICA artists to empty-nesters, as well its alluring history as a place that writer F. Scott Fitzgerald, BMA benefactors Claribel and Etta Cone, and former president Woodrow Wilson once called home.
Now, with the opening of The Tilted Row, located on the first floor of the new Jordan Apartments at the corner of McMechen and Jordan streets, once again, I find myself casually considering real estate listings in the 21217.
Whatever your zip code, The Tilted Row, named literally for the titled marble-stepped rowhomes in the historic neighborhood, is worth a visit. Owned by Ziad Maalouf, who also operates the Mediterranean spot Cafe Fili, The Tilted Row is the quintessential gastropub.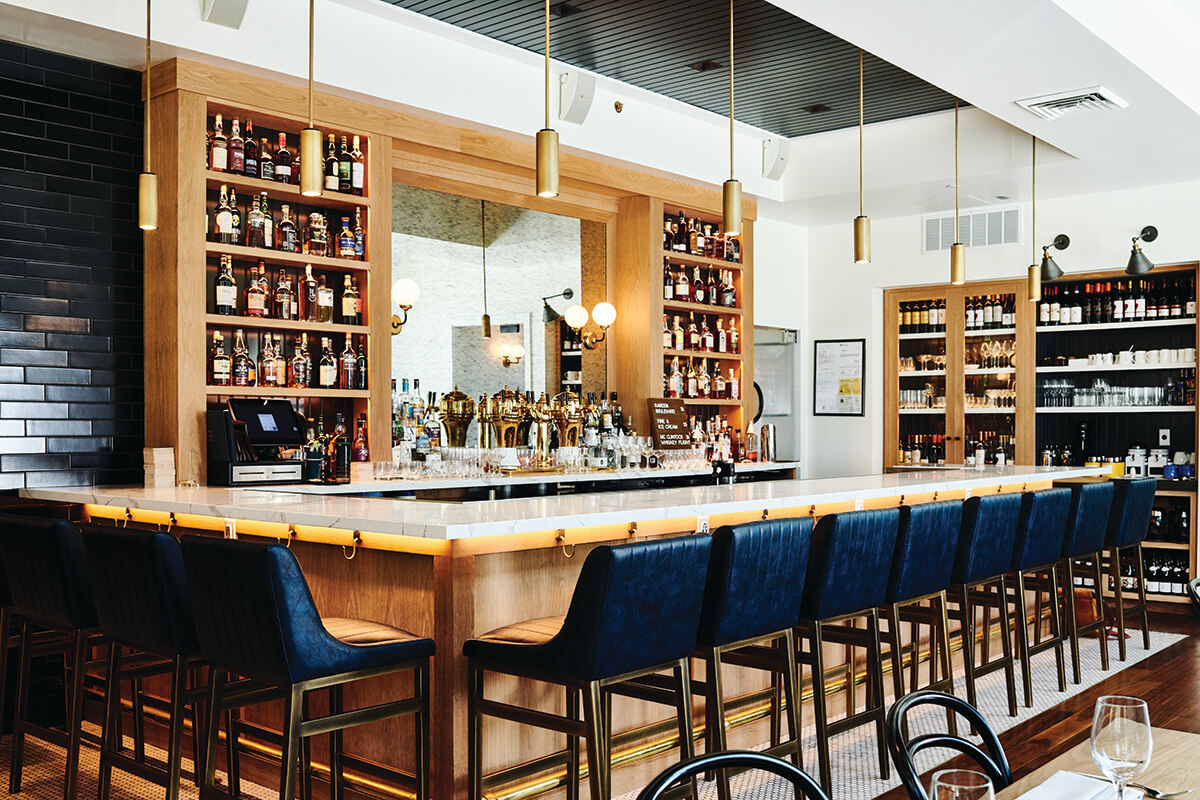 It has all the graces of a fine-dining restaurant—well-prepared fare with high-quality ingredients, inventive drinks, reliable service, a convivial vibe, attractive ambiance, and something for everyone on the menu— but at a price point that tips toward more casual, albeit elevated, dining.
Open for only four months, The Tilted Row has already established a crowd of regulars. Several diners told us that they'd eaten there more than four or five times, an impressive feat for a restaurant still in its freshman season. And after eating there, I can understand why it's a place you'd visit again—and again.
The offerings include about six snacks, as well as five small plates, large plates, and mains, all of which are shareable and well- portioned for the price. There are also Blue- Plate specials such as fried chicken for $20, including dessert. Given that Maalouf is a native of Lebanon, you'll find plenty of Middle Eastern influences on the menu, from the Fili hummus to the Israeli couscous with Baharat (dried rosebuds, cinnamon, black pepper). But chef Andrew Thomas (formerly of The Elephant and Donna's Cross Keys), who can seemingly cook any kind of world cuisine, leaves his stamp on the menu, too, with English pub grub like fish and chips and Southern staples such as shrimp and grits.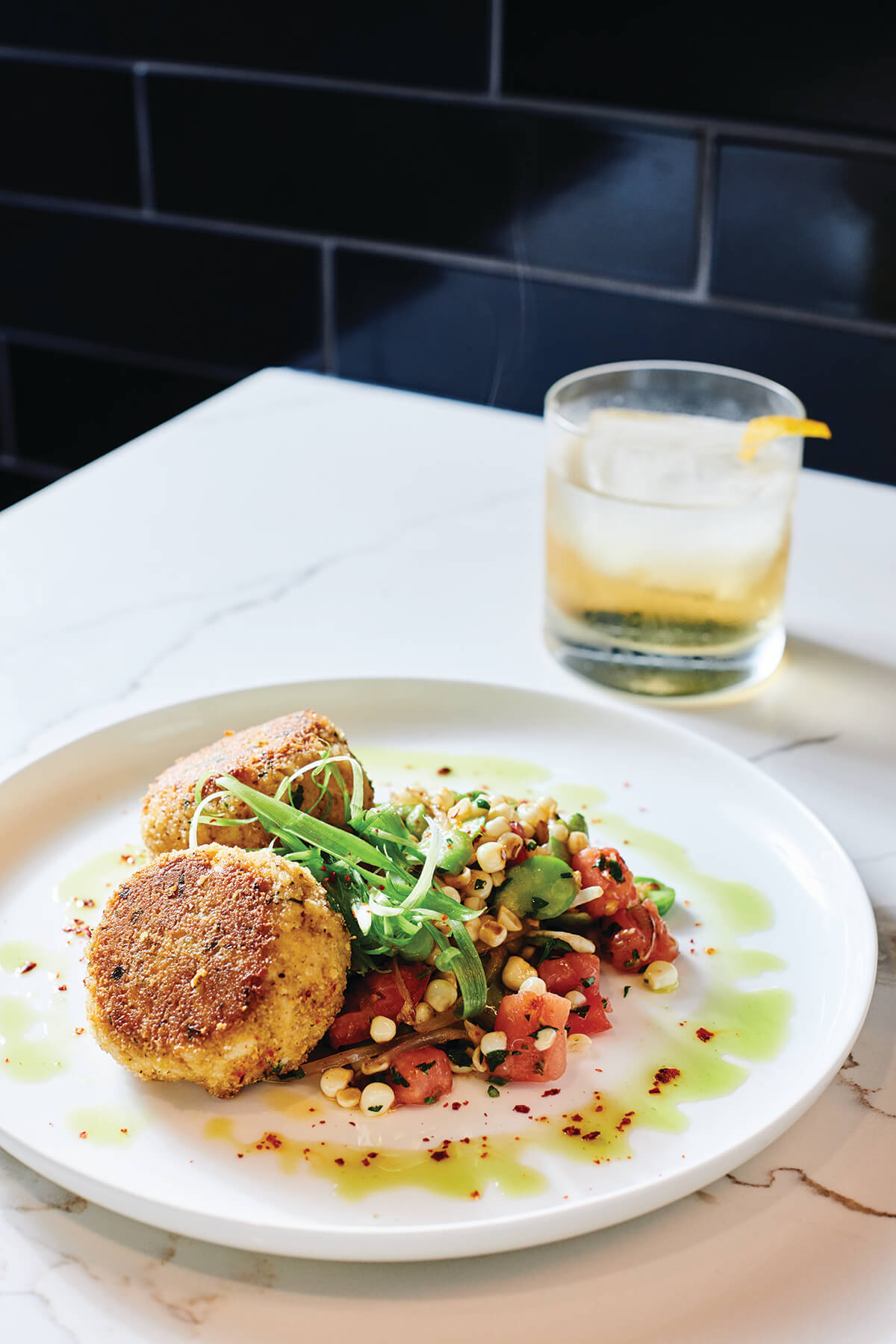 The crab cakes.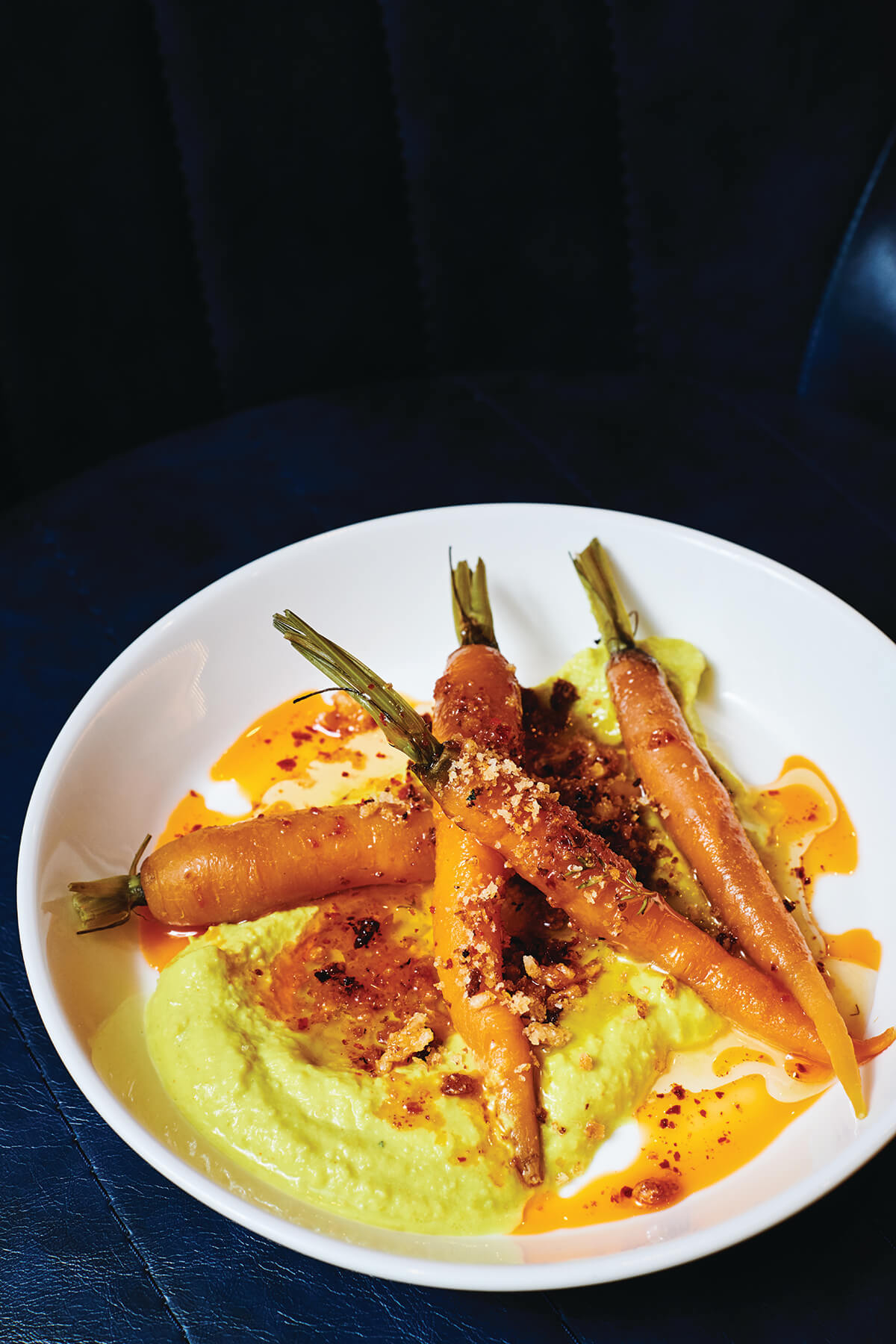 Glazed carrots with fava-bean hummus.
Over several weeks, we sampled much of the menu, from the delectable zucchini fritters with feta cheese and herbs resting in a pool of dill aioli to the must-order Moorish eggplant tapenade served with a dollop of labneh yogurt, spicy harissa, and charred crostini. The glazed carrots with fava-bean hummus and a shower of garlic "streusel" was also a great starter, along with a clever cocktail or two. (We particularly enjoyed the lavender and lemonade with lavender-infused vodka.)
For the larger plates, there are numerous innovative items such as duck fried rice and pappardelle with lamb ragu, but we decided to stick with the basics. It's just my personal M.O.; when visiting a restaurant for the first time, I like to know that the standards are mastered before moving on to the more complicated fare.
Our plan panned out. A broiled hanger steak cooked with local mushrooms, a jalapeño chimichurri, and mashed potatoes with truffle oil was earthy and satisfying. The cast- iron crab cakes baked with breading on the outside were an Eastern Shore interpretation and what Thomas grew up eating. This version served over a bed of succotash—fava beans, corn, and tomatoes—was a delectable farewell to summer.
The litmus test for any gastropub, however, is the burger. And this one is on its way to legendary status. For starters, there's the flashy presentation that makes your mouth water even before the all- important first bite. The sky-high sandwich is served on a wooden board and comes with a knife for cutting. A mountain of duck-fat fries arrives alongside it in a paper cone. And, boy, does it deliver. The burger works in tandem with every element between the squishy, yet sturdy, house-made bun—from the piquant pi- mento cheese to the crisp bacon, pickles, caramelized onions, and a proprietary pub sauce that's reminiscent of Thousand Island dressing.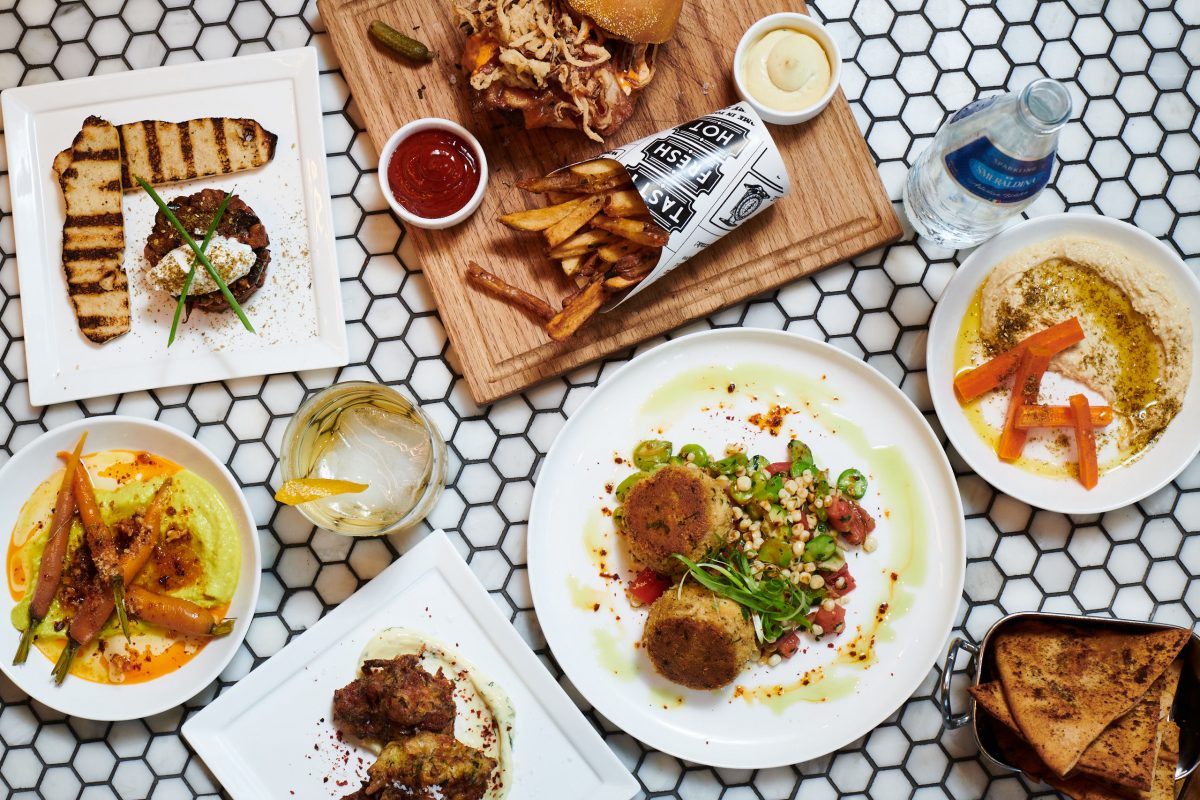 Beyond the food, The Tilted Row shows its neighborhood spirit by engaging with the local community. The drinks menu, with a large selection of local beers and more than 120 local bourbons and malts, features a riff on the orange crush, "The Do-Gooder," with $1 going to those "doing good in our neighborhood," the menu explains.
The idea of community is also driven home when you order the house-made za'atar focaccia, which arrives—uncut—in a pan. It's a reminder, says our server, to "break bread with our neighbors." As my husband and I tugged at different ends of the lovely loaf, I found myself feeling gratitude, while also getting a little misty.
Eating out can be arduous at times—the food can be overpriced, the service sometimes stinks, and one is left with the sinking feeling that it might have been better to stay home. Not so at The Tilted Row, where I left feeling content and sated. On one visit, where we dined at the marble bar, our bartender, Hannah Baker, poured me a small sip of Pinot Noir. "I want to make sure that you love it," she said. And I did. "I wonder if there are any vacancies at The Jordan Apartments," I whispered to my husband as I took my last sip.
---

THE TILTED ROW 305 McMechen St.443-552-1594. HOURS: Mon.-Thurs. 4-10 p.m.; Fri. 4-11 p.m.; Sat. 10 a.m.-11 p.m.; Sun. 10 a.m.- 10 p.m. PRICES: Snacks and small plates: $6-16; large plates: $17-20; mains: $22-28. AMBIANCE: Sleek pub.