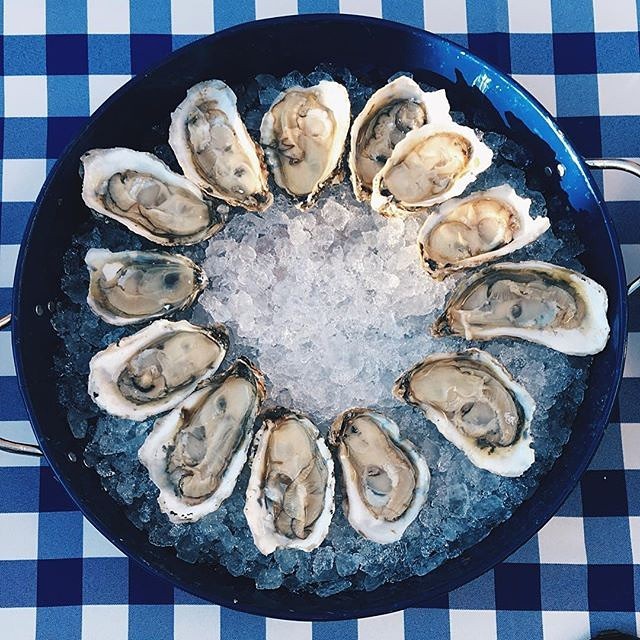 Photograph by Julie Qui of In a Half Shell.
The seventh annual Oysterfest, sponsored by Ryleigh's Oyster, returns to Federal Hill from October 9-13 with bushels of family-friendly fun.
Cross Street will close down on Saturday, October 12, and Sunday,
October 13, to allow visitors to check out vendors, ranging from artists
and watermen to restaurants and community organizations.
The event features buck-a-shuck oysters from as many as 20 oyster
farms, live musical acts, and more. The pearl of the festivities is the
dress-to-impress Moet Oyster Ball on Wednesday, October 9. Tickets
are $65. Attendees will enjoy unlimited Moet Imperial Champagne, an
open bar, hors d'oeuvres, and a raw bar with more than 15 varieties of
the bivalves.
The crème de la crème of the briny bash is the third annual Baltimore
Oyster Shucking Championship at 5 p.m. on Saturday at the Cross Street
stage in front of Ryleigh's. Aficionados and amateurs alike can enter to
win cash prizes and a paid sponsorship to the National Oyster Shucking
Championship in St. Mary's County. Defending champion George "Hannibal"
Hastings will shuck again to uphold his title since the competition's
start in 2011. Mayor Stephanie Rawlings Blake will officiate at the
ceremonies.
Proceeds raised throughout the celebrations will be donated to the
Oyster Recovery Partnership and The Living Classrooms Foundation
shipboard department, both local nonprofit organizations.
Whether you have a palate for oysters or not, come out for a taste of marine merriment.
—Danielle Moore