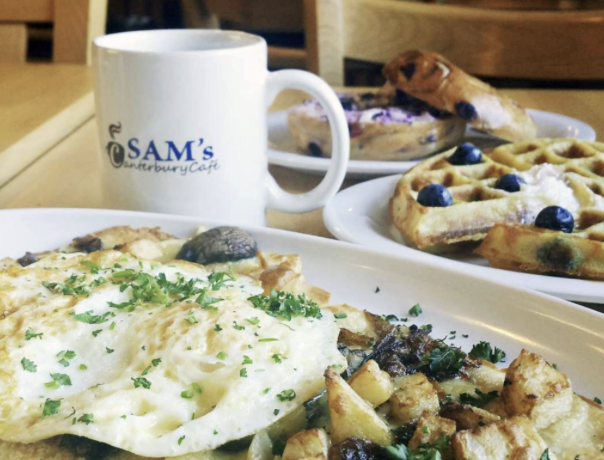 Photography by Julie M. Kichline
When husband-and-wife owners Michael and Jennifer Myers first took their 25-year-old son, Sam, to visit their new cafe in the Tuscany-Canterbury neighborhood, he was hesitant about embracing the family's new venture.   
"He refused to walk in the door," Jennifer recalls. "But now, we've gone from that very reluctant young adult to someone who enjoys every job that he is given, from rolling silverware to stocking shelves. He takes full ownership of it."
Adds Michael: "He loves the people. He likes to greet the guests and say, 'I'm Sam, welcome to my cafe.'"
Last spring, the couple debuted Sam's Canterbury Cafe as an outlet for Sam, who is on the autism spectrum, to express his interest in the hospitality industry. In the year since, the eatery has not only established itself as an inviting hub for locals to stop in for lunch or a cup of coffee, but also as a business that provides meaningful employment for other adults living with Autism Spectrum Disorder (ASD).
"By far, the best and most rewarding part has been seeing Sam and other adults on the spectrum learn," Michael says. "It's so great to see them become more willing to try new things, and more confident and happy in their friendships."
Though Michael and Jennifer—a family investment manager and preschool teacher, respectively—had never worked in the restaurant realm before, they saw the cafe as a place for Sam to thrive professionally. With the help of local employment provider Itineris, Sam had previously tried his hand at working with computers on the Towson University campus, but he and his parents sensed that the environment wasn't the right fit.
"Even though he liked computers, he didn't like the routine nature of being in the computer lab," Jennifer says. "He also didn't like the lack of social interaction. But he did love the cafeteria."
With that interest in mind, the couple began looking for a space to launch their own eatery in 2016. After a nine-month search, they eventually came across the former home of Chocolatea on Canterbury Road, which Michael says was an ideal residential area.
"We saw some great locations from a business perspective," he says. "But we really wanted a real neighborhood kind of place that was going to have lots of regulars. That was going to be the environment that would be great for Sam, and also for the community."
The owners, along with opening general manager Elli Straus, transformed the space into an inviting cafe serving all-day breakfast sandwiches, seasonal salads and soups, deli wraps, and savory flatbreads, as well as a full barista menu. Straus was mindful about designing the interior, which boasts local artwork, minimal patterns, and earthy tones that are specifically soothing for those with ASD.
To officially celebrate the one-year milestone, which happens to overlap with National Autism Awareness Month in April, the Myers family is offering a slew of specials promoting the cafe's mission. The entire staff will be wearing blue (the official color of autism awareness) throughout the month, as well as offering blueberry bagels, muffins, pancakes, waffles, and a special bleu cheese salad to support the cause. A percentage of proceeds throughout April will be donated to the Baltimore-based Itineris Foundation.  
The owners are also hosting a customer-appreciation open house on Saturday, April 28 from 3-6 p.m., featuring complimentary beverages, light fare, and a tasting of Zeke's Coffee.
Reflecting back on their first year, the owners say that the positive feedback from the community is what has meant the most to them.
"I keep thinking to myself, 'Did we really open a cafe?'" Jennifer says with a laugh. "It's a labor of love, for Sam and other adults on the spectrum, and also our love of Baltimore."