Cake Boss
Smith Island Baking Company carries on the legacy of a multilayered source of Maryland pride.
CROSS THE BAY BRIDGE onto the Eastern Shore, and you'll likely see signs for Smith Island cake at nearly every seafood shack and produce stand that dots the string of tiny towns on the 115-mile drive down to the tip of the peninsula in Crisfield. Every person has their own riff on the iconic layer cake, but here, in Crisfield, the Smith Island Baking Company is the only bakery that bears the name of the 400-year-old remote fishing village located just over the Tangier Sound, and whose fame over the last 11 years has led to the shipping of cakes across the country.
Prior to the COVID crisis, theirs was the Smith Island cake you could eat at Nordstrom's café, the Silver Diner, Harris Teeter, McCormick & Schmick's Seafood & Steaks, and Oriole Park at Camden Yards. And devotees can be found way beyond the bay.
"I'll never forget, I got a call from a guy in Beverly Hills on a Friday afternoon," says the baking company's founder Brian Murphy. "He said, 'My wife is going to kill me. She wanted a Smith Island cake for her birthday and her birthday is tomorrow.' By Saturday, he had one of our cakes." Coincidentally, on that same Friday afternoon, a customer "wanted a Smith Island cake while elk hunting in Idaho," recalls Murphy. "I sent a cake there, too."
"We ship to a lot of names you'd recognize," adds Murphy. "The highest people in government, the most famous athletes and actors you've heard of—at the end of the day, they just want a great cake."
Not bad for a regional specialty that's long kept a low profile in Eastern Shore church basements but is now widely known beyond the mid-Atlantic. That's in large part thanks to the bakery, which baked its first cake on Smith Island on June 24, 2009, before relocating to the mainland of Crisfield seven years later. Today, "let them eat cake" is the actual business motto.
FOR CENTURIES, THE CAKES HAVE BEEN A SYMBOL OF CELEBRATION, FELLOWSHIP, AND COMMUNITY.
While working as a commodities trader for Constellation Energy, Murphy enrolled in an M.B.A. program at the University of Pennsylvania's Wharton School of Business to further his career. When his department was eliminated, the father of seven knew that he wanted to start his own business. He considered going into textiles or lumber, but on his mother's birthday on February 8, 2009, he found his true calling. "We were eating a Smith Island cake," he says. "I grew up on the Eastern Shore but had never had one before."
The slice of signature Maryland cake—slathered with fudge between every ultra-thin, buttery layer—was a gustatory revelation. And Murphy was surprised to learn that the namesake island, where it's believed that oystermen's wives concocted towering treats to fortify their seafaring husbands during the fall oyster harvest, never had its own official bakery to produce the famed cakes deemed the state dessert in 2008.
For centuries, the cakes—whipped up in home kitchens—have stood as a symbol of celebration, fellowship, and community. "After I ate my mother's cake, I took a ferry to Smith Island and met with Mary Ada Marshall," says Murphy, "the patroness of Smith Island cakes and the person who spearheaded the idea of making it the state dessert."
Murphy spoke with Marshall about his idea of opening a bakery on the island, a small, remote speck on the Chesapeake Bay just above the Virginia line with no local government, no traffic lights, no grocery stores, and several churches.
"At the end of our conversation, she prayed for me," he says, smiling at the memory. "I said to her, 'You prayed for me,'" he recounts. "And she said, 'Honey, you can't live in the middle of the Chesapeake Bay and not pray.'" So, with the blessing of Marshall and her cohort of "cake ladies," Murphy opened the Smith Island Baking Company, employing a small staff of locals in a place where employment can be hard to find.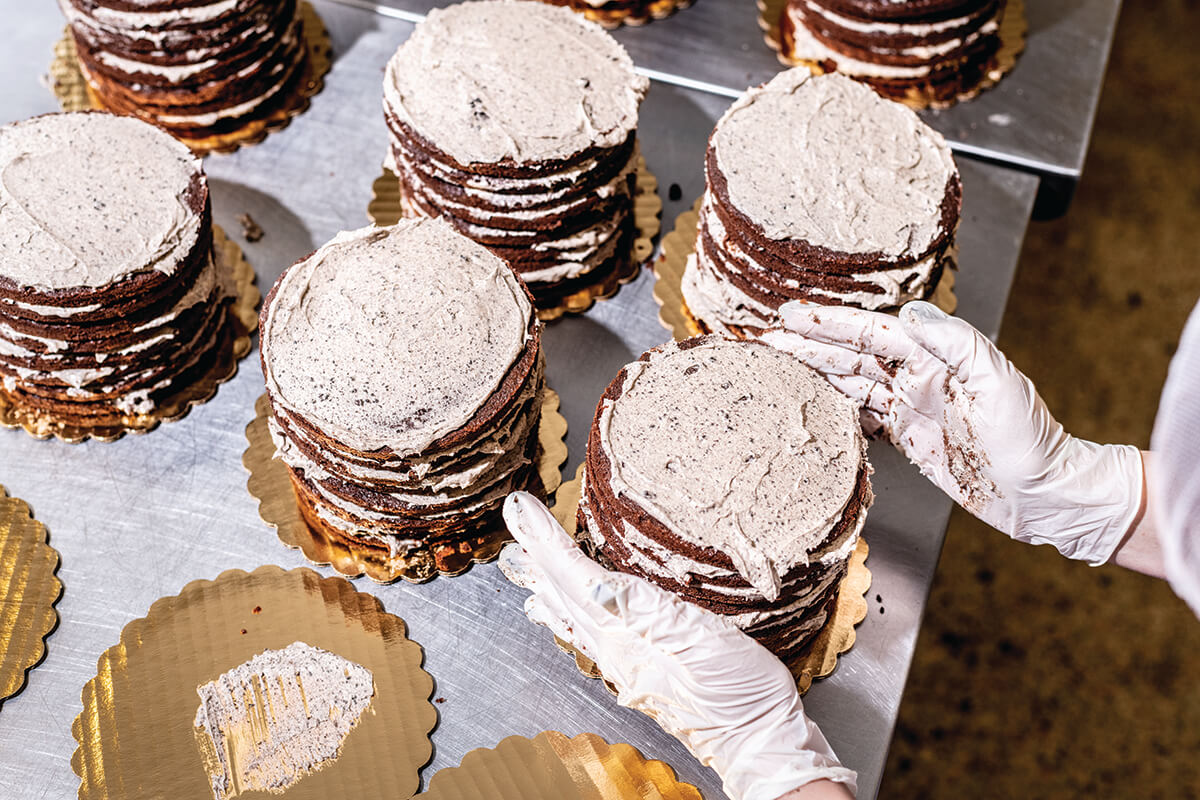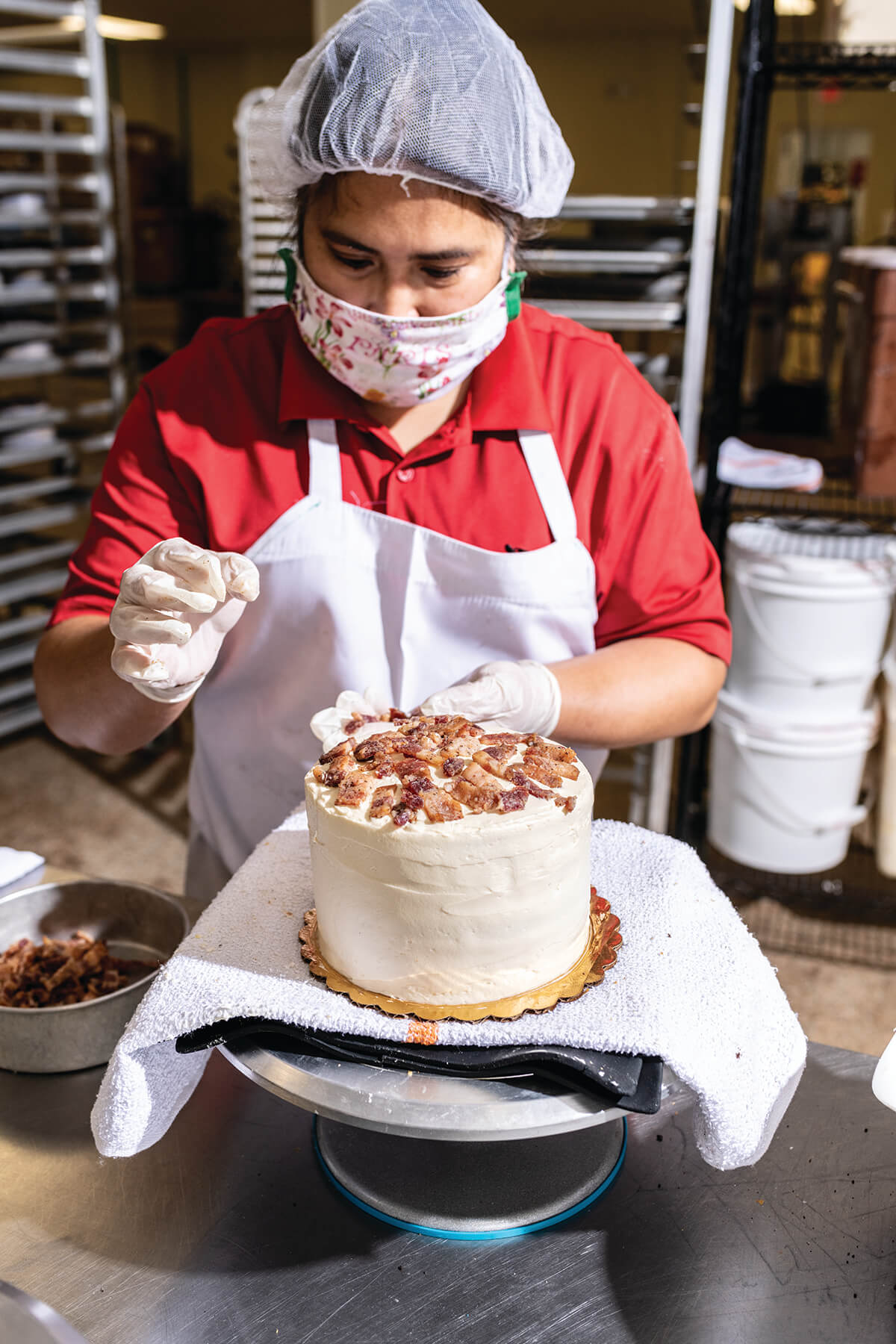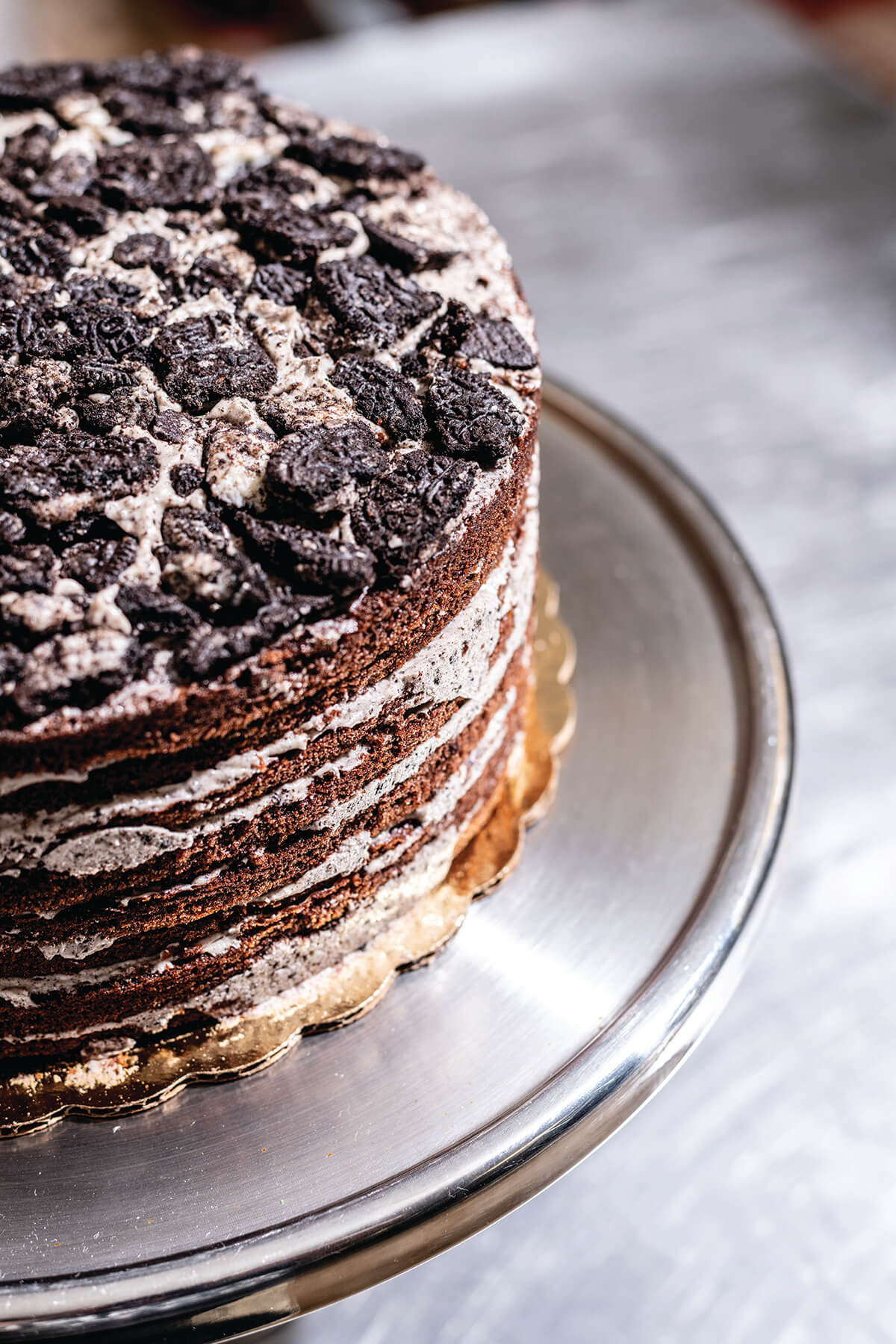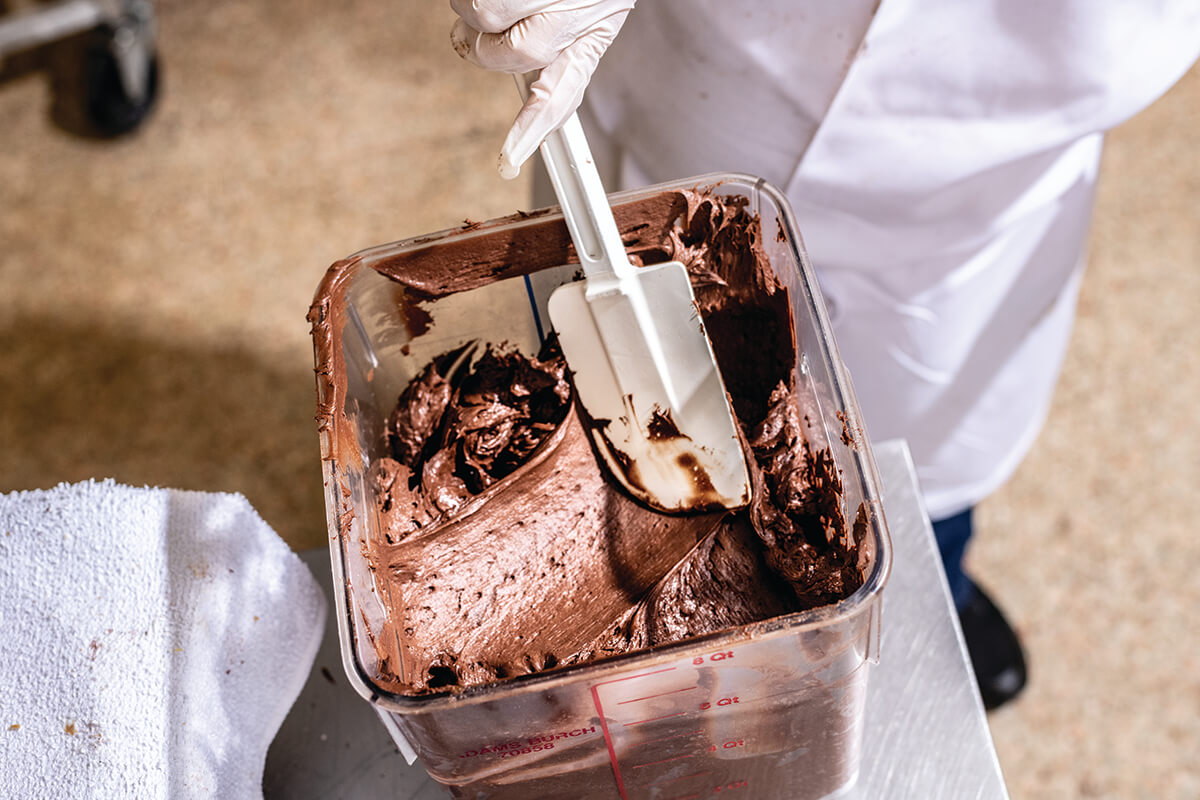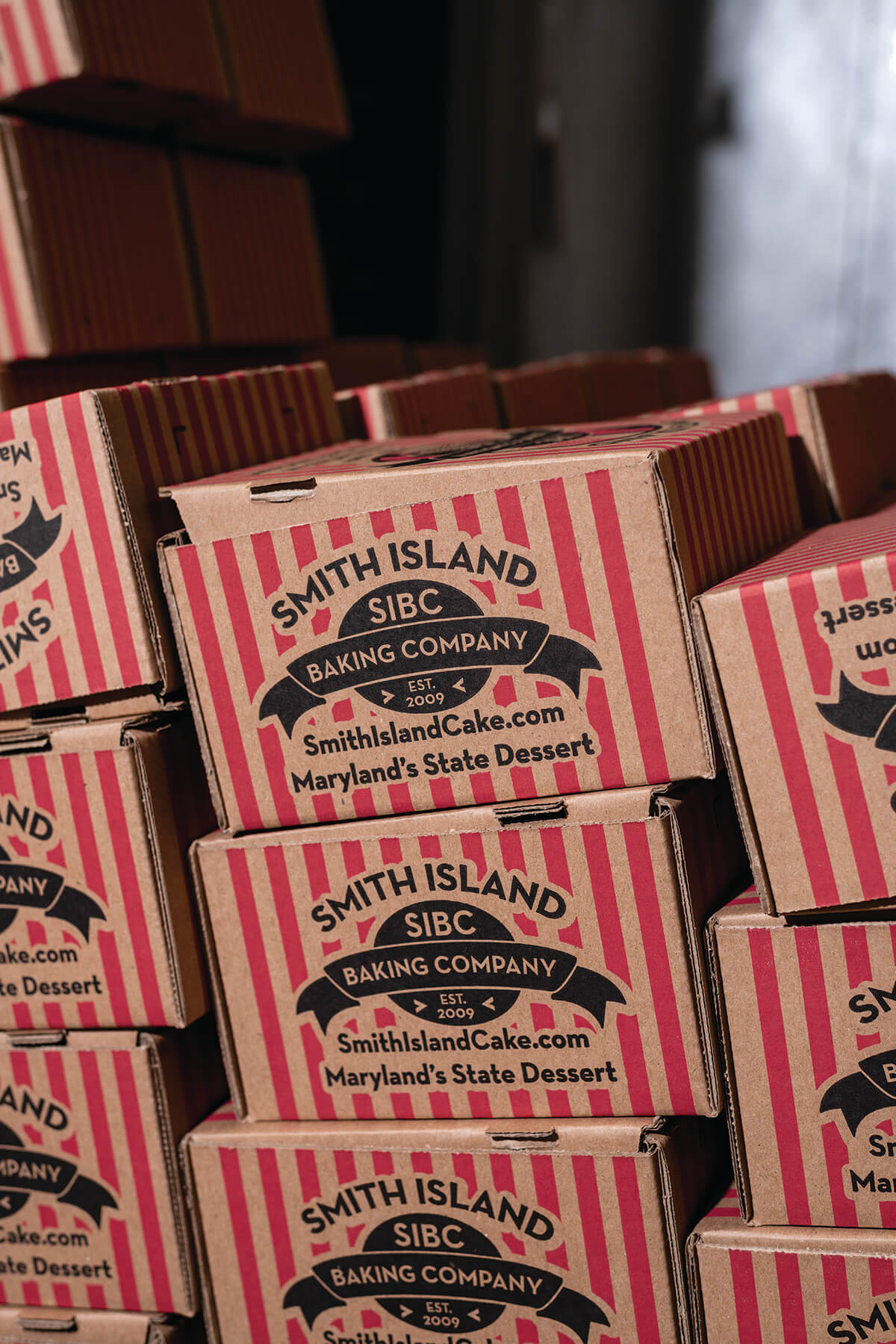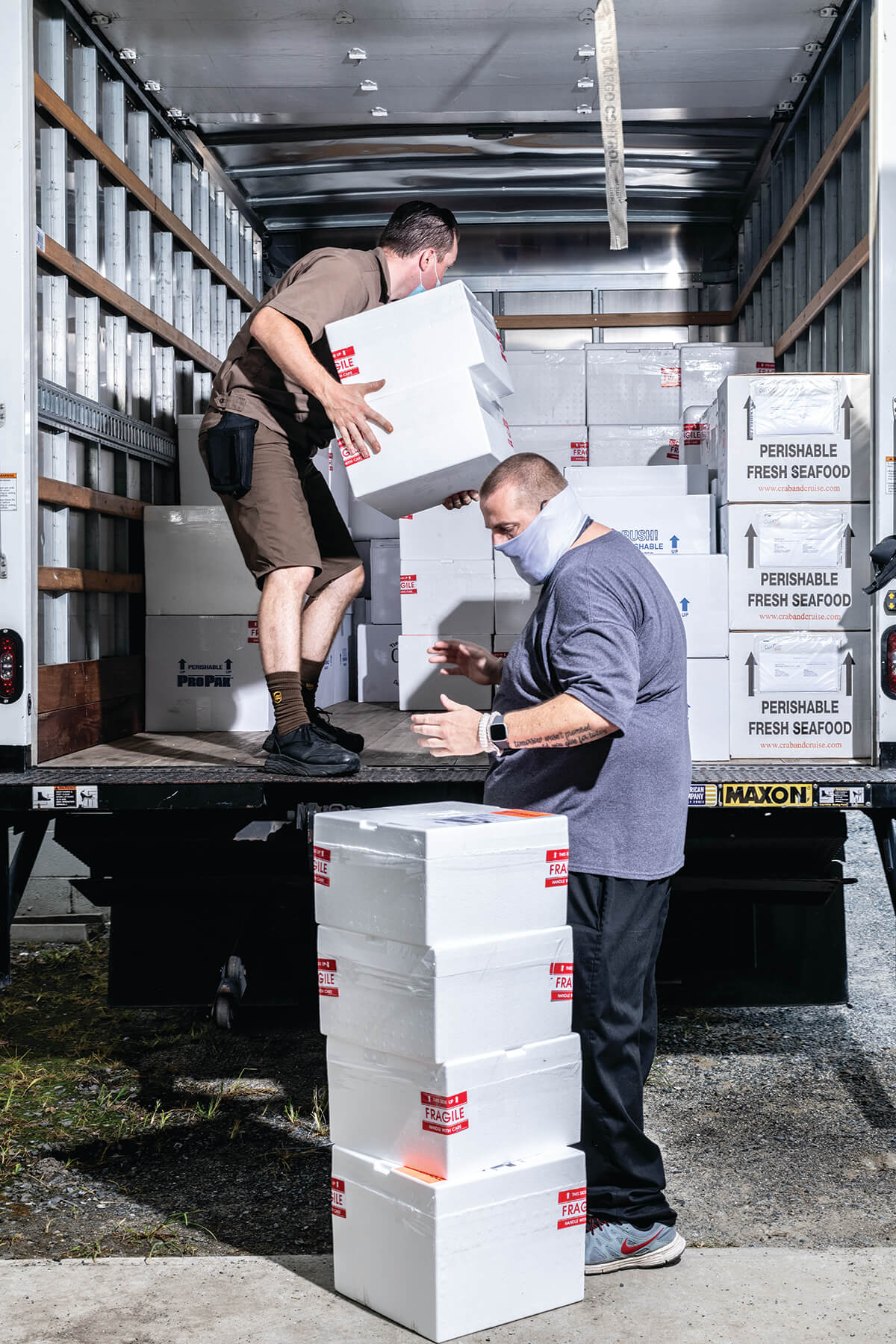 Murphy himself, 43, is an Eastern Shore native, a former soccer player at University of Maryland, and a born businessman. He speaks in slogans, wears a wide smile—and the company baseball cap stitched with the bakery's logo. He's also fond of cracking corny jokes and calls himself "a spreadsheet cowboy," which is an important skill, when it comes to counting cakes or sacks of flour, without a pencil or pad of paper. "Baking is a math problem," he likes to point out.
Sure, he's not one of the old country hair-netted ladies one envisions working behind the scenes of this pastoral cake shop—in fact, his executive chef is 26-year-old Garrett Lee—but the Wharton grad can be credited with bringing this iconic cake out of obscurity and sharing its deliciousness far and wide.
"It's an honor to make these cakes and carry on the tradition," says Lee, who as an Eastern Shore native, is well aware of the legacy.
"WE MAKE THESE CAKES AS CLOSE TO SMITH ISLAND AS WE CAN WITHOUT GETTING WET."
In its first month on the island, the bakery made $248.50 in revenue. ("I bought a couple of cakes to pad the numbers," Murphy says laughing.) "We shipped cakes at ambient temperature through the U.S. Postal Service," he recalls. But within six months, thanks to a story in The Washington Post, the bakery went from selling a few cakes a week to nearby locales to sending cakes to all 50 states, 2,500 cities, and seven countries.
In 2016, as the business grew, Murphy decided to relocate the bakery to the mainland, a stone's throw from the city dock of Crisfield. Though the idea to open a bakery on the actual namesake island was a novel one, there were issues, too. The ferry left just once a day for the mainland and power was frequently lost, which meant that ingredients and frozen cakes had to be tossed and Murphy had constant concerns about food safety.
Shipping was often an issue, too. "You can't run Jiffy Lube if you can't change the oil," says Murphy. "Each cake weighs five pounds. We were shipping 5,000 to 7,000 pounds of ingredients a month to the island, and then we'd send the cakes back and they'd get damaged on the ferry or melt in the coolers on the dock." Ultimately, says Murphy, the business on Smith Island wasn't sustainable, especially with the threat of constant flooding due to climate change.
"It got to the point where I realized that to grow the company, we had to leave the island," he says. "But we still make these cakes as close to Smith Island as you can without getting wet."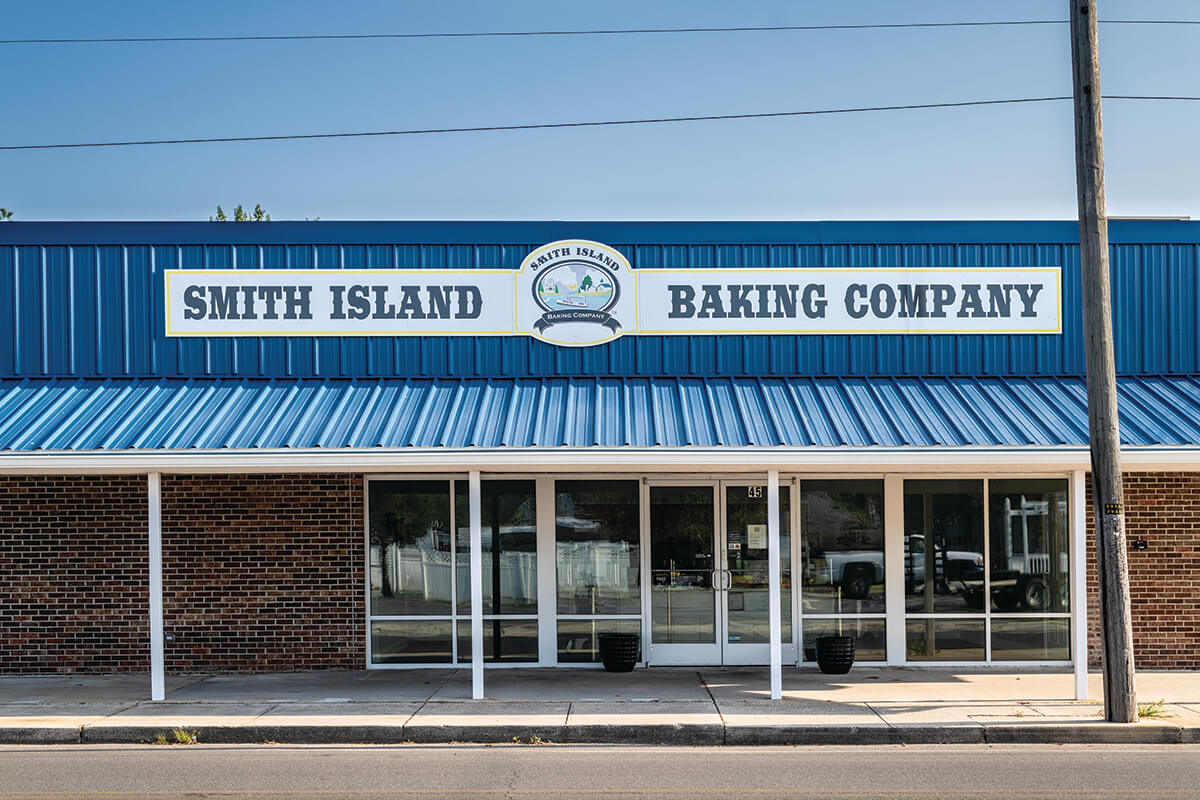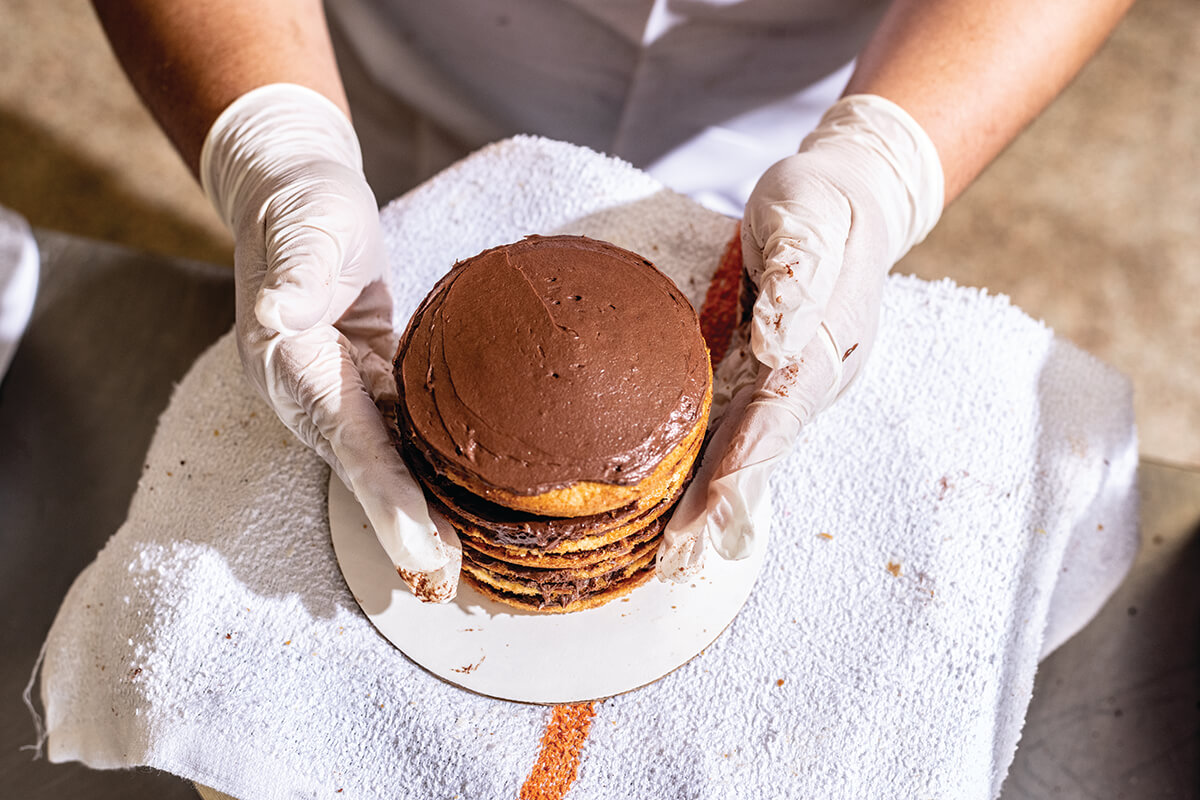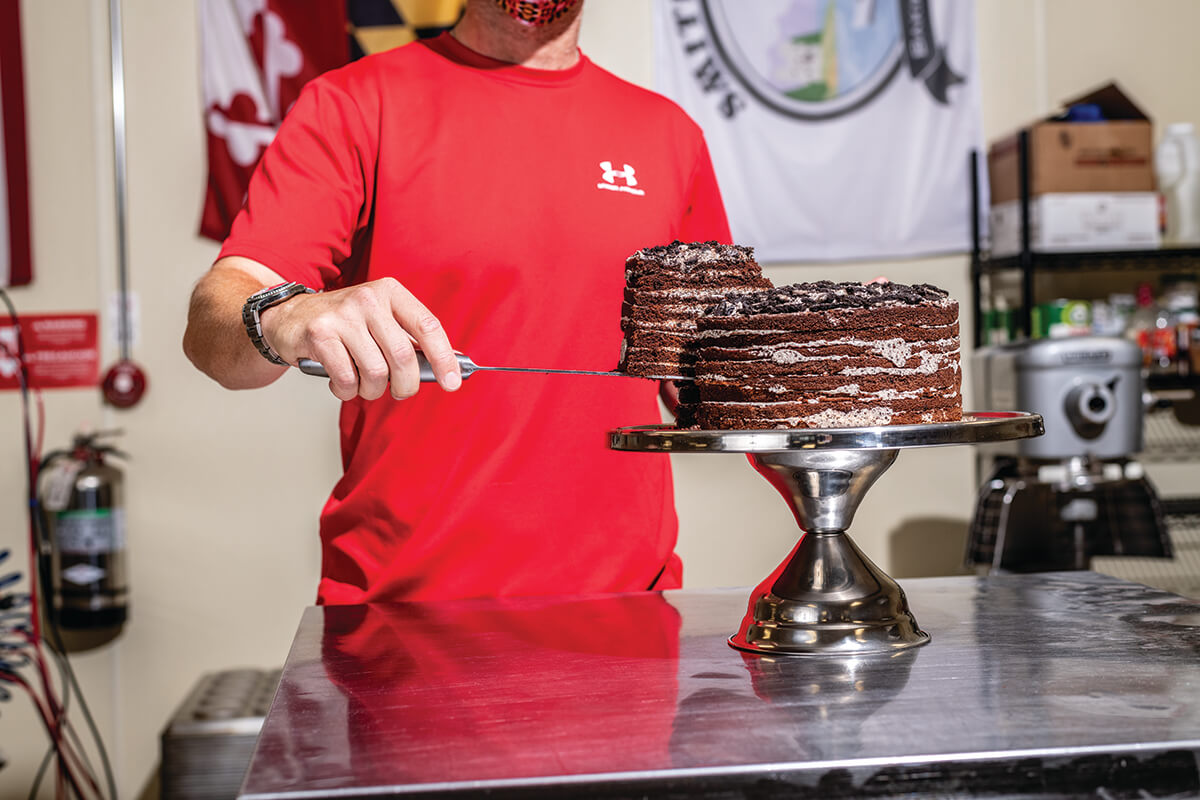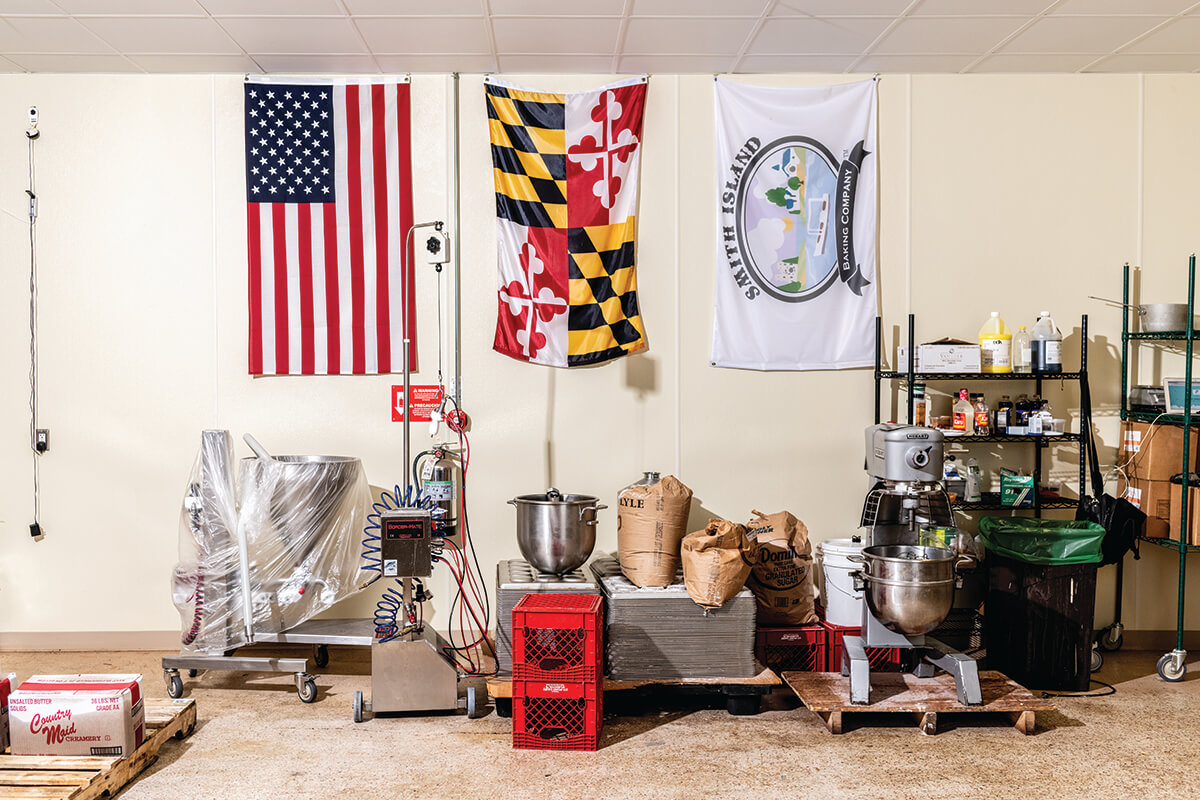 Now, at his brick-and-mortar bakery in Crisfield, a timeworn town located in Somerset County just 10 miles from Smith Island by boat (and that bills itself as "The Crab Capital of the World"), Murphy, who commutes most days from his home in Easton, ships some 40,000 cakes a year, while also proudly disseminating the lure and the love of the bakery's story. "When people hear about a Wharton M.B.A. who started a bakery on a tiny island, they order out of morbid curiosity," says Murphy. "And then they eat it and go, 'That's the best cake I've ever had.'"
Although he recently learned that many of the men in his family were bakers, Murphy showed no interest in the art form until he opened his own bakery. Now, he's incredibly proud of his product. "I don't know how to make a better cake and the reason I know this is, if I did, we'd be making them," he says. "If it were any moister, it wouldn't come out of the pan. If there was any more leavening, it would have holes in it. This is literally the best cake I know how to make." While most mass-produced baked goods are made by machines from mixes, Murphy's cake are still made from scratch—and mostly by hand with the help of his staff of 10.
Ironically, Murphy says that when mixes came into favor in the early 1930s, the "ladies of Smith Island" concocted their confections straight from the back of a Betty Crocker box. "They used a box mix with a little doctoring up, and they're very proud of that," he says. "But I went to Smith Island and said, 'You can't say that this is a historic recipe and then use a box mix.' I encouraged them to think of how their grandmother's 'made it from the stump,' as they like to say. Their eyes lit up. I said, 'Let's take a step back and reinvent the entire platform.'"
"WE ARE THE IMPERFECT CUSTODIANS OF A MARYLAND TREASURE."
Of course, the cake's history dates back to a time long before there were mixes—or even ovens. "Back in the 1800s, they'd make them from scratch, probably in a skillet over a fire—they didn't have ovens back then," says Murphy. "How many layers they made is up for debate. Some say they made layers because it looked beautiful that way, others say it was a contest. They made this fudge frosting that supposedly lasted for months— and that's the story—but how long does dairy at room temperature last?" Even if the cake's origin story is an old wives' tale, he says, "It's a beautiful romance."
Because of this variation in recipes, when it came to creating their own recipe, the bakery's staff suggested having the local women bring in cakes and the employees would judge which was best. "I said, 'I know I'm no expert on anything but that will be the best way to make these women hate each other forever,'" jokes Murphy. "'Let's just start from scratch.'"
Over many months, he and his team settled on their own version, as well as new flavors, such as chocolate peanut butter, strawberry banana, and red velvet. "We tweaked the recipe over time," he says. "At first, we had too many dry ingredients, it was more like a pancake, and it's become more moist and lighter over time. I can't add more leavening, because then the cake will pop. If I add less, it won't rise. If I change my acids and bases, it won't have the same color," he goes on, sounding more like a chemist than a baker. And all that perfection comes at a price. The cakes are $60 for a 5-pound one and $45 for a 2-pound one (plus tax and shipping).
Against the backdrop of a white board that keeps track of the time, the production process (today is a light day with 92 mini "picnic" cakes and 68 larger cakes), the goals, and inspirational posters like one that says, "Bake like a champion," Murphy's team cranks out cakes from roughly 8:30 a.m. to 4:30 p.m., five days a week.
"No one person makes a cake," Murphy points out. Rather, it's a multi-faceted assembly line from the bakery floor inside the 13,000-square-foot former grocery store space that was abandoned for years after Hurricane Sandy. Filling 53 dumpsters, Murphy brought it back to life after a year. Today, the spick and span space, with state-of-the-art ovens, gargantuan walk-in freezers, and a labeling/shipping area, is a model of efficiency that makes it possible to ship several thousand cakes a month. While restaurant revenue and catering orders are way down, the bakery has seen a large uptick in online sales during the COVID crisis.
The making of the cake is a fairly simple process that entails mixing massive amounts of batter—a blend of sugar, flour, vanilla, and a pinch of salt, plus eggs and milk and butter (from local dairies)—then piping it into a machine known as The Depositor. The batter gets poured through what looks like a garden hose into a funnel while a baker directs the batter into cake tins. Next, the pancake-thin layers are baked for 13 minutes, then removed from their pans, where a machine plops icing on top. An employee helps spread the icing, while another stacks each layer until there are eight layers and another baker ices the top and sides of three-and-a-half inch cake with the help of a "top and side machine."
Eventually, the whole creation is loaded into a freezer where it will later be shipped with a label that bears an image of the Maryland state flag. "I think we've come up with the optimized cake and it's taken us 11 years of mea culpas," says Murphy, who continues to tweak the recipe every year. "We are the imperfect custodians of a Maryland treasure, but despite our imperfections, we want to make it as perfect as we can."
Murphy disappears through a door in the small storefront and heads back to bake, no doubt dreaming of new ways to spread this slice of Maryland history.