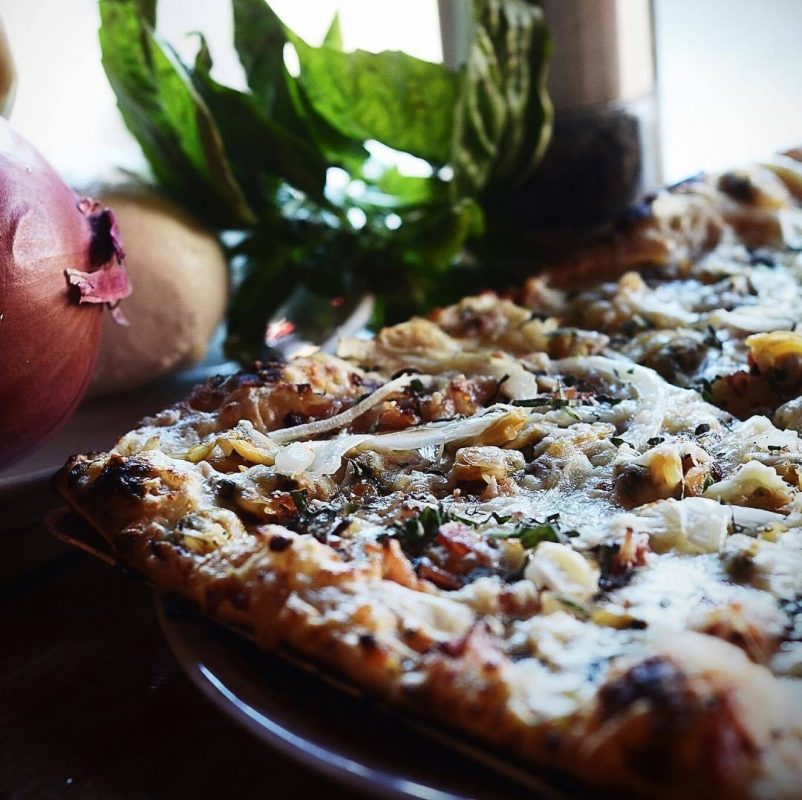 @joesquaredpizza via Instagram
So much for the first day of spring. This week might officially mark the start of the warmer season, but Winter Storm Toby has Baltimoreans stocking up on groceries and breaking out the folding chairs to reserve their parking spots. The nor'easter is expected to bring high winds, and dump nearly eight inches of snow on Charm City and the surrounding areas through Wednesday, March 21.
Although schools and offices might be closed, local bars and restaurants will be open for business—offering snow day deals to keep you feeling cozy throughout the storm. So bundle up tight, throw on a pair of boots, and head to these area watering holes to fully embrace the snowy weather. 
101 Deli Bar: This Federal Hill hangout, along with its neighboring sister-spots Banditos and Wayward Smokehouse, will all be offering all-day happy hour deals to celebrate the snow day. At 101, enjoy $2 snacks like crostinis and fried mozzarella, as well as discounted draft beers, cocktails, and wines. 1118 S. Charles St., 443-682-9480.
Blue Pit BBQ & Whiskey Bar: Bartender Doug Atwell is serving up a special spiked cocoa to help neighbors stay warm at this Hampden hangout. Snag a seat at the bar to enjoy the Cross Country #2, which combines cocoa with Mellow Corn whiskey, Fernet-Branca amaro, and Angostura rum cream. 1601 Union Ave., 443-948-5590
The Brewer's Art: Retreat from the freezing temperatures at this Mt. Vernon gem, which will be opening for dinner service at 4 p.m. Specifically for the storm, the microbrewery is putting its barrel-aged Charm City Cherry on draft. Sample the brew while enjoying hearty dishes like chili-glazed pork belly and Roseda steak frites from chef Andrew Weinzirl. 1106 N. Charles St., 410-547-6925
Das Bier Haus: In Federal Hill, this German beer hall is giving the term "snow boots" an entirely new meaning. Grab a group of friends and down a three-liter boot of beer while digging into eats like giant pretzels and poutine. The bar is opening early at 11 a.m., and offering a special list of snow specials all day long. 1542 Light St., 443-708-8854
The Food Market: In honor of Winter Storm Toby, this Hampden dining destination is offering a $20 dinner special on steak frites with three-onion butter, truffle parmesan fries, and charred asparagus,. Plus, The Food Market's daily happy hour specials begin at 5 p.m. 1017 W. 36th St., 410-366-0606. 
Joe Squared: This Station North hangout famous for its live music and square-shaped pizzas will be throwing a special "O' Spring Where Art Thou?" pizza party on March 20 and 21. All diners who brave the cold to visit the eatery will receive a free cheese pizza with the purchase of any other pie. There will also be plenty of drink options to wash down the eats, as Joe Squared boasts a lengthy draft list and one of the largest rum collections around. 33 W. North Ave., 410-545-0444
Lee's Pint & Shell: Head to this Canton corner spot to welcome the storm in style with $2 Miller Lites and $5 Smirnoff bombs starting at 12 p.m., and running throughout the day and night. 2844 Hudson St., 410-327-2883
Lobo: Nothing says cozy like the toasted sandwiches and hearty soups at this corner spot in Fells Point, which will be opening early at 2 p.m. on Wednesday. Head to the bar to indulge in steamy bowls of pho, as well as happy hour specials on oysters, beer, cocktails, wine, and snacks from 2-7 p.m. 1900 Aliceanna St., 410-327-0303.
Luigi's Italian Deli: Stay in your pajamas and head to this Hampden favorite to enjoy all-day breakfast until 4 p.m. Plus, as a one-day-only snow special, Luigi's is offering a free bag of Utz chips with the purchase of any sandwich. 846 W. 36th St., 43-438-4195
Mt. Washington Tavern: Watch the flakes fall from this neighborhood gathering spot, which will be offering snow day specials including $2 Narragansett cans and $4 rail pints. The menu also lists plenty of cold-weather snacks including bowls of three-beef chili and Maryland crab soup. 5700 Newbury St., 410-367-6903
Parts & Labor: Grab a group of friends and head to this Remington spot to play a game of life-sized Jenga, and indulge in all-day happy hour deals. 2600 N. Howard St., 443-873-8887
The Point in Fells: Bundle up tight and walk Fells Point's cobblestone streets to land at this community pub. The Point will be hosting an all-day snow day happy hour featuring $4 wines and drafts, $5 calls and bombs, and $6 Crushes. 1738 Thames St., 410-327-7264
The Rowhouse Grille: Brave the slushy sidewalks and make your way over to this Federal Hill neighborhood haunt to celebrate the snow day accordingly with $4 drafts and $8 burgers all day long. 1400 Light St., 443-438-7289