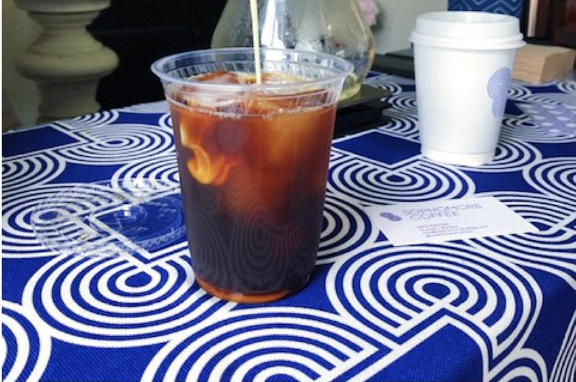 Photography by Krystal Mack
Even veteran barista Kris Fulton knows that, sometimes, craft coffee shops can feel snobby.
"If there isn't an overarching energy that promotes discovery and learning, it can be very off-putting," he says. "But if you create an environment that is inviting, people are going to feel comfortable taking that journey with you."
To combat the coffee culture stigma, Fulton and his partner Ann Travers Fortune are opening Sophomore Coffee—a welcoming shop inside the shared space that Clavel co-owner Lane Harlan is developing in Old Goucher. The property will also house Harlan's outdoor beer garden concept and a neighborhood food counter and grocery store.
Though he's racked up more than a decade of experience working for roasteries across the country, the new space will be the first that Fulton can call his own. The Anne Arundel County native got his start in the industry at Annapolis landmark City Dock Coffee and later moved to Baltimore where he became one of the founders of Charmington's, along with Travers, in Remington in 2010.
His post at the now-closed Lamill Coffee inside the Four Seasons Baltimore spawned a new opportunity for him to work for the company in Los Angeles, and most recently, Fulton headed up education and training efforts for Brooklyn-based Toby's Estate Coffee in New York. Ultimately, after four years abroad, the pull of Baltimore beckoned him home.
"Baltimore shaped who I am in a lot of ways," he says. "I always knew I wanted to come back here. And when I did, it was pretty noticeable that the whole city structure had shifted a bit. Places like R. House and Clavel had opened up—there was just so much that had happened."
Expected to join the city's robust food scene this fall, Sophomore Coffee will feature a seasonal program with blends from Toby's Estate—including a single-origin house drip, espresso drinks, and flash-brew options. The starting menu will be small, and perhaps most notably, it will lack terms like "cappuccino," "latte," or "macchiato."
"We want to educate people in a simplified way," Fulton says. "And we want to explain that if you're getting a larger espresso milk beverage, you're actually getting more milk and not as much coffee. These are all interactions I've had in the past that can very easily spark a pretentious vibe, especially if you're talking to someone who is saying, 'a macchiato is this or a cappuccino is that.' It creates a tension that doesn't really need to be there."
In keeping with the inclusive feel, Fulton is using smaller, low-profile pieces of equipment behind the counter, ensuring that customers are able to communicate and ask questions about their drinks without feeling like the machines create a barrier.
"We're going to try our best to shed light on the fact that some coffee beans might be more expensive because of the work put into creating them," Fulton says. "But we're also going to work with coffees that are approachable, and offer flavor profiles that aren't so hard to wrap your head around or aren't so different than what you expect coffee to taste like."
The interior, designed by Travers, will also reflect the owners' mantra with soft shades of yellow and pink, high-top bar seating with built-in power outlets, an L-shaped area for meetings and gatherings, and a mobile accent wall that also works as a sliding gate for the back entrance. Fulton says he is especially excited about the property's shared courtyard, which will be accessible to coffee patrons during the day and transition into Harlan's beer garden at night.
Though the space won't debut to the public until the end of the summer, Fulton and Travers have been giving locals a taste of their offerings at a recurring pop-up at Hunting Ground in Hampden—which returns for one last installment this Saturday, June 16 from 11 a.m. to 3 p.m. He says that he's enjoyed having a personal interaction with patrons, and is looking forward to meeting regular customers at Sophomore Coffee—cleverly named after he and Travers' second venture in the business, the first being Charmington's.
"I've always thought the coffee could be a regular luxury item," he says. "It's something you have that is really made with care from the best ingredients. I've always made the joke that the coffee P. Diddy can drink, I can drink, too. You can't say that about a lot of other things that P. Diddy has. It's a sensible luxury."