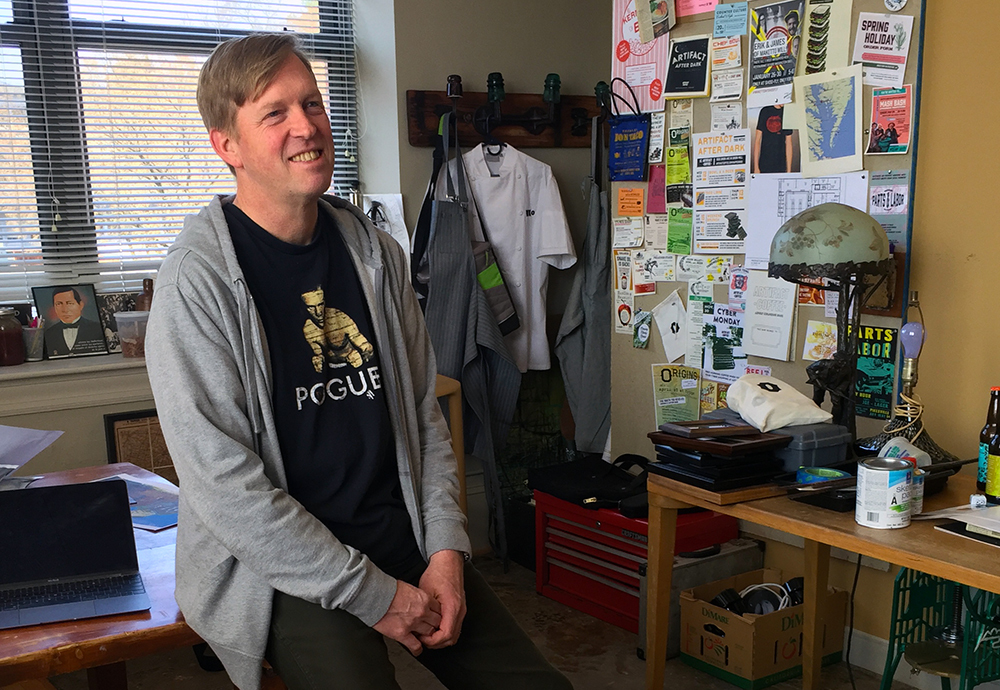 Jane Marion
James Beard Award-winning chef Spike Gjerde will cross state lines for the first time with a new venture in Washington D.C.
The yet unnamed restaurant will be set inside a 110-year-old neoclassic church, as part of the new The Line hotel in the Adams Morgan neighborhood.
Gjerde is aiming for a November 2016 opening.
Opie Crooks, Woodberry Kitchen's current chef de cuisine, will become the chef at the new spot.
Corey Polyoka, partner and director of Gjerde's Foodshed, will be Gjerde's business partner and bar director.
The Line Hotel is part of a hip hotel chained owned by the Sydell Group and has holdings all over the country, including the trendy Ace and NoMad hotels.
"It was very flattering and we were blown away when they came to us with their pitch," says Gjerde, who is also partnering with the Ivy Bookshop to open a new bookstore-cafe in Charles Village this fall. "They said, 'We talked to a lot of folks in D.C. and we heard about you.' They came up and had dinner at Woodberry."
Like his Baltimore restaurants, including Woodberry Kitchen, Parts & Labor, Artifact, and Grand Cru, the focus will be on local sourcing.
While Gjerde is just starting to brush up on the food and folkways of the D.C./Virginia region, he says, "We haven't gone that deep yet into what Virginia has, but it's a bigger state with a lot of agriculture. For us, it's just about how can we get more of this food to people," says Gjerde. "It's a pretty simple proposition—how can we use more food from our region that comes from growers?
While the details of the menu are still being refined, Gjerde is sticking with what has worked well in Baltimore.
"We are thinking about continuing the whole-animal approach that we started working with at Woodberry and continued at Parts & Labor," he says.
Birds and game will be a central focus. "We will be roasting chickens, guinea fowl, pheasants, quail, duck, anything we can get our hands on," says Gjerde, "as well as rabbit."
The 80-seat space on Euclid Avenue promises to be spectacular.
The décor will have an Arts and Crafts-style vibe, with dark woods, original milk glass windows, and some church pew seating.
"It will be incredibly dramatic with super high ceilings and the vaulted dome of the church and a cool bar and lounge area," says Gjerde.
The restaurant will be on the mezzanine level, while Gjerde will also feature an Artifact-style coffee bar called The Cup We All Run 4 on the ground level of the hotel.
Fittingly, the name of the coffee bar was inspired by a famous trompe l'oeil painting Gjerde admired on a visit to the Corcoran Gallery of Art many years ago.
Additionally, D.C. chef Erik Bruner-Yang (Maketto, Toki Underground), a friend of Gjerde's, will do food and beverage service in the hotel's lobby.
While Gjerde is hoping to attract new D.C. diners, he's also hoping to see some familiar faces.
"We've had plenty of people come from D.C. to eat at Woodberry all those years," says Gjerde. "I'm hoping that people from Baltimore will make the drive to D.C. for this, too."
No word yet on who will take the lead chef role at Woodberry Kitchen.
For more on the James Beard-winning chef, look for a profile in the May issue of Baltimore.