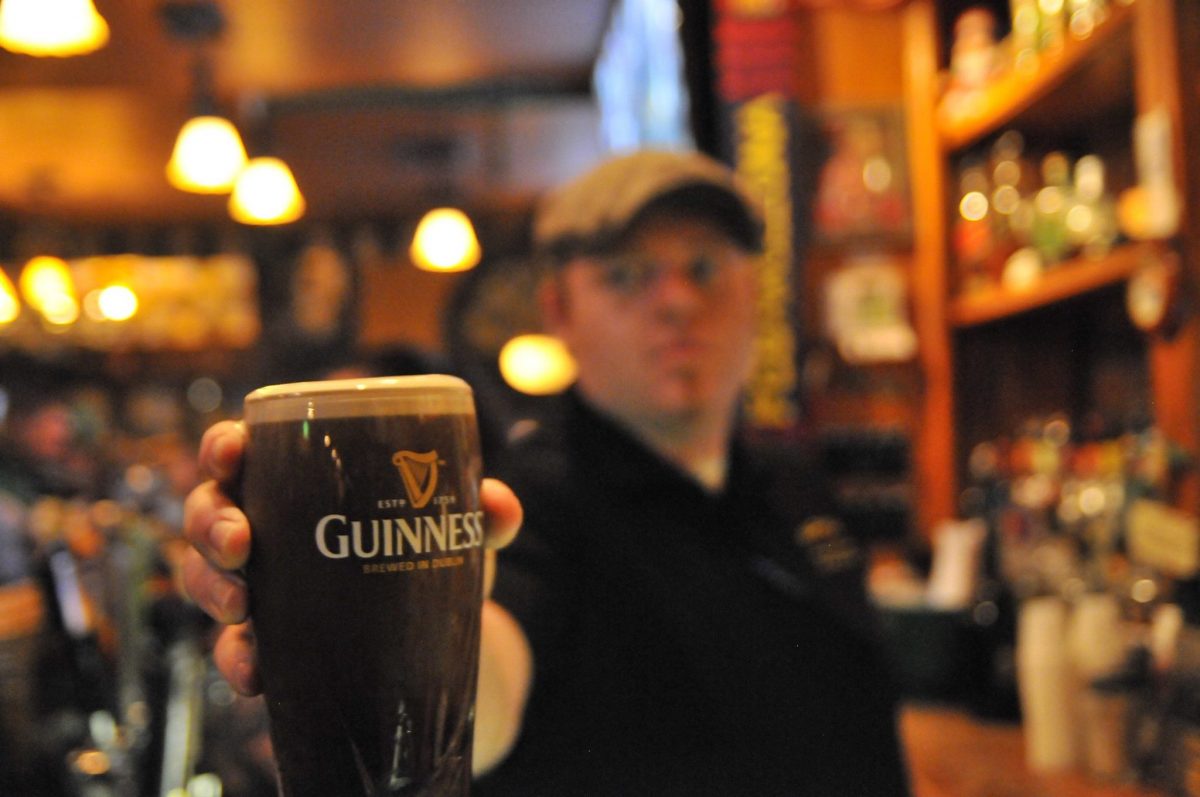 Courtesy of Slainte Irish Pub
As we roll into March, the local community is gearing up for sunshine, shamrocks, and plenty of bar blarney in honor of the Emerald Isle. Whether you're hoping to spend your St. Patrick's Day downing drafts of green beer, jamming to Celtic rock, or people-watching at parades, there are plenty of ways to get into the spirit.
One of the many downtown bars throwing large-scale celebrations this year is Slainte Irish Pub, whose annual "17 Days of Saint Patrick" festivities will be in full swing. While the Fells Point fixture will once again offer daily dining deals, drink specials, and live music, chief marketing officer Willy Dely says that the pub made it a point to throw new events—like a whiskey pairings dinner with Glendalough Distillery—into the mix this year.
"Every year we try to introduce new things and keep it exciting so that people have something to look forward to each day," says Dely, who specifically notes that the pub's festivities will include a pour-your-own-pint fundraiser benefiting recent DogWatch Tavern hit-and-run victim Jill Boram. "The local community is very strong, there is no issue at all when it's about coming together and helping each other out."
While a handful of city establishments have huge blowouts in the works, old-school neighborhood haunts like Patrick's of Pratt Street, dubbed the oldest Irish pub in America, prefer to stick to the basics: finger-picking music, authentic eats, and pints of beer.
"We take a softer, kinder approach to St. Patrick's Day," says owner Patrick Rowley. "Of course people come and drink and have fun, but we don't really plan anything big. We've been around for so long that these celebrations just happen."
So whether you're hoping to mix things up or celebrate the old-fashioned way, the local community boasts a wide array of options. Here are our picks:
BAR BLARNEY:
3/1: TULLAMORE D.E.W. IRISH WHISKEY TOAST AND TASTING
Nothing says Irish tradition like triple-distilled Tullamore D.E.W. whiskey, and this month, Tullamore ambassador Tim Herlihy is touring the United States to debut the brand's 15-year-old trilogy blend. While in Baltimore, Herlihy will pay a visit Patrick's of Pratt Street to toast the new blend and offer samples to diners. Patrick's of Pratt Street, 934 W. Pratt St., 4:30 p.m., Free, 443-438-3749
3/5: CANTON IRISH STROLL
Throw on your most festive green and gold garb and wander around O'Donnell Square to take advantage of deals at more than 12 of Canton's top taverns. Drink specials at participating square spots (like Looney's Pub, Plug Ugly's, and El Bufalo) will include $3 Miller Lites, $4 Blue Moons, and $5 Four Olives and Kraken Rum drinks. Registration at O'Donnell Square, 2919 O'Donnell St., 1 p.m., $10, 240-316-4170
3/12: FEDERAL HILL IRISH STROLL
Catch a glimpse of strolling bagpipers and lucky leprechauns while navigating your way through the crowds in the heart of Federal Hill. More than 15 of the neighborhood's best bars have signed up to participate this year (think Ropewalk Tavern, Banditos, Stalking Horse, and the like) offering crawlers specials such as $3 Miller Lite cans, $4 Blue Moon and Summer Shandy bottles, and $5 Jameson Whiskey drinks. Registration at beer garden on East Cross St, 38 E. Cross St., 1 p.m., $15, 240-316-4170
3/12: FIRST ANNUAL BROAD AVENUE BAR CRAWL
Shortly after Mother's Grille cuts the ribbon at its newest location in Timonium, the beloved burger bar will host this St. Paddy's-inspired crawl with its new neighbors Ryleigh's Oyster and Five Martini Bar. In honor of the occasion, all spots will feature Guinness and Bud Light specials. Multiple locations including 2450 Broad Ave., Timonium, 12 p.m., Free, 410-244-8686
3/12: ST. NATTY'S DAY PUB CRAWL
Fells Point Main Street is teaming up with Natty Boh to put a hometown-inspired spin on the neighborhood's green bash this year. The price of admission includes no-cover access to all participating bars (including The Horse You Came in On Saloon and Cat's Eye Pub), a festive T-shirt, and a commemorative coozie to use while guzzling down discounted cans of Natty Boh. Registration at Broadway Square, Intersection of S. Broadway and Eastern Ave., 11 a.m., $20, 410-675-8900
3/12: SHAMROCKS & SHENANIGANS
It should come as no surprise that Power Plant Live is getting in on the fun with one of its annual St. Paddy's Day blowouts. The party starts with a Kegs & Eggs breakfast buffet at 10 a.m., followed by a full-fledged shamrock festival at 3p.m. Sip $3 domestic beers, $4 Irish whiskeys, and $5 shot and car bomb specials at all of the bars in the district while jamming to the Celtic sounds of The Shamrogues and Alter Ego. 34 Market Pl., 3 p.m., Free-$5, 410-727-5483
3/17: ST. PATRICK'S DAY CELEBRATION AT B'MORE BEERS
Hang out beneath the twinkling lights at this circular beer bar, located on the bottom level of Horseshoe Casino, and put the luck of the Irish to the test. In addition to festive drink deals (like $4 Irish cocktails, $9 car bombs, and $10 green beer pitchers), the bar will host a Beer Pong tournament and a beer stein-hoisting competition for cash prizes. B'More Beers, Horseshoe Casino, 1525 Russell St., 11 a.m., Free, 844-777-7463
FAMILY FUN:
3/13: SHAMROCK SHINDIG
Head downtown to celebrate at this massive festival featuring food trucks, beer and wine, live music, and kid-friendly activities like face painting, interactive crafts, and step dancing. Pierce's Park, Pier 5, 10:30 a.m., Free, 410-779-5308
3/13: SAINT PATRICK'S SNAKES
Legend has it that Saint Patrick banished all of the snakes from the Emerald Isle back in the fifth century. Though the snakes in Ireland might be lacking, Lake Roland has plenty of them. Kids are invited to meet some of the slithering creatures up close and create a festive craft at this event hosted by the Lake Roland Nature Council. Lake Roland, 1000 Lakeside Drive, 2 p.m., $3, 410-887-4154
3/17: HERE'S TO THE GREEN
Learn the meanings behind all of the traditional Irish symbols at this after-school event hosted by the Enoch Pratt Free Library. Kids will practice an authentic jig, read a St. Patrick's Day story, and sample Irish soda bread. Enoch Pratt Free Library Cherry Hill Branch, 606 Cherry Hill Road, 3 p.m., Free, 410-396-1168
PARADE PARTIES:
3/13: ST. PATRICK'S DAY PARADE
Grab your lawn chairs, claim your spot, and watch as a bounty of colorful floats and marching bands make their way from the Washington Monument to the Inner Harbor in this annual tradition. Washington Monument, 699 N. Charles St., 2 p.m., Free
3/13: SHAMROCK 5K
Before the big parade steps off, lace up your running shoes and partake in this jolly jog around the city. After you cross the finish line at Power Plant Live, celebrate the accomplishment at a post-race party with music, prizes, and awards. Charles and Mulberry Streets, 1:15 p.m., $45
3/13: ST. PATRICK'S DAY PARADE PARTY BUS
If you're worried about parking and Uber surges on parade day, The Life of Reilly has got you covered. The Butcher's Hill pub is offering round-trip transportation to and from Mt. Vernon, and a post-parade party with a bottomless buffet and all-you-can-drink craft beer. The Life of Reilly, 2031 E. Fairmount Avenue, 12:30 p.m., $55, 410-327-6425
3/13: PARADE DAY AT TIR NA NOG
Pregame for the parade by sipping $5 mimosas, Bloody Marys, and Jameson shots, while enjoying live music by Anne O'Doherty and Danny Burns. If you can't make it on parade day, the pub's live music lineup on March 17 will feature The Shamrogues and The Ernie Fowler Trio. Tir na Nog Irish Bar and Grill, 201 E. Pratt St., Times vary, Free, 410-483-8968
3/13: PARADE DAY AT MICK O'SHEA'S
Snag a front-row seat to the parade at this Mt. Vernon pub, which will sell concession-style eats and drinks in its alley for spectators. After the floats pass by, rockers Gaelic Mishap will take the stage inside the bar at 2 p.m. Mark your calendar for Mick O'Shea's official St. Patrick's Day celebration on the 17th, complete with a full Irish breakfast and tunes from Donegal XPress at 5:30 p.m. Mick O'Shea's Irish Pub, 328 N. Charles St., Times vary, Free, 410-539-7504

MERRY MUSIC:
3/11-3/12: CLADDAGH PUB'S 21st ANNUAL MEET IN THE STREET
Head to the heated tents in Canton's O'Donnell Square to partake in this annual event hosted by Irish staple Claddagh Pub. The weekend-long festivities will feature authentic eats, live music, and, of course, plenty of beer. The tents will be up rain or shine, boasting performances by local bands Hot Tub Limo, Kristen and the Noise, Starcrush, and Crushing Day. 2918 O'Donnell St., Times vary, Free, 410-522-4220
3/17: THE WHISKEY FEATHERS AT DELIA FOLEY'S
Sparks-based folk band The Whiskey Feathers will provide the soundtrack to the St. Paddy's Day party Delia Foley's Irish Pub in Federal Hill this year. Take in the bluesy harmonica riffs while digging in to authentic Irish eats like Shepherd's Pie, smoked Reuben sandwiches, mac and cheese with corned beef, and chicken roulade. Delia Foley's Irish Pub, 1439 S. Charles St., 4:30 p.m., Free, 443-682-9141
3/17: HOOLEY AT THE HARBOR
Former governor Martin O'Malley (who recently withdrew his name from the presidential ballot) is making a musical comeback at this all-day soiree, which will feature live music by his seven-member pub rock band, O'Malley's March. The event will also highlight James Joyce's signature Irish delicacies, including its award-winning beef and Guinness stew and corned beef and cabbage. No need to worry if you can't make it to the party; Mix 106.5 will be on hand to broadcast the entire thing live. The James Joyce Irish Pub & Restaurant, 616 President St., 6 a.m., Free, 410-727-5107
MULTI-DAY SOIREES:

3/1-3/17: THE 17 DAYS OF SAINT PATRICK
St. Patrick's Day is a month-long event at this Fells Point staple. Daily happenings on the calendar leading up to St. Paddy's include everything from whiskey tasting dinners and complimentary dance tutorials to Guinness-engraving programs and a pour-your-own-pint contest to benefit Jill Boram, who sustained serious injuries after a violent hit and run outside of DogWatch Tavern earlier this month. All of the events lead up to the big celebration on March 17, when the pub will open at 6 a.m. Slainte Irish Pub, 1700 Thames St., Times vary, 410-563-6600
3/5-3/17: ANNAPOLIS IRISH WEEK
Downtown Annapolis has orchestrated an entire week of festive events leading up to the big day. The celebration kicks off with a pub crawl and a benefit bash at the Loews Annapolis Hotel, followed by the annual Annapolis St. Patrick's Day Parade,whiskey tastings, and a performance by Celtic rockers The Young Dubliners at Ram's Head on Stage. Downtown Annapolis. Locations, times, and prices vary. 410-280-0445
3/11-3/17: ST. PATRICK'S DAY FESTIVAL AT AN POITIN STIL
If you'll be celebrating from the county, head to this Timonium watering hole for a week of live music, food and drink specials, and even a family-fun day with clowns, balloon artists, face painters, and a hot chocolate bar on March 13. Daily specials will include $12 Irish stew, $10 bangers and mash, and $5 Tullamore D.E.W. Irish coffees, and the live music lineup will feature The New Brigade and The Luthervillians. An Poitin Stil, 2323 York Road, Times vary, 410-560-7900
3/16-3/20: ST. PATRICK'S DAY PARTY AT THE HARP
With more than 11,000-square-feet of entertainment space, this Bel Air hangout boasts plenty of room for a celebration. Highlights of this year's fete will include beat-the-clock craft beer specials starting at $1, raffles, prizes, and live music by local rockers Synful Pleasure, The Rollex Band, and the Ernie Fowler Trio. The Harp Restaurant & Catering, 8706 Bel Air Road, Nottingham, Times vary, 410-529-4277