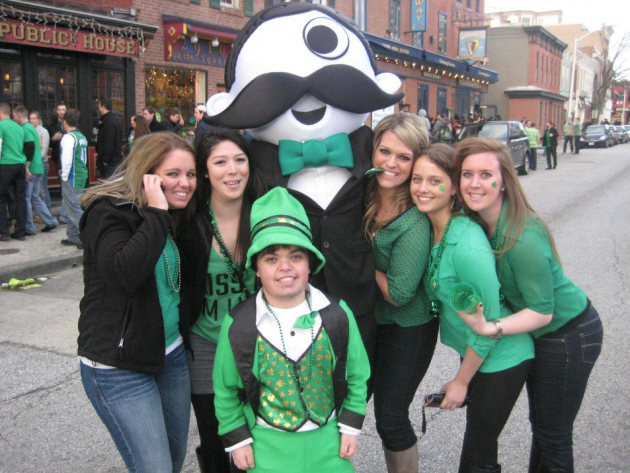 Lindy Promotions
Ireland is half a world away, but that doesn't mean the party is far
from home. Get ready to celebrate St. Patrick's Day Baltimore-style with
events and specials at bars all around town—some starting as early as
March 1.
Canton Irish Stroll, 301-652-7712:
Not sure how to kick off your St. Patrick's celebrations? The Canton
Irish Stroll on March 1 offers specials at bars around the 'hood,
including Looney's Pub, Portside Tavern, Smaltimore, McGiddy's, and
Tavern on the Square. And your bar hopping can help benefit the less
fortunate, as the event is partnered with the Maryland Food Bank, and
anyone who brings two canned goods can get a $5 discount on their event
ticket. Participants can enjoy Irish snacks and other happy hour-priced
drinks while they stroll with bagpipers and leprechauns.
Federal Hill Irish Stroll, 301-652-7712:
If Canton's Irish Stroll left you wanting more, and you can't bear to
wait for St. Patrick's Day, head down to Federal Hill on Saturday, March
8. The leprechauns and bagpipers will be back for more fun at another
round of bars, including Stalking Horse, McGerks, Rowhouse, and
Ropewalk.
James Joyce Irish Pub and Restaurant,
616 S. President Street, 410-727-5107: Baltimore wouldn't be the same
without the St. Patrick's Day parade, and the James Joyce Pub is holding
its annual auction on Sunday, March 9 to help support that tradition.
Funds from the sales, which will include a baseball bat signed by Cal
Ripken Jr., will benefit the parade. You can also catch Irish folk-rock
band The Shamrogues at the pub at 7 p.m. on March 16.
Slainte Irish Pub and Restaurant,
1700 Thames Street, 410-563-6600: The tradition of celebrating the
weeks leading up to St. Patrick's Day continues at Slainte. Each night
from March 1-17 will feature a different and vibrant attraction, from
live music to Irish trivia to rugby match viewings. Slainte will open at
6 a.m. on St. Patrick's Day and keep the party moving all day with
traditional music and Irish dancers.
Mick O'Shea's, 328
N. Charles Street, 410-539-7504: Get started early with a traditional
Irish breakfast at Mick O'Shea's on March 16 and 17. The pub will open
at 9 a.m., serving rasher, black and white pudding, eggs, and
potatoes—the perfect cure for that St. Pat's hangover. Live music will
begin in the afternoon, featuring Gaelic Mishap following the parade on Sunday, and The Donegal X-Press at 5 p.m. on Monday.
Howl at the Moon,
22 Market Place, 410-783-5111: The Saint Paddy's Bash at Baltimore's
piano bar starts at 4 p.m. on March 15, and admission is free until 10.
Get into the spirit with green beers, Irish car bombs, and leprechaun
bombs. The dueling pianos will keep the holiday spirit strong by playing
rollicking Irish tunes.
Claddagh Pub,
2918 O'Donnell Street, 410-522-4220: "Meet in the Street," Claddagh's
annual St. Patrick's Day celebration, will take place over March 15 and
16, and will feature Kristen and the Noise.
The event will be held rain or shine. Don't forget to try the selection
of Irish whiskeys, including Jameson, Black Bush and Bushmills.
PBR Baltimore,
2 Market Place, 443-680-9433: If you don't want to miss out on the
festivities, but feel more at home in Dallas than in Dublin, the Green
Solo Cup party at PBR Baltimore is just the ticket. Starting at 8 p.m.
on Friday, March 14, guests can get in and celebrate St. Patrick's Day
the cowboy way.
Ryan's Daughter Irish Pub & Restaurant, 600 E. Belvedere Ave., 410-464-1000: Celebrate St. Patrick's Day at Ryan's Daughter with live music throughout the day. Guitarist Brendan Pelan and Irish folk band Maggie's Leap will
perform in the evening on March 17. Don't forget to fill up on the
pub's house-brined and roasted corned beef or fish and chips before the
shows.
Liam Flynn's Ale House,
22 W. North Avenue, 410-244-8447: Thirsty for Irish whiskey? Head down
to Liam Flynn's, which will be hosting a Tullamore Dew whiskey tasting
at 7:30 p.m. on March 17. A traditional Irish music session will take
place that evening. The bar will also open early the weekend leading up
to the holiday.
The Harp Restaurant,
 8706
Belair Road,
Nottingham, Maryland, 410-529-4277: Another weekend-long
party will be held at the Harp, with events from March 14-17. Live
music, including the Great Train Robbery and Ernie Fowler,
can be heard both inside and in the party tents outdoors. Don't miss
Kegs and Eggs, a breakfast buffet on Sunday morning featuring Guinness
and, of course, Harp Lager.
Tír na nÓg Baltimore,
201 E. Pratt Street, 410-483-8968: Want to help support the Baltimore
St. Patrick's Day parade and indulge in happy hour-priced drinks at the
same time? Stop by Tír na nÓg's parade fundraiser at 3 p.m. on March 2. A
donation of $5 will get you in. The event will include live and silent
auctions, a 50-50 raffle, and music by Danny Burns. Be sure to come back March 16 and 17, as the bar features Irish breakfast and $2.50 Guinness and Jameson.
To take a St. Patrick's Day quiz, see our March issue, on newsstands Friday.