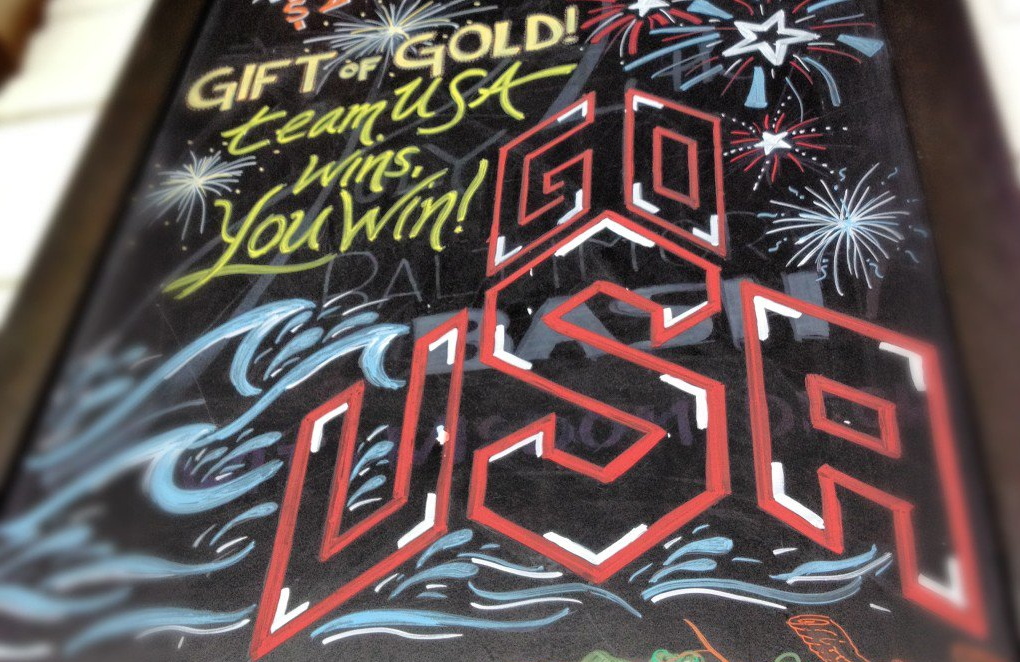 Courtesy of Wit & Wisdom
Having won a total of 19 medals over the past three days (three of which were clinched by Maryland swimmers), Team USA is killing it in Rio. To celebrate, local bars and restaurants are throwing their own patriotic viewing parties complete with creative food and drink deals inspired by the Games. No matter which event is your favorite, grab a group of friends and head to any one of these area eateries to watch the all of the action unfold.
Alexander's Tavern: Crowd around the bar at this Fells Point favorite to peruse a lengthy list of Olympic-inspired offerings. For all events, Alexander's will feature orders of gold medal wings for $6, Coors Light Silver Bullets for $2.75, bronze-colored Bayou rum drinks for $5, and $4 Zika shots—a tongue-in-cheek creation fusing Smirnoff citrus, triple sec cranberry juice, and pineapple juice. 710 S. Broadway, 410-522-0000
Liam Flynn's Ale House: It's only fitting that this neighborhood pub—a go-to spot for catching international soccer matches—would get in on the fun for the Olympics. As a nod to this summer's host country, Liam Flynn's is offering $5 Brazilian misto quente (ham and cheese) sandwiches alongside $4 "Caipirinha de Liam" drinks—the bar's own riff on Brazil's national cocktail that incorporates rum, mint, sugar, and lime. 22 W. North Ave., 410-244-8447

Polo Bar: This hotel bar inside Hunt Valley Inn is also showcasing authentic Caipirinhas, alongside a special menu of international small plates inspired by the competing teams. Highlights will include $8 all-American Buffalo wings, $16 French cheese and charcuterie boards, and $7 mini pork egg rolls in honor of Team China. 245 Shawan Road, Hunt Valley, 410-785-7000
2016 Oyster Olympics: Throughout the course of the Games, a handful of city hotspots including Slainte, Kooper's, Rowhouse Grille, Ryleigh's Oyster, and Mt. Washington Tavern are teaming up with Oyster Recovery Partnership (ORP) and Flying Dog Brewery for this special Olympic-themed promotion. From August 5-21, all participating restaurants will be running specials on oysters with Flying Dog beer pairings (think six raw oysters and a beer in a commemorative glass for $15.) Proceeds from the event will support ORP's efforts to plant baby oysters in the Chesapeake Bay.
Slainte: In addition to participating in the Oyster Olympics, this Fells Point stalwart will be running soccer specials such as $3 Heineken, Newcastle Brown Ale, Dos Equis, and Strongbow Cider drafts during all tournament games. This weekend, the bar will also offer a complimentary breakfast buffet for all fans that purchase a beer and don their favorite jersey. 1700 Thames St., 410-563-6600
Looney's Pub: In Canton Square, this neighborhood hangout is cheering on Team USA with discounted American beers. For all events, bar-goers can enjoy Budweiser and Bud Light bottles for $3. 2900 O'Donnell Square 410-675-9235
Mother's Grille: During all USA events, head to any Mother's location to down $3 Bud Light and $4 Stella Artois bottles while rocking your red, white, and blue. Multiple locations including 1113 S. Charles St., 410-244-8686