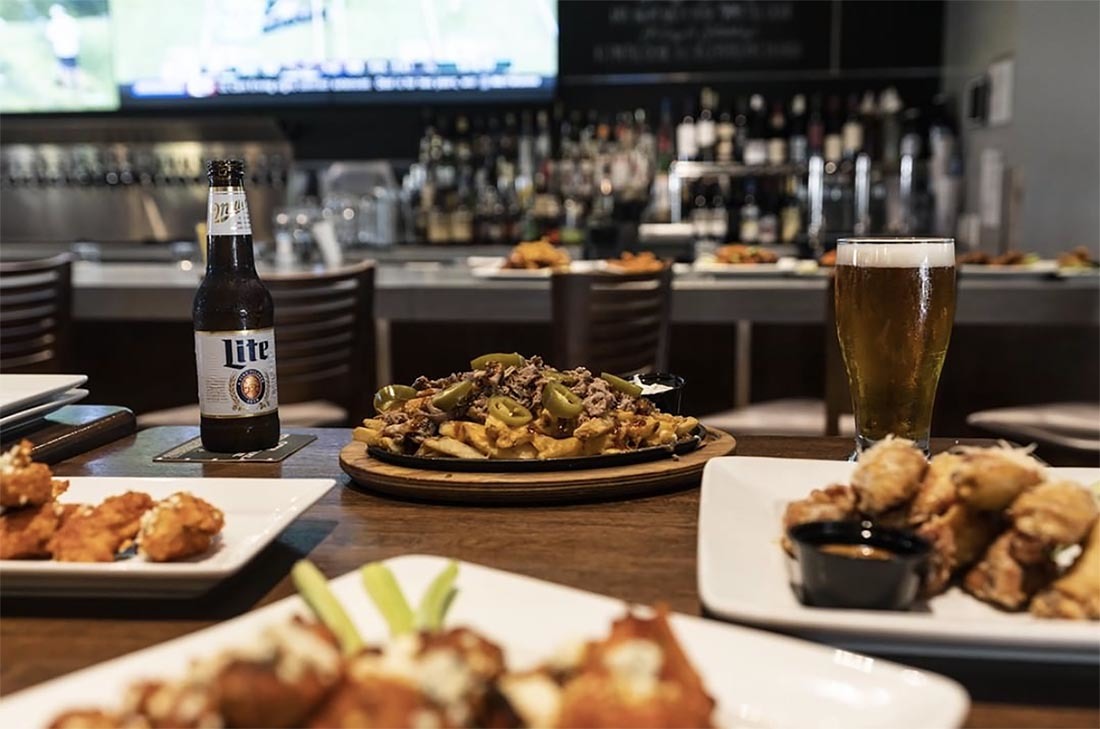 Although Baltimore might not be healed from the Ravens' early playoff loss, this year's Super Bowl matchup between the San Francisco 49ers and the Kansas City Chiefs is Sunday, and it's time to celebrate the biggest event in football season. Super Bowl parties call for burgers, wings, beer, and more beer, and what better place to celebrate than at a local hotspot? So sit back, relax, and check out these neighborhood bars for various deals that pair perfectly with a view of the game.
Crossbar: If you're looking to grab a few drinks before the game starts, Crossbar in Federal Hill will be featuring deals from open to close. Enjoy $3 domestic beers, $5 Smirnoff bombs and Rumple Minze shots, $7 Miller Lite liters, $10 Blue Moon liters, $15 domestic buckets, and a $20 deal on eight wings and any liter of beer. 18 E Cross St.
Hair of the Dog: Head to South Baltimore for $30 bottomless domestic drafts, rail liquor, and house wine to pair with the game-day buffet. Hair of the Dog will be starting its Super Bowl party at 5:30 p.m. and hosting various giveaways and raffles throughout. 1649 S Hanover St. 5:30 p.m.
The Point in Fells: This Fells Point favorite will be pouring $6 Ravens Crushes, $6 game-day bombs, $12 Bud Light pitchers, and $15 domestic buckets starting at 3 p.m. Join the "Ravens Club," and drink from a bottomless glass for $25, which can be filled with domestic drafts, Truly hard seltzers, Ice Picks, vodka lemonades, or screwdrivers. The game will be displayed on all TV's with the sound up high, so there's no need to worry about missing a play. 1738 Thames St. 3 p.m.
Mother's Federal Hill Grille: While best known for their Purple Patio events during Ravens home games, Mother's in Federal Hill will still be celebrating the Super Bowl and serving up game-day favorites. For $30 during the game you can enjoy a tailgate-themed buffet (think meatballs and wings), as well as an open bar featuring beer and rail drinks. 1113 S Charles St. 6:30 p.m.
Pratt Street Ale House: This viewing party will feature drink deals including $3 select domestic bottles, as well as $5 Oliver Brewing Company pints, glasses of wine, and rail drinks. Known for its soft pretzels and beer cheese, the menu of gastropub fare at Pratt Street Ale House has something for everyone. If you're hoping to cheer on your favorite team from Hampden, check out Pratt Street's sister-spot Five and Dime Ale House on the Avenue for the exact same deals. 206 W Pratt St. 6:30 p.m.
Nacho Mama's: While not your traditional sports bar, Nacho Mama's locations in Towson and Canton will be showing the Super Bowl with various specials. Starting at 6:30 p.m. you can enjoy $1 Natty Boh drafts, $3 domestic bottles, $6 Graceland margaritas and bombs, and $15 Graceland hubcaps. Pair your drink with a $6 burgers, ground beef nachos with queso, or buffalo tenders. 2907 O'Donnell St. and 2 W Pennsylvania Ave. 6:30 p.m.
Kona Grill: Inner Harbor staple Kona Grill will be serving up all-day happy hour for football fanatics. If the bar scene isn't for you, they are also promoting their tailgate package for $99, which includes two orders of chicken satay, pepperoni and margherita flatbread, Kona sliders, lettuce wraps, and potstickers, for dine-in and to-go service. 1 E Pratt St. 11 a.m.