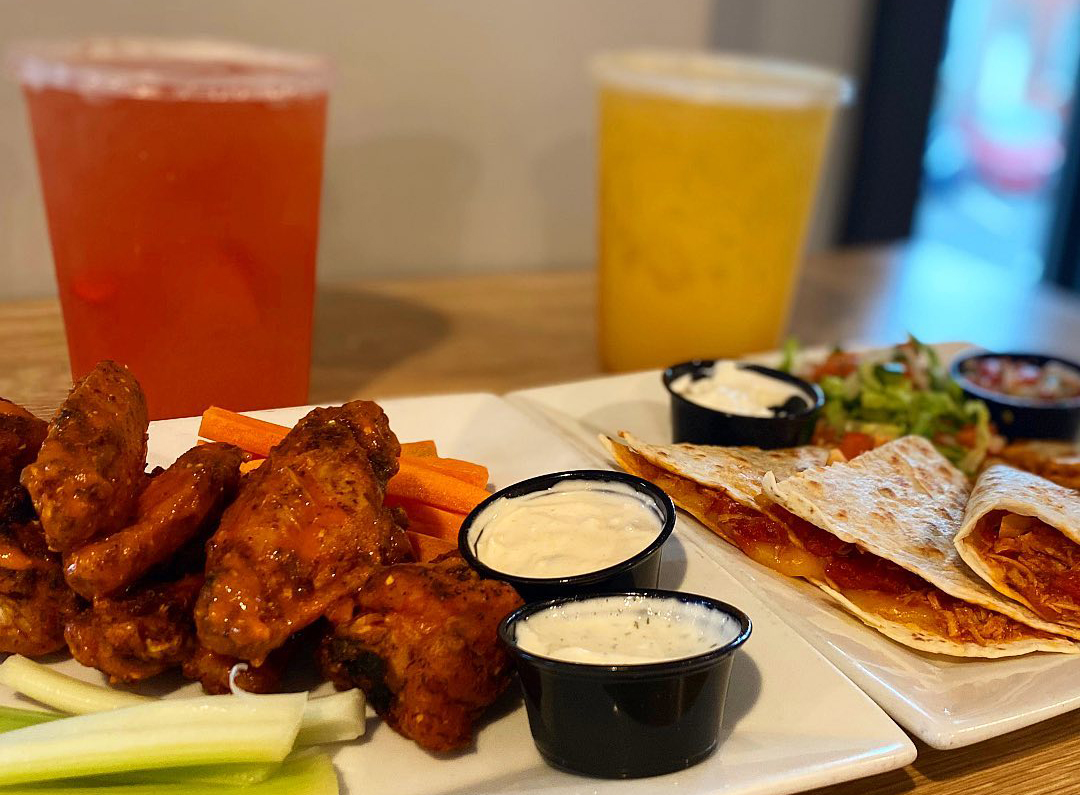 —Courtesy of The Chasseur via Facebook
While purple tears still linger in the eyes of Baltimore Ravens fans this year—losing to the Steelers in January made the end of the season hurt that much worse—the upcoming Super Bowl will bring something everyone can appreciate: food and drink specials. The Los Angeles Rams and Cincinnati Bengals will go head-to-head this Sunday at 6:30 p.m. in the 56th-annual Super Bowl, and local spots are ready for the big game.
Hey, it may not be Lamar Jackson or Mark Andrews on the screen, but maybe a few of these game day deals will cheer you up.
The Abbey Burger Bistro: This go-to burger joint has all of the game-day essentials: beer, shots, burgers and wings. Super Bowl steals include $1 Natural Lights, touchdown shooters, and wing specials. Stop by any of the city locations in Fells Point, Federal Hill, or Mt. Washington. Multiple locations including 811 S Broadway, Fells Point, 410-522-1428.
Barley's Backyard Uptown and Fells Point: Whether you live in the city or in Towson, both Barley's Backyard locations are offering Super Bowl Sunday deals. Uptown will have $1 beers, $15 drink buckets, $4 Bengal and Ram bombs, halftime mini Rumple Minze shots, and half-priced burgers all day. If you would rather watch the big game from the comfort of your own couch, the Fells Point location will offer a $75 to-go special including two cauliflower flatbreads, two chicken quesadillas, two jumbo pretzels, one pound of Barley's chicken bites in the flavor of your choice, and one case of Natural Light. 408 York Road, 410-825-3980, and 718-722 S Broadway, 410-342-4222.
Charles Village Pub in Towson: True to form, CVP is celebrating with drink deals such as $11.99 for five Natural and Bud Light beers; $14.99 for five Corona, Bud Light Limes, or White Claws; 32-ounce Orange Crushes for $9.99; $4 orange and blue sour bombs; and $2 green and white tea shots after every touchdown. Dine-in food specials include $9.99 crab pretzels and boneless bites. CVP also has you covered with carryout items including $9.99 heat-and-eat crab pretzels, $9.99 chicken tenders and Buffalo bites, and $11.99 32-ounce Orange and Grapefruit Crushes. Natural Light cases and Corona Extra six-packs are also available for carry out if you're stocking up for a party at home. 19 W Pennsylvania Ave., 410-821-8155.  
The Chasseur: This Canton standby, named after the original ship nicknamed "The Pride of Baltimore", is fittingly partnering with GameDay Vodka for their watch party. Tickets are $45 for all-you-can-drink GameDay Vodka cocktails, beer, and wine. 3328 Foster Ave., 410-327-6984.
Das Bierhalle: Parkville's newest German bar has deals and events lined up all day for Super Bowl Sunday. First, East Coast IV will be around during brunch from 10 to 1 p.m. with walk-in IV vitamin therapy treatments  if you went a little too hard on Saturday and need help rallying for the game. Then, happy hour is from 2 to 5 p.m., and at 6 p.m., Super Bowl deals will kick in. The bar will offer $1 Bud Lights, $2 PEI oysters, and $5 oyster shooters until the end of the game. Watching from home? There will also be party platters and $5 to-go crushes available for pick-up on Sunday. 9527 Harford Road, 410-668-1011.
Hair of the Dog: This South Baltimore favorite is holding an all-inclusive Super Bowl party for $35 per person. Tickets include bottomless domestic beer, rail drinks, and a game-day buffet. The party starts right before kickoff at 6 p.m., highlighting block pool betting, raffles, giveaways, and more than 30 TVs that will surround you with gridiron action all night. 1649 S Hanover St., 410-814-0342.
Heritage Smokehouse: Hosting at home? Let this Govans barbecue joint handle the food. Check out the game-day takeout offerings and place an order for pickup from 3 to 5 p.m. on Sunday. The menu includes smoked meats such as pork spare ribs, as well as party favorites such as Buffalo chicken dip and BBQ sausage bites. 5800 York Road, 443-438-7593.
Jimmy's Famous Seafood: This year, The Dundalk sports headquarters is throwing its 31st-annual Super Bowl party. You can buy single tickets for $75, or purchase a table for 10 of your closest football-loving friends for $700. Admission includes an open bar, bottomless beer, Chef Tony's bull and oyster roast, a full raw bar with shucked oysters and clams, and football fare from pit beef to Buffalo wings. The party will include caricatures, photo booths, free memorabilia, and, in true Jimmy's fashion, likely celebrity appearances. Tickets also grant free entry to Jimmy's UFC 271 Fight Night event on Saturday. Doors open an hour before kickoff at 5:30 p.m. 6526 Holabird Ave., 410-633-4040.
Mother's Federal Hill: Mother's, known for its Ravens game-day spirit and festive Purple Patio, is celebrating the game starting at 5 p.m. Tickets are $35 for all-you-can-drink rail drinks, craft brews, domestic beers, and seltzers. Meatballs, salad, hot dogs and bottomless boneless wings are included to satisfy your snack cravings. 113 S Charles St., 410-244-8686.
The Point: Situated right off of the Towson circle, The Point is another great spot to tune in with friends. From 4 to 8 p.m., the bar will highlight $3 Bud Light Next; $6 bombs; and food specials including loaded taco fries, pizza pretzels, the house sloppy jo, and the chef's special wings. Then, from 8 p.m. until close the bar will host an Industry After Party which offers live music spun by DJ Al and 50 percent-off all food and drinks for people employed in the service industry. 523 York Road, 443-991-4293.
Turp's Sports Bar: Whether you want a full three-course meal or some quick and delicious snacks to share with your friends, this Midtown-Belvedere bar has you covered.Since the Super Bowl and Valentine's Day happen to fall one day apart this year, Turp's is offering a prix-fixe special with your choice of a salad, entree, and dessert for $20.50 per person. Plus, sip discounted drinks such as $3.50 dafts; $5 margaritas, mimosas, and bombs; and select $10 wine bottles. Super Bowl weekend shareables include a six-piece wing and fry combo for $9.50, a small pizza and fries for $11, or your choice of two shareable appetizers (think: mozz sticks or nachos) for $11.50. 1317 N Charles St., 410-347-0349.  
Urban Crab Shack: This Cajun seafood restaurant and bar in Parkville is hosting a free Super Bowl tailgate beginning at 5 p.m., and the menu doesn't disappoint. Indulge in $4 burgers, a $5 bucket beer, a $7.50 32-ounce draft beer and wing combo, and much more. Partygoers can win up to $500 in cash prizes. You are required to call to hold your spot for the party. 1991 E Joppa Road #18, 410-870-0115.