A Moveable Feast
At area restaurants, it's a wheel-y good show.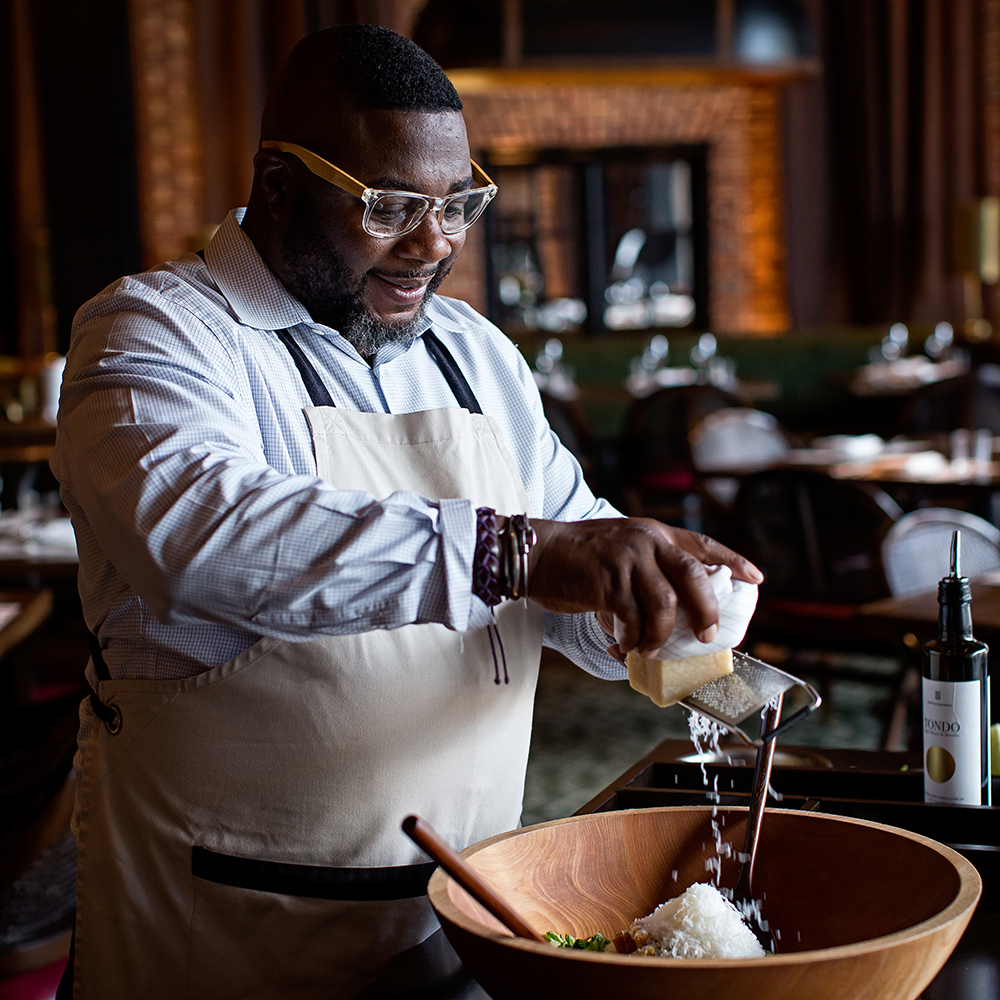 With the rise of delivery apps and fast-paced food halls, our modern world prioritizes convenience and efficiency. Yet the finery of tableside preparation—the swiveling carts, the knife-wielding waiters, the pyrotechnics on wheels—is making a comeback.
Though the practice dates back to the Edwardian era when dishes were served a la francaise or a la russe in elegant banquet halls, it crossed the Atlantic Ocean and redefined dining in post-WWII America with its decadent flair. Now, diners pine for this old-school showmanship once more as restaurants keep them on the edge of their seats with flaming displays and theatrical flourishes.
Here are some restaurants that will leave you "ooh-ing" and "aah-ing" with their tableside fare.
Rec Pier Chop House
Salad artists put on a show as they cut, toss, and dress romaine into classic Caesars, complete with freshly cracked pepper, egg, and anchovies. 1715 Thames St., 443-552-1300
Minnow
Hot toddies take an experimental turn with a 10-minute vacuum infusion to enhance herbal and citrus flavors. 2 E. Wells St., 443-759-6537
Chopstix Gourmet
On weekends, a parade of carts rolls out of the kitchen and makes its way through roundtables with lazy Susans, transporting bite-sized dishes called dim sum (translates to "touch the heart"). 1201 67th St., Rosedale, 410-866-2903
The Black Olive
Select fresh fish from a seafood display and watch as it's meticulously filleted and deboned right in front of you. 814 S. Bond St., 410-276-7141
The Bygone
Roasted Peking duck, stuffed with herbs and glazed with lavender honey, arrives at the table on a silver platter, then is set ablaze with brandy and overproof rum. 400 International Dr., 443-343-8200
Wit & Wisdom
Lobster pot pie gets deconstructed as servers remove the pastry lid and place its contents—Maine lobster, truffle-brandied cream, and vegetables——atop the thick crust. 200 International Dr., 410-576-5800