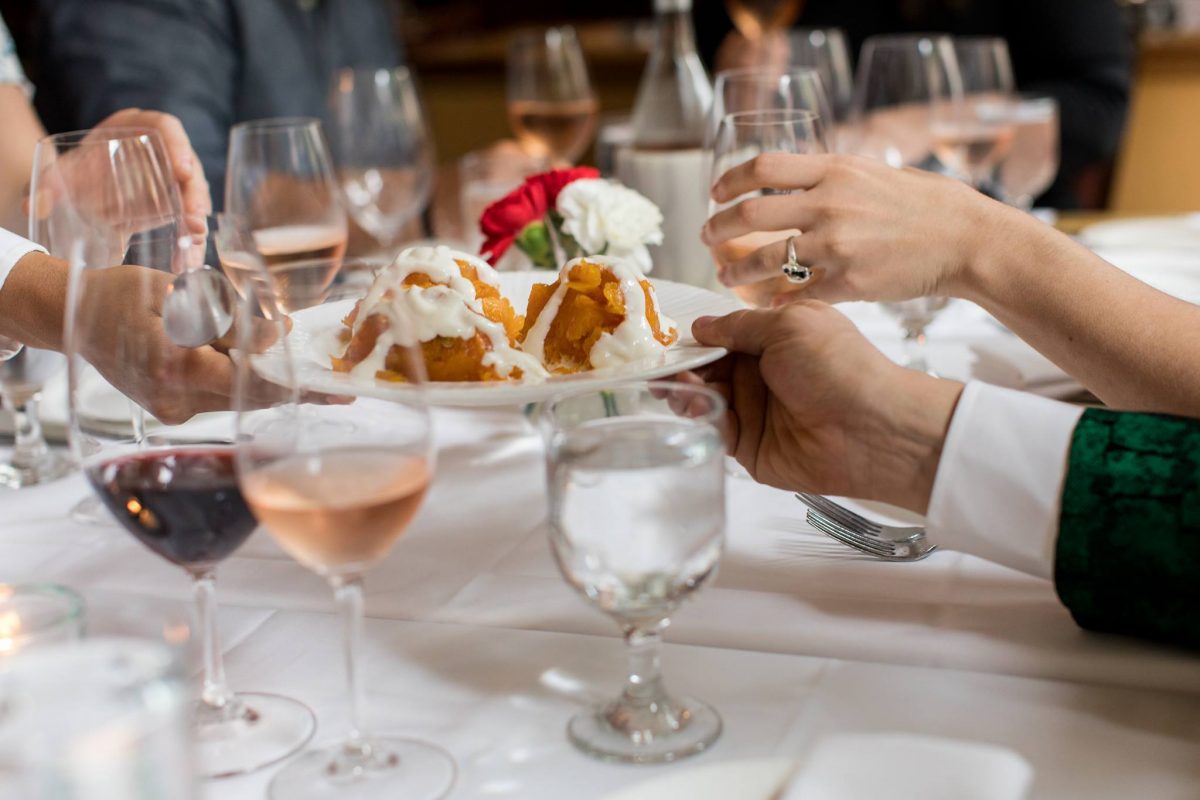 The Helmand
It all began with a love story in Washington D.C. in 1970, when 22-year-old Qayum Karzai was living in a building near DuPont Circle. He befriended his landlord's daughter, Patricia Morgan, who helped him learn English. Qayum was so smitten with 19-year-old Pat, he paid his rent—all $81 of it—in ones, just to extend the time he spent in her presence.
Seemingly, they were from different worlds. She hailed from Pittsburgh, and he was from Afghanistan, where his father held a powerful position in parliament. On their first date, he took her to a Lebanese restaurant, where she ordered the fried chicken. "I mention it whenever I can," says Qayum with a loving laugh. "He never let me forget it," she says. "I didn't even know it was a date."
Though she'd grown up eating kielbasa, pierogies, and other Polish specialties, she hadn't been exposed to the foods of the Middle East. "I never liked okra or eggplant or lamb," she recalls, "but after tasting the way he prepared it, it changed my mind and opened me up to trying other foods."
He also opened her up to the idea that he was interested in continuing to date her. By 1973, they were married. (Son Helmand joined the family in 1979, followed by daughter Ariana in 1986.)
On an early September night, against the backdrop of Afghani artifacts (a kulchi traditional Afghani dress hung on the wall, a collection of teapots, a family heirloom rug) and candlelit tables dressed with white linens, the Karzais reminisce about their 30 years at The Helmand in Mount Vernon.
Their first Helmand, named for the longest river in Afghanistan where Qayum and his siblings were born and raised, was actually in Chicago.
Qayum came to America to Lakeland Air Force Base in San Antonio, Texas in late 1968, then transferred to Vance Air Force Base in southern Oklahoma in 1970, while working for the Afghani Air Force. He had hoped to pursue a career in medicine, but his dreams were dashed after being diagnosed with vertigo.
In the years that followed, he drove to D.C., where he eventually enrolled at American University to study political science and economics, while also working as a busboy and server on the side. Qayum worked for several high-end spots, including D.C.'s Devil's Fork, where he met power players and politicians. Eventually, he and some of his siblings made their way to Chicago and opened their first Helmand in 1984. His sister, Fouzia Royan, and her husband were the managers until the business closed in 1995.
"On our first night in Chicago, we opened at five, and by seven o'clock we had run out of food," recalls Qayum.
By 1989, Qayum was back in the Mid-Atlantic, where he decided to bring Afghani food to Baltimore. He first considered a space in Fells Point across from the Broadway Market and also a spot in the Inner Harbor near what's now Port Discovery, but ultimately settled on a 100-year-old former carriage house at 806 N. Charles Street. On October 23, on a rainy and cold Monday—with Tio Pepe, Donna's, and The Prime Rib as neighbors—The Helmand first opened for dinner service.
"I sat outside looking at the street," says Qayum. "I sat facing the window and no one was out there, no one was walking on the sidewalk." But Chicago, with it's many Michelin-starred and James Beard Award-winning spots is a real restaurant town, and Qayum was convinced that if The Helmand could make it there, it could make it anywhere.
Of course, it didn't hurt that they had a connections. Thanks to their landlord's mother, a well-connected socialite, the place was packed by the weekend. "She said, 'I will give you a Who's Who of Baltimore list, and you invite them," says Qayum, "and that's what we did."
Prior to working for the restaurant—as well as their other properties including Tapas Teatro, Pen & Quill, Helmand Kabobi, and the now-defunct B, a Bolton Hill Bistro—Pat worked in the insurance industry. When Qayum left in December 2001 to work for his brother, Hamid, then the interim leader of Afghanistan who later became president for nearly a decade, Pat went to work in restaurants full-time.
"Coming from an insurance background, no one is going to tell you what you should do about insurance," says Pat. "The first thing I noticed in the restaurant business is that everyone wants to tell you what to do and how to do it—the public has so much input."
On this night, that's a good thing.
At a nearby table, Qayum looks over at an older couple and remarks that he recognizes them. "They've been customers here for a long time," he says, and later goes over to greet them. On their way out, the couple stops back to say good-bye. "'We can't believe you recognized us," says the woman. "We haven't been here in 15 years. Our hair wasn't even gray back then.'"
That's how it goes at The Helmand, it's a warm and inviting place that beckons back.
Now, over a feast of aromatic dishes—many of which have been on the menu since day one—including aushak (ravioli with leeks), banjan borani (pan-fried eggplant), seekh kabob (charbroiled lamb), kaddo borwani (baby pumpkin pan fried and baked in garlic and yogurt), mantwo (pastry filled with onions and beef), koufta challow (lamb and beef meatballs), Pat and Qayum break naan together and take a moment to reflect on the traditions and most memorable moments from the past 30 years.
None of the recipes are written down.
"In Chicago, my sister in law's sister was an extraordinary cook, so they developed these ethnically perfect recipes—but they didn't write things down," says Pat. "That was the hardest thing trying to replicate the food he cooked or my mother in law cooked. It was a handful of this and a handful of that all done by feel."
Shareable meals are key.
"Share everything," advises Qayum. "For your first visit, I'd tell you to order a pumpkin and a banjan eggplant and a small basket of bread. Don't ask for the bread first, you need to dip it in the appetizers. For entrees, order the Kabuli challow and Kofta Pallow and a side of sabzy [spinach]. Save room for the cardamom ice cream."
The famous pumpkin appetizer.
"We've gotten our pumpkins from the same farm, Sharp's at Waterford Farms, in Howard County since we opened," says Pat.
All dishes are authentic Afghani—except for one.
"We don't have a dish that you wouldn't find in Afghanistan, says Qayum." Except for one, says Pat. "After 2001, we decided to go ahead and have chocolate cake for dessert. I said, 'If America can be in Afghanistan, we can have chocolate cake in this restaurant. Everyone was asking for chocolate cake after dinner."
Three of the servers, including Qayum's cousin and manager, Assad, have worked at The Helmand since the day it opened.
David, Assad, and Sadiq have been here from the very beginning," says Pat. "David is from El Salvador and when he first got here, he barely spoke any English." Says David, "I love it here. Why would I go anywhere else?"
Hospitality is a code of honor.
"Hospitality is so important in Afghanistan that when you have a guest, whether it's someone that you know or don't know, and they come into the space, everyone is there to accommodate them to give them beverages and lots of food," says Pat. "It's very dishonorable if you don't overwhelm them with food and service. For Qayum and Assad and the other servers, it's just part of who they are."
Sometimes that custom can go a little far.
Qayum laughs when he recalls a day when the urinal backed up at his Chicago location. He told his sister, who worked at the restaurant, to expect a plumber. "When I got there I said, 'Is the plumber here? She said, 'yes,' he's already seated—and there he was seated at a table with the plunger next to him on the floor."
The 60-second rule.
"Acknowledge that someone has come into the space," says Qayum. "That's the key. It doesn't matter who it is. It can be the busboy. When you go to the table there's a 60-second rule for someone to come over and acknowledge you, even if it's not the waiter."
Forget about the food.
"Don't assume that you have the best food," says Qayum. "People are not coming for the food. People are coming in to leave the day behind."
Memories of 9/11.

"After 9/11, we decided to open the same day," says Pat. "And he wasn't in the country, he was in Rome at the time, he was there to persuade the previous king to return to Afghanistan. He said, 'We should open,' and people came in. People came in and said, 'We're so surprised, you're open but we're so happy you're open and we're coming to show our support.'"
10-year-streak.
"We had one customer, Mr. Witherspoon who came every day—he never missed a meal. He always sat at the same table—B-5, bar five. The days that he would not come either I or Assad would call him and say, 'Where are you?' We'd say, 'Can we bring you the food?' And we did."
Neither snow nor rain nor heat nor gloom of night…
"We've never closed for business," says Qayum. "Not even in a blizzard."