Review: The Red Boat
The Red Boat delivers on Vietnamese fusion fare in Mt. Vernon.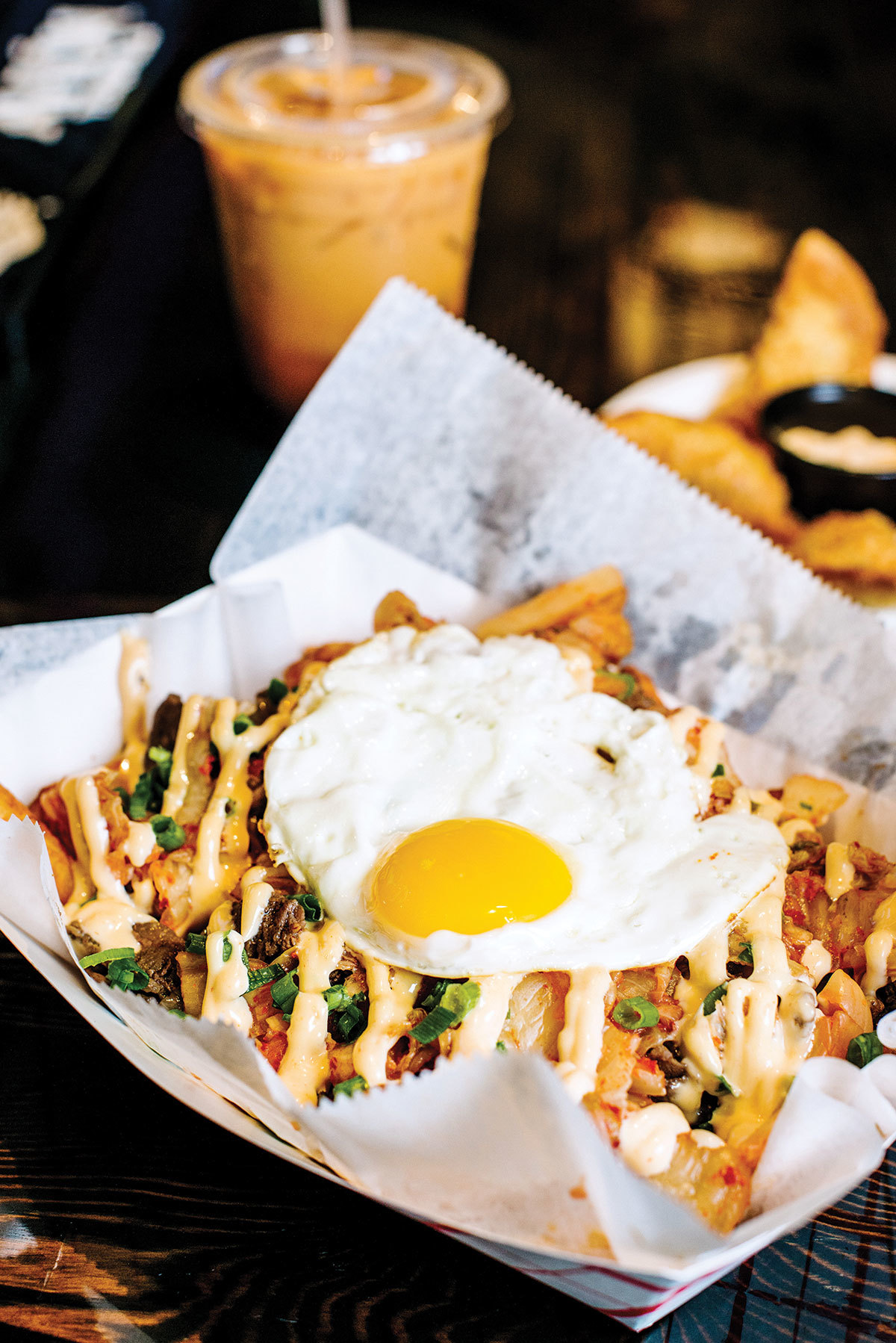 The Red Boat, which bills itself as Vietnamese fusion, takes the fusion part of its mission quite seriously. And not just food-wise. Is it a restaurant? A bar? A fast-casual spot? A take-out joint?
The answer is yes. It's all of those things.
We visited the Mt. Vernon location of this burgeoning chain (there's one downtown and, according to its website, more to come) three times and left impressed by much of the food, even if it did take us a few trips to master the concept.
While those at the bar receive full service, everyone else orders at the counter. If you're eating in, grab a seat and your food will be served on a red cafeteria-style tray. Whether you're staying or taking your food to-go, your number will be displayed on an electronic board—like at a deli—when your order is ready. There's a pool table in the back room and '80s music (when we were there) on the stereo, so the vibe is equal parts hangout and carryout.
At both lunch and dinner, our food emerged from the kitchen scalding hot. The best of what we tried tended toward comfort dishes. A large order of kimchi fries was loaded with the pickled cabbage, yet the potatoes retained their firmness. They were an excellent accompaniment to the K-Town dog, a quarter-pound beef frank with diced kimchi, chopped Korean bulgogi beef, and toasted seaweed. Both were delicious messes. (To spare your shirt, the fries should be attacked with a plastic fork, which are found in Café du Monde coffee cans, and the dog should be consumed while employing an exaggerated forward lean.)
Among the more-traditional staples, the steamed pork buns stood out. Filled with seasoned ground pork, Chinese sausage, half an egg, and mushrooms, the appetizer or side offered a pleasing blend of flavors. We preferred the somewhat greasy crispy duck wontons and fried pork and shrimp spring rolls to the admittedly healthier bulgogi beef rolls, wrapped with vegetables in a light noodle casing.
The menu features build-your-own rice, salad, or noodle bowls, along with tacos and banh mi sandwiches. The lemongrass chicken one, a tad-too-large hoagie roll packed with pickled carrots and daikon, cucumbers, cilantro, and jalapeños, but not a ton of meat, wasn't bad but was hardly memorable. The same can be said for the pho, which was perfectly fine but featured broth a bit on the bland side for our taste.
Each time we visited, The Red Boat's staff was friendly and accommodating. We weren't the only ones they educated about how the place functions, but now that we've mastered it, we'll certainly be back.
---
›› The Red Boat 334 N. Charles St., 443-835-1507. Hours: Tue.-Thurs. 12-10 p.m., Fri.-Sat. 12 p.m.–1 a.m., Sun. 12-8 p.m. Rolls: $5; hot dogs: $7; Banh mi and tacos: $8; pho: $10; rice/salad/noodle bowls: $11.