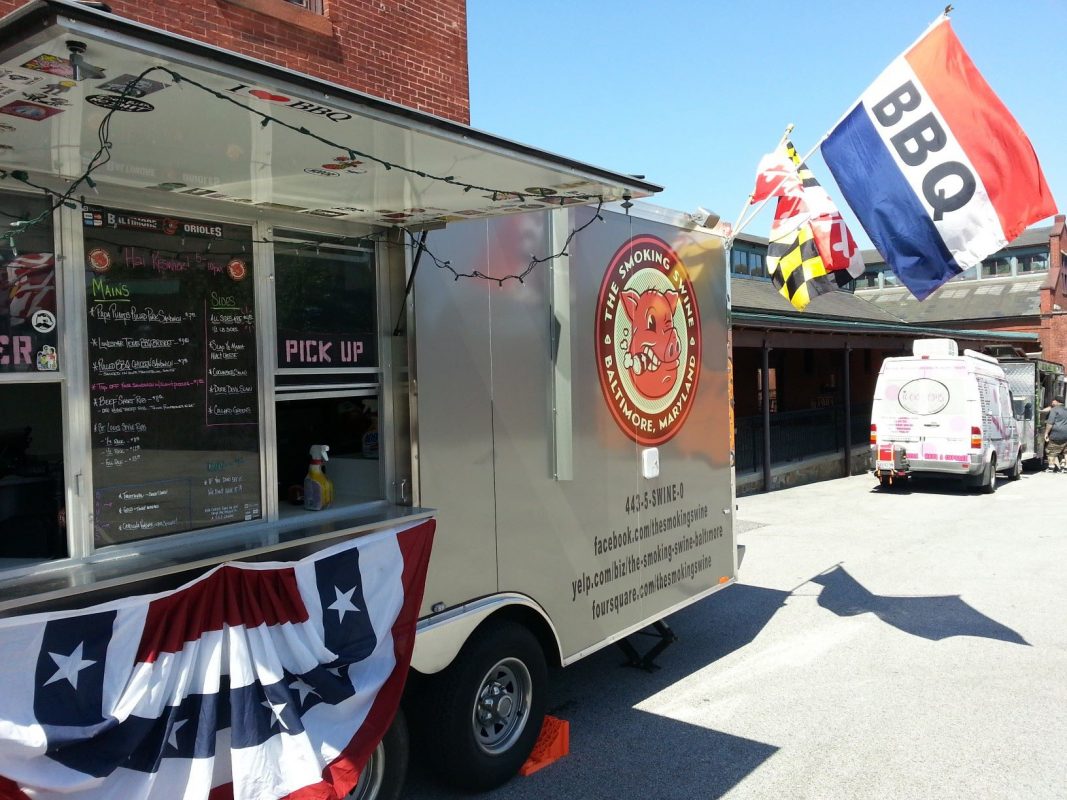 Courtesy of The Smoking Swine
Our ears are always perking up at the mention of a local restaurant hitting the streets with a food truck, but in this case, the tables are turned.
The silver Smoking Swine food truck, which has become a foodie haven for locals craving mouthwatering barbecue, has temporarily parked while preparing to take over the kitchen of the former JD's Smokehouse space in Canton. The restaurant, now Smokehouse Canton that is currently a bar without food, was recently bought by a new set of owners including Ryan Perlberg of Stuggy's, Rye, and Bookmaker's Cocktail Club.
"They approached me to consult and bring their kitchen up to speed," says L. Drew Pumphrey, owner and executive chef of The Smoking Swine. "We came to a mutual decision that we would be better off bringing my established brand into their new space."
Pumphrey and The Smoking Swine team have created a menu featuring all of the core favorites that they serve on the truck—like pulled pork sandwiches, brisket, ribs, and fan-favorite macaroni and cheese—as well as new items like duck-fat green beans and house-made ice cream sandwiches. The restaurant will also be featuring live rock and roll and R&B music, a fitting accompaniment to the southern style fare. Pumphrey says that he loves bringing his food to the streets, but cooking in a spacious kitchen has its perks, too.
"The kitchen is eminently easier. Compared to the truck, it's a walk in the park," he says. "But on the truck you kind of wear this badge of honor that says, 'I do the most difficult cooking there is.'"
For now the arrangement is only temporary, and the staff is treating The Smoking Swine's 90-day trial run like a "pop-up," akin to Shoo-Fly Diner's recent partnership with D.C.-based Maketto. Depending on neighborhood support, the takeover could become permanent.
"We are leaving it open-ended so if we want to eventually merge brands we can do that," Pumphrey says.
The kitchen is slated to be up and running within the next week and Pumphrey says that he expects the truck to be back on the road in January. After the grand opening, Smokehouse Canton will be open at 5 p.m. Monday through Friday, and at 12 p.m. on weekends.
"We're going to blow the doors off the place," Pumphrey says. "My Fells Point customers are like family to me and I love being able to bring food to them, but I'm also totally stoked that they can now come to me."
While tasting the finger-licking barbecue at Smokehouse, be on the lookout for another restaurant-revamping project in the works around Canton Square. A Portside Tavern sister restaurant called Cask & Grain is slated to open in the former AKA Studio space on O'Donnell Street next summer. Cask & Grain will be taking part in the of-the-moment farm-to-table trend fusing locally sourced ingredients into its dishes.