As New Year's Eve approaches, we start to reminisce about all this year has brought and look forward to the untapped dreams that could happen in the next. And, of course, we gather with friends and family to celebrate. While many will be out dressed to the nines at festive parties, some of us prefer a quiet, more intimate celebration at home. If you prefer staying in, these Maryland-inspired recipes will be definite crowd-pleasers for all of your kitchen table crew.
Gunther & Co.'s Thai Lobster Curry
Although not as proper at Maine, Maryland does have commercial lobster harvesting. "I've met a couple of Lobstermen—they exist," says Gunther & Co. executive chef Jerry Trice. "They must voyage 30 plus miles to harvest locations, which greatly shortens their season." Tap into your adventurous, seafood-loving side with this flavorful dish.
Ingredients:
4 each fresh lobsters (1.25-1.5 lbs is the 'sweet spot') In-shell and alive, if possible
3 tablespoons Canola Oil
Preserved Lobster Shells
2 tablespoons Red Curry Paste
3-4 Thai Chilis (minced)
1 tablespoons Tomato Paste
2-3 Lime Leaf
6-8 Small Shallots (thinly sliced)
½ cup Garlic (chopped)
2 inch Piece Ginger (fresh cut into julienne)
1 cup White Wine (dry)
1 cup Cognac or Brandy
1 tablespoon Fish Sauce (stinks, but tasty)
2 cans (27ounces) of Coconut Milk (not coconut cream!)
2-3 Limes (freshly juiced)
2 tablespoons Sugar
For garnish add bean sprouts, cilantro leaves, julienned carrots, lime wedges
Instructions:
Steam lobsters for 17-20 minutes or until cooked throughout. If steaming isn't an option, boil in heavily salted water. Shock in an ice water bath. Remove meat and preserve shells.
In a large heavy stockpot, bring canola oil up to heat over high heat. Hot but not to the smoking point. Add preserved lobster bodies and shells and cook for 6-8 minutes while occasionally stirring.
Add red curry paste, Thai chilis, tomato paste, lime leaves, shallots, garlic, and ginger. Continue cooking for another 5-6 minutes.
Deglaze with wine and cognac. Reduct for 2-3 minutes.
Add remaining ingredients and bring to a boil. Then reduce to a low simmer for 15-20 minutes.
Strain through fine-mesh sleeve or cheesecloth.
At this point, sauce can be held warm and lobster meat can be added.
Serve over steamed rice or rice noodles.
Garnish with bean sprouts, cilantro leaves, julienned carrots, and lime wedges.
---
True Chesapeake's Crab & Citrus Salad
Zach Mills, executive chef and partner at True Chesapeake Oyster Co, knows crab is crucial to us locals. "To me this is an homage to the end of Maryland crab season," Mills says. "Even though it's getting colder and traditionally dishes get heavier, this is a lighter dish utilizing seasonal ingredients that pair really well with the crab." Although this may seem like a simple salad, the dish has several textures and flavor profiles that play well together.
Ingredients:
For Citrus Vinaigrette:
4 tablespoons Shallots (minced)
¼ cup Champagne Vinegar
3 tablespoons Fresh Lemon Juice
2 tablespoons Fresh Orange Juice
¼ teaspoon Lemon Zest
¾ cup Grapeseed Oil
Salt & Pepper to taste
For Salad:
4 Rustic Country Loaf Slices
8 ounces Picked Lump Crab Meat
12 Lemon Segments
12 Lime Segments
12 Orange Segments
4 cups Frisée
4 Shaved Breakfast Radish
4 tablespoons Chopped Mint
4 tablespoons Chopped Parsley
4 teaspoons Minced Chives
½ cup Citrus Vinaigrette

12 Celery Leaves
Instructions:
For the vinaigrette, place all ingredients except for oil in a blender and blend until smooth. With the blender running on a medium speed, slowly stream in oil until vinaigrette forms. Taste and add more salt and/or pepper if needed.
Slice country bread into ½ inch thick slices. Brush with olive oil and season with salt and pepper. Place on a grill or in a hot pan and toast on both sides. Set aside and allow to come to room temperature.
Place crab meat, citrus segments, Frisée, radish, and herbs into a mixing bowl. Season with salt and dress with citrus vinaigrette. Gently fold all ingredients together, ensuring not to break up the lumps of crab meat too much.
Lay bread down on serving plate(s) and cover the top with the salad. Place celery leaves on top of each salad.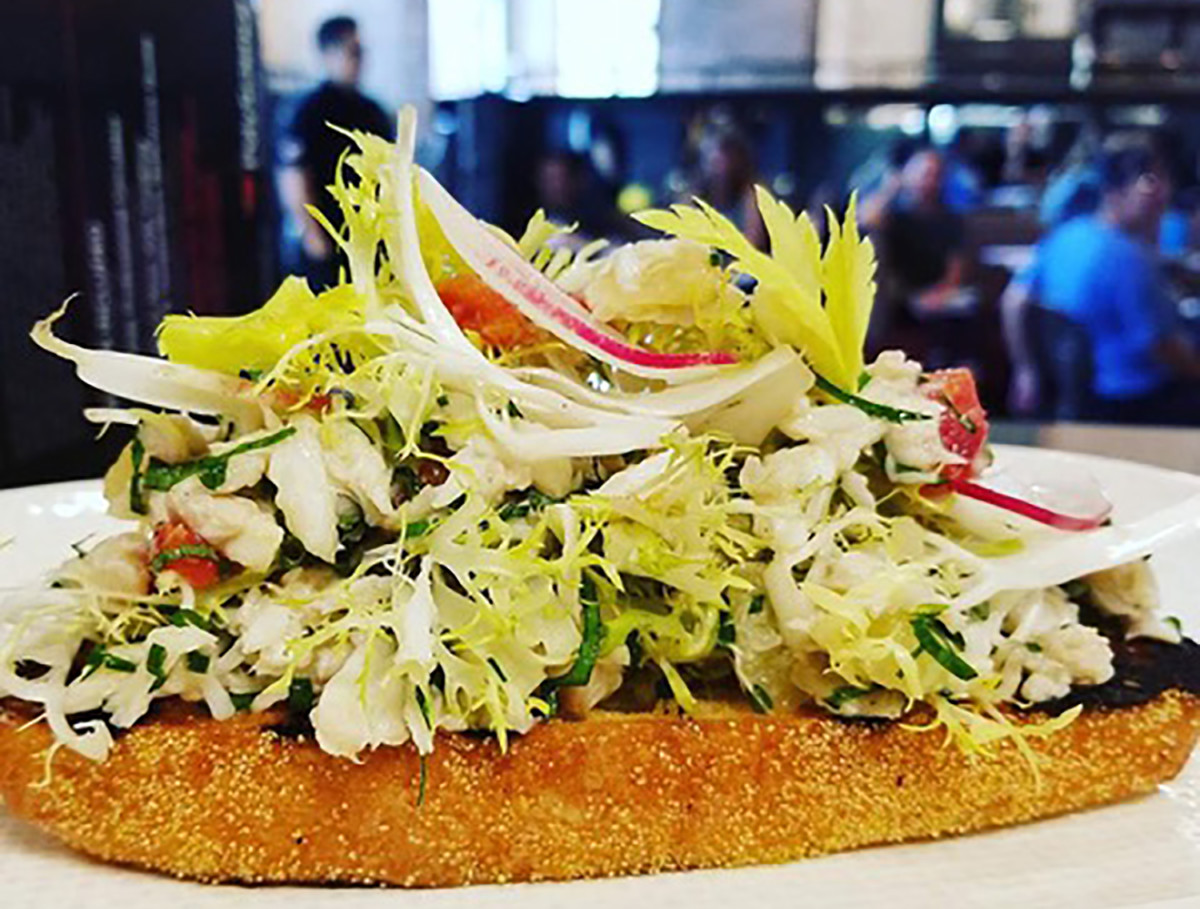 -True Chesapeake Oyster Co.
Guinness Grain Bowl
If you're planning a midnight countdown, you're going to need something hearty and healthy to start your next morning (and New Year) strong. "Wellness-focused resolutions are on the tip of everyone's tongues and grain bowls allow you to tailor the ingredients to what you're in the mood for while checking the right nutritional boxes," says Guinness Open Gate Brewery executive chef Kevin McCarthy. Looking to make this bowl even more fun? McCarthy suggests creating a DIY brunch bar for yourself and/or guests. Put out toppings that can satisfy any type of taste from vegan to Whole 30 to Mediterranean Diet.
Ingredients:
Maldon Sea Salt
2 Sweet Potatoes
1 White Onion
¼ cup Olive Oil
1 Head Collard Greens
¼ cup Apple Cider Vinegar
2 Eggs
½ cup Barley
¼ cup Quinoa
Mushrooms and Cipollini onions
Cracked Black Pepper
Instructions:
Peel and dice sweet potato then simmer in lightly salted water for 30 minutes till tender. Then mash until smooth.
To make cider braised greens, dice one small white onion and sauté in olive oil until soft, add chopped greens, sauté until soft, add apple cider vinegar and cook for 15 minutes on low.
Use a circulator pump to poach eggs at 145 degrees for 45 minutes.
Rinse the quinoa and barley grains then simmer in lightly salted water for 15 minutes then strain.
To assemble plate, heat sauté pan on medium and add olive oil. Then add mushrooms and Cipollini onions. Sauté until mushrooms and onions caramelize, then add greens, barley, quinoa, season with salt and pepper.
Place sweet potato puree in bowl and then add barley mix to bowl. With a slotted spoon, remove eggs from hot water. Crack one egg at a time into slotted spoon to remove outer egg white layer, then place egg on top of barley, then repeat egg one more time.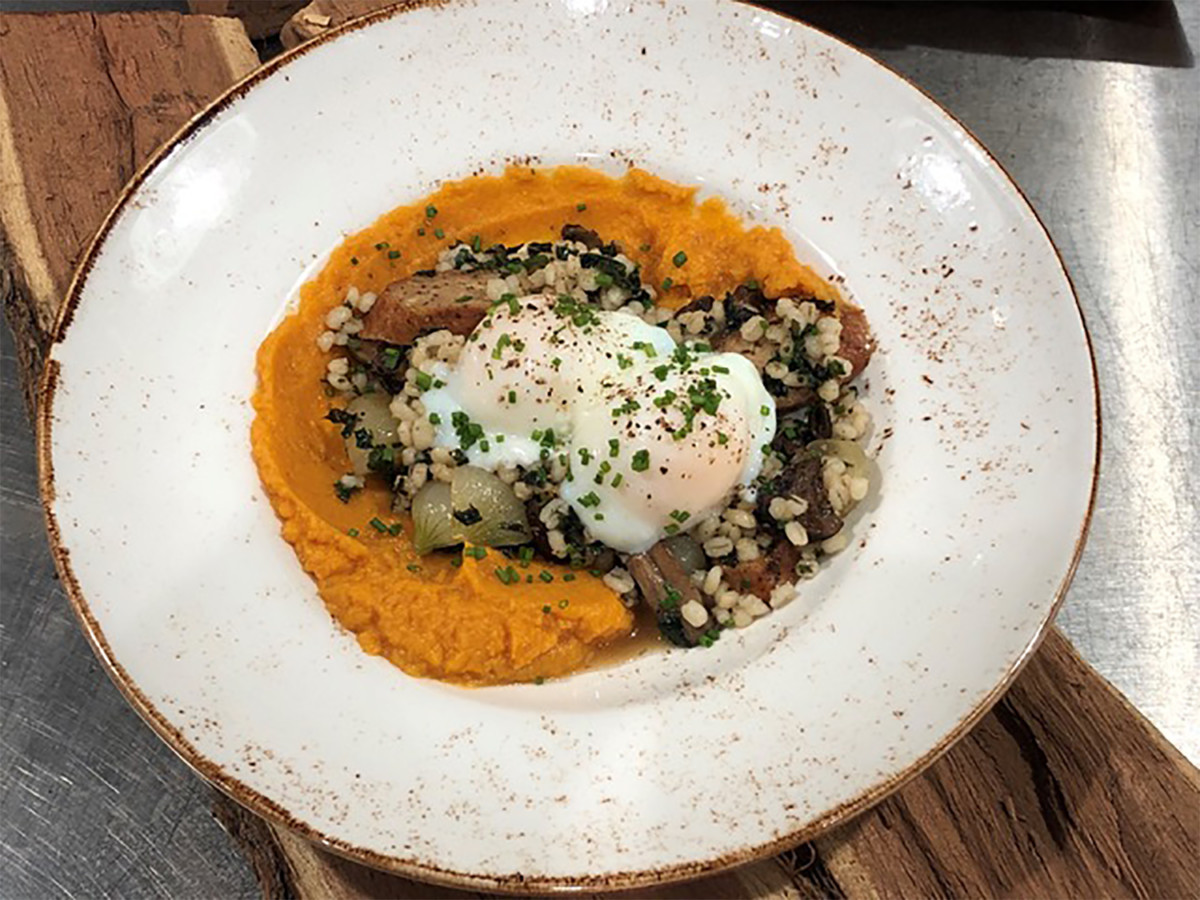 -Guinness Open Gate Brewery and Barrel House
---
---