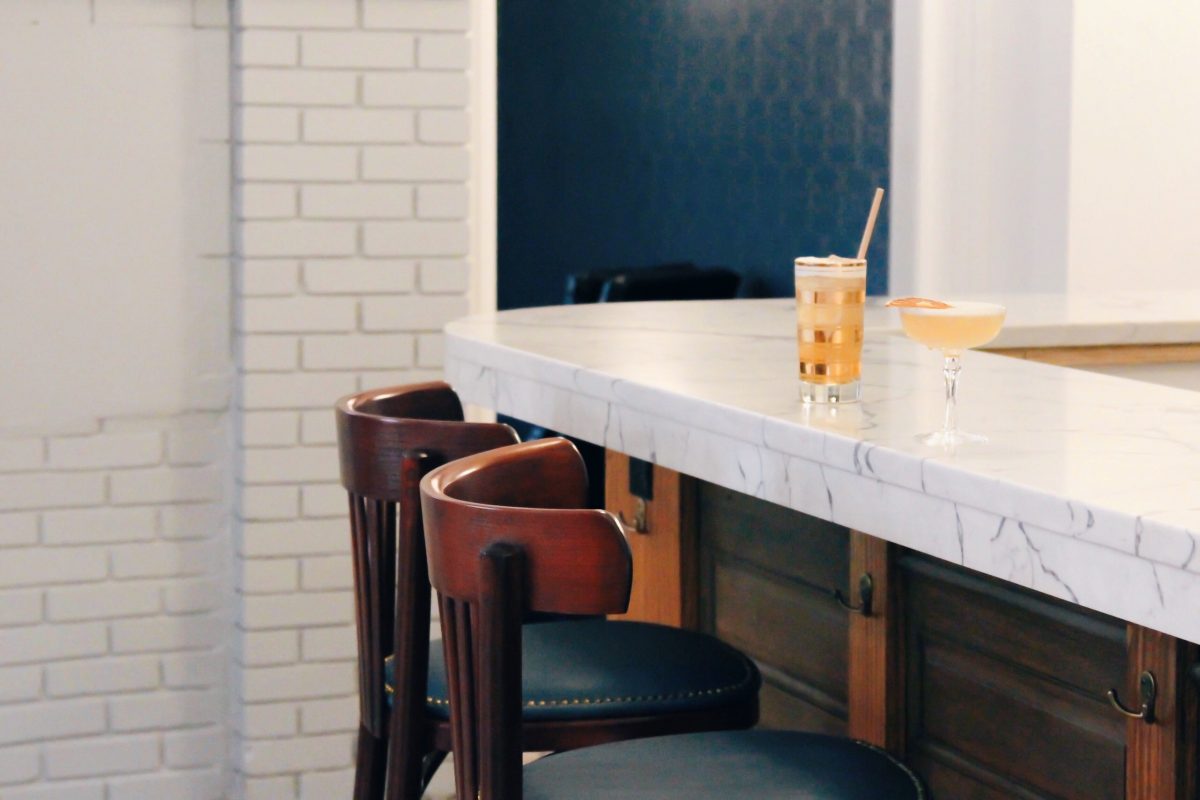 Photography by Lorann Cocca
Perhaps one of the most striking things about walking into Dutch Courage in Old Goucher before the sun sets is the amount of natural light that shines through the corner building's many windows.
For industry veterans Brendan Dorr and Eric Fooy, the brains behind the soon-to-open gin bar that has been in the works for nearly two years, the light is symbolic of the spirit they've decided to showcase.
"Because gin is bright and airy, we wanted the space to feel bright and airy," says Dorr, the president of the Baltimore Bartenders' Guild, who previously worked at B&O American Brasserie alongside Fooy. "So many cocktail bars are dark and moody, but we want this to be a place where you can go to have a cocktail at night and actually read the menu."
Highlighting a 100-bottle gin collection, the bar will offer a rotating list of cocktails that aim to educate guests about the complexities of the spirit.
Among them will be the "Sirocco" (Mahon gin, aloe liqueur, sherry, egg white, dehydrated apple) and "A Japanese Breakfast," which fuses nikka gin with chartreuse, yuzu marmalade, and dehydrated lime. Another option, "The Eleanor" (Baltimore Spirits Company Shot Tower gin, rosewater, grapefruit, and sparkling wine), is named after Eleanor Roosevelt—who once dined in the space when it housed the president of Goucher College.
"There are thousands of whiskey cocktail bars in the country right now, but not a lot of gin joints," Fooy says. "We wanted to do something a little different. There are lots of gins out there that aren't recognized because they haven't gained a lot of traction yet."
To accompany the drink menu—which will also include local beer, wine, and cocktails highlighting other spirits—Dutch Courage will offer a food program with shareable snacks and sandwiches. (Think pickled veggies with herbed buttermilk dip, a cheese and charcuterie platter, and a pressed Cubano.)
"Gin has become such a global spirit," Dorr says. "It's being made everywhere. I just tasted a gin from Mexico made using agave and a lot of different botanicals, including juniper. So the food can kind of be global in that way, too."
Though gin will be the focus, the spot—set in a historic North Charles Street property that was most recently a printing business—also shows its uniqueness through the many DIY pieces and vintage finds scattered throughout the interior.
Dorr and Fooy made it a priority to preserve as much of the building's originality as possible—maintaining woods, trims, and moldings throughout. But their additions only elevate the bar's charm.
"I have a ton of art," says Dorr, who has gathered many of his collectables from places such as Second Chance and Wishbone Reserve. "I also have reclaimed cast iron fireplace faces and grandfather clock faces that I've picked up over the years. You just gotta match the right pieces."
Here are a few other treasures to look out for when visiting Dutch Courage—named after British soldiers' tendency to consume copious amounts of Genever before battle during the Thirty Years' War—which could be open as soon as next month pending final inspections.
Tables made of reclaimed wood and old sewing machines
While renovating the space with contractor Lewis Hibbs and architect Jay Orr, Dorr discovered wood panels that caught his eye. "I said, 'Wow, these boards are really nice. What are we doing with them?'" Dorr says. "No one had a real immediate answer, so I said, 'Can I have them to make tabletops out of?'" And that's exactly what he did with the reclaimed panels, which now sit atop cast iron bases taken from old sewing machines.
Vintage cash register
Stationed at the end of the quartz-topped bar is this cool conversation piece, which Dorr inherited from his father. "My dad liked collecting different things, and this was probably his fanciest one," he says. Though he remembers a time when the register opened, it's now strictly for show. "It doesn't work anymore, because when I was 12, I broke it," he shares. "I cranked it, and my dad says he thinks a gear must have slipped. So it's still locked."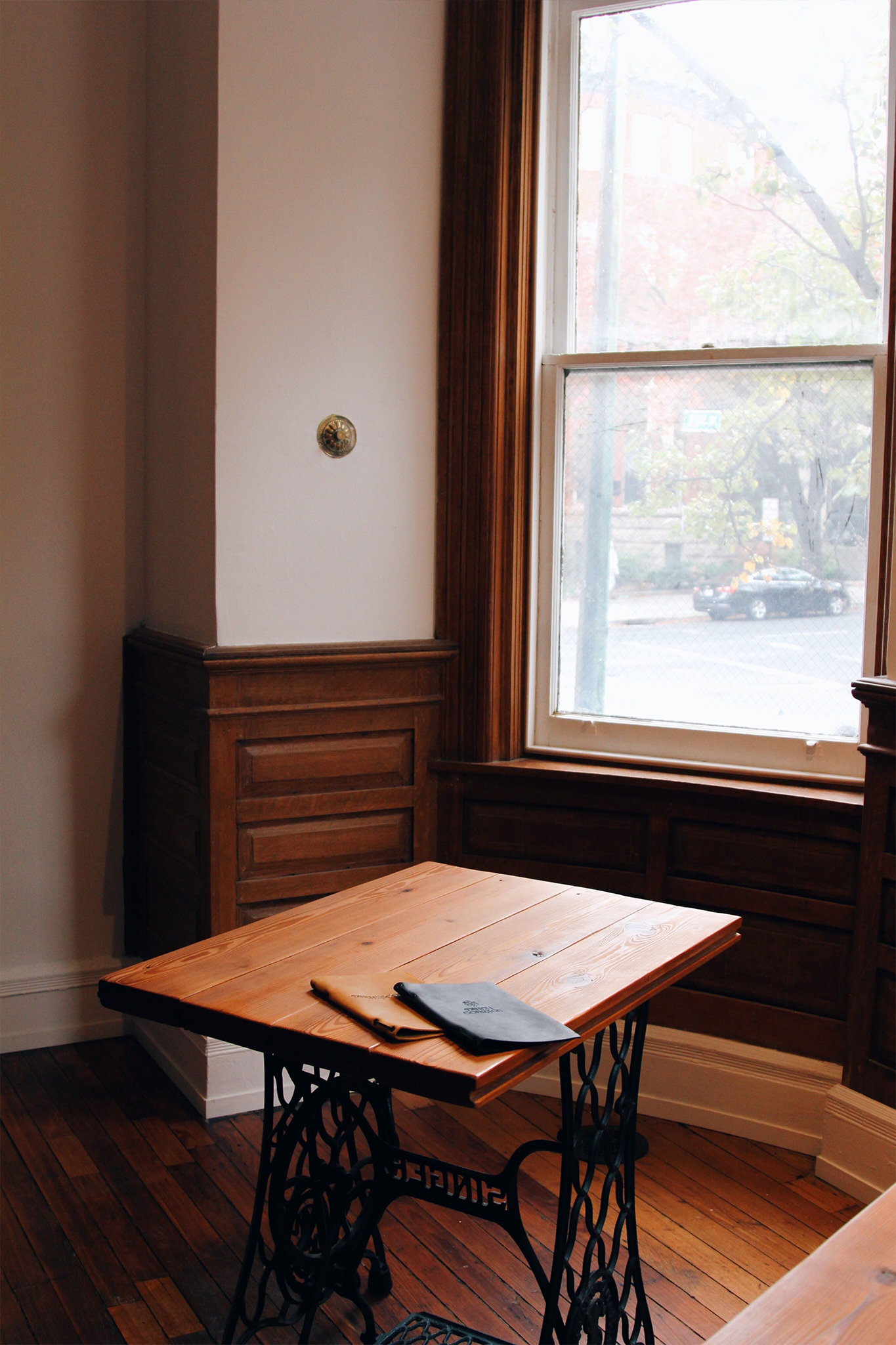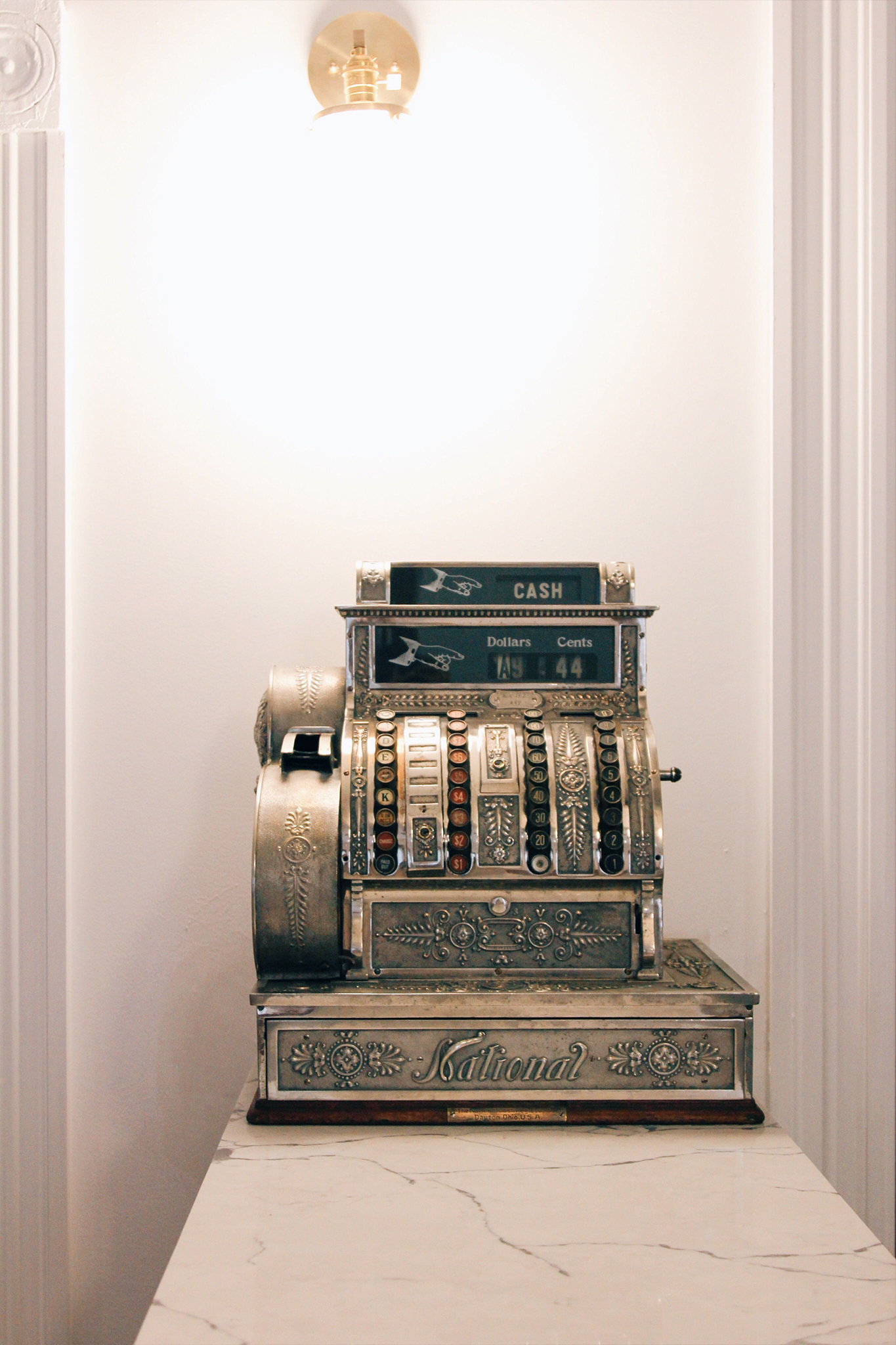 Red velvet sofa from Wishbone Reserve
Though the majority of the space is bright and airy, there is one area just past the bar that has a more cozy feel. There, guests will spot a red velvet couch that Dorr found at Wishbone Reserve in Hampden. It's set against a wall covered in navy blue wallpaper with hints of gold—which we can only predict will be Charm City's next great Instagram backdrop.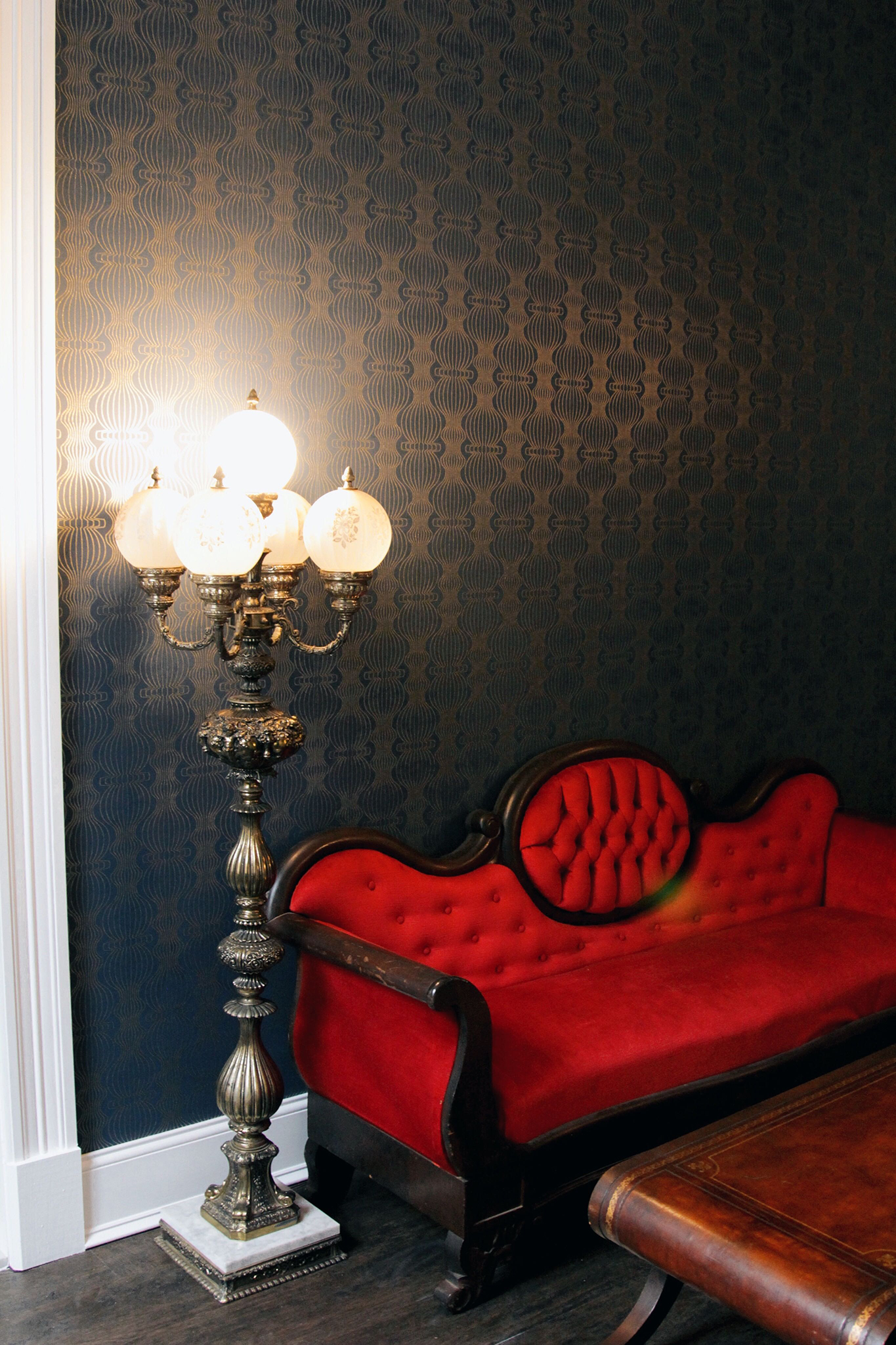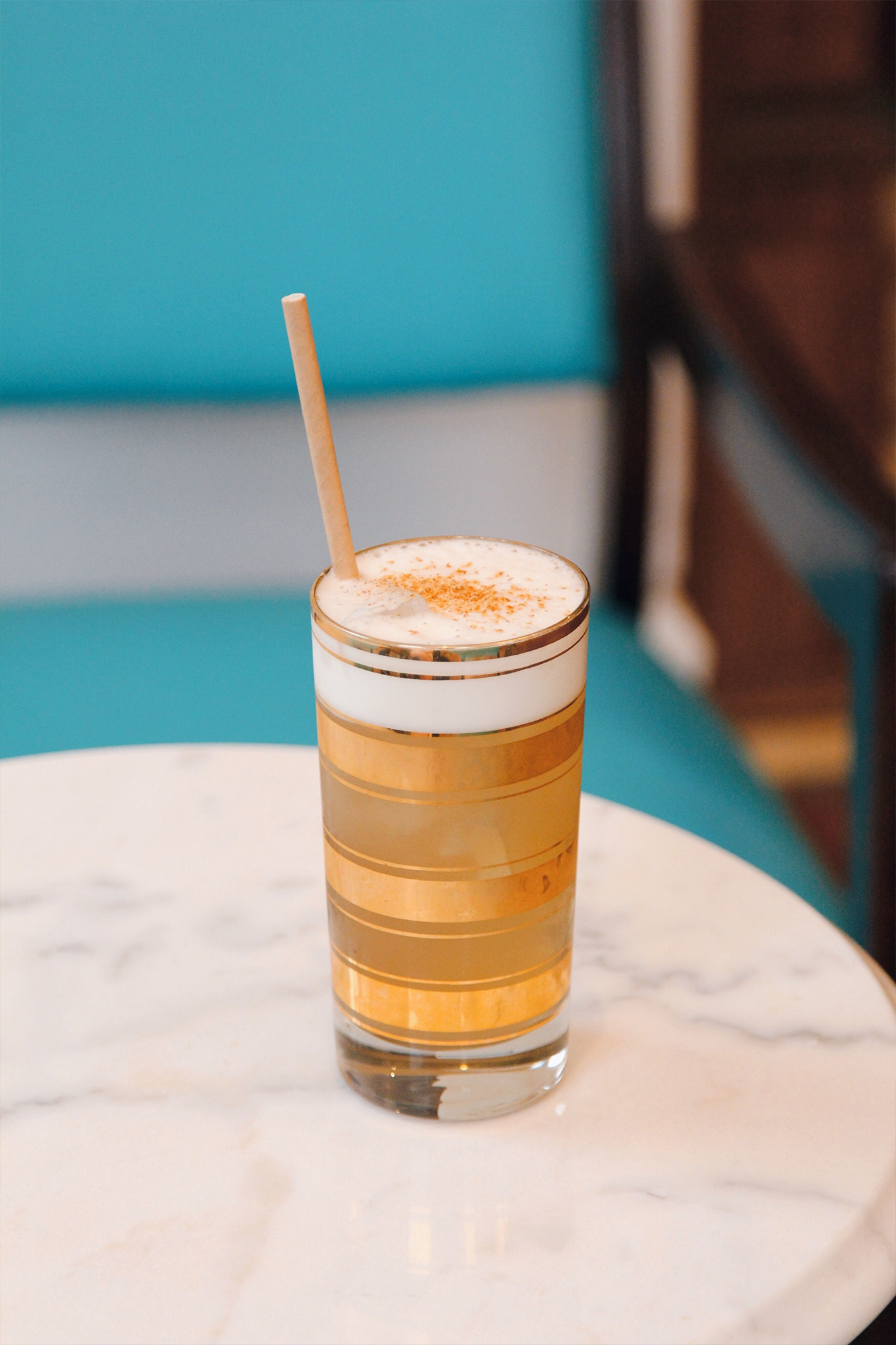 Outdoor courtyard with its own satellite bar
The location is also equipped with its own outdoor courtyard, which Dorr and Fooy envision being decorated with string lights and lots of greenery. It will feature custom-built planters made out of leftover pallet wood from equipment deliveries. During the warmer months, the team will set up a satellite bar to make the patio more of an outdoor hangout.
Both inside and outside, all of the touches are meant to contribute to an inviting feel—something Dorr and Fooy feel strongly about given their many years in the service industry.
"I'd like this to be a neighborhood bar," Fooy says. "I'd rather fill every seat every day than make it a special occasion place. We have wood on our walls, but we're not the Engineer's Club. We want you to come in and just be excited to have a drink here."