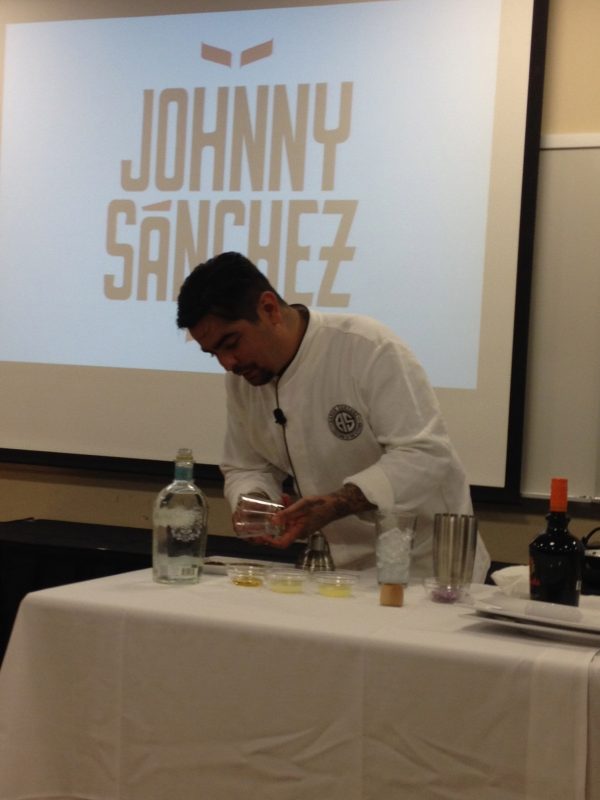 Suzanne Loudermilk Haughey
When Horseshoe Casino Baltimore opens this summer, it will house a taquería called Johnny Sánchez, named after the two celebrity chefs who are collaborating on its food and drinks—John Besh and Aarón Sánchez.
The names of the chefs, under wraps for months, were announced today at Stratford University, where culinary students helped to prep food for a preview of the tacos and tostados that would be featured at the restaurant.
Sánchez, who was brought up in his mother's acclaimed Mexican restaurant Zarela's in New York, was on hand to give a brief demo. Besh had flight problems and wasn't able to make the press conference.
Sánchez seared a pork belly for tacos (pictured) and finished off a seared-tuna tostado with uni (fresh sea urchin) and caviar, saying, "Baltimore deserves the best."
He also whipped up a margarita (pictured above), using silver tequila, lemon, lime, and agave nectar and serving it in a glass rimmed in roasted-pepper salt. "Let's make sure the cocktails speak as much volume as the food," he said of the restaurant's bar offerings.
The menu will also offer shareable plates, whole-roasted meats, and ceviche at the 220-seat restaurant, Sánchez said.
If you've watched Food Network, you've probably seen Sánchez and Besh. In fact, they competed against each other on Next Iron Chef and have a long list of accomplishments, including operating restaurants and writing cookbooks.
Besh—a 2014 James Beard inductee into the "Who's Who in Food & Beverage—operates 10 restaurants in southern Louisiana, including his flagship, August, in New Orleans.
Sánchez—named a "Rising Star Chef of the Year" by the James Beard Foundation—is a chef/owner of Mestizo in Kansas and plans to open Alegre in New York City and Paloma in Stamford, CT, this year.
Sánchez called Besh a "dear friend" and promised that "this restaurant—my personality, his personality—will make it what it is. We're having fun cooking and sharing with a large audience."