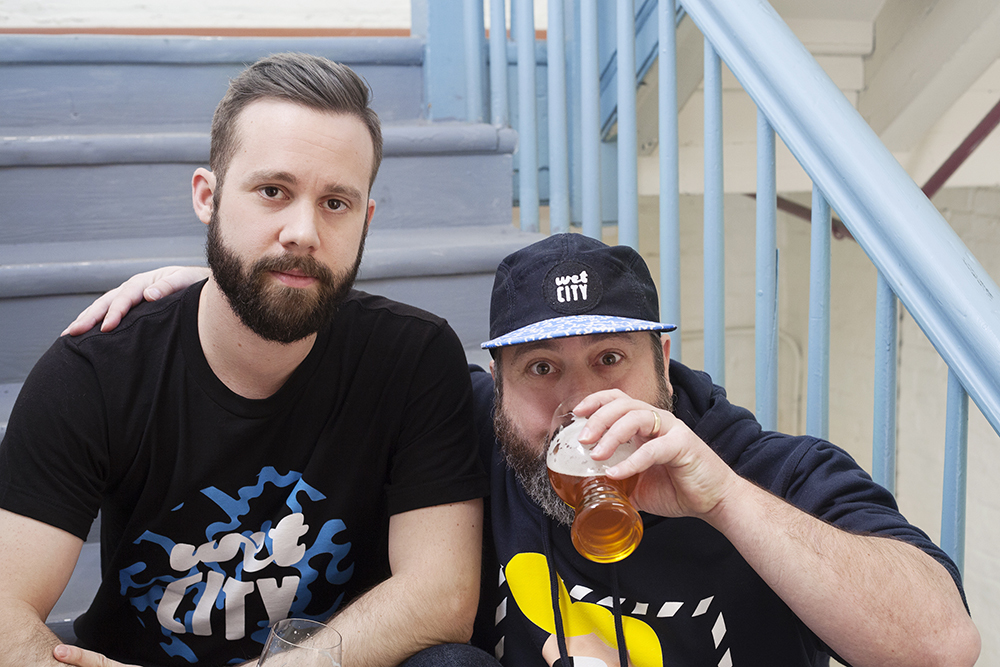 Photography by Kara Black / Hardly Square
About a month ago, we let you know that the venerable Dougherty's Pub in Mt. Vernon was closing and being sold to new owners. Well, turns out, those new owners have been home brewing in Baltimore—and winning awards for their work—for years now.
PJ Sullivan, 37, a graphic designer and founder of Hardly Square, and Josh Sullivan, 34, bartender and owner of craft cocktail company Post Prohibition, have been looking for a bar space to open for years, but never found the right opportunity.
"We've had so many ups and downs trying to acquire a space," PJ says. "But we came across Bill [Dougherty], who was ready to retire and he was so nice and easy to work with. It was a great fit. We know that Dougherty's has been a staple in the neighborhood for a really long time, and it was a bar we went to a bunch. But now we need to make it our own since it's always been a dream of ours."
The brothers are calling the bar Wet City, which is a nod to Baltimore's nickname during Prohibition when it defied the rules and continued selling alcohol. The bar will be extremely beer-focused, which makes sense since Josh and his friends have been home brewing for the past five years. In fact, his beers have won a few local competitions, including the home-brew contest at the Baltimore Craft Beer Festival (for a cherry sour) and Mash Bash at Parts & Labor (for a session IPA that PJ says is likely to be one of the bar's first beers on tap.)
"Right now, the plan is to contract-brew one or two of our beers at first," PJ says. "But once we get all the permits, we want to set up a small brew system at the bar. We'll have small batches and frequent runs, so it's more of an experimental focus."
Wet City, which will have 20 taps and offer beer flights and half-pours, will also feature small cocktail and food menus (though the owners are still in the process of finding a chef). The owners plan to get rid of the back pool tables and use that as an event space, rip up the floor tiles, refinish the wood floors, and modernize the bar top. The two are hoping for an opening of March or April.
"My brother and I have been best friends forever and this bar has been a long time coming," PJ says. "We're playing off that narrative that Baltimore is a unique city, one that isn't afraid to experiment, and knows that rules are meant to be broken."