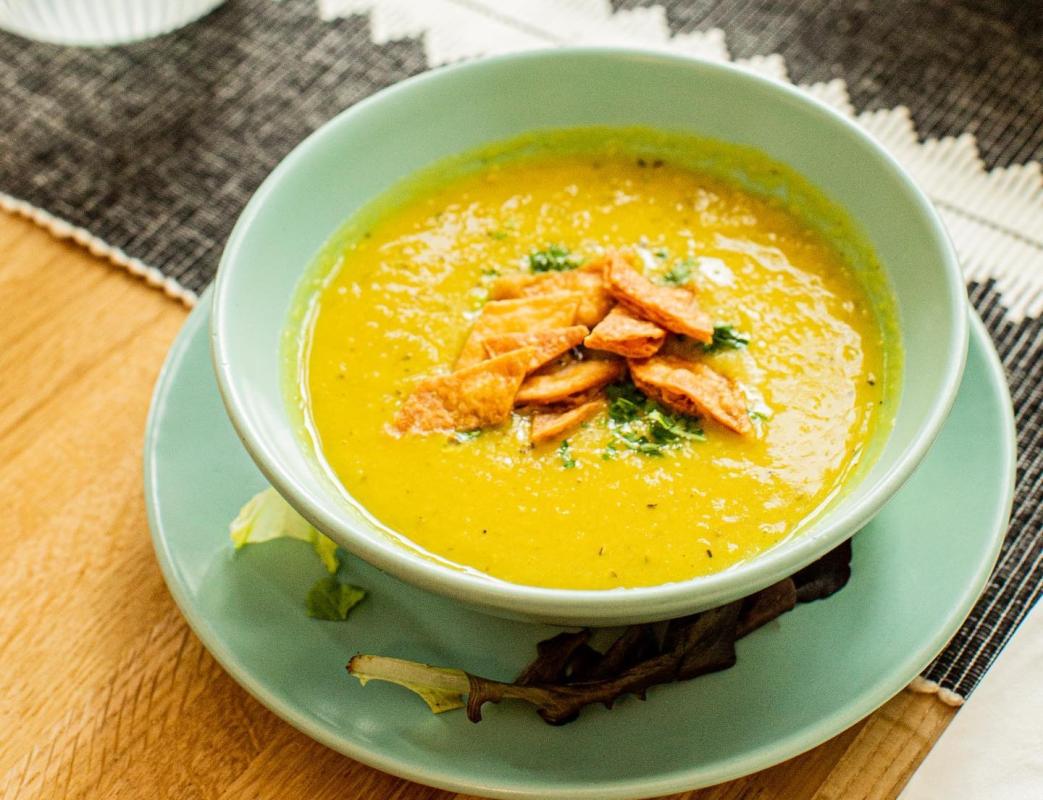 Mera Kitchen Collective's crushed red lentil soup, one of its many Iftar specials on offer. —Courtesy of Mera Kitchen Collective via Facebook
Last Wednesday marked the start of Ramadan, month nine of the Islamic lunar calendar, when practicing Muslims pray, reflect, and fast from dawn to dusk in honor of the first revelation of the Prophet Muhammad. Observance is a part of Islam's five pillars, and while each family celebrates the holiday in different ways (and breaks the fast with different foods,) the fasting principles—self-discipline, respect for those less fortunate, and loyalty to Allah—remain the same.
Through the end of the holiday on April 20, a number of area eateries are offering Iftar specials for those observing. Check out our running list of places to dine after sunset, below.
Mera Kitchen Collective: At this Midtown-Belvedere food cooperative, chef Iman Alshehab is preparing special meals to break the fast on Tuesdays, Wednesdays, and Thursdays after 5 p.m. The daily menu features family-style recipes that you can enjoy at the Calvert Street spot or take home. Among them are marcona bechamel pasta with eech (a side dish of chopped parsley, bulgur, lemon, and roasted pepper) on Tuesdays; roasted chicken served with spicy garlic fries and fattoush salad on Wednesdays; and Freekeh grains with tender lamb on Thursdays. Accompany your spread with add-ons such as crushed red lentil soup or an order of cheese samosas. 1301 N. Calvert St. $15-35. 
Notos Southern Bites: The filling, family-style meals on deck at this Laurel eatery include platters of house-made falafel, chicken wings, shawarma, whiting, and kabobs. Complete the meal with half-size trays of rice, mixed salad, and fries. 3337 Corridor Marketplace. Laurel. $7.99-$59.99.
Kabobi from The Helmand: Throughout the holiday, The Helmand's Afghani sister-spot near the Johns Hopkins medical campus is offering Iftar specials in the form of chicken, beef, and lamb dinners, which come with all-you-can-eat starters and desserts. Start out with snacks like medjool dates, cauliflower chickpeas, or the famous kaddo borani (pumpkin with yogurt sauce) before digging in to entrees like chicken and lamb lawand, kofta kabobs, and lamb shank. End on a sweet note with desserts including Fereni, a sweet cardamom pudding. 855 N. Wolfe Street. $32.95-38.95.
The Kabul Grill: This Halal food favorite in the Inner Harbor is inviting customers observing Ramadan to have a drink and an appetizer on the house. While you're there, fill up on everything from garlic naan and chicken tenders to samosas and Banjaan (pan-fried eggplant served with fresh veggies, topped with  a garlic yogurt sauce.) The catering menu also offers dishes by the tray if you're hoping to create your own Iftar buffet at home. 55 Market Pl.
Sakoon Indian Fusion: This Charles Village eatery is observing Ramadan with 15 percent-off discounts on all dinners, with a complementary mango juice or lassi, for all customers who are fasting. At sundown, pile a plate with Sakoon's signature tandoori meats, Nepali momo (dumplings,) byriani rice, and various kabobs. Plus plenty of naan for good measure. As always, throughout Ramadan, Sakoon will serve custom dishes for patrons with dietary restrictions. 3105 St. Paul St. , Ste. B.