WHILE IT'S TRUE THAT PLANET EARTH isn't actually orbiting any faster than usual (67,000 miles an hour, last time we clocked it), life on Planet Baltimore can feel like a whirlwind. Every day brings a new reality—from neighborhoods being built out of thin air to burgeoning businesses and a constant influx of power players. Nowhere is this warp speed more apparent than on the ever expanding food scene, which shows no signs of slowing down.
"Food trends used to move a lot more slowly before the internet and the rise of this current world of food media,'' says food and beverage trend expert Kara Nielsen. "People are thinking about food and excited about food in a way we haven't seen in recent history.''
As much as we love the explosion, it can be dizzying to decide how best to spend our dining dollars. (According to the National Restaurant Association, there are 11,100 eating and drinking spots in Maryland.) If you're hungry (and who isn't?), there's never been a better time to tap into the culinary Zeitgeist. Steamed buns are all the rage, pizza is proliferating, doughnuts are dominating, and bar food is having a moment.
"With the millennials as one of the biggest audiences buying food,'' says Nielsen, "we'll see their interests and values reflected in the trends—exploring and celebrating other cultures, being excited about things that are artisanal or authentic, big sensory flavors, and a good dose of indulgence.''
On these pages, we explore the 10 trends you need to know about now and the up-and-coming tastemakers who are helping to shape the scene. We also take the pulse of what's hot—and what's not—and explore the science of table trends with a foodie forecaster.
Word of warning: Whatever you discover, the nature of trends is that they rise—and they recede. So don't get overly attached. The Next Big Thing is always waiting in the wings, while another may be on the verge of extinction. So, in the ever fickle, blink-and-you-miss-it world of food, catch these trends at area tables while you can.
---

HEALTHY EATS
While eating healthy never goes out of style, the good-for-you-foods movement is booming. (Consumer spending is estimated to reach $1 trillion globally by 2017, according to market research analyst Euromonitor International.) From chia seeds to matcha, this trend shows no signs of slowing down.
Naked Lunch at MOM's Organic Market
Food that's good for you can sometimes taste like a dose of medicine. But that's never the case at the Naked Lunch cafe inside MOM's Organic Market in Hampden, where seemingly humble ingredients graduate to star status. At lunchtime, queue up for a bodacious sushi bowl with brown rice, miso-roasted tofu, avocado, seaweed, and ginger-sesame dressing. Want to make the memory linger? Browse the miles of aisles to shop for ingredients to re-create the whole shebang at home. 711 W. 40th St., 667-219-2500
The Green Bowl
Bibimbap, mofongo, tostones: Is this a spelling bee or are these menu items from The Green Bowl? We love everything about this Asian/Latin-inspired food truck and its health-conscious cuisine. We're convinced that the spinach and greens with bean sprouts, carrots, zucchini, and a fried egg will add years to your life. thegreenbowlfoodtruck.com
Zia's Cafe
If you have a dietary need—be it vegan, vegetarian, gluten-free, or paleo—Zia's has you covered. Smoothies and 100 percent raw cold-pressed juices are menu highlights here. The macaroon smoothie with bananas, dates, raw cacao, maca, coconut, and almond milk tastes sinful but is anything but. Want more of a meal? Go for the Firecracker Wrap with avocado, apples, arugula, jalapeños, and a hit of horseradish for extra heat. Two locations including 13 Allegheny Ave., Towson, 410-296-0799
On the Go Organics
This new Fells Point raw-foods vegan takeout spot features plant-based pressed juices, wraps (we heart the lettuce wraps with collards as the coat), and tasty gourmet desserts. Owner Dwayne Copeland, who apprenticed in California, is a wealth of raw-food knowledge. 600 S. Wolfe St., 415-265-7650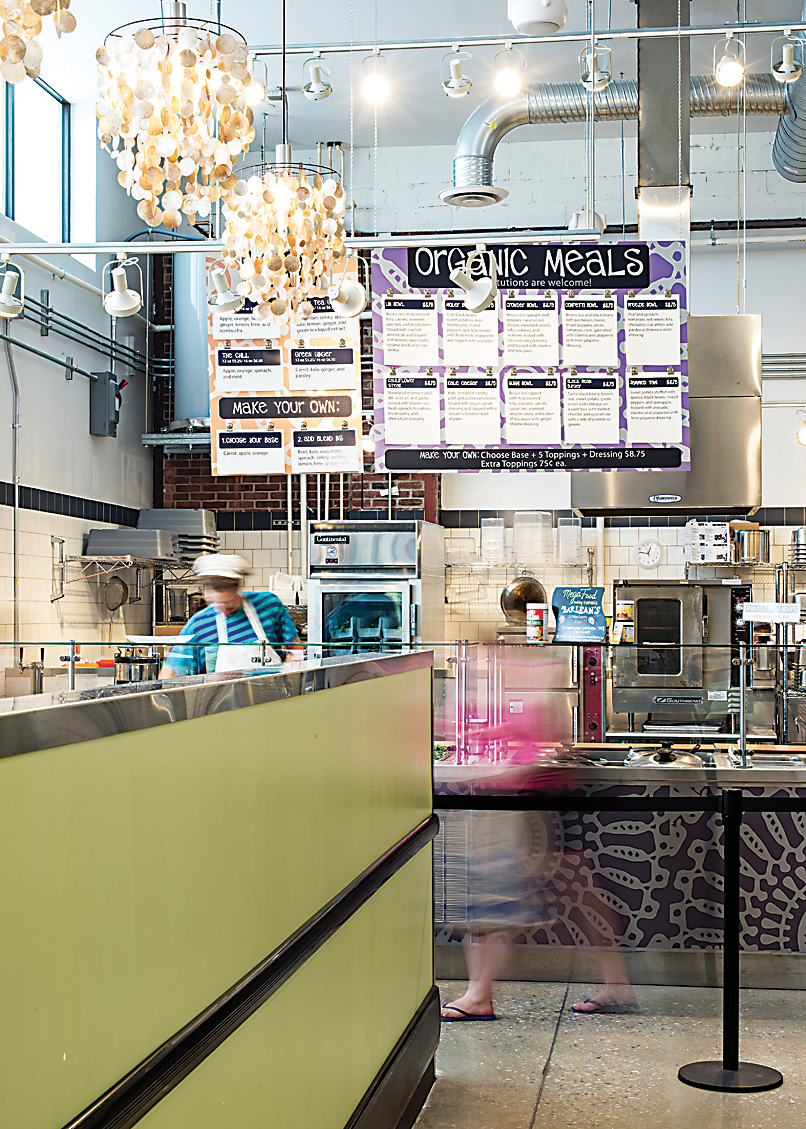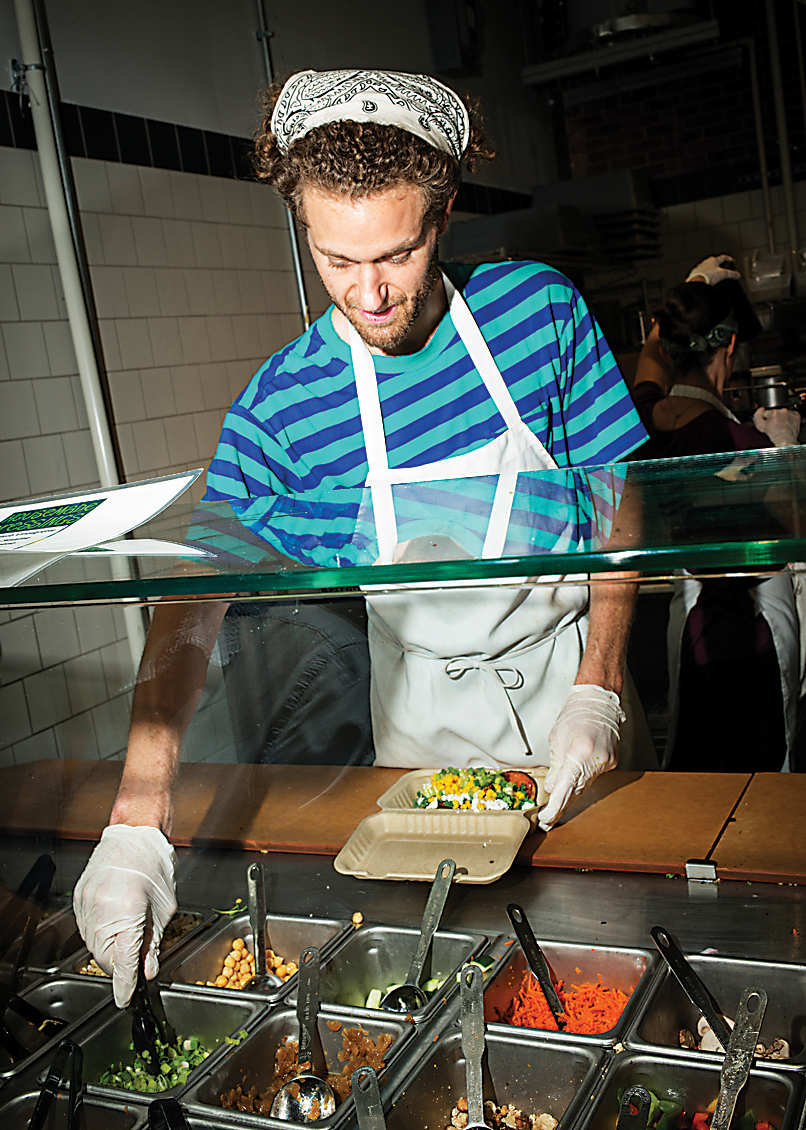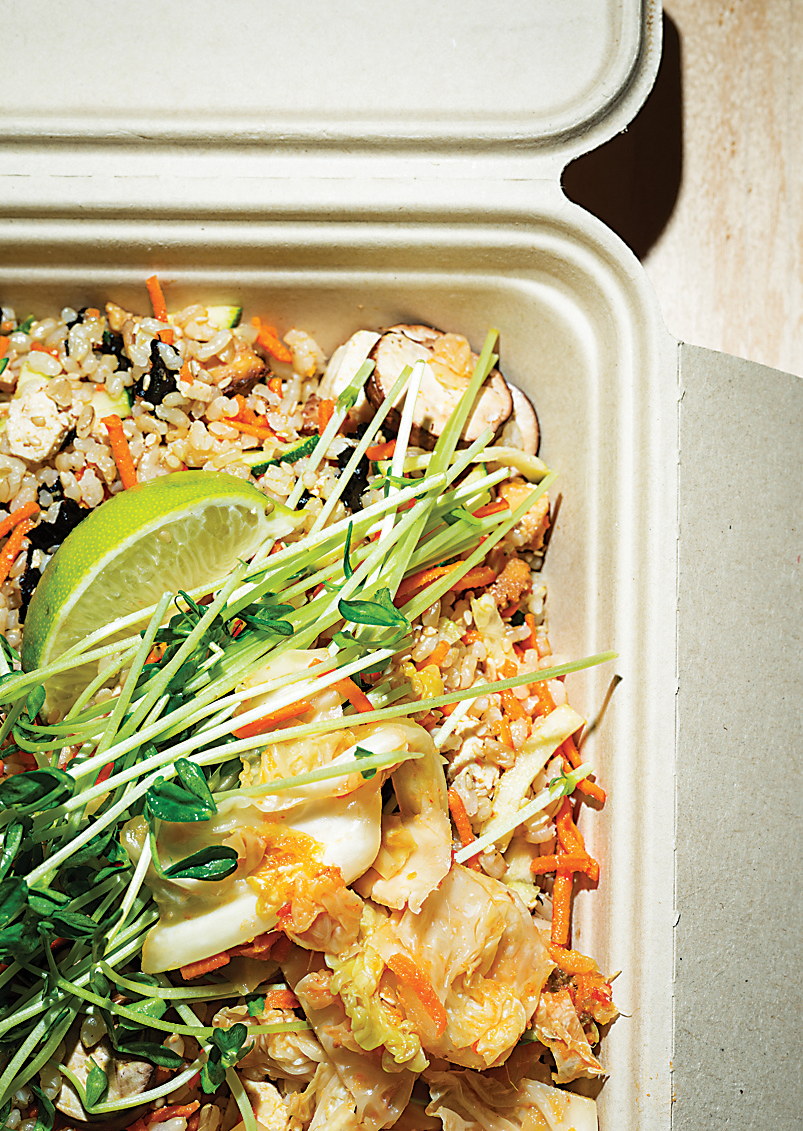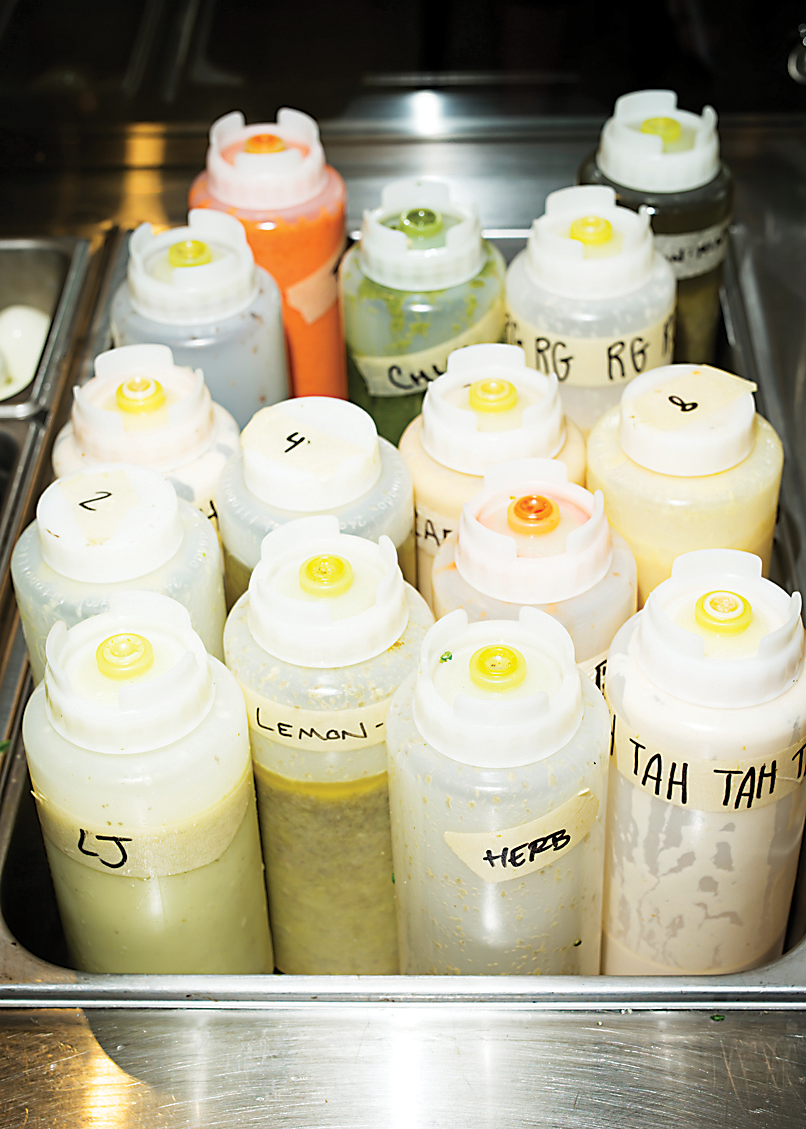 At the Naked Lunch cafe inside MOM's Organic Market in Hampden seemingly humble ingredients graduate to star status. At lunchtime, queue up for a bodacious sushi bowl with brown rice, miso-roasted tofu, avocado, seaweed, and ginger-sesame dressing.
---

BEER & BRATS
Maybe it's our deep German heritage (think Berger cookies and sauerbraten), but pairing gourmet sausage with a big pint of beer has made a comeback around these parts. From traditional-style beer halls and brewpubs to barbecue joints and corner bars, these days it feels like Oktoberfest lasts year-round.
Das Bier Haus
Nowhere is the beer-and-brat trend more evident than the corner Federal Hill bar Das Bier Haus, which opened this past January. The bar fits the bill with more than 60 beers available, including an extensive list of German varieties. For authenticity's sake (and to make it way more fun), the beers come in half-liter, liter, and two-, three-, or four-liter "das boot" glasses. The pairing wouldn't be complete without pork or veal sausages from local Binkert's German Meat Products, served properly with sauerkraut and house-cut fries. 1542 Light St., 443-708-8854
Blue Pit BBQ & Whiskey Bar
While Blue Pit certainly has perfected its barbecue and whiskey selections, the general vibe (especially outside and upstairs) reminds us of a traditional German beer hall. Enjoy a smoked Union Anthem bratwurst, choose from some 50 craft beers, and sit at a communal picnic table to clink drinks with strangers. 1601 Union Ave., 443-948-5590
Snake Hill
How fitting that Snake Hill is across the street from the building that once housed legendary German restaurant Haussner's. Though there isn't quite as much art on the walls, Snake Hill pays homage by serving sausage from local makers like Polock Johnny's and Fat City Craft Meat Co. Innovative toppings result in Vietnamese, Italian, and Peruvian-inspired offerings. Plus, the beer list always feels current and creative. 418 S. Clinton St., 410-469-9003
Brew House No. 16
Though there's a full menu at this Mount Vernon firehouse-turned-brewpub, the sausage is always a good bet. We love the apple-walnut chicken or the house-made Thuringer-style pork served on a pretzel roll with sauerkraut and sweet hot mustard. Wash it down with a house beer (bonus: owner Ian Hummel studied brewing in Germany) or a crisp Hofbräu München wheat. 831 N. Calvert St., 410-659-4084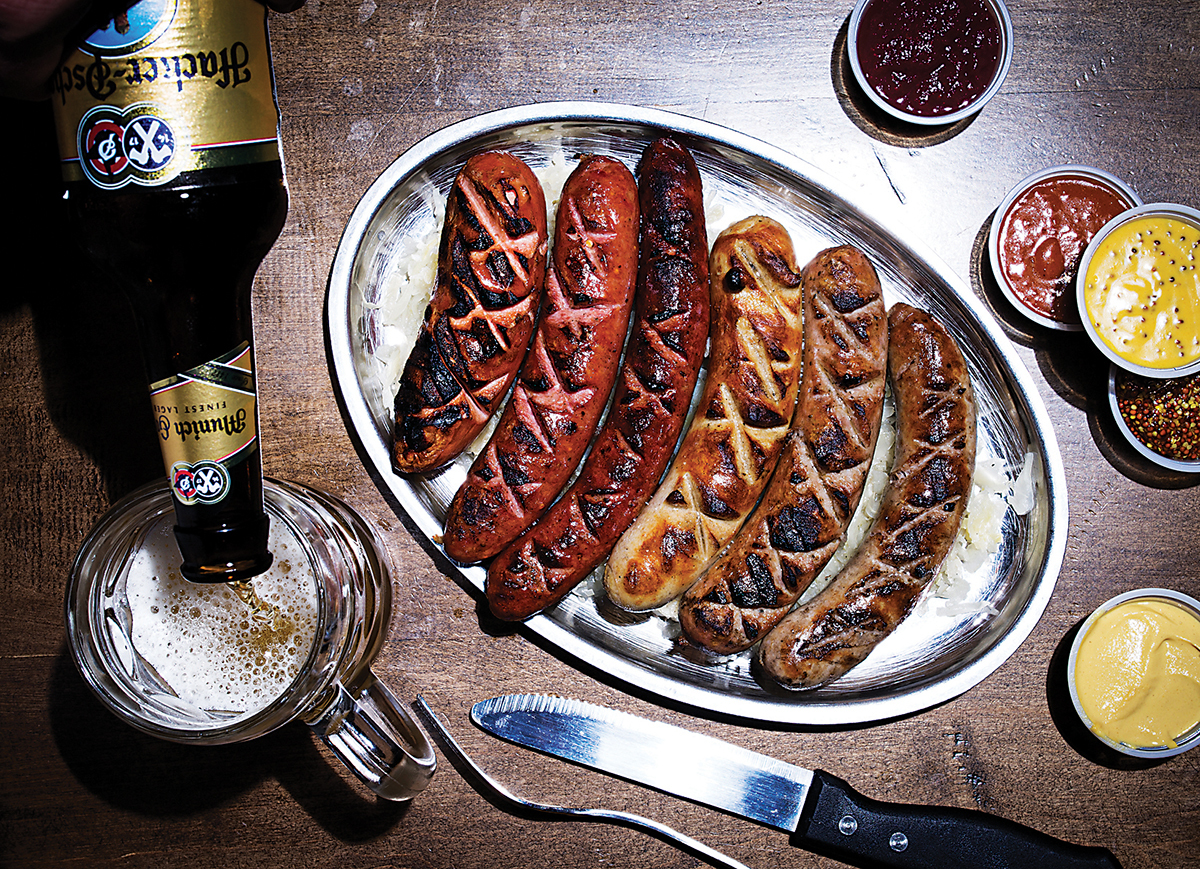 Das Bier Haus features more than 60 beers, including an extensive list of German varieties and a menu of pork or veal sausages from local Binkert's German Meat Products.
Coming soon to a menu near you.
Trend trackers, including Christine Couvelier of Culinary Concierge and trendologist Kara Nielsen, weigh in on what's hot and happening this minute.
---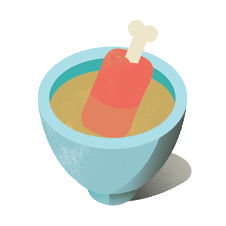 Bone Broth: This nutrient-rich stock—with alleged benefits ranging from healthier hair to a clearer complexion—is being hailed as the newest health food. Sip a steaming cup at Parts & Labor. 2600 N. Howard St., 443-873-8887

Chickpeas: Watch out coffee. The cool bean this year is the chickpea. Whether mashed to make hummus or served straight up, chickpeas are enjoying their "It'' moment. Snack on crispy chickpeas with barbecue spice at Encantada. 800 Key Hwy., 410-752-1000

Ancient Grains: Everything old is new again, and ancient grains—quinoa, millet, sorghum, teff—are no exception. Dig in to the quinoa salad tossed with sweet potatoes, apples, celery, and Dijon vinaigrette at Cunningham's Café & Bakery. 1 Olympic Pl., Towson, 410-339-7750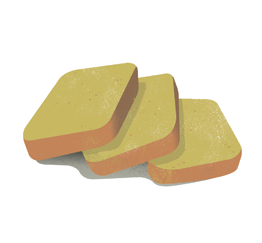 Scrapple: While this Amish-country staple has gotten a bad rap as mystery meat, the back-to-basics movement is finally giving it its due in dishes such as fried-scrapple chopped salad with cheddar, onion, and spicy ranch at Woodberry Kitchen. 2010 Clipper Park Road, 410-464-8000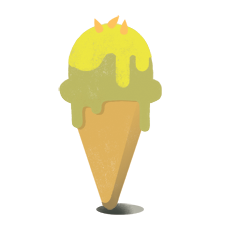 Savory Ice Cream: It's a thing! We can now justify ice cream as a main course with flavors such as Sesame & Sunflowers at The Charmery. 801 W. 36th St., 410-814-0493
---

GLOBAL STREET FOOD
Eighty percent of us eat food from at least one ethnic cuisine per month, according to a 2015 report by the National Restaurant Association. So it's no surprise that Baltimore is flush with falafel, banh mi, shish kebabs, tacos, and other global grub. As the marketplace expands its reaches, it's a small world, after all.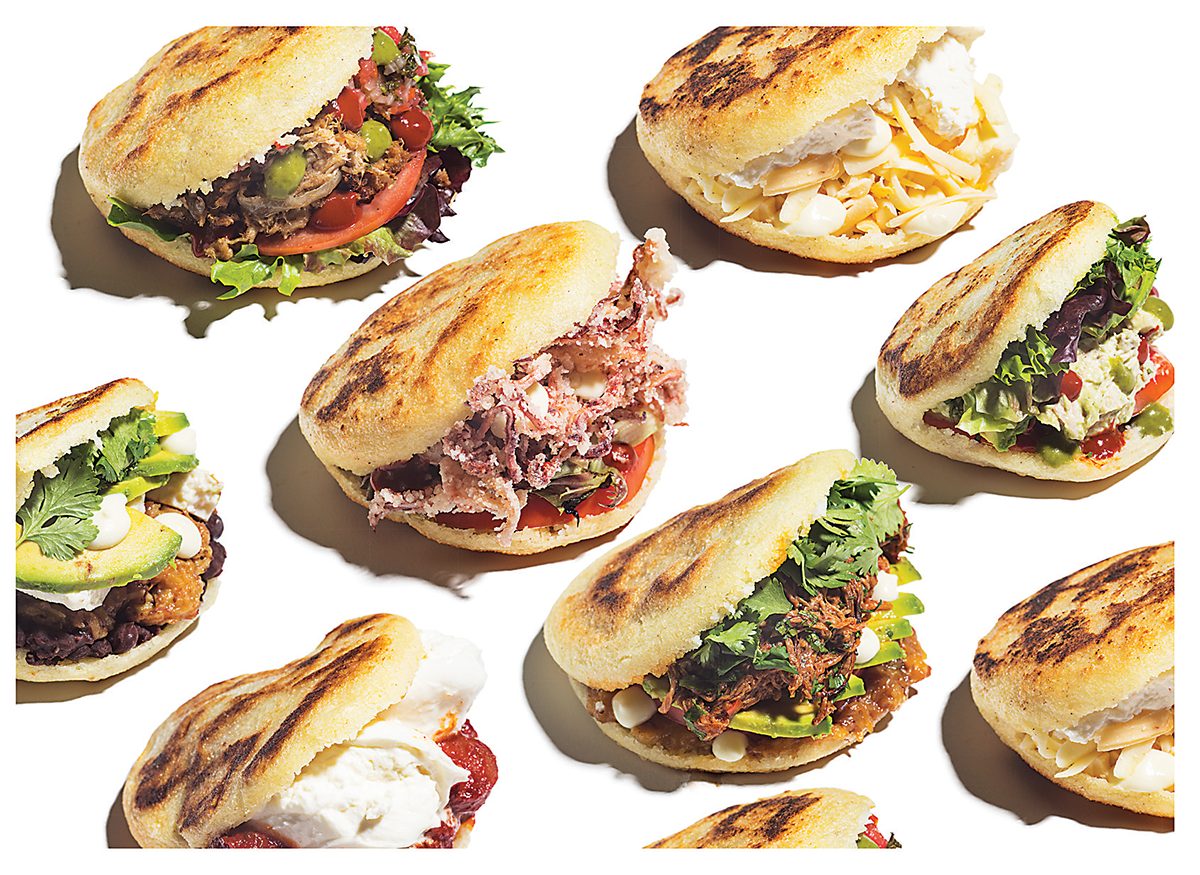 At Alma Cocina Latina, chef Enrique Limardo brings the taste of his native Venezuela to our 'hood with arepas, or corn-flour patties bursting with salty ham and caramelized plantains, that make you feel like you're in a lush Latin American locale. .
Alma Cocina Latina
Walk into this light-filled spot in the Can Company in Canton, and a jungle of plants bursts forth in bloom, while the sound of salsa sets the mood. Don't feel like you're in Baltimore? Owner Irena Stein envisioned this refuge from the ordinary and plucked chef Enrique Limardo from her native Venezuela to bring a taste of her motherland to our 'hood. Sidle up to the arepa bar for corn-flour patties bursting with salty ham and caramelized plantains, and imagine that you're in a lush Latin American locale. Or savor a superb ceviche and feel like you're on a beach along the Caribbean coast. 2400 Boston St., 667-212-4273
Brown Rice
We love the make-your-own approach, and this rice-bowl emporium brings Eastern flavors to the mix—from spicy, garlicky beef bulgogi to piquant kimchi. Start with a base—which runs the gamut from jasmine rice to kale salad—then pick a protein, and top it off with a variety of veggies. (Pimp your rice with the radish kimchi and shiitake mushrooms.) Add a sauce and, perhaps, a runny egg, to truly branch out your bowl. Two locations including 2404 N. Charles St., 667-303-3256
Ariana Kabob Grill
Never underestimate the power of fare from a food court. At this no-frills spot inside Charles Plaza, the meat is manna. From juicy, sunset-hued chicken kebabs to unexpectedly tender gyro meat, these Middle Eastern flavors awaken the palate with spices that rise on the tongue before being cooled by rice rife with carrots and raisins and a side of tzatziki. 222 N. Charles St., 443-858-1045
Cuba de Ayer
Yes, it's easier than ever to fly to Cuba from Baltimore these days, but this Latin comfort-food spot (though a bit of a drive) is the next best thing. Consider the succulent oxtail stew and melt-in-your-mouth roast pork known here as pernil. But if you do one thing, order the camarones en aguacate appetizer: shrimp atop an avocado throne drenched in white wine, garlic, and butter. 15446 Old Columbia Pike, Burtonsville, 301-476-9622

Julie Buisson
The Microgreen Queen
Julie Buisson knows that good things come in small packages.
In a trailer next to her home in Better Waverly, she operates MODERNature, an
urban agriculture venture growing microgreens. The greens—young shoots of
vegetables like kale and carrots—are packed with flavor, color, texture,
and
nutrients, making them the next buzzed-about superfood. "Per ounce, you get
four to 40 times the nutritional value as a pound of the mature counterpart,"
says Buisson, who started MODERNature, with cofounder Mark Verdecia, after
completing a master's in design leadership from MICA and The Johns Hopkins
Carey Business School. Another factor in microgreens' rising popularity is how
well suited they are to urban agriculture. Harvested before the plant reaches
maturity, most varieties need little space to grow and are ready after 10 days
or so. "People who are doing indoor vertical farming end up growing microgreens
because you can grow them at a premium," says Buisson. That has been true for
MODERNature, which sells to Park Café & Coffee Bar in Bolton Hill and
Bottega in Station North. But Buisson says that MODERNature's mission is to
encourage farmers to start small-scale, diversified farms, and to promote
nutritional health. Says Buisson: "Microgreens could technically revolutionize
eating." —
AM

TAPS
In this eco-conscious world of hybrid cars and composting, the greenest way to drink is straight from the tap. With no cans or bottles to clog up the recycling bin, area bars are more tap-happy than ever, pouring all things liquid—from wine and spirits to coffee and olive oil—right from the spout.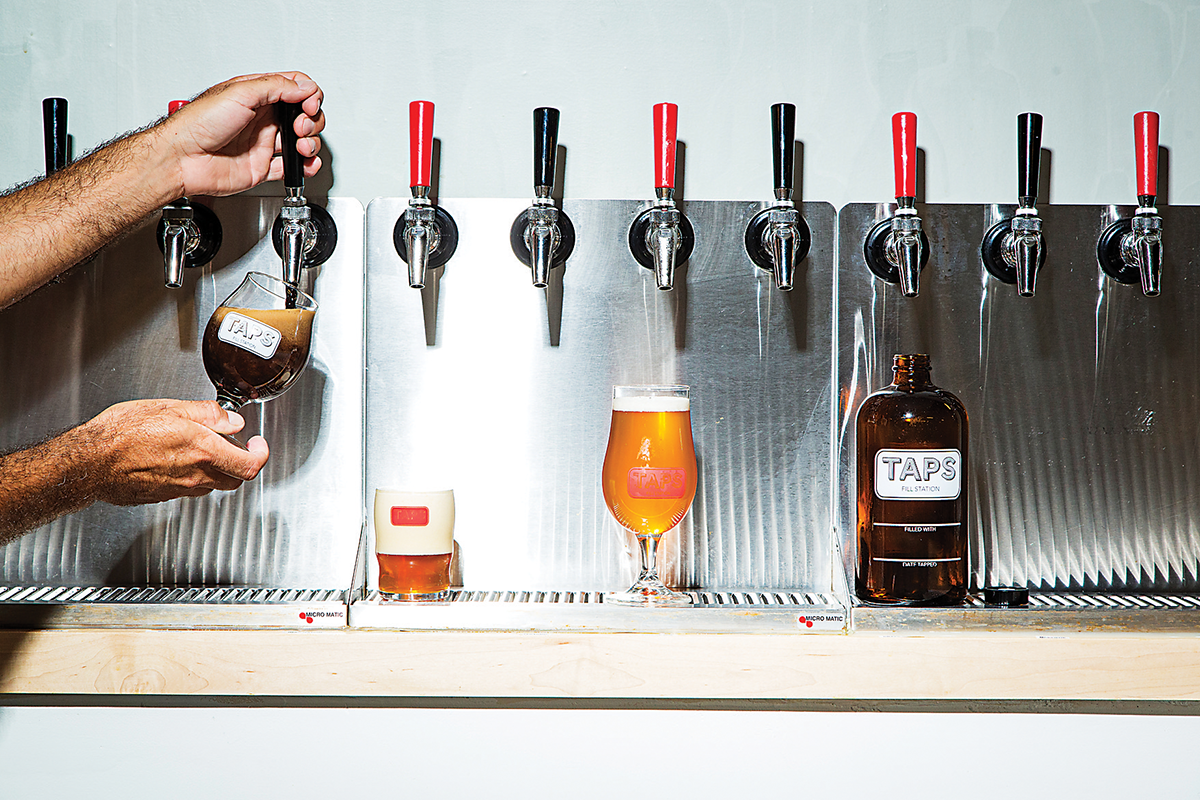 Taps Fill Station in Mt. Vernon Marketplace boasts a variety of liquid lovelies all draft form, including beer, wine, cider, mead, nitro cold-brew coffee, and even olive oil.
Taps Fill Station
From its name to its practice, Taps Fill Station in Mt. Vernon Marketplace has simplified the way we drink. All of Taps' liquid lovelies are available in draft form, including beer, wine, cider, mead, nitro cold-brew coffee, and even olive oil. The bar makes everything feel more hip. (Our coffee looks and drinks a bit more like a Guinness here.) Plus, everything is available in flights (4-ounce pours of beer and 2-ounce portions for everything else), so we can sample instead of having to commit. Even the simple red-and-white color scheme, with bulbous lights imploring us to "taste," "order," and "relax," forces us to sit back and enjoy the moment. 520 Park Ave., 484-998-8277
Bookmakers Cocktail Club
Bookmakers is always up on the newest cocktail trends, so it's no surprise that it's the only bar in the world with Chartreuse Episcopale on draft. The spirit is a fusion of green and yellow Charteuse, a French liqueur with notes of mint (green) and saffron (yellow). The elixir is 47.5-percent ABV and, even just in 1.4-ounce portions, it gives you a very special buzz. 31 E. Cross St., 443-438-4039
Barcocina
Barcocina not only boasts modern twists on Mexican food but also a modern way to pour drinks. With two taps for cocktails and four for wine, the bar features concoctions like the house margarita and Barcocina Lemonade with cucumber-lime vodka, cucumber liqueur, jalapeño simple syrup, lemon juice, and club soda. We can't think of a more perfect pairing for Barcocina's picturesque water view. 1629 Thames St., 410-563-8800
Liquid Lib's
This bar, adjacent to Liberatore's in a Timonium business park, may not seem like much at first. But buy a wine card (in increments of $10) and peruse its selections of 16 self-pouring taps in the corner. Organized with white wines and clear liquors on the left and reds and darks on the right, the system allows guests to pour to their hearts' content. 9515 Deereco Road, Timonium, 410-666-8466
---
BRUNCH
Brunch is booming these days as out-of-the-box offerings take center stage. With many spots making their own butter and jam and amping up ingredients (duck sausage, anyone?), this morning meal has gone from pedestrian to extraordinary.
Iron Rooster
Although Iron Rooster serves lunch and dinner options, the focus is all-day breakfast, and the brunch offerings encompass everything from brûléed ruby-red grapefruit and breakfast tacos to various Benedicts, as well as biscuits and gravy. Wet your whistle with a Bloody Mary (garnished with pickled asparagus, bacon, an olive, and Old Bay around the rim, it's a meal unto itself). Then design your own breakfast scramble or order the fried chicken and cornmeal waffles smothered in gravy. Get a refill on your coffee. Sit. Stay. The day is young. Two locations, including 3721 Boston St., 410-762-2100
Bistro Rx
Bistro Rx adds just enough inventiveness to rise-and-shine classics to keep things interesting for repeat customers. The shrimp and grits is a go-to, but if we could only order one dish, we'd choose the breakfast flatbread, topped with bacon, chorizo, tasso ham, white cheddar, and a pile of scrambled eggs. It's perfect for sharing—in person or on Instagram. 2901 E. Baltimore St., 410-276-0820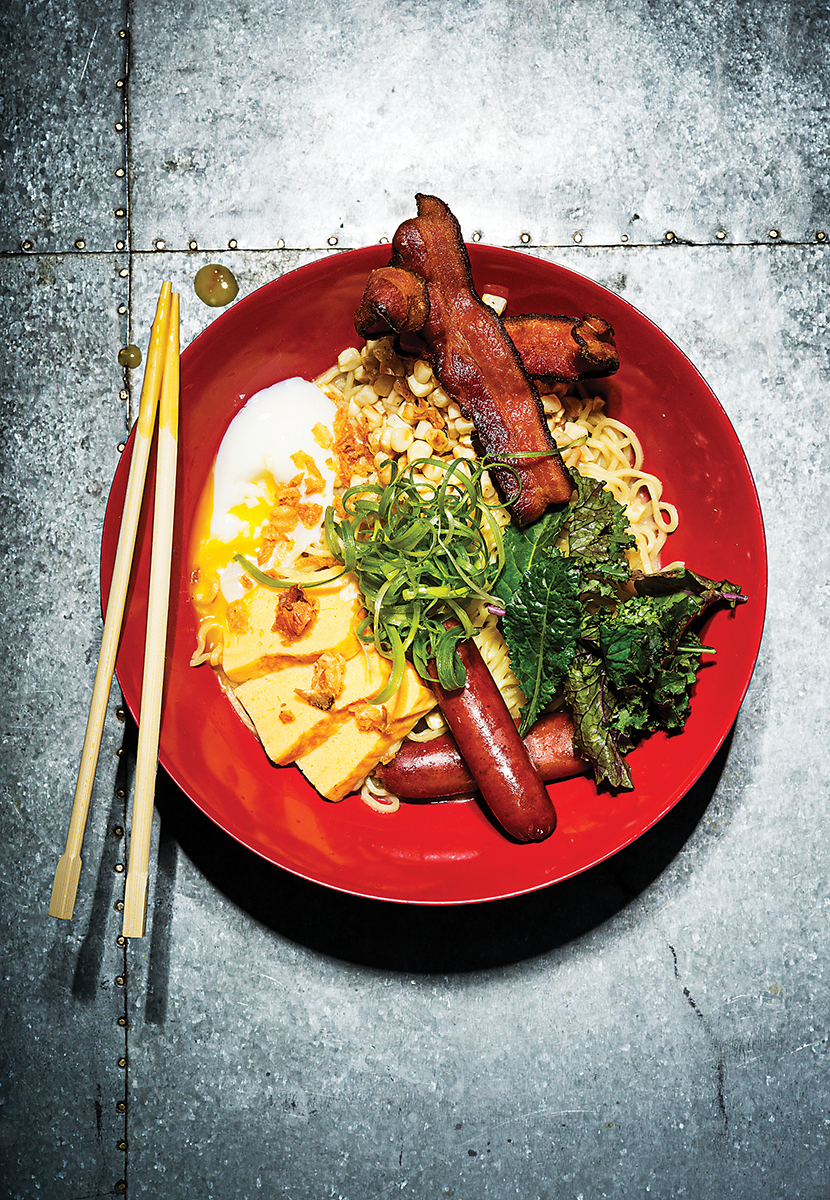 Weekend brunch at Ejji Ramen includes this noodle bowl with bacon and corn broth plus sausage, applewood-smoked bacon, a poached egg, tamago (mini omelet squares), and corn.
Ejji Ramen
The Japanese practically invented the one-dish meal, and the Breakfast Ramen Bowl at Ejji Ramen carries on this proud tradition. On weekends, snag a stool at the Belvedere Square Market and order this noodle bowl boasting bacon and corn broth plus sausage, applewood-smoked bacon, a poached egg, tamago (mini omelet squares), and corn. If this doesn't start your day off right, nothing will. 529 E. Belvedere Ave., 410-435-8688
Dovecote Cafe
This artsy Reservoir Hill cafe makes everything in house, so the rotating weekend brunch menu is understandably compact. That said, what it lacks in quantity it more than makes up for in quality. Recent choices ranged from crab mac and cheese to an exquisite mixed-berry fruit tart that elicited instant ordering envy from nearby noshers. 2501 Madison Ave., #1F, 443-961-8677

Josh & P.J. Sullivan
The Bar Brothers
They say family and business don't mix, but that's not the
case with Josh and P.J. Sullivan, who opened Wet City this past July in Mount
Vernon. "Josh and I have been best friends since we were born," says P.J., 38.
"My friends were his friends." So when P.J. moved to Baltimore from upstate New
York for a marketing job and Josh found himself here after graduating from
MICA, they knew starting a business together wasn't that far-fetched. P.J.
started his own graphic-design company, Hardly Square, whose clients include
Lexington Market and Spike Gjerde's Foodshed. Josh founded the cocktail website
Post Prohibition and perfected his homebrewing skills to win a few
awards. "We're a mix of left brain and right brain," says Josh, 34. "You've got
more of the Italian blood," he tells P.J. Says P.J., "I'm the Italian side,
loud and talkative, and he's the German side, more quiet and in his head." That
balance works, as the two fused their passions to open Wet City. While other
spots stay the course with industrial chic décor, the Sullivans are trendsetters
with their minimalist, Scandinavian-inspired bar. Even the craft cocktails—like
the Baku with rye, yuzu, orgeat, Japanese bitters, and cream soda—evoke a
forward-thinking feel. But the bar's finishing touches link to the past. The
duo's dad, Pete, helped paint the place. When asked if his sons really do made
a good pair, he says, "Always have."
—Jess Mayhugh
---

MIXED-USE SPACES
Mixed-used development—in this case, combining restaurants with retail—is on the rise, particularly in urban areas. (Stay tuned for the opening of R. House, Whitehall Mill, and A Bird in Hand.) Multipurpose properties create a sense of place and experience for consumers—think of them as the multitaskers of the architectural world.
Mt. Vernon Marketplace
There's a beauty in not having to be a committed consumer when we shop here. Do we want pork dumplings at Pinch, Skinny Dippers at The Local Oyster, or a latte at Ceremony Coffee? (Duh—we want it all.) And while here, we might as well browse the trendy togs at The Tomboy Shop, pick up a dozen eggs at Fresh Mondays, and grab specialty salt from Juniper Culinary Apothecary. 520 Park Ave., 888-897-8859
Belvedere Square Market
This Govans marketplace on the site of a onetime peach orchard offers soup (at Atwater's) to nuts (Pure Chocolate by Jinji)—and everything in between, like artisanal cheese and kombucha. Have guests to impress? Head here for aged strips from Ceriello or just the right rosé from Grand Cru. 529 E. Belvedere Ave., 410-464-9773
Modern Cook Shop
What do you get when you cross a neighborhood gourmet grocer, a coffee bar, and an upscale New American establishment with a concisely curated menu on which every item is first-rate? Andy Gruver's thoroughly modern Modern Cook Shop, of course. With all the restaurant openings of late, it's hard to break new ground, but Modern Cook Shop is a trailblazer. 901 S. Wolfe St., 443-627-8032
Baby's on Fire
Listening to music has been scientifically proved to enhance diner enjoyment, so it makes perfect sense that a coffee bar cafe combined with a record store would hit a high note. The fare (paninis, salads, espresso drinks) doesn't miss a beat and the vinyl selections for sale (Led Zeppelin, John Coltrane) are a total time warp. 1010 Morton St., 443-885-9892
That was then, this is now.
As the saying goes, all good things must come to an end. (We miss you chicken à la king!) A look at what's flourishing—and what's fizzled.
---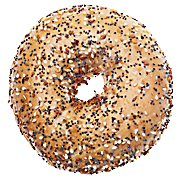 Bagels
Toast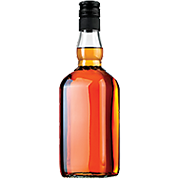 Bourbon
Mezcal
Salsa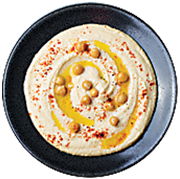 Hummus
Diced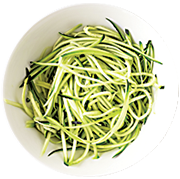 Spiralized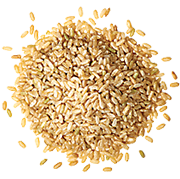 Brown Rice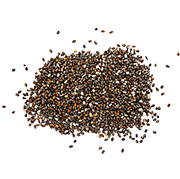 Ancient Grains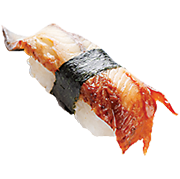 Eel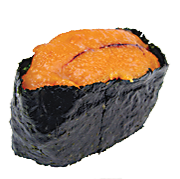 Uni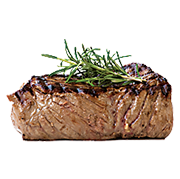 Steak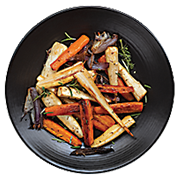 Veggies
---

PIZZA
As new joints pop up and old eateries expand, pizza is a blank canvas for trendy toppings, innovative flavors, and local ingredients. Above all, these doughy discs are places for chefs to express themselves through clever combinations of cheese and sauce. Goodbye boring plain pizza.
Paulie Gee's
With former Iggies owner Lisa Heckman at the helm, this Hampden pizza palace puts out the kind of Neapolitan pies that Baltimore needs more of. (Think wood-fired crusts that strike a balance between doughy and crunchy.) When ordering, consider the Delboy, quite possibly the best pepperoni pie we've ever had. That said, it's the unorthodox inventions like the Stinger Bell—a sweet-and-savory play on the infamous character from The Wire, with mozzarella, lemon, basil, and honey—that puts Paulie Gee ahead of the rest. 3535 Chestnut Ave., 410-889-3535
Hersh's
This Neapolitan treasure at the edge of South Baltimore has redefined the term "upper-crust." The secret is fine ingredients, excellent dough, and a red-hot, wood-fired oven. The Hershkovitz siblings pump out pies with pomp and pizzazz, like the kale and pistachio, topped with fontina, pecorino, hot pepper, and a strong smack of garlic. Add crumbles of house-made sausage and buonissimo! 1843 Light St., 443-438-4948
BricknFire Pizza Co.
Catonsville's popular brick-oven pizza truck has now opened a brick-and-mortar location inside the Baltimore Marriott Inner Harbor. In a neighborhood not known for exceptional eats, these charred crusts provide a dose of deliciousness. Vegetarian options abound, but the Carnie is a must, with its savory-sweet mix of sopressata, coppa, onions, bacon, and basil. 110 S. Eutaw St., 410-962-0202
Joe Squared
With its square pies, killer rum collection, and live music, there's still something hip about Joe Squared even after more than a decade. And with the spot's relocation to a larger Station North space, there's more room for fans to flock for coal-fired combos like 'za topped with spaghetti and meatballs or one with cumin-braised lamb and garlic cream. Two locations, including 33 W. North Ave., 410-545-0444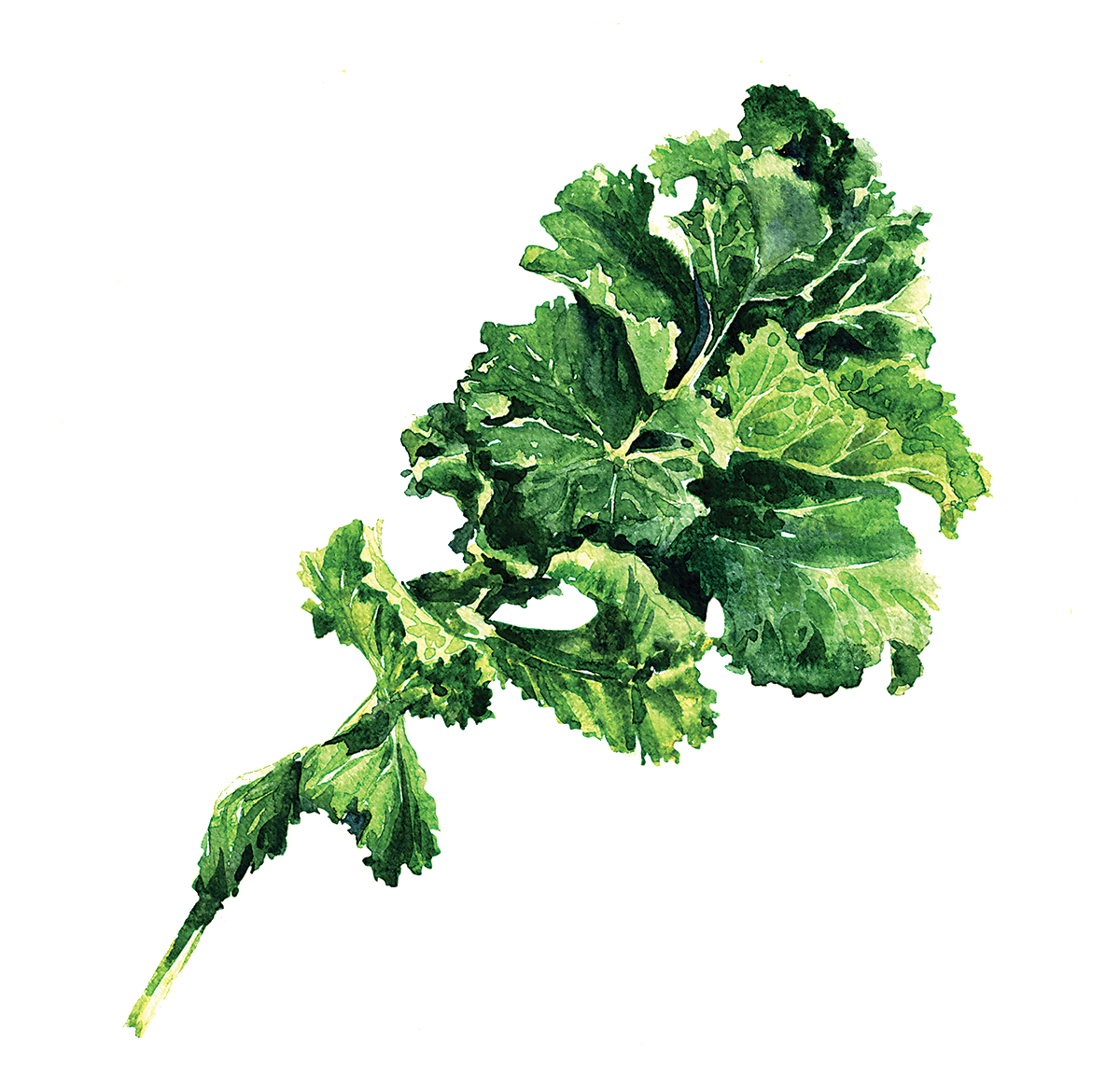 Award-winning author David Sax gives us the 411 on the how's and why's of food trends.
From beet salad to Brussels sprouts, Americans have long been obsessed with the latest food fads and trends. Many trends start in forward-thinking, innovative culinary hot spots, and then fan out to more mainstream menus before becoming staples at fast-food restaurants. (How else to explain the Artisan Grilled Chicken Sandwich on McDonald's menu, for instance?) We turned to James Beard Award-winning author David Sax (The Tastemakers: Why We're Crazy for Cupcakes But Fed Up With Fondue) to shed some light.
Baltimore: How do you define a food trend?
David Sax: A food trend is a collective shift in our eating behavior and our collective appetite. The biggest difference between fads and trends is that food trends are longer-terms shifts in the way we eat. The rise in organic or seasonal—that's a big trend. The growth in coffee cultures from Italian culture in this country to Starbucks culture—that's a bigger part of the continuum. A food trend changes the ways we eat as a society and pushes the trend forward.
Why do food trends start?
Sax: More of us have become foodies. Once upon a time, that was limited to a highly educated, highly privileged class of people who traveled. But with the rise of the Food Network, blogs, Yelp, and Instagram, everybody who has some interest in food can indulge without having to travel to Spain or Norway.
You've written about different types of food trends, including cultural food trends. What's an example of that?
Sax: A cultural trend is not a culinary trend as much as the reestablishing of some sort of value in a food that previously people didn't think about, then all of a sudden it becomes cool—something like the cupcakes on Sex and the City. Friends drove
the coffee shop culture.
What's a chef-driven trend?
Sax: Chef-driven trends are all about the new restaurant, or so-and-so is the hottest thing in town, then that spreads out to the other restaurants, and two years later it's reflected on the T.G.I. Fridays menu. When something is a trend, it trickles out into the mass market. Wendy's has a kale salad or suddenly McDonald's cares about local sourcing. Even if 90 percent of that is lip service or marketing spin, there's the hope that 10 percent of that is real. That's what food trends do by collective interest. They change the priorities of the food system—from fine dining to mass market. Trends change culture and can influence food politics. At the end of the day, they are
big economic forces.
When does a trend get replaced?
Sax: It's analogous to music and fashion. The fad parts of the style and season are fickle, but the appetite has grown for those longer-term trends. There will always be a pizza trend. The imagination around food is tremendous but needs to fall into familiar reference points. We all love pizza—even the gluten-free want their pizza, so we see iterations around the same trend. How many ways can we combine bread and cheese and dough?
How do you know when a trend is over?
Sax: In the world of fine dining, it's that notion of exclusivity. There's a lot of excitement built around that, but if it can be purchased anywhere, then it's over. Take the early '90s when the cappuccino-espresso culture was spreading around North America, where every corner store and every office had a cappuccino machine. At a certain point, when you could get a cappuccino at any corner store, is it over—or has it arrived? The trend then gets absorbed into the greater culture.
What else can lead to the death of a trend?
Sax: Trends can die when the science comes out that blows the other stuff out of the water—saturated fat is actually good for you. Margarine is going to kill you. When the definitive study comes out one way or the other—that will be the deciding factor. —Jane Marion
---
BAR FOOD
Buffalo wings and burgers? Snooze. With fussy fine dining on the wane, bar food is finally upping its game. Go for the drinks, but stay for the mussels, the slider with foie gras, or the mushroom toast with garlic-lemon herb butter. Cheers!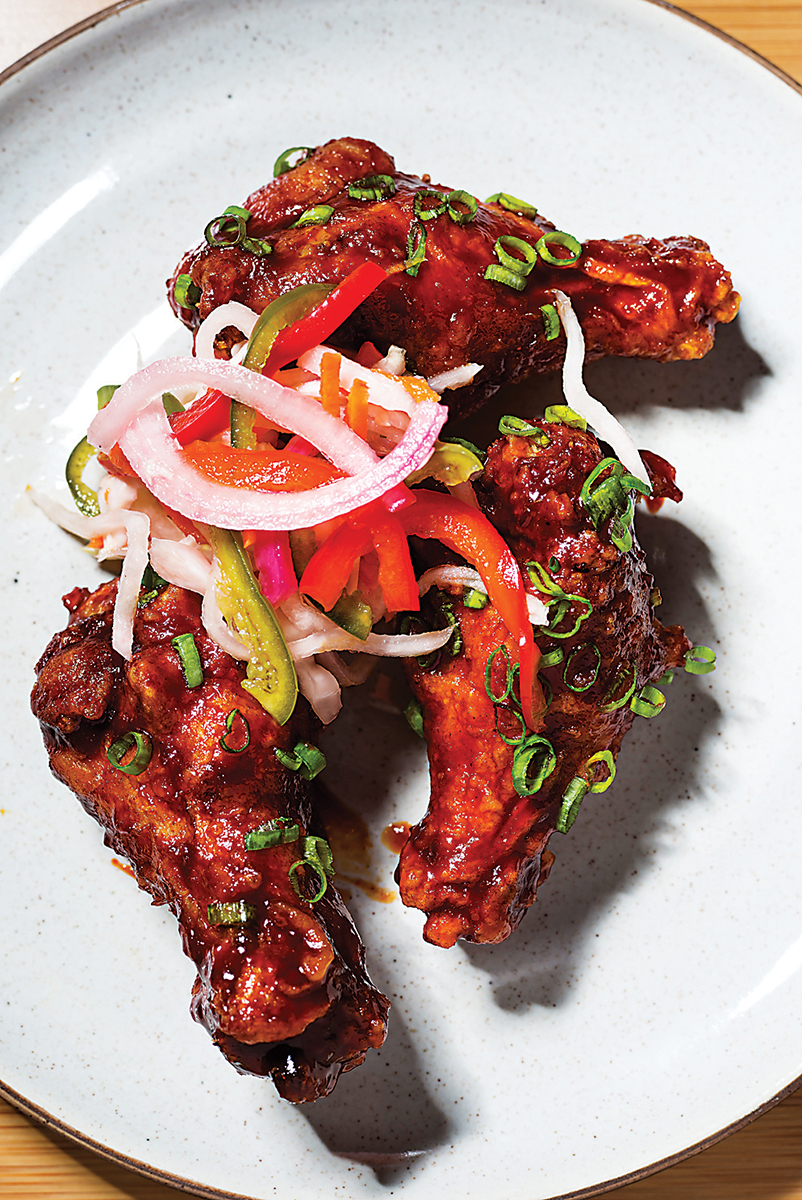 The signature Korean fried chicken wings at 1157 Bar + Kitchen fulfill all cravings for salt and sweet.
1157 Bar + Kitchen
To label anything on 1157's menu as "bar food" doesn't quite do it justice. Jason Ambrose is one of Baltimore's best chefs, but that he presides at a place with more bar seats than tables doesn't diminish his accomplishments. We've never had a bad bite at this tiny titan, but plaudits from a recent visit go to the melon-and-goat-cheese salad with shaved duck "ham," a barbecue pork belly garnished with peaches, and, of course, the signature Korean fried chicken wings, which fulfill all cravings for salt and sweet. Still have space? Indulge in a boozy strawberry shake. "Bar" is part of the name, after all. 1157 Haubert St., 443-449-5525
Clavel
Lane Harlan's Oaxacan mezcal and tequila bar has been a game-changer ever since it opened in the summer of 2015. The margaritas are legend. The ceviches are the very best in the city. The queso needs its own fan club. And the tacos—especially the mahi mahi with HEX Ferments slaw and a veggie version with chile poblano, corn, onion, and crema—are a sight for sore eyes. If you want to be in the know, just go. 225 W. 23rd. St., 443-900-8983
Bar Liquorice
With rosemary-garlic olive-oil popcorn and jars of licorice in place of the standard-issue nuts, this Locust Point mainstay is not your typical watering hole in the 'hood. The menu is small—hello, easy decision-making!—but don't be fooled by the paper plates. On them you'll find an expertly curated fruit-and-cheese plate, sophisticated panini combinations, and a killer Nutella bread pudding. 801 E. Fort Ave., 443-708-1675
Lobo
This pint-size bar is chock-full of charm and bartenders who are eager to help you make the perfect pairings. The menu of upscale snacks, salads, and sandwiches, as well as charcuterie and a raw bar, has several standouts, including the tuna tartare with chanterelle ginger-infused soy sauce and mix-and-match charcuterie boards with dabs of house-made jam and pickled things like cauliflower and pearl onions. 1900 Aliceanna St., 410-327-0303
---

STEAMED BUNS
Asian street food is sweeping the city, but alongside ramen and pho, the steamed bun is having its moment in the sun. It's at once an exotic indulgence and feel-good comfort food, a savory-sweet pillowy pleasure you can't re-create at home. Don't question your craving—accept it, then succumb.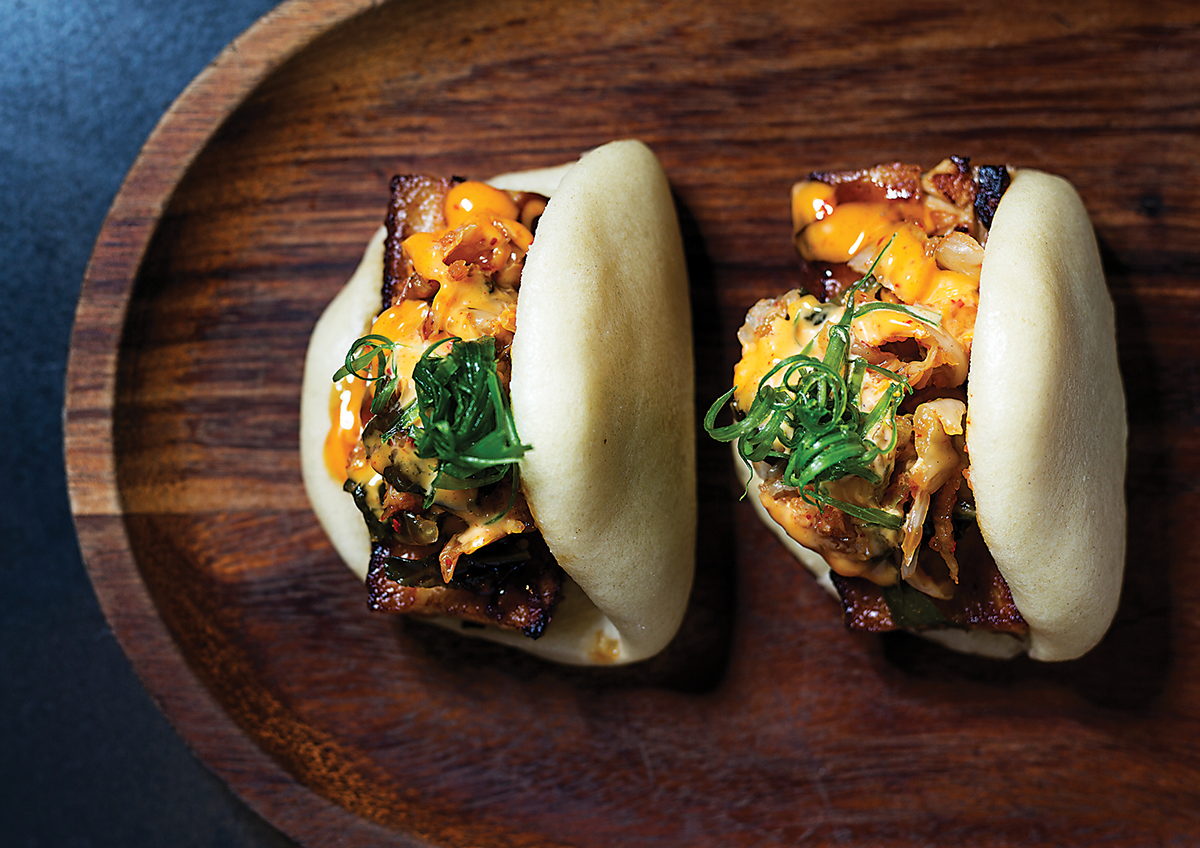 Dooby's in Mt. Vernon is the forefather of Baltimore buns, which brim with pork belly, kimchi, gochujang aioli, and soy-ginger sauce.
Dooby's
Since 2013, Dooby's has stood as the forefather of Baltimore buns, putting these small Instagram-worthy sandwiches on our culinary bucket list. The flavor-packed buns brim with pork belly, kimchi, gochujang aioli, and soy-ginger sauce. Go ahead, lick off what's left on your fingers—this is no time for manners. 802 N. Charles St., 410-609-3162
Ekiben
This food stand changed the game when it landed at the Fells Point farmers' market, bringing Baltimore a much needed dose of Asian-inspired street fare. Almost two years later, owners Nikhil Yesupriya, Steve Chu, and Ephrem Abebe are still leading the Asian-fusion revolution, now out of their brick-and-mortar shop just a few blocks north of where it all began. Head here for Thai chicken meatballs bobbing in coconut sauce or Taiwanese curry-fried chicken bolstered by chili mayo. Bottom line? Your taste buds will thank you. 1622 Eastern Ave., 410-558-1914
Mi & Yu Noodle Bar
Most know this tiny Federal Hill noodle shop for its drool-worthy ramen, but the Chinese "bao" buns deserve top billing, too. Skip the standards for melt-in-your-mouth braised short rib with miso glaze or fried curry shrimp, all topped with an Asian slaw mix consisting of cucumber, carrot, Korean radish, red onion, and spices. A word of bun wisdom—pour the Sriracha aioli on everything. 1016 S. Charles St., 443-388-9295
Maggie's Farm
This Tennessee take on the Asian steamed bun is a nice reprieve from the city's plethora of classic pork. Inspired by Nashville hot chicken, this luscious piece of thigh meat has the just-right amount of heat, abated by a creamy dash of homemade relish and served atop a fluffy, buttery bun. Who knew the Far East and the Deep South would form such a perfect pair? 4341 Harford Road, 410-254-2376

Dylan Salmon
The Pop Star
Before Dylan Salmon broke onto the Baltimore food scene, the only "pop-ups" we knew were books, and local oyster bars were just becoming a concept. But in 2014, Dylan's Oyster Cellar, located on the subterranean level of a Mount Vernon brownstone, quickly became a hipster haven, eventually triggering a wave of pop-ups and oyster bar openings around the city. Evoking a turn-of-the-century speakeasy, Salmon's temporary hidden gem offered craft cocktails, candlelit conversation, and some of the best shucks in town. "There were mostly just fashion and art pop-ups at the time," Salmon recalls. "Finding the space was a happy accident." Two years later, Salmon has his very own permanent oyster bar, located in Hampden at the corner of 36th Street and Chestnut Avenue (and, at press time, set to open any day). The former florist shop offers all the charm of the original Dylan's—Prohibition-inspired tipples, boutique oysters, French bistro élan—but with the addition of a full kitchen and expanded menu. "It has taken a lot of work to convert a flower shop into an oyster bar," Salmon says, "but I wanted to take that momentum we started with in Mount Vernon and finish it. It has been a crazyjourney but it's just the beginning." —LW
---
DOUGHNUTS
Cupcakes made their comeback, macaroons had a moment, and we're still recovering from our Cronut crush in 2013. But in 2016, the doughnut is getting its due. Though once strictly a breakfast staple dipped in a glossy glaze or blanketed by sprinkles, bakers all over town are using these circular treats as a surface to showcase out-of-the-box flavors.
Diablo Doughnuts
At Diablo, the dual-purpose carryout boxes are reversible to hold baked goods by day and pizza by night. We like to start our mornings right and head there for cereal-crusted confections. And though this shop is humble in the décor department, it doesn't cut corners when it comes to embellishments, whether topping treats with toasted marshmallows, bacon, or Old Bay. 717 S. Broadway, 443-254-4641
Arundel Donuts
From truckers to churchgoers, early birds love this stalwart shack in Glen Burnie, which opens at 5:30 a.m. daily. For 34 years now, the family-owned shop has filled its display cases with just-baked pastries. (Stick around long enough and you'll be trendy again.) Direct your attention to the racks with the stars of the show—doughnuts every which way, from chocolate-glazed to potato and apple fritter. ("Kinda in love," wrote one Insta follower.) 7958 Baltimore Annapolis Blvd., 410-768-8926
B Doughnut
This Hampden hot spot might be baby-size, but its bold flavors make up for its lack of square footage. Instead of going the traditional ring-shaped route, B's beauties are injected with fillings Bavarian-cream style. We can't resist the overstuffed vanilla bean cream and lemon curd varieties. But the real wonder is the bagel doughnut—a mind-altering hybrid that looks luscious under every Instagram filter. Oozing with cream cheese filling and sprinkled with all kinds of seeds, the savory treat (consider adding lox on the weekends) is a prime example of the shop's forward-thinking philosophy. 3528 Chestnut Ave., 443-475-0910
Migues Magnificent Mini Donuts
Venture to the Baltimore Farmers' Market and Bazaar to find this DIY destination that delivers its mini-doughnuts via swift assembly-line service. We love customizing these tiny treats, which are fried to order and can be all dressed up with caramel sauce, chocolate sauce, and even lemon and orange pumpkinseed-flavored sugars. East Saratoga and Holliday Streets, 410-752-8632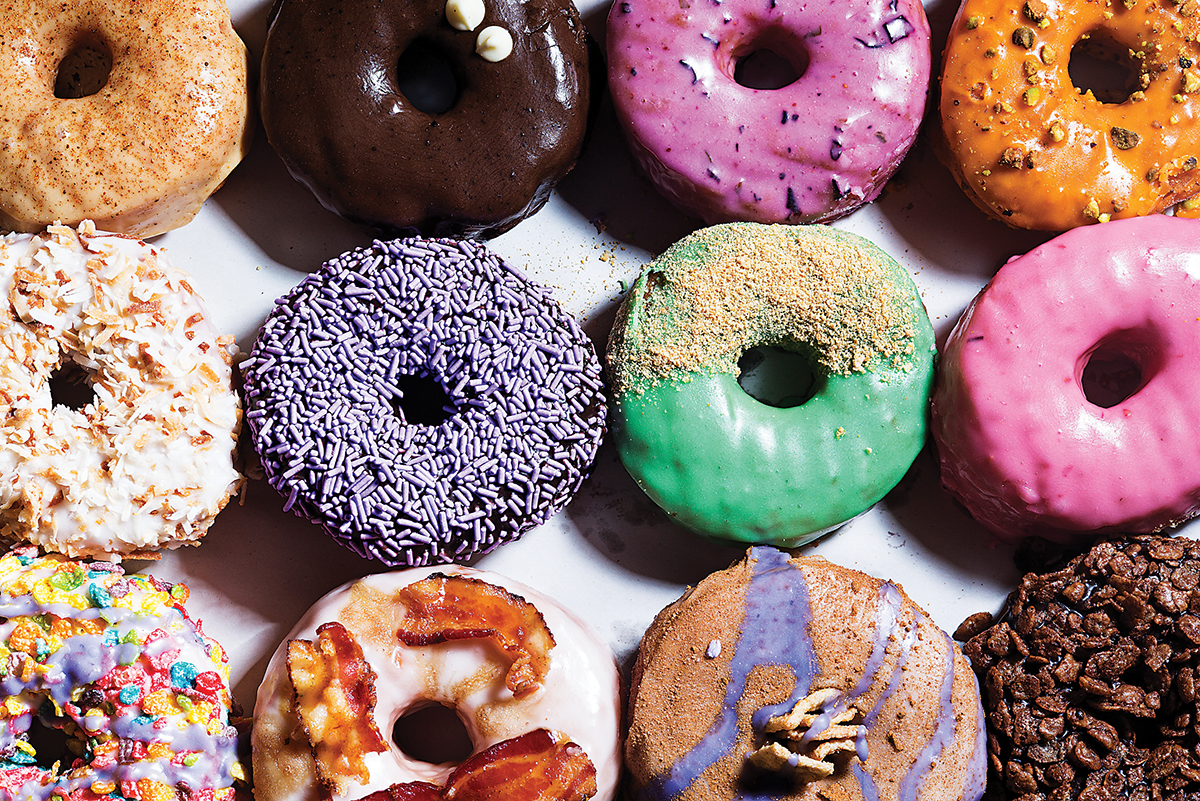 Diablo Donuts in Fells Point helps us start our mornings off right with cereal-encrusted confections and creative toppings like toasted marshmallows, bacon, or Old Bay.
Find the Best in Baltimore