David Marshall is Working to End Discrimination in Adoption
When Marshall decided he wanted to become a parent, there was no clear path to do so as a single gay man. Now, his nonprofit, Journey to Josiah, provides resources to others navigating the process.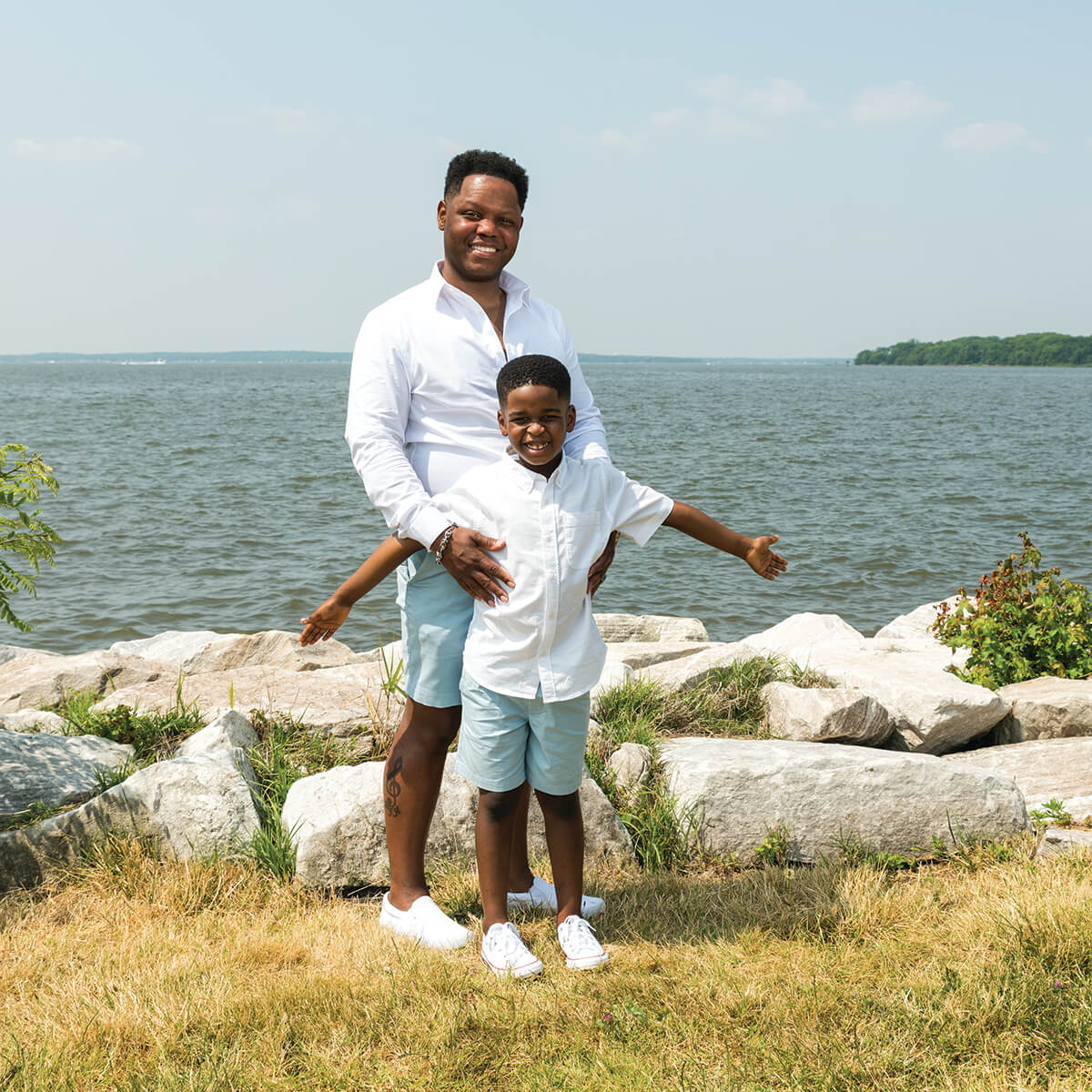 David Marshall had two dreams in life: to become an opera singer and to be a father. He achieved both, though his journey to fatherhood wasn't as straightforward as his career in music. When Marshall decided he wanted to become a parent, there was no clear path to do so as a single gay man. In 2021, he founded a nonprofit called Journey to Josiah, named after his son whom he adopted in 2017. Focused on education and outreach, the organization's mission is to increase the rates of adoptions and the fostering of children around the world.
When did you adopt your son? What was that day like?
Our "Gotcha Day" was April 3, 2017. That's the day I got him. He was 2 weeks old. I adopted him through an agency called Adoptions Together in Calverton, Maryland. I got the call, and I raced down to Prince George's County. He was wide awake, this little thing looking at me and I was looking at him, crying. It was instant love.
You started the adoption process two years before that, right? Why does adoption take so long?
I went to an information meeting in 2015. Next is the home study process. It's a very intense process where you have a social worker come to your home to learn about you. They are not coming to see if there are dust balls in the corner, they want to know who you are. I completed my home study in roughly six months. Then the social worker has 90 days to submit their full report. That's when you are formally a part of the process. I was invited to [adopt] as part of the domestic infant program where I was then waiting.
What do prospective parents do while they're waiting for their child?
During the process the agency offers classes. For instance, you're learning the history of adoption. If you are looking to adopt a child outside of your race, then there are classes on raising children of different cultures and ethnicities. Because it's so important. They always want to make sure that the children, no matter who they're raised by, are still very connected to who they are.
You say that there's a lot of misinformation out there, such as that it's illegal to adopt as a gay couple. Is that true, or was it at one point?
Yes, in some states it was illegal until fairly recently. And in certain countries now it still is. There was a time in the early days of adoption, they were looking for heterosexual couples. And quite honestly, most of the time, they were looking for white heterosexual couples. So it has evolved.
Yet there are still certain hurdles to overcome, such as being single, right? Are there certain agencies that won't adopt to single people?
Ultimately, it's the birth parent who picks who they want their child to be parented by. However, getting to that place [requires finding] an agency that's willing to work with you, because we find that agencies project a lot of their own biases. You have agencies that will make the claim that you're going to be harder to place as a single person or as a gay person or as a gay couple. We get into issues not of legality, but discrimination.
Do you think that's changing?
When we think about the generation that is now going to be placing children for adoption, we're talking about Millennials and below. For them, the whole LGBTQIA+ community is normal. This is what they grew up seeing and accepting. Gay marriage is normal for them. So a lot of the work that I am doing is helping families to find those agencies that are going to be accepting of them. Because the birth families are fine. I met Josiah's birth parents before he was born. They were completely fine with who I am. His birth dad is actually the first person who picked me. It just tears down that whole stigma of, "Oh, he's a gay man, a father would not want [that]." No, Josiah's birth father could not have cared less about any of that.
When did you form your organization, Journey to Josiah, and why?
My organization is two years old. I started this in my basement during the pandemic. The majority of my clients are from the LGBTQ community, but I've had every family structure and, unlike agencies, I don't discriminate. The end goal is to match you with the agency, but I also give you all of the tools to understand the process.  When people call me, they have told me stories about how they have had doors shut in their faces. I've had people who have been discriminated against who have called me to say, "Can you help me?" Believe it or not the most shocking one was in San Francisco. That client was rejected by six agencies for being single and gay.
What does the future look like for Journey to Josiah?
I want to do more than just talk about how to become a parent, I want to be an advocate and a change agent. My experience has confirmed to me that there's something necessary about this work. When you listen to that still voice inside and you know that it's God, you have to follow it.