Dawod Thomas Cultivates Change for Inner City Youth
My Father's Plan teaches kids respect for themselves, others, and the neighborhood they live in.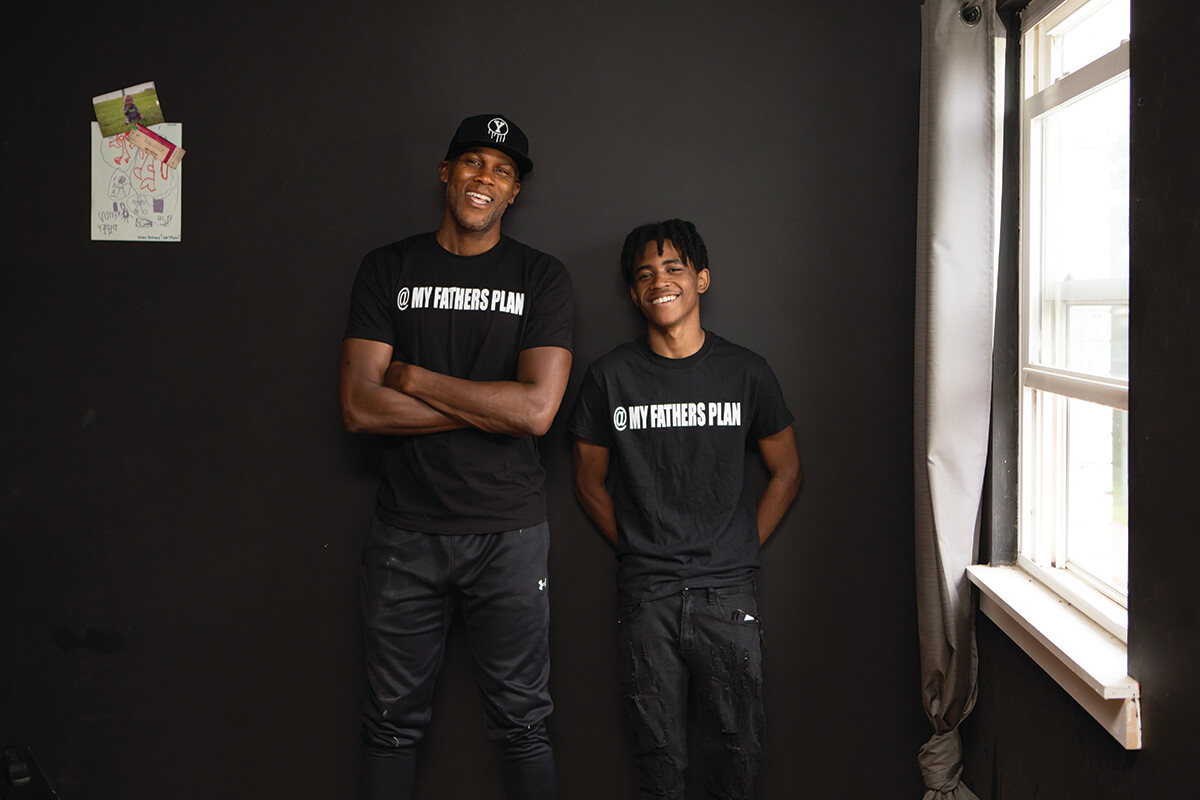 How do you change a generation of kids for the better? According to Baltimore native Dawod Thomas, you give them opportunities for community activism, financial literacy, and community outreach.
Despite the name of his nonprofit, My Father's Plan, Thomas' "plan" was never to be an activist—he insists he's just "a regular guy doing his duty to his community."
It all started 10 years ago, when kids began showing up to his Pen Lucy-based women's clothing boutique asking for change. One day, an 8-year-old boy posed a different question: How do I earn some money?
"I said, now we're talking, because you're too young to be begging," Thomas recalls. "I gave him $2 to sweep my store. The next day, he came back with a friend."
Before long, he had an entire posse of eager workers on his hands. Saturdays became synonymous with cleaning up the block, and Thomas decided to organize as a nonprofit in 2012. But he was still paying his employees out of pocket and it wasn't until 2019 that the effort got donations, when they became a 501c3.
Today, My Father's Plan does more than offer a stipend for community cleanups: There are also fieldtrips, mental health groups, financial literacy programs, leadership groups, and peer-on-peer tutoring, all with the intent of teaching kids respect for themselves, others, and the neighborhood they live in.
While My Father's Plan evolved organically, it was inspired by the lessons of Thomas' late father, Charles—known as Slim Charlie for his 6'8," lanky frame. Described by Thomas as a true "people-person," he was passionate in his belief that unifying Baltimore had to start with the youth. Charles preached to his son about the importance of creating self-sustainable businesses in the community and giving back. He died when Thomas was just 18.
"My father never talked about paying kids to keep them engaged, so that was my own little twist," Thomas says.
Seeing the first generation of participants, now 20 years old, pick up the mantle and train the newcomers makes Thomas "unbelievably proud." He gets calls from people all over the city looking to pay the kids for a variety of jobs, from moving to demolition.
"We're turning into a machine where we create economic opportunities for young people," Thomas says. His team is made up of volunteers, many of whom he's known his entire life—including his brother, best friends, and "Ms. Beverly," his longtime neighbor and now secretary. Without a salaried staff, any money raised goes exclusively to the youth.
Up until this summer, Thomas' store, The Store At Your Door, served as the unofficial headquarters. But now there's a building, bankrolled by a GoFundMe campaign, representing the first time in decades that kids in Pen Lucy—a neighborhood known for violence and crime—will have a safe place to socialize and learn new skills.
"A lot of these kids are fed lies and sold dreams," he says. "They deal with so much trauma on a daily basis. When I tell them the truth over and over again, trust begins to form. I see them start to believe, I see hope. I feel like it's my debt to give back to the next generation."
What would Slim Charlie say if he could see all this? "Well, this might sound weird, but I see my dad in my dreams sometimes," says Thomas. "He tells me to keep going. Keeping his name alive makes me proud, especially for something positive. Who doesn't want to be remembered for something positive?"