Q&A with Robert C. Embry Jr.
President, Abell Foundation
A Baltimore native and City College High School graduate, Robert Embry decided when he was in graduate school at Harvard that his talents would be best put to work in the city he called home.
After returning to Baltimore and winning a seat on the City Council in 1967 at age 30, Embry was recruited by then-Mayor Thomas J. D'Alesandro III to serve as commissioner of the Baltimore Department of Housing and Community Development. He was instrumental in the development of now-iconic Inner Harbor attractions, including the Maryland Science Center, the National Aquarium, and the convention center. His tenure also oversaw the creation of the subway system and the "Dollar House" program of the 1970s, largely credited with the revitalization of neighborhoods like Otterbein and Ridgely's Delight.
After a term as president of the Baltimore school board, Embry was tapped as head of the Abell Foundation, which saw its holdings grow exponentially after the sale of the A.S. Abell Co. to the Times Mirror Co. in 1986.
Thirty years into overseeing the largest private foundation serving only Maryland (it has doled out more than $339 million in grants and investments since its founding), Embry's vision remains the same: to dramatically reduce the income and health disparities that exist in the city.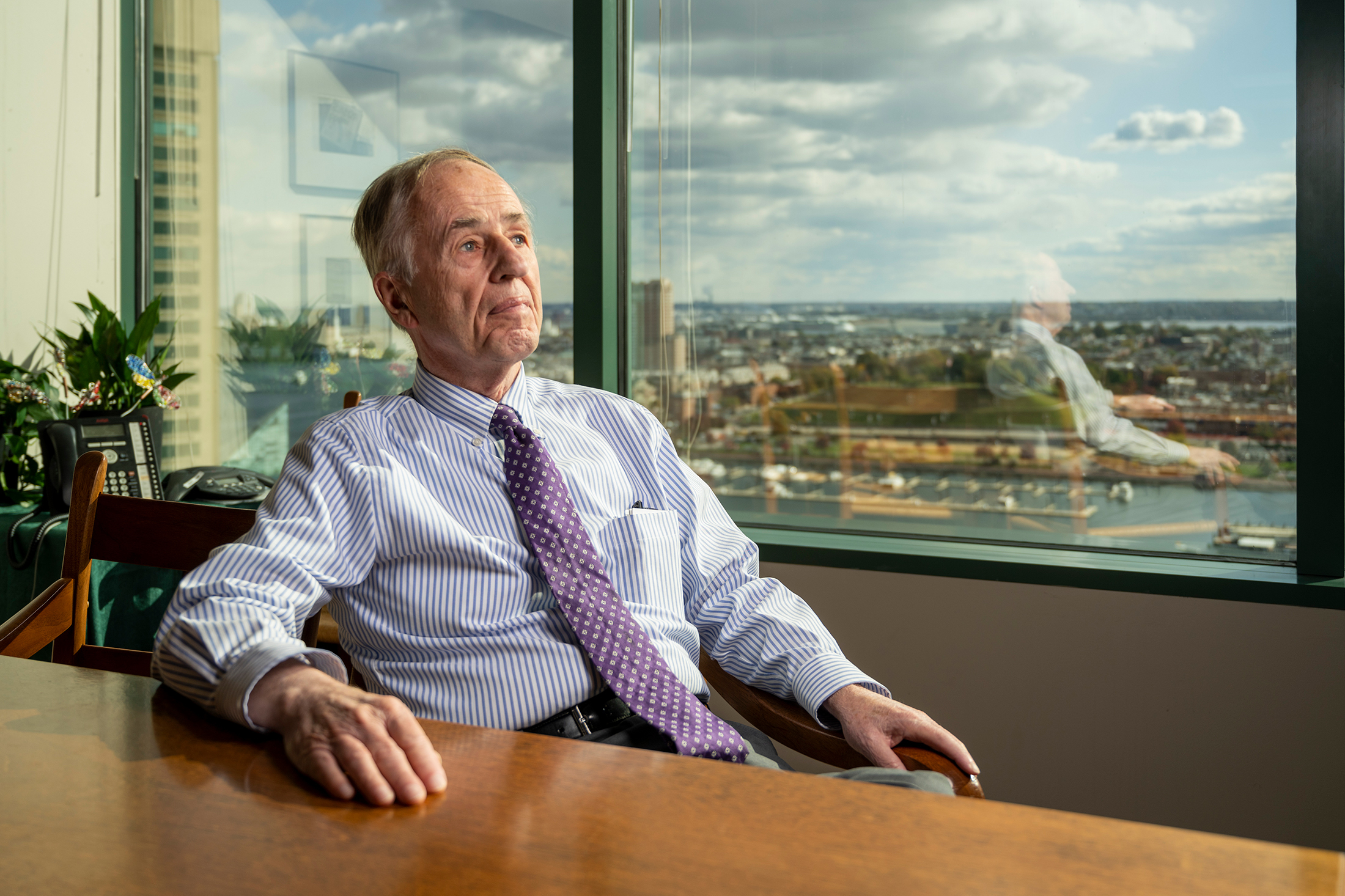 You chose to return to your hometown after graduate school at Harvard. Why are you so passionate about Baltimore?
My view of America is that its most profound challenge is to remedy the ill effects of its history with African-Americans, and Baltimore is a case study of those inequities. Baltimore is the city that I was born in and know the most about, and was one of the cities most challenged by these issues. So it was the place I thought I could have the greatest impact.
What do you see as some of the most pressing challenges facing the city right now?
The most immediate one is the crime rate. And that's caused by a whole variety of other issues, which, in the long term, are arguably more important. That is, racial discrimination, lack of education, lack of jobs, housing, and so forth. But the most immediate issue, to me, is reducing the crime rate, which is having a dramatic negative impact, primarily on the low-income population of the city.
With all of these issues that need addressing, how does the Abell Foundation determine where to invest its funds?
The foundation's primary focus is on the poverty issues in the city, so that's what it devotes most of its money to, as well as education, job training, health programs, and housing.
What sort of progress have you seen since joining the foundation? Do you see things improving?
No. I would say that the city is more challenged today than it was 30 years ago. There are signs of progress. There's a lot more entrepreneurial activity in the city than there was 30 years ago, there are more foundations and philanthropic dollars than there were. Most of the foundations of any size in Baltimore are focused on the same issues, on reducing poverty in the city. But overall, the city has seen a loss of population, increased percentage of poverty, and increased segregation in the schools—not only racial segregation, but income.
What gives you the most hope right now?
There are more and more programs that are cost-effective that are addressing this problem. There are numerous job-training programs that are successful in placing city residents in jobs. Thread and CollegeBound are making a significant contribution in increasing the number of low-income Baltimore City Public School students who go to four-year colleges and stay in college, and there are a whole host of anti-poverty initiatives that exist today that didn't when I started at the foundation.
Is there a recent recipient of Abell Foundation funding that stands out to you for the impact it is making in the city?
There are many of them. Joe Jones' Center for Urban Families; we've been helping since their founding almost 30 years ago. They have a tremendous track record in moving primarily inner-city men into employment. But there are many other job-training programs that are very successful.
Where do you hope to see the city in another generation— 20 or so years in the future?
I hope to see the income disparity and the health disparity that exists in the city dramatically reduced.
Where could those resources come from to make that happen?
I think it would have to come from the federal and state government; primarily the federal government.
What message would you send to people who want to get involved in helping their city, but aren't sure where to start?
For somebody who has the ability to do more than they're doing, there are numerous volunteer organizations, many of which you're touching on in the magazine. There's no one initiative that is going to appeal to everybody. But there are so many options, it's hard to imagine there isn't one for everyone who wants to give back.