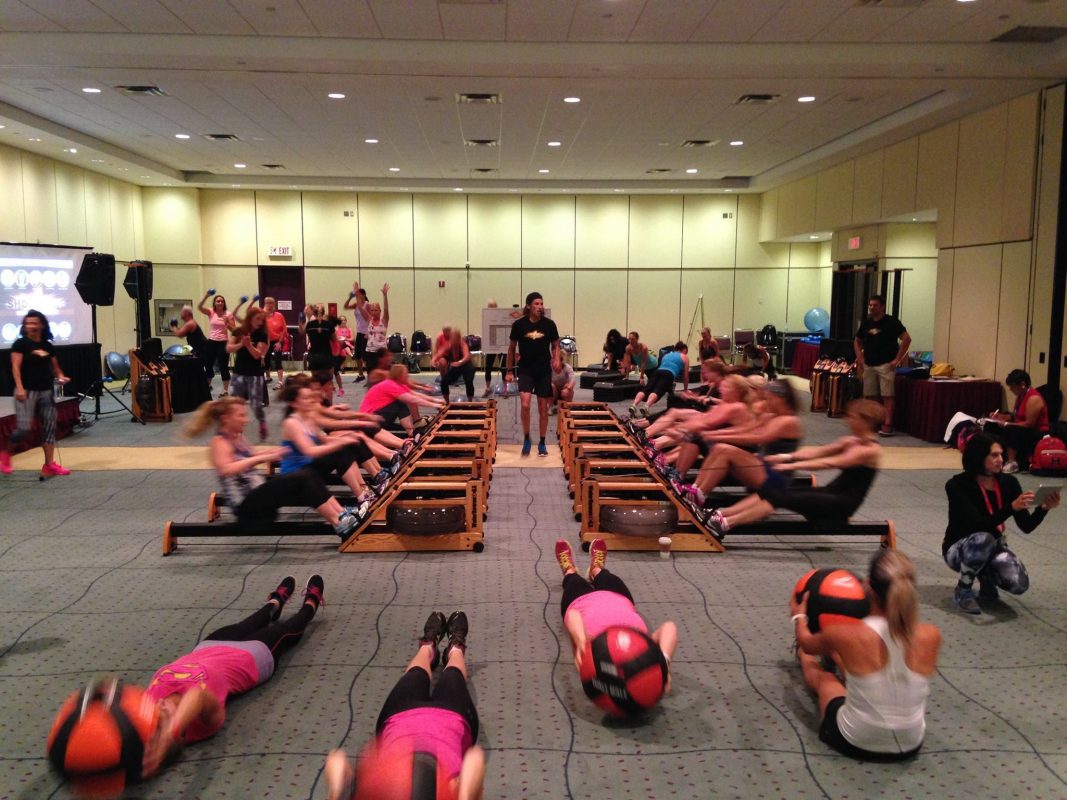 There's no doubt that falling into the same workout routine day in and day out can get mundane, and the Baltimore fitness scene offers plenty of options to help gradually switch things up. Whether you're looking for a way to kick-start your New Year's resolution to get into shipshape, or just bored with your traditional training regimen, here are a few outside-of-the-box classes to consider for 2016.
Aerial Yoga: Find your inner acrobat with this hour-long class that takes traditional yoga postures and adapts them in the air. After you get situated in a soft fabric hammock suspended from the ceiling, the class begins with a warm-up to strengthen your core and shoulders. Students explore the "art of inversion" (a.k.a. hanging upside down) for spine decompression and focus on breathing techniques. In addition to increasing overall strength and flexibility, Aerial Yoga is known to provide a deeper stretch than traditional yoga because the fabric supports parts of the body that are more difficult to support on your own while on the ground. Where to sign up: Jayne Bernasconi, Towson University dance professor and one of the pioneers of Aerial Yoga, teaches weekly classes at her studio Yoga on York. Don't worry if hanging in the air seems intimidating, the studio offers "gentle" classes specifically for beginners. 6711 York Road, 443-600-1305
REV45: Although Charm City has yet to see trendy studios like SoulCycle and Flywheel join the scene, we've still got some pretty great options for cycling classes, and this 45-minute ride is no exception. Students are encouraged to test their limits through sprints, strides, and intervals set to high-energy music. Where to sign up: RevCycle Studio in Locust Point offers 45 and 60-minute classes, as well as more specific programs like REV Hip Hop and REV Throwback Jams, on a weekly basis. Beginners who are new to indoor cycling are encouraged to enroll in REV 101. 1718 Whetstone Way, 410-727-4738
Sproing Fitness: Torch tons of calories with this 45-minute class that gives you an intense full-body workout without all of the joint pain that comes with running on a flat surface. Sproing machines replace the conveyor belt-style of a traditional treadmill with a cushiony surface that mimics the sensation of running on sand. Instructors guide students through a warm-up, followed by 60 30-second intervals of high-intensity cardio, strength, and power exercises, all done onthe Sproing trainer. Where to sign up: The first, and only, Sproing studio in Maryland is featured at Synergy FX in Columbia. Beginners are welcome in all classes and encouraged to modify the exercises (like marching or jogging instead of running) to fit their pace. 8815 Columbia 100 Parkway, Ste. 2, Columbia, 484-302-4794.
ShockWave: This team-oriented circuit-training program, which was recently featured on an episode of The Biggest Loser, uses its signature rowing machines in conjunction with other strength-building exercises to create a full-body workout. Throughout the 30-minute class, teammates rotate around to different stations (think rowing, squats, crunches with a medicine ball, etc.) with the goal of racking up the farthest distance on the rower, while also sculpting their legs, arms, and core. Where to sign up: ShockWave classes are currently offered weekly at the Maryland Athletic Club in Timonium and the Jewish Community Center in Owings Mills. 110 W. Timonium Road, Timonium, 410-453-9111 & 3506 Gwynbrook Ave., Owings Mills, 410-356-5200
Surfset: There's no better way to prepare your body for swimsuit season than by incorporating a surf board into your workout. This 50 minute class focuses on core work and strength training that challenges both your mind and body. Students execute everything from push-ups to squats while balancing on the signature Surfset board. Where to sign up: BeachFit Baltimore in Fells Point offers Surfset two times per week. 1400 Aliceanna St., 410-753-4354