Planned Parenthood of Maryland Battles New Threats to Reproductive Health Care
A year after Roe v. Wade's overturn, the nearly 100-year-old local nonprofit—one of the organization's oldest affiliates—has one main message: It's open for business.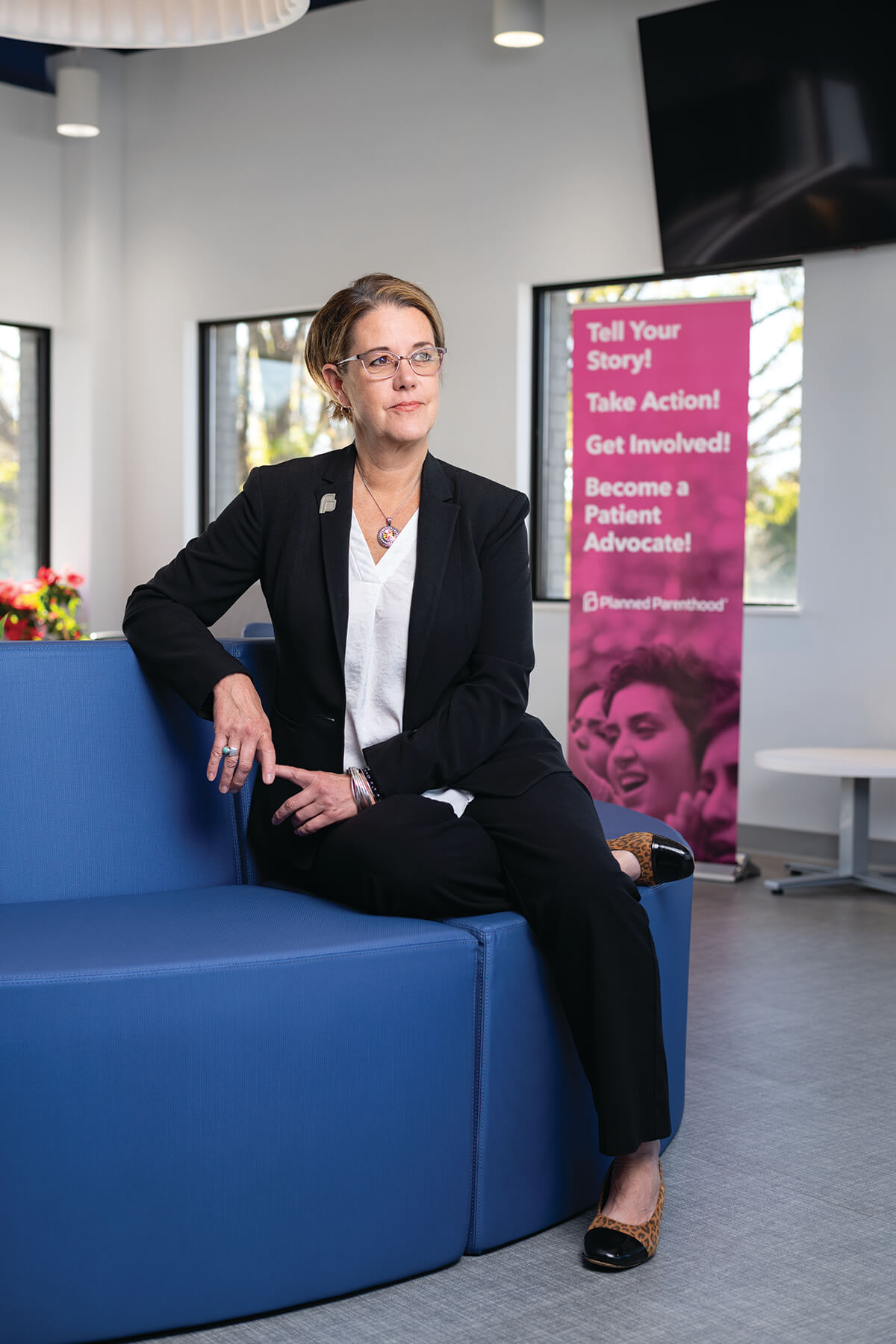 On June 24, 2022, at 10:10 a.m., the U.S. Supreme Court released its decision in Dobbs v. Jackson Women's Health Organization, overturning the constitutional right to abortion that has stood for almost 50 years. For some, it was a day of celebration. For many, it was one of shock, anger, sadness—and more than a little confusion.
At Planned Parenthood of Maryland (PPM), the doors remained open and services continued as they have for almost 100 years.
"There's a long tradition here in the state of Maryland of being supportive of women's health, reproductive rights, and abortion care," says Karen Nelson, president and CEO of PPM, attributing some of that support to the state's abundance of hospitals and institutions of public health. "So it's infuriating and doesn't make sense to me that you can receive health care in the state of Maryland that you cannot receive someplace else in the country."
The national nonprofit Planned Parenthood, founded in 1916, provides sexual and reproductive health care, education, and information to millions of people via over 600 health centers around the country. Founded in 1927 by nurse activist Margaret Sanger and a group of concerned citizens and physicians, PPM is one of the organization's oldest affiliates. Sanger, who believed her mother's early death at age 50 was due to the strain of too many pregnancies and who, as a nurse, cared for mostly poor women who had undergone unsafe illegal abortions, was an early crusader for birth control.
In Baltimore, the inaugural medical director of what was then called the Bureau for Contraceptive Advice was Dr. Bessie Moses, the first female obstetrical intern at Johns Hopkins University. Moses and her staff were dedicated to removing restrictive barriers to contraception and training health care professionals on how to provide birth control methods. Moses' clinic served Black and white women (although on segregated days) and in 1938, she established a health center to serve Black patients, the first in the nation staffed by African-American physicians.
Today, PPM operates seven clinics and has a staff of 125. In early April, a handful of protestors—all white and of advanced age—loiter on the sidewalk at the PPM location on Howard Street in downtown Baltimore. They aren't holding signs or shouting, mostly milling about outside the office entrance like an ill-intentioned coffee klatch.
"We have regular protestors outside the Baltimore and Annapolis offices," says Nelson. "Patients have to walk through them and put up with their nasty comments. We educate our patients before they come in that they may encounter protestors and to look for our escorts."
The escorts are extremely efficient, sweeping visitors into the building before they even reach the dual-door entry. The building is sturdy, solid brick.
"In some ways, we've been preparing for [Roe's overturn] for a really long time," says Nelson from a windowless conference room. "We know there are plenty of people out there trying to take down the ability to access abortion care across the country. That's been here my whole career…But when Donald Trump came into office and flat-out said he'd put anti-choice justices on the Supreme Court, it became a little bit more real. Across the country Planned Parenthoods were working together to make plans."
In Maryland, they began by shoring up their capacity to provide health care services. The vast majority of patients come to PPM for preventative care, everything from Pap smears and routine breast exams to HIV treatment and pregnancy well visits. Patients can pay for services on a sliding scale based on their ability to pay and access to insurance.
Abortion is a small portion of the services it offers. In fiscal year 2022, for example, the organization provided 6,897 abortions while also providing 34,967 sexually transmitted infection (STI) tests and 26,720 prescriptions for birth control.
That said, the right to access an abortion is a cornerstone of the organization's overall health care offerings. PPM's chief medical officer, Dr. Kyle Bukowski, explains that's because abortion care is health care. People want to put abortion in a tidy box, says Bukowski. But whether a person receives that service for unwanted pregnancy, a miscarriage, or to terminate a pregnancy where fetal and/or maternal health are in danger, putting abortion into a single silo does not match the lived experience of pregnant individuals.
"Pregnancy is natural, but it is not a benign experience," continues Bukowski, who is OBGYN board-certified in complex family planning. "Particularly in this country, where the maternal mortality rate is so far above the rest of the developed world—and has so much inherent bias and racism in it, with Black women dying in childbirth and the post-partum period at three times the rate of their white counterparts—the decision not to continue a pregnancy should absolutely be something an individual has control over. Particularly because we have not addressed the risks of them continuing a pregnancy, especially if they're Black, brown, queer, or poor."
Improving access to care is important, even in Maryland. While 88 percent of Marylanders identify as pro-choice, two-thirds of the state—mostly in rural western Maryland and on the Eastern Shore—have no abortion providers. With new state funds available to train abortion care providers, PPM is hoping to expand its staff.
To meet the current need, it launched a robust telehealth program last August that, among other services, can offer "no touch" medical abortions for those who are up to 11 weeks pregnant, using the recently controversial prescription medication mifepristone followed by misoprostol. Telehealth medical abortion provides a vital resource for those without a nearby clinic and allows a pregnancy to be terminated without the more invasive surgical procedure and in the comfort of a person's home or other safe place.
PUTTING ABORTION INTO A SINGLE SILO DOESN'T MATCH THE LIVED EXPERIENCE OF PREGNANT INDIVIDUALS.
In addition to pushing for more care providers, Nelson says bolstering legislative advocacy has become critically important.
"We worked really hard in the last legislative session to pass the Abortion Care Access Act, which expanded the number of providers who could provide abortion care in this state," she says. The act passed in 2022, but the $3.5 million in funding approved for that program
was not released until Gov. Wes Moore took office in January of this year. Nelson hopes getting new providers online will help close the access gap in the state and accommodate patients now coming from out-of-state. In less than a year since the Dobbs decision, women seeking abortion care have arrived to PPM from 26 different states. (Even to access telehealth services a patient must be physically in Maryland.)
The stories of those who travel here for care run the gamut. Some have the resources to hop on a Southwest flight—it helps that Baltimore is a hub for the low-cost carrier—while others drive for hours to get to Maryland. For those who can't afford childcare, they may bring their entire support system with them. PPM works closely with the various abortion funds in Maryland, which are nonprofits that provide financial assistance and practical support to individuals who live in or travel to Maryland for abortion.
Bukowski oversees PPM's seven clinics across the state and the telehealth program, with medical abortion available at all its sites and procedural abortions at two.
"We've seen about a 30-percent increase just in abortion services in general over the last 10 months," he says. "We've always seen some patients from out-of-state—West Virginia, Delaware, Pennsylvania—but we're now consistently seeing a few patients each month from Texas, Florida, Mississippi, Louisiana."
For Nelson, the passage of 2022's Abortion Care Access Act was something of an anniversary.
"Last year was the first time that the Maryland General Assembly sent or passed an abortion bill since 1992—excluding anti-choice bills, which are written every year and never make it out of committee," says Nelson. "For me, it's been a full circle."
Nelson first became involved in the prochoice cause in the early 1990s as a University of Maryland graduate living in Berwyn Heights. At the time, the state was considering Question 6, as to whether the government should be prohibited from interfering with the decision of a woman to terminate a pregnancy before fetal viability. (Sixty-two percent of voters voted "yes" on the question, ensuring the state could not impede a woman's right to choose and codifying Roe into the state statute.)
"That campaign was my first step into politics and the world of Planned Parenthood," says Nelson, who was a volunteer advocating for the cause. She parlayed her passion into a job in the accounting department at Planned Parenthood of Buffalo in 1994. She worked her
way up over the next 20 years to become president and CEO of Planned Parenthood of Central and Western New York before returning to Baltimore and the position at PPM in 2016.
"Karen's wealth of experience and knowledge has been a huge asset for us in terms of her ability to think ahead and to think strategy through," says Lynne Durbin, PPM's board chair and a retired attorney. "She is also just an amazingly calm and levelheaded leader."
Fellow board member Shanetta Paskel seconds Durbin. "Karen is very passionate but she's not emotional," she says. "For someone leading advocacy in this area, you have to be able to talk about it without being emotional or judgmental, and [Karen's] excellent at doing that, and bringing all types of people into the support of Planned Parenthood."
Nelson's skill at building relationships has helped advance PPM's agenda in Annapolis, says Paskel, which was particularly important in the more recent legislative session that closed in April and saw the passage of the Reproductive Freedom package. As part of that package, Marylanders will vote in a 2024 referendum to determine whether to enshrine abortion into the state constitution.
"As a lawyer I can say, yes, a constitutional amendment can ultimately be overturned, but it's a lot harder than it is to overturn a regular piece of legislation, which is why this is so important," says Durbin.
The package includes a bill to shield providers from legal action for providing appropriate and legal health care, ensuring that Maryland won't collaborate with other states that may try to extend their legal arm over this state's pro-choice borders. There's also a bill that excludes information about abortion care from being entered into a patient's electronic record without the patient's consent, which is essential in helping some visitors avoid criminal prosecution in their home states. Additionally, the package also requires Maryland's public universities to develop a plan to refer students to comprehensive reproductive health services.
Much of the bill package reflects the current national landscape for reproductive and abortion care—and how dramatically the reversal of Roe has impacted the entire country, even in "shelter states."
"We used to just look at our own little market," says Nelson. "Now we need to look at the whole country."
Nelson explains that in the wake of the Dobbs decision, Maryland not only needs to protect its own health care providers, but it also needs to watch the regulatory environment, particularly of its southern neighbors. Right now, abortion is still accessible in North Carolina and Virginia. But especially with Florida now passing a ban on abortions after six weeks—a timeframe in which a person may not even know they're pregnant yet—those states are in danger of becoming overwhelmed by out-of-state patients moving up the I-95 corridor in search of care. And Virginia and North Carolina—which do not have legal protections for abortion and could be swayed by upcoming elections—are by no means safe from having their own state laws changed. All of which puts more pressure on abortion providers in Maryland.
Currently 18 states have abortion bans or severe restrictions. And laws are changing every day, creating confusion and fear. This was profoundly apparent in the recent upheaval related to the medical abortion medication mifepristone. Conflicting court decisions in Texas and Washington state endangered access to the drug even in states where it is legal.
The Supreme Court issued a stay in April that keeps the drug available—for now. (While medical abortion can be done safely with only misoprostol and no initial dose of mifepristone, it can cause more side effects.)
"THERE IS A SMALL GROUP . . . WHO WILL NOT STOP UNTIL THERE'S A FEDERAL ABORTION BAN."
PPM's main message remains clear: Abortion is legal in Maryland and Planned Parenthood is open.
"One of the intended consequences of the Dobbs decision was to create chaos," says Bukowski. "And that has happened. Even in Maryland, patients are so confused about what is legal, what is not legal, and where to go. So a lot of what we did initially was patient reassurance, letting patients know that abortion is legal in Maryland and their rights to bodily autonomy were maintained here, even if they weren't Maryland residents."
Bukowski says that while the Dobbs decision was "devasting," it didn't come as a surprise to the clinicians and staff he oversees, people who have dedicated their lives to providing patient-centered reproductive care, no matter what.
"We should be proud of the work we've done in Maryland, but we should always be trying to figure out how we plan for a bad outcome," he says.
As a lawyer who works in government affairs and lobbying, Paskel says Marylanders cannot sit back and assume their rights are "safe."
"There is a small group of well-funded, well-organized individuals who will not stop until there is a federal abortion ban," she says. "Roe was never the end result for them—it was the beginning. There are people in this country who are not just anti-choice. They are anti-contraception, they are anti-gender-affirming care." (Several years ago, the organization began offering hormone treatment for transgender patients.)
"They will not be happy," she continues, "until many of the things we do at Planned Parenthood no longer exist."
Despite the national chaos, Nelson wants to make something clear: "One thing that hasn't changed is that Planned Parenthood remains committed to the three components of its mission: direct health care provision, education, and advocacy."
One in five women in America has visited a Planned Parenthood. "For over 60 percent of our patients, this is their only health care," says Durbin. "We're talking about poor people, mostly of color, who are under-insured and underserved, who generally can't afford services, but they can receive services at our clinics."
It's just as likely a PPM care provider will identify a patient's hypertension or diabetes as it is they will treat something related to their reproductive health. And a common misconception is that the services are only for women. Cisgender men come to Planned Parenthood for STI testing and treatment and PPM is the largest Title X provider of vasectomies in the state. Title X is the federal program created in 1970 to provide affordable birth control and reproductive health care to people with low incomes who couldn't otherwise afford it. When Planned Parenthood is said to be "defunded" federally, it is this grant that is taken away. Which is ironic, as it is illegal to use those funds for abortion; they can only be used to pay for preventative care that would avoid unplanned pregnancy in the first place.
PPM's $16-million operating budget is funded by a combination of grants, contributions, and patient fees, the latter of which make up the largest single source of revenue.
PPM also has a robust community education program. Each year, it trains 20 high school students to act as peer educators. Meanwhile, its health educator incubator program is an internship in partnership with the state's historically Black colleges and universities, which gives intensive training to students who then work as aides to sex education teachers in Baltimore City schools.
"We can't just provide health care services if people don't understand their bodies and where to go to get health care," says Nelson. "And we can have all the education and health care that we want, but if we don't have a supportive regulatory environment, we can't do any of it. We see that today; we have plenty of reproductive care providers across the country now sitting in states where they can't perform services."
While advocating for reproductive and abortion rights has never been easy, this is certainly one of the more challenging times for people like Nelson. "This is the work that we do, it is my profession, my career, but at the end of the day, I'm a woman, a human being, who wants to make personal medical decisions. And I want that for my friends, my family, my neighbors, for everyone. So, it can be very personal," she says.
She says the staff and providers at Planned Parenthood, people who have dedicated their lives to PPM, and the importance of the work itself are what keep her motivated.
"The work can be tiring," she says, "but I never get tired of the work."