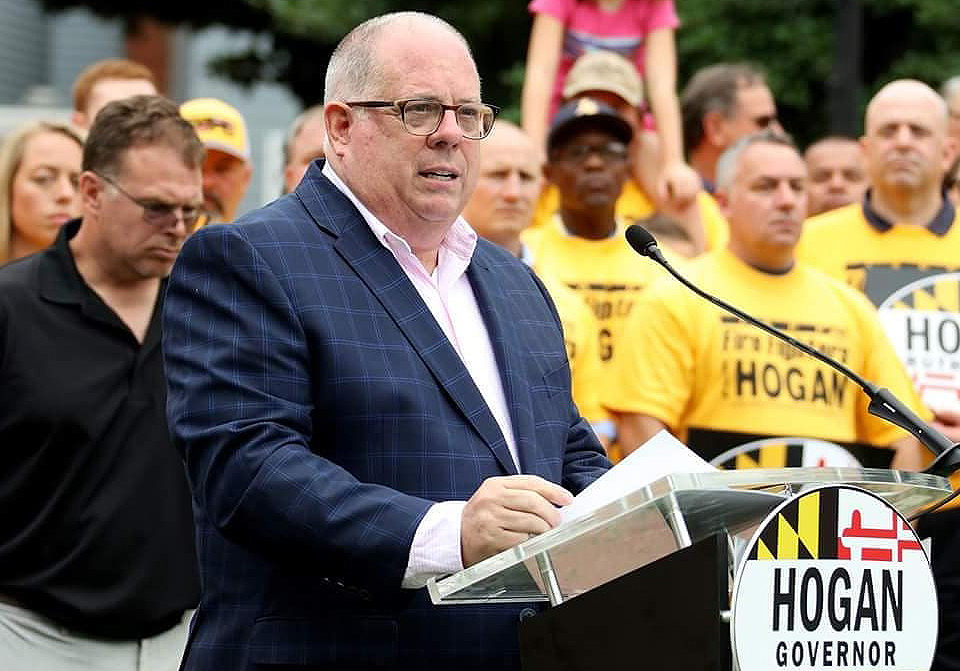 Larry Hogan for Governor
Larry Hogan Becomes First Republican Governor to Be Re-Elected Since 1954.
In convincing fashion, Larry Hogan became the first Republican governor in Maryland in more than 60 years to win a second term Tuesday.
Not since Theodore McKeldin in the 1950s had voters in the state awarded a Republican a second four-year stay in the Governor's Mansion, but Hogan's victory hardly came as a surprise. The popular Anne Arundel County-based real estate developer, who survived a well-publicized bout with cancer in his first term, led Democratic challenger Ben Jealous by double digits throughout the general election season.
Pledging to hold the line on taxes and create a more business-friendly climate in the state, Hogan attracted more than enough centrist and conservative Democrats to his GOP base to easily overcome a 2-1 Democratic registration advantage in the state.
"Let me remind you that Maryland has always been a state of middle temperate," Hogan said in his acceptance remarks, adding his administration has sought a bi-partisan approach to governing since its outset four years ago. "I'm proud we are setting an example for rest of America.
Jealous, the former head of the NAACP, had finally gained some momentum in the last couple of weeks of the campaign, but for all intents and purposes, the race was decided shortly after the primaries, according to political observers. "The Republican Governors Association and Hogan ads defined Jealous, who struggled with fundraising, as risky and extreme before he ever responded," said Goucher College political science professor and pollster Mileah Kromer. "When you allow your opponent to define you in politics, that's never a good thing."
I'm proud of @BenJealous for the incredible race he ran — one focused on issues, progress, and the people of Maryland. Though he came up short, I'm grateful for his commitment to putting our fellow Marylanders first.

— Tom Perez (@TomPerez) November 7, 2018
"Ben Jealous tried very hard to make the election a referendum on Donald Trump, and then a referendum on health care and the minimum wage, but there never was a defining message," said Todd Eberly, a St. Mary's College political science professor. "It was a scattershot approach and just too little, too late."
Baltimore County Elects Johnny O.
In Baltimore County, which Hogan carried by a wide margin, voters overwhelming elected Democratic Johnny Olszewski, who captured 57 percent of the tally, and defeated Republican Al Redmer.
Olszewski, running on a progressive platform, won a three-way Democratic primary battle in the county by just 17 votes before besting Redmer, who had received the enthusiastic backing of Hogan. The victory marks something of a comeback for Olszewski, a former teacher and Baltimore County state delegate from Dundalk, who lost a bid for the state senate four years ago.
"He's been to every church and met with every organization and people have gotten to know him and they trust him," said Shirley Supik, an Olszewski supporter from Woodlawn, at a rally over the weekend. "He's a man who listens."
"Education is a priority with him," added her husband, Jeff Supik, 66, a former general contractor. "He's shown that and it's the number one issue in this county."
There Was (Mostly) a Blue Wave in Maryland.
Hogan's strong approval ratings translated into 56 percent of the tally in the gubernatorial race, but did not produce any coattails, however. Democrats managed to flip two important suburban county executive seats as well as maintaining their veto-proof majority in the General Assembly.
The GOP went into Election Day with hopes, albeit against long odds, of turning five state senate seats from blue to red—their "Drive for Five" effort—which would've enabled Hogan and Republican party to redraw the state's legislative districts in 2020.
Democratic Attorney General Brian Frosh, who has clashed with Hogan, in particular in regards to federal lawsuits directed at the President Trump, won reelection by nearly 30 points over Republican challenger Craig Wolf.
As expected, Democratic U.S. Senator Ben Cardin also easily won reelection.
Nationally, the Democrats recaptured control of the House of Representatives, but the GOP kept its advantage in the U.S. Senate.
In terms of the Maryland congressional seats up for grabs, there were no upsets in the state. Democrats held onto all seven of their seats in the House, with incumbents Dutch Ruppersberger, Elijah Cummings, Jon Sarbanes, Anthony Brown, Steny Hoyer, and Jaime Raskin all easily winning reelection. In the 6th congressional district, Democrat David Trone won, replacing John Delaney, who did not pursue reelection in order to launch a presidential campaign.
Republican Andy Harris, the lone GOP representative in the Maryland delegation, coasted to reelection in the 1st congressional district.
Democratic Upsets in Howard and Anne Arundel Counties.
In Howard and Anne Arundel counties—both of which Hogan won handily—incumbent Republican county executives unexpectedly lost to their Democrat challengers. In Howard County, County Councilman Calvin Ball upset Allan Kittleman. In Anne Arundel County, Steuart Pittman, a farmer and community organizer, surprised Steve Schuh.
Ball will be the first African-American Howard County executive and plans to invest in education, environmental sustainability, and the opioid crisis.
Of course, the 300-pound elephant in the campaign is managing the $50 million plan to mitigate flooding in Ellicott City. Kittleman announced the plan in August and Ball voted against the three funding bills because his amendments were not included. Ball told The Sun on Tuesday that he would "take time to evaluate all plans in progress for effectiveness and efficiency . . . and make a decision from there."
Olszewski, Ball, and Pittman's victories could put them on the early list of potential Democratic gubernatorial candidates for 2022. For Kittleman and Schuh, viewed as possible Republican gubernatorial contenders in four years, their losses make any future Annapolis run more difficult.