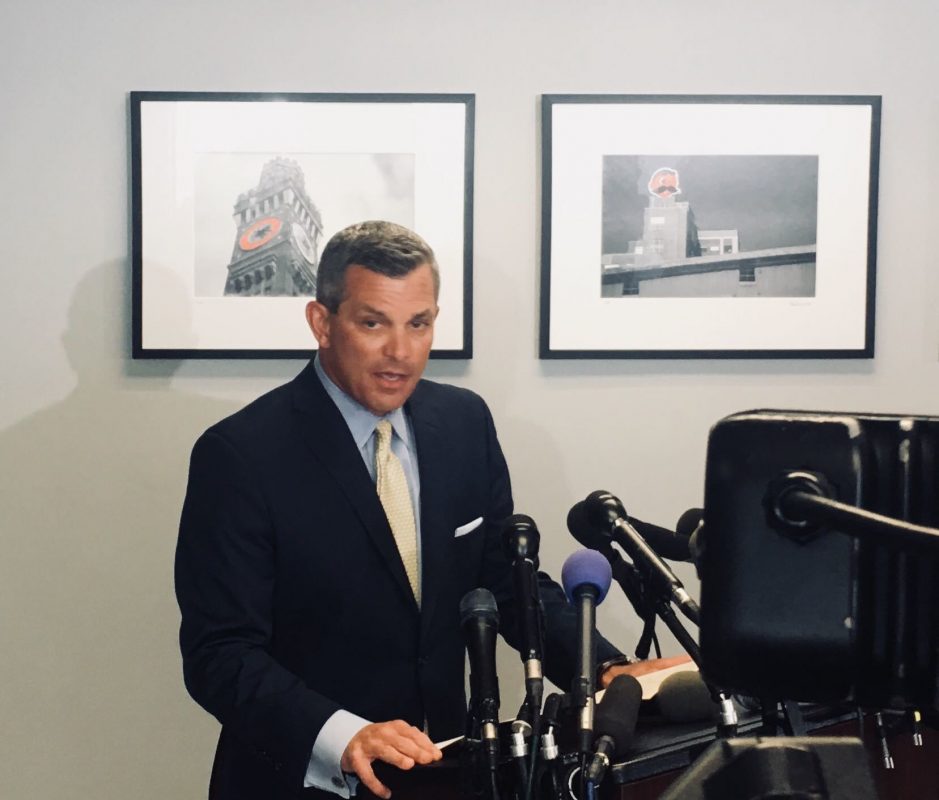 Ron Cassie
On Thursday afternoon, Mayor Catherine Pugh's private lawyer Steve Silverman held a press conference at his downtown office announcing the mayor's resignation, effective immediately.
"In the best interest of the people and the government of the Mayor and City of Baltimore, I am writing to attest that, effective immediately, I hereby resign from the Office of Mayor, to which I was duly elected on November 8, 2016," read Pugh's resignation letter. "I am confident that I have left the City in capable hands for the duration of the term to which I was elected."
Pugh, who has not been seen in public in weeks while on paid sick leave following a bout of pneumonia, did not attend the press conference. A short letter from Pugh accompanying her resignation, which Silverman read, said, "I am sorry for the harm that I have caused to the image of the city of Baltimore and the credibility of the Office of the Mayor. Baltimore deserves a mayor who can move our great city forward."
Pugh's resignation in the wake of her Healthy Holly children's book scandal and surrounding criminal investigations has been anticipated for weeks.
Ex Officio Mayor Bernard C. "Jack" Young will officially serve as Baltimore's 51st mayor until the general election in November 2020. Young, elevated from his position as president of the City Council, is in Detroit for a conference through this weekend.
Silverman did not take any questions from the media.
Young released a statement which said he had been informed of Pugh's decision at 3:35 p.m. Thursday.
"Although I understand that this ordeal has caused real pain for many Baltimoreans, I promise that we will emerge from it more committed than ever to building a stronger Baltimore," Young wrote. "Charm City is wonderful and is full of resilient people who are working hard every day to move our City forward."
U.S Rep. Elijah Cummings, whose endorsement in 2016 helped key Pugh's close Democratic primary win, "commended" Pugh "for making this decision to put our City first." Cummings also expressed support for Young in a statement. "I have every confidence in the leadership of Mayor Young, and I ask that you join me in giving him our full support," Cummings said. "Over the past month he has demonstrated his strong commitment to Baltimore and his ability to direct the City along the right path.
City Councilman Brandon Scott, who expected to run for mayor in 2020, described resignation as "a day of relief and accountability for Baltimore."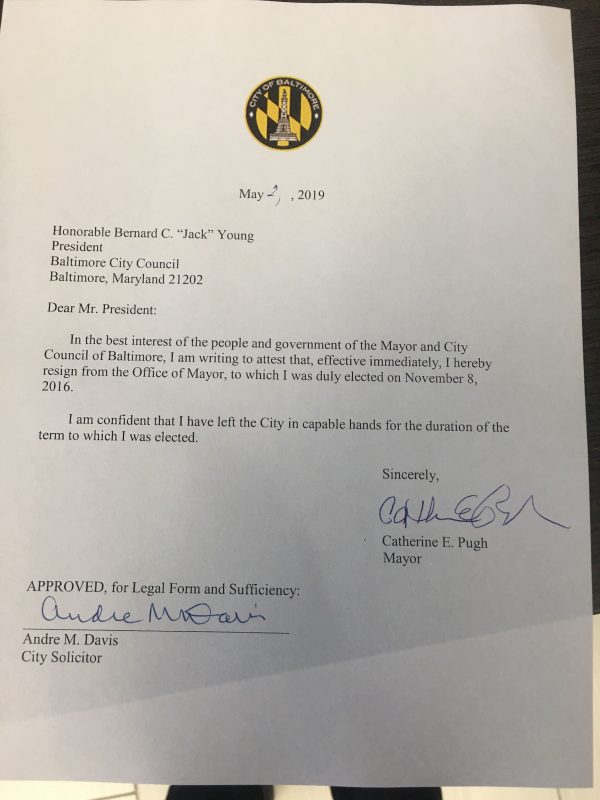 Pugh, who has been embroiled in scandal since The Sun broke the story that the University of Maryland Medical System, upon whose board she sat, authorized $500,000 in purchases of her self-published Healthy Holly children's book series.
The mayor's book deals, made with companies with business before either the city or state of Maryland, began when she was a state senator. To date, it's been alleged that $800,000 from sales has been funneled through her Health Holly limited liability company.
Following the charges of corruption and self-dealing, the entire 14-member City Council—save for Young—Gov. Larry Hogan, Baltimore City's contingent of state delegates, Comptroller Peter Franchot, and the Greater Baltimore Committee called for Pugh's resignation.
Supporters held a prayer vigil for Pugh on Wednesday evening outside of her Ashburton home which, just a week ago, the FBI raided during a federal investigation—along with another home owned by the former mayor, City Hall, and a nonprofit once led by Pugh.
City state Del. Robbyn Lewis, noting Pugh campaign aide Gary Brown pled guilty to two election law violations, but was nonetheless was awarded a staff position in her administration, called Pugh's actions and tenure "a betrayal of the citizens of Baltimore."