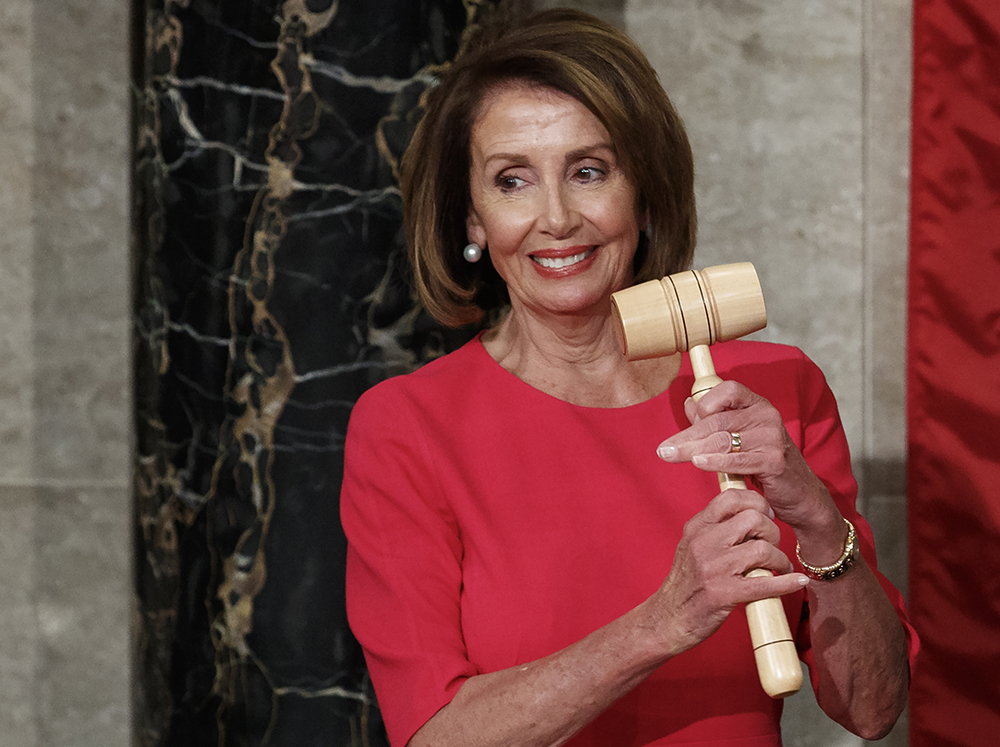 AP Photo/Carolyn Kaster
"I take some, for lack of a better term, some bad-ass glee in just saying, 'Women, you know how to get it done. Know your power.'"
—Nancy Pelosi to CNN's Dana Bash.
The first Native-American women and the first Muslim women were sworn into Congress yesterday. So was the youngest woman ever sworn into Congress. All were part of a record-breaking, 100-plus women taking office Thursday afternoon, none, however, more significant than a 78-year-old mother of five and grandmother of nine from Baltimore's Little Italy—the daughter of former three-term Mayor Thomas D'Alesandro Jr.—Nancy D'Alesandro Pelosi.
Pelosi, who became the first female Speaker of the House in 2007, is the first in six decades to regain the position.
With so many new Democratic U.S. representatives winning elections and flipping control of the House from the GOP, there had been talk among several Dems of finding someone other than Pelosi to assume the mantel of Speaker of the House. It did not last long. Two weeks after 16 Democrats released a letter opposing Pelosi as the next Speaker in mid-November, the mini-rebellion was over.
"Let me be clear, House Democrats are down with NDP—Nancy D'Alesandro Pelosi, the once and future Speaker of the United States House of Representatives," said House Democratic Caucus Chairman and New York Rep. Hakeem Jeffries during the first session of the new Congress, in the first nod to a Naughty by Nature song—"Down with OPP"—in a nominating speech for House speaker.
Among those giving a shoutout, literally, to Pelosi's hometown roots was Maryland Rep. Dutch Ruppersberger, who yelled, "Born and raised in Baltimore, Nancy D'Alesandro Pelosi!" as the vote giving her back the gavel was announced on the floor of the Capitol.
"Like me, Nancy Pelosi is homegrown Baltimore and she's never forgotten it—partly because I won't let her," Ruppersberger said later.
Pelosi helped Ruppersberger get a seat on the powerful House Appropriations Committee. In October, Pelosi and Ruppersberger visited Towson University, speaking to 200 students about voter engagement and the upcoming midterms. Ruppersberger noted that Pelosi, who has represented California for the past three decades, still had an affinity for Berger cookies, crab cakes, and Old Bay. (Her husband, businessman Paul Pelosi, whom she wed in 1963, is a San Francisco native.)
Fellow Maryland Rep. John Sarbanes also strongly supported Pelosi's reelection as Speaker, pointing to her experience and skill as the Democrats' top legislator in the House even before President Trump's recent government shutdown over border wall funding.
"At this critical moment for our democracy, we need our best generals on the field," Sarbanes said in November. "Nancy Pelosi is exactly the right person to hold the Trump Administration accountable over the next two years and to guide Democrats as we present a positive, meaningful legislative agenda for the country. She will be an outstanding Speaker."
Not only did Pelosi's father serve as Baltimore mayor (he also represented the state in Congress), but her brother Thomas D'Alesandro III served a term as mayor as well.
In a recent visit to Little Italy, she told CNN's Dana Bash, however, that she learned as much about politics from her mother, Annunciata M. "Nancy" D'Alesandro (née Lombardi), who was born in Campobasso, Italy, a southern region that was home to many of Baltimore's Italian immigrants. Her mother, Pelosi says, pulled together Little Italy's women into her father's grassroots campaign.
"He leapfrogged over the Irish [to become the city's first Catholic mayor], that was a big deal," she told Bash. "It took political organizing."
Pelosi graduated from the Institute of Notre Dame in East Baltimore in 1958—just four years after the other most significant congresswoman in U.S. history—former Maryland Senator Barbara Mikulski, the longest-serving female member of the U.S. Congress ever. She earned a degree in political science from Trinity College in Washington, D.C.
After moving to San Francisco with her husband and young family, Pelosi worked her way up in Democratic Party politics, winning election in 1976 as a Democratic National Committee member from the state before her successful bid for Congress a decade later. Still, she's never been far from her native Baltimore, especially once she began working in D.C.
In January of 2007, just three days after her first groundbreaking ascension to Speaker of the House, she returned to Little Italy for the ceremonial renaming of the street outside her childhood home to Via Nancy D'Alesandro Pelosi.
When she spoke to the crowd, she highlighted her Italian immigrant ancestors, who came to this country poor, hardworking, and devout, and her own upbringing in the rowhouse at 245 Albemarle Street, according to The Washington Post reporting of the event.
"I wanted to come back here and say thank you to all of you," Pelosi said. "Every step that I took to the speakership began in this neighborhood."
More recently, when Pelosi returned to Baltimore in October for her interview with Bash at Sabatino's—she was rewarded with another surprise. A family portrait with her parents and five older brothers in their rowhouse living room—painted when she was 7 years old and her father was assuming office in City Hall—had just been restored and hung in Germano Piattini, the popular Little Italy restaurant across the street.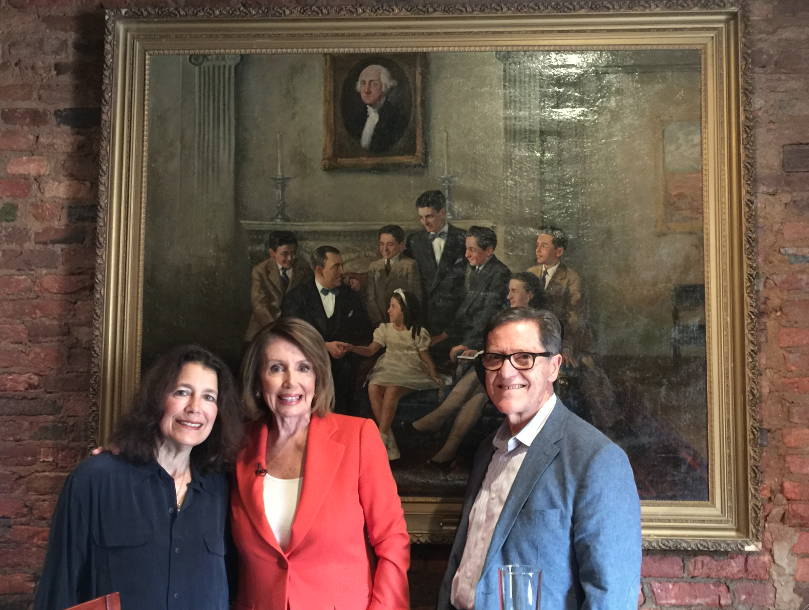 The painting had been rediscovered six months before by one of Pelosi's cousins when the property was being renovated and he turned it over to husband and wife restaurant owners Germano Fabiani and Cyd Wolf. They gave it to local artist and muralist Michael Kirby, who restored the badly damaged canvas.
"When she walked in and saw the painting, she got emotional about it," Wolf said. "She remembered sitting for it, her mother going upstairs and getting out her white dress. It was the focal point of their living room, she said. You can tell by where she sat, between her parents, and by what she's wearing—among all those boys, she was the light of the family."
"I've become a big fan over the years," Wolf added. "I've watched her on television and in public and I admire the way she conducts herself. She's gritty and smart, and she has common sense. She is someone who thinks of what her actions are going to mean to her grandchildren 50 years down the road."
As she did when she first became Speaker in 2007, Pelosi invited the children on the House floor, including some of her own grandchildren, to stand with her as she received the gavel.