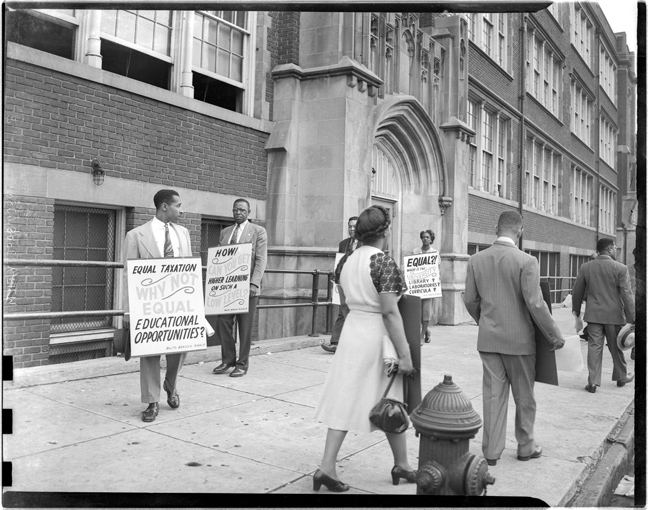 Paul Henderson/Maryland Historical Society
Fifty years ago today, coming after decades of struggle, President Lyndon Johnson signed the landmark Civil Rights Act into law, making discrimination based on race, color, religion, sex, or national origin illegal in the United States.
The law, a full transcript of which is available online, also aimed to enforce the constitutional right to vote and conferred jurisdiction upon federal courts "to provide injunctive relief against discrimination in public accommodations."
As the Maryland Historical Society (MHS) notes on its website, it's important to celebrate the Civil Rights Act of 1964, but equally important to remember the long, hard—and in many cases—courageous endeavors that led to its passage.
The MHS collection specifically highlights Baltimore's deep role—the city's NAACP chapter is the second oldest in the country—in the Civil Rights movement. It includes images of black public school teachers protesting for equal pay years as far back as 1948, images of the local chapter of Congress for Racial Equality (CORE) organizing in Baltimore, as well as photos black leaders like Fannie Lou Hamer and Stokely  Carmichael, chairman of the Student Nonviolent Coordinating Committee, addressing Baltimore audiences. 
The collection also includes more disturbing images of white protestors in Southeast Baltimore rallying against desegregation.
Today, July 2, also happens to be the birthday of Baltimore's own Thurgood Marshall, the country's first black Supreme Court justice. And the birthday of Mississippi Civil Rights activist Medgar Evers, who was assassinated outside his Jackson home less than three weeks before the Civil Rights Act became law.