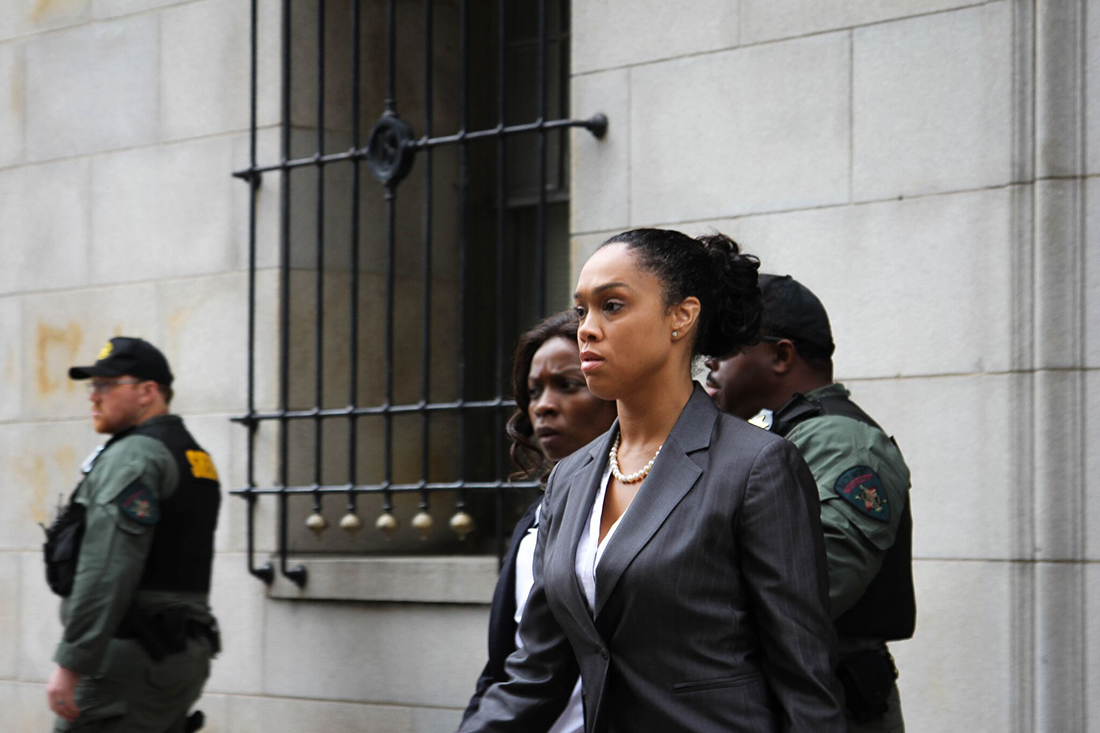 Photography by Meredith Herzing
Baltimore City State's Attorney Marilyn Mosby and her husband, City Council President Nick Mosby, are the subject of a federal investigation into her campaign finances and the couple's business records and taxes.
As part of the wide-ranging probe, first reported Friday by The Baltimore Sun, the U.S. Attorney's office and the FBI have served several subpoenas seeking financial records related to the couple's tax returns from 2014-2020, loan documents, bank and investment statements, credit card files, information related to their consulting and travel businesses, as well as copies of all campaign finance records related to Mosby's campaign organization, the Friends of Marilyn Mosby.
The revelation of the federal investigation comes on the heels of months of reporting by the Baltimore Brew that revealed Marilyn Mosby had been away from Baltimore for 85 work days over 2018 and 2019. The reporting also indicates that she had formed a previously undisclosed limited liability corporation—Mahogany Elite Enterprises—as well as two subsidiary businesses. A subsequent request by Marilyn Mosby that Inspector General Isabel Mercedes Cumming look into her travel and financial disclosures revealed that she had used her side travel business, which she has said is in inactive, to deduct $5,000 in federal income taxes and pay for plane travel for her husband, who is not an employee of her travel business.
Previously, The Sun and Fox45 reported that a $45,000 lien had been placed against the Mosby's home for several years of unpaid back taxes. More recently, questions have been raised about use of the Friends of Marilyn Mosby campaign funds to pay private attorneys who pushed back vigorously against Inspector General Cumming and her office's findings, and also about a former Baltimore prosecutor who had worked in Mosby's office and spoke about being forced out.
Over the weekend, The Brew reported that Marilyn Mosby had bought a $476,000 condominium on the Gulf of Mexico near Sarasota, Florida last month, as well as a $545,000 property in near Orlando, Florida last September.
The federal investigation into the Mosbys' tax, business, and campaign finances is being led by Assistant U.S. Attorney Leo Wise, who also directed the federal investigation of former Mayor Catherine Pugh.
The lawyer representing the Mosbys, A. Scott Bolden, issued a statement Friday to The Sun, describing the investigation as "a political witch hunt in its purest form."
Marilyn Mosby won her second term as the City State's Attorney in November. After serving as a state delegate in the General Assembly, Nick Mosby was elected City Council President last fall.
In his first 100 days address last week, Mayor Brandon Scott referenced Baltimore's recent political scandals, which include two of his previous three predecessors pleading guilty to criminal charges. "In these first 100 days I am proud to say that we are moving in the right direction," Scott said.
"Just like the start of any new relationship, establishing trust is key," Scott said. "This is especially true when trust has been broken over and over again. Given the public's skepticism and disappointment towards City Hall, it was critical that I work to regain your faith and prove that local government can operate in your best interest."
In response to former Mayor Catherine Pugh's Healthy Holly corruption case—and also with former Mayor Sheila Dixon's gift card scandal in mind—voters in Baltimore approved a charter amendment last fall that formalizes the process for removing elected officials. The "Removal of Elected Officials" law does not require a criminal charge or conviction, but allows the City Council with a three-fourths vote to remove a council member, the council president, the mayor, and comptroller for "incompetency, misconduct in office, willful neglect of duty."
The charter amendment does not cover the city state's attorney.