This Couple Combined Two Patterson Park Rowhomes for Family, Fun, and Community
Take a look inside The Fox Den, an apartment/party/occasional Airbnb space, and its adjoining family home.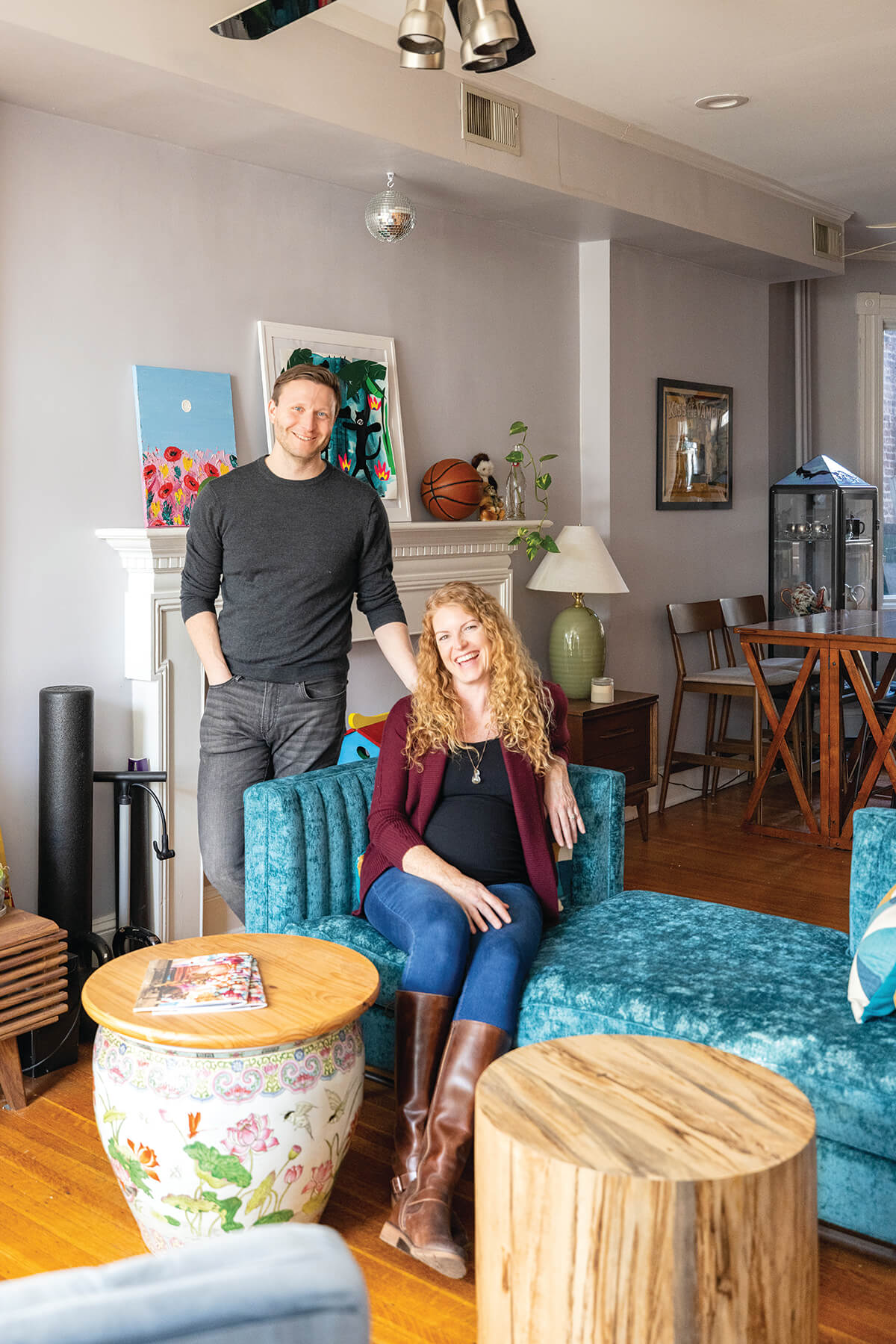 Most people don't purchase a second home before they've settled on the first, much less the house next door, but Jimmy Edgerton and Heather Keating are not your average couple. After noticing their soon-to-be next-door neighbor moving out before they closed on the purchase of their rowhome, they decided to "swing for the fences," says Edgerton.
Keating is the marketing and communications director at the Creative Alliance and a MICA-trained photographer and graphic designer. She's also an avid community event organizer. Edgerton is an adjunct professor at Tufts University, a consultant specializing in food product development and management strategy, as well as a licensed civil engineer and LEED-certified builder.
When the creative duo and committed city dwellers were ready to put down roots, they chose Patterson Park. By March 2020, both homes were theirs.
"We could see the pandemic coming and didn't want a developer banging away," says Edgerton. "We wanted to control what was happening next door." Then the conversation inevitably shifted to: What do we do with these two houses?
"We knew we didn't want to do a cookie-cutter rehab," says Keating. The more they thought about it, they realized the purchase of neighboring homes made sense. Edgerton's parents live in Vermont and wanted a place where they could stay for long visits. Keating, who has spent years throwing events in rented restaurants or private rooms in bars, wanted a flexible entertainment space that she and Edgerton could use for huge "Friendsgivings" and for community meetings and parties, a place that was both home-like and full of character.
The duo were perfect partners when it came to renovating. Keating has an artist's eye, a penchant for Pinterest boards, and a high tolerance for whimsy. Edgerton is a detail-oriented project manager who can take Keating's ideas and refine them to perfection.
With help from architect Kathleen Leichleiter at Twopoint Studio and a host of subcontractors, they transformed one house into their comfortable family home and the other into a multi-generational apartment/party/occasional Airbnb space they dubbed the Fox Den, with the two connected by strategic passages.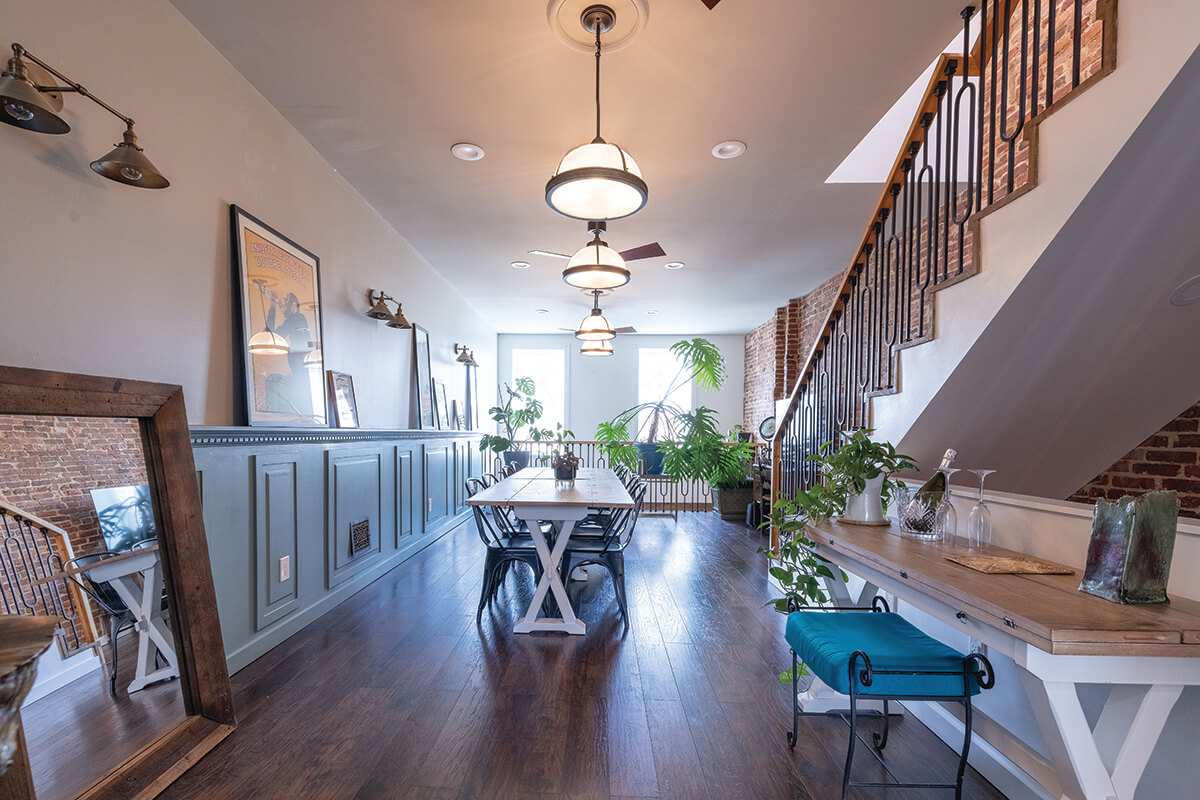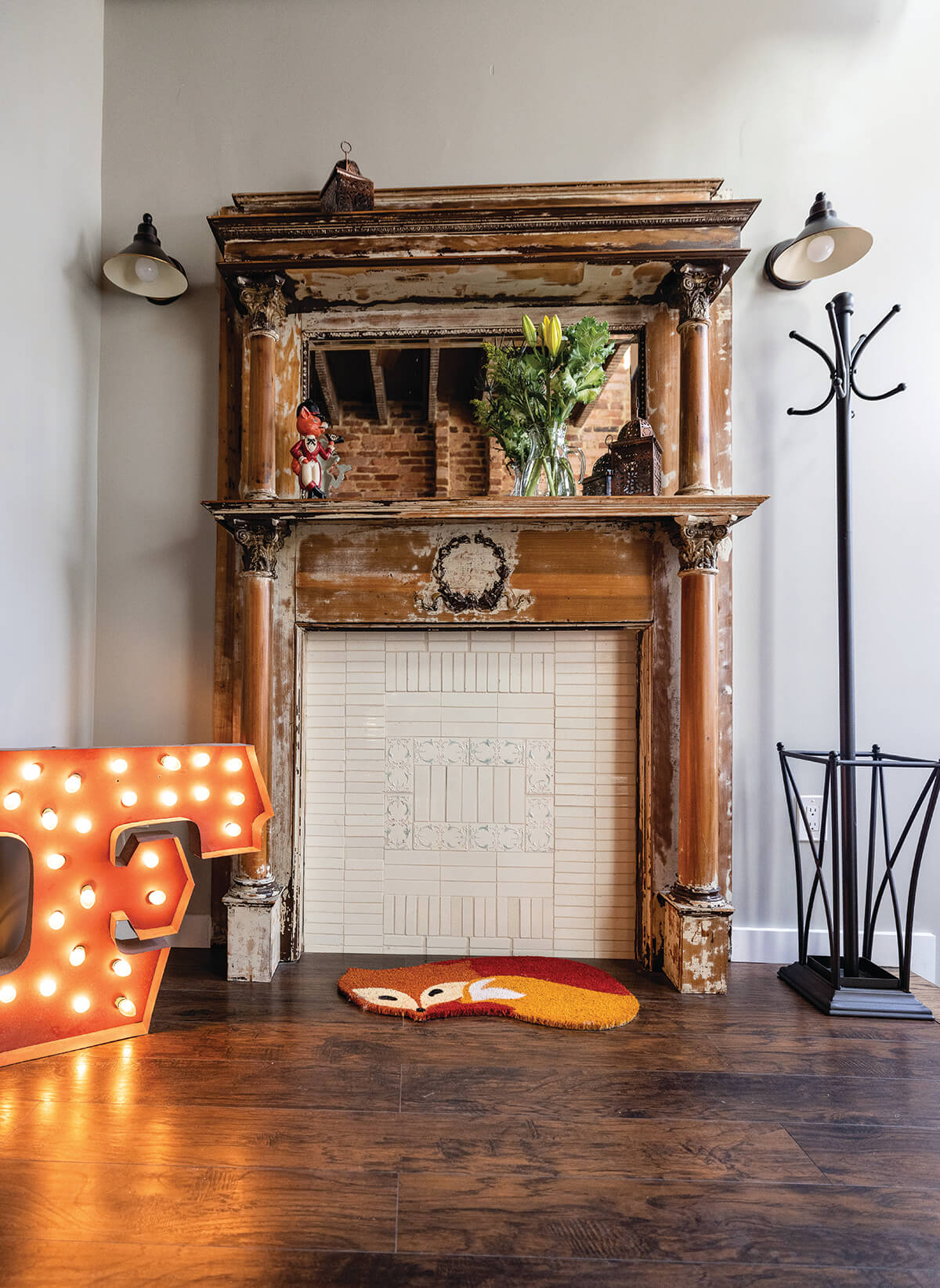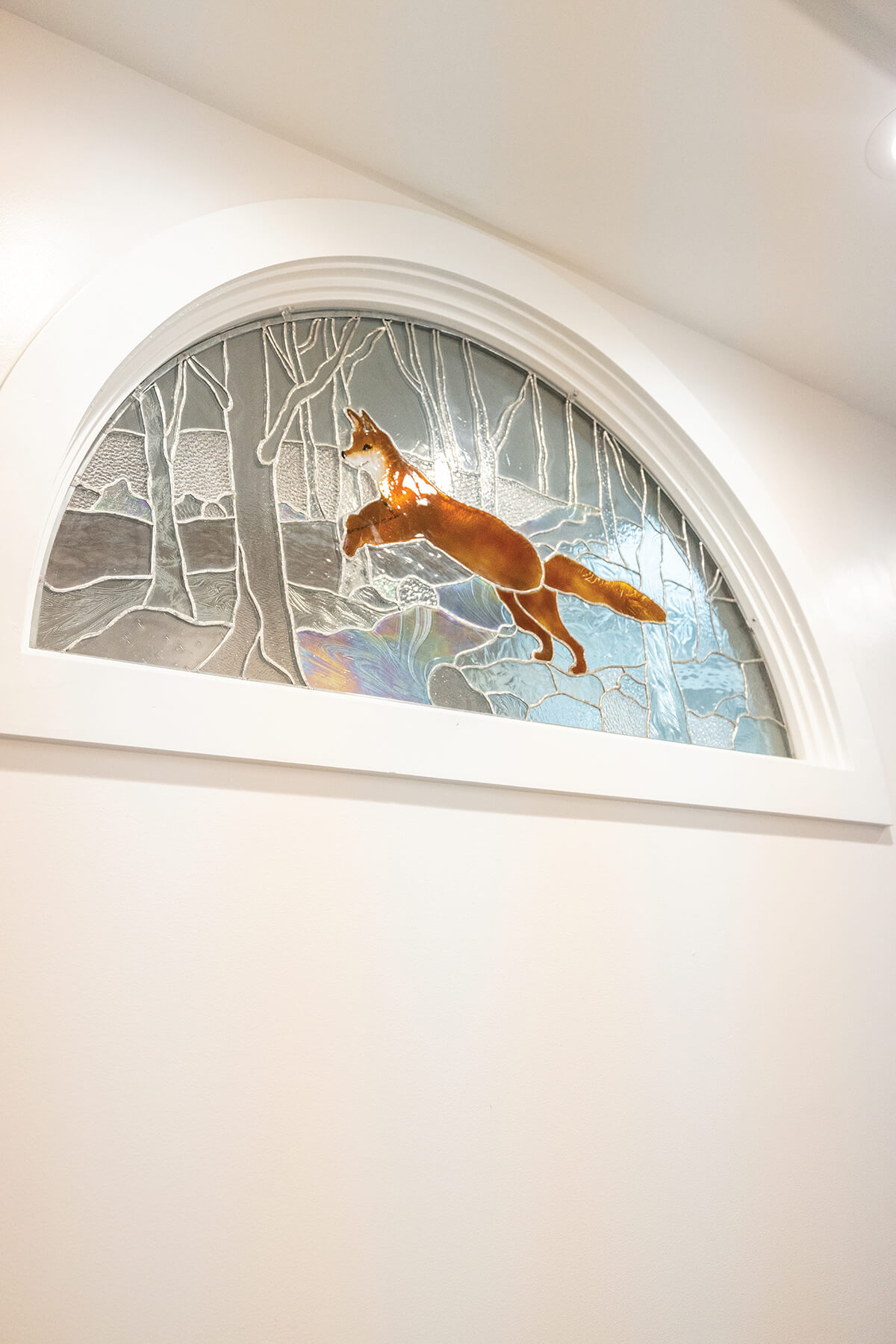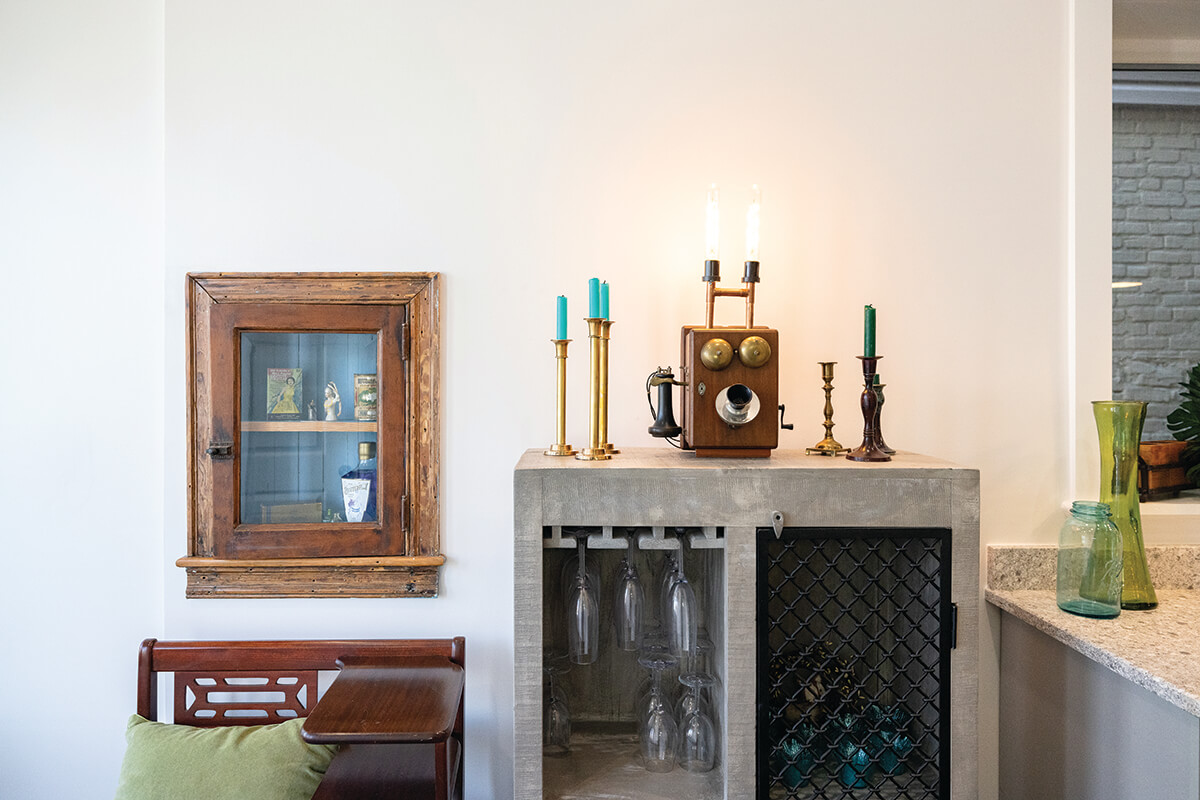 Second Chance helped gut the homes and reduce landfill waste in the process. "They saved the pieces we wanted," says Keating. That included the homes' mantles and beams—even an old window from the demolished sleeping porch found a place in the redesign. "We put as many pieces back as we could or repurposed them elsewhere in the house." The rear of both homes was removed to enable the back to extend and to gain a full, additional room on the third floors. The crown jewel of the renovation is a double-wide rooftop deck.
The Fox Den features a main entertainment and dining space that can comfortably seat 30 people, though the four tables purchased at Su Casa in Fells Point can also convert to sideboards if the occasion requires. The custom-designed drink rail is perfectly sized to hold a cocktail. And while the room currently houses a collection of B-movie posters from Keating's uncle (who worked at a theater when he was young), the art can also change for a special event's needs—or be removed entirely for wall projection.
Edgerton designed the entertaining room to have a mezzanine looking down on the entry level, which also provides a well-lit spot for the many orphaned houseplants Keating has adopted over the years and that are now flourishing.
A catering kitchen with a six-burner Viking range and full bar ensures plenty of food and drink for parties. And a dumbwaiter large enough to hold a rolling catering cart connects from the first floor all the way to the rooftop deck. "The deck has been great, especially during the pandemic, for outdoor family events," says Keating.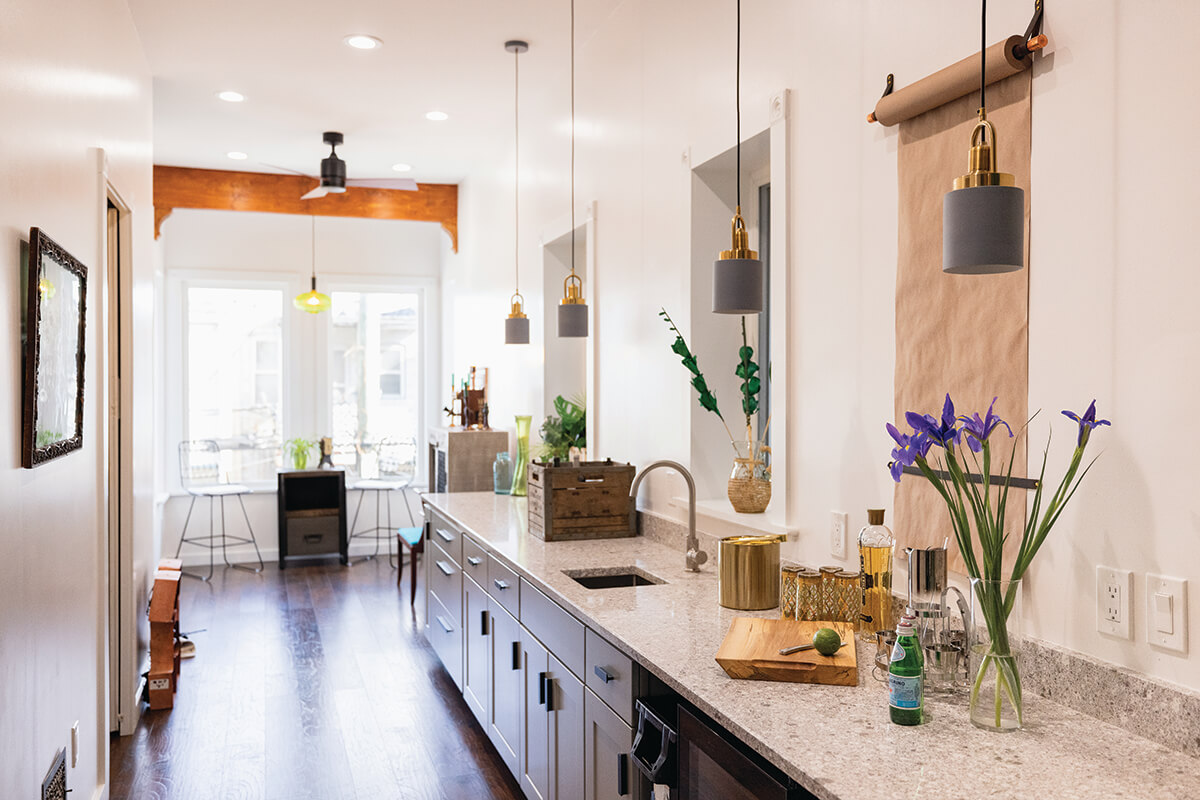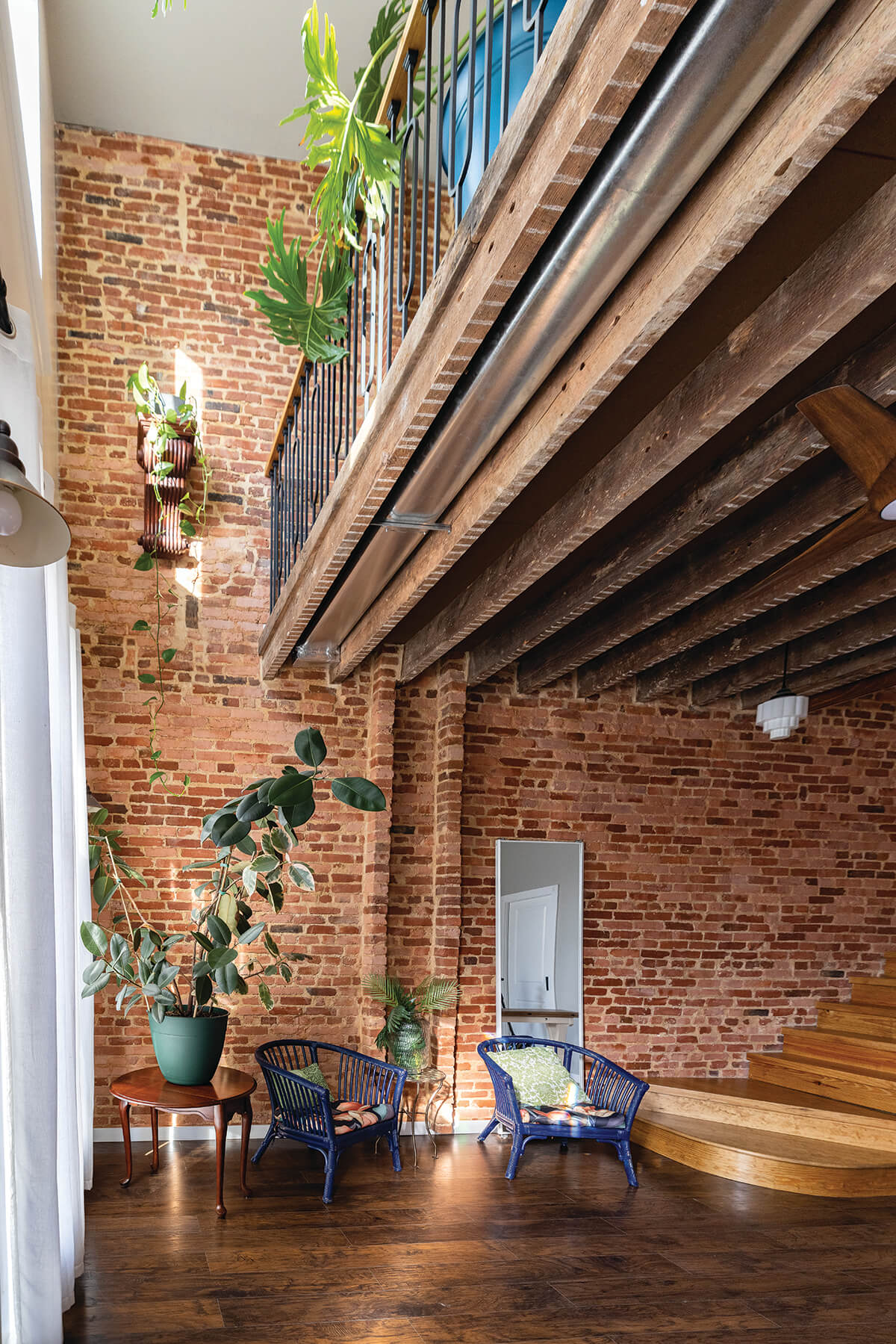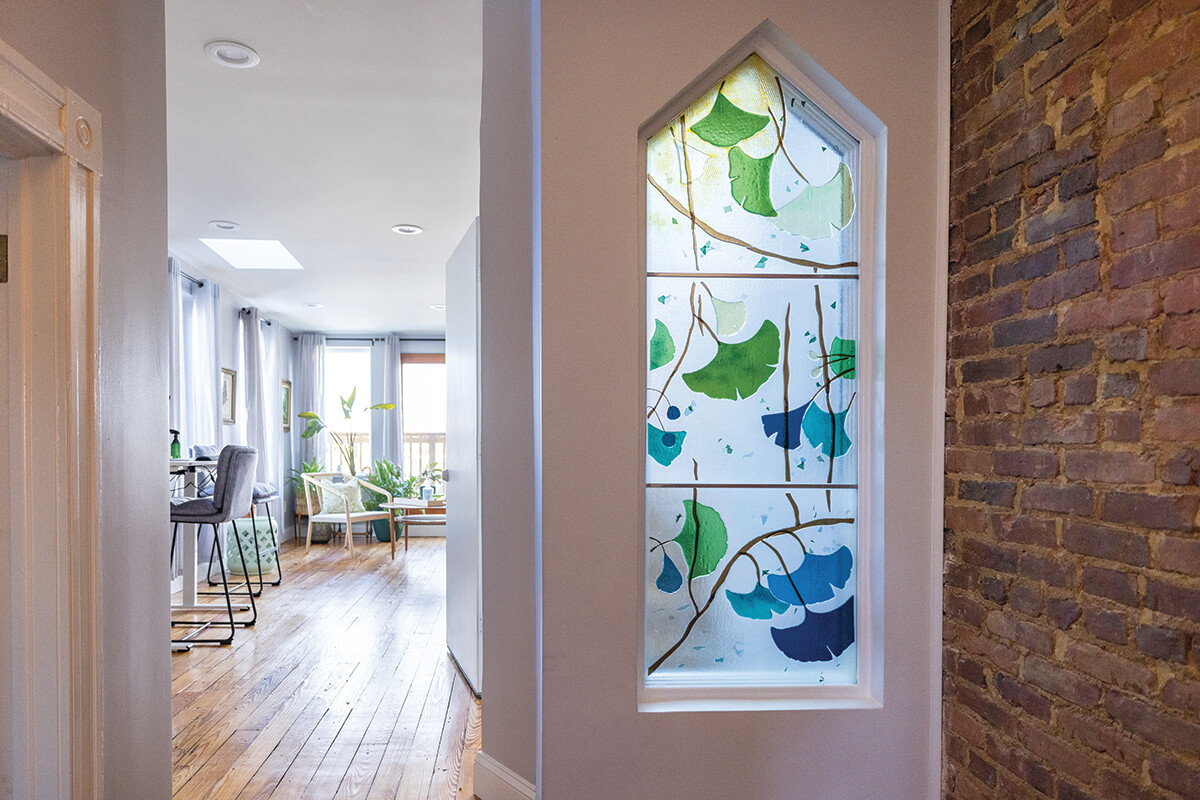 To fulfill its goal to be a flexible, fun, and income-producing property, the Fox Den has a full suite on its third floor that's home to the in-laws when they visit, and open to rent when they're not. (Both basements were also excavated—creating a rental apartment and a petite efficiency suite that can be used for friends or an au pair.) The couple repurposed many original features into the suite, like using old beams to build a loft and using original wood subflooring to create a headboard behind the guest bed.
Keating says she loves to bounce between the two homes. While the Fox Den is chic, cool, and calm, their family house side is cozy, a mix of midcentury modern with contemporary aesthetics. "Working in vintage pieces has been really important to me," says Keating. "And there's a lot of whimsy, too."
It's a project that reflects the artistic sensibilities of its owners. Keating's mother is a glass artist and she created three custom stained glassed windows for the homes. A beautiful window of green and blue gingko leaves installed at the top of the main staircase sets the tone for the home's soothing color scheme, carried through in everything from the teal Joybird sofa in the living room to beloved artworks by Matt Muirhead and Heather Farrell.
"I hit a teal phase and have stayed there," laughs Keating. "I'm a little teal-obsessed."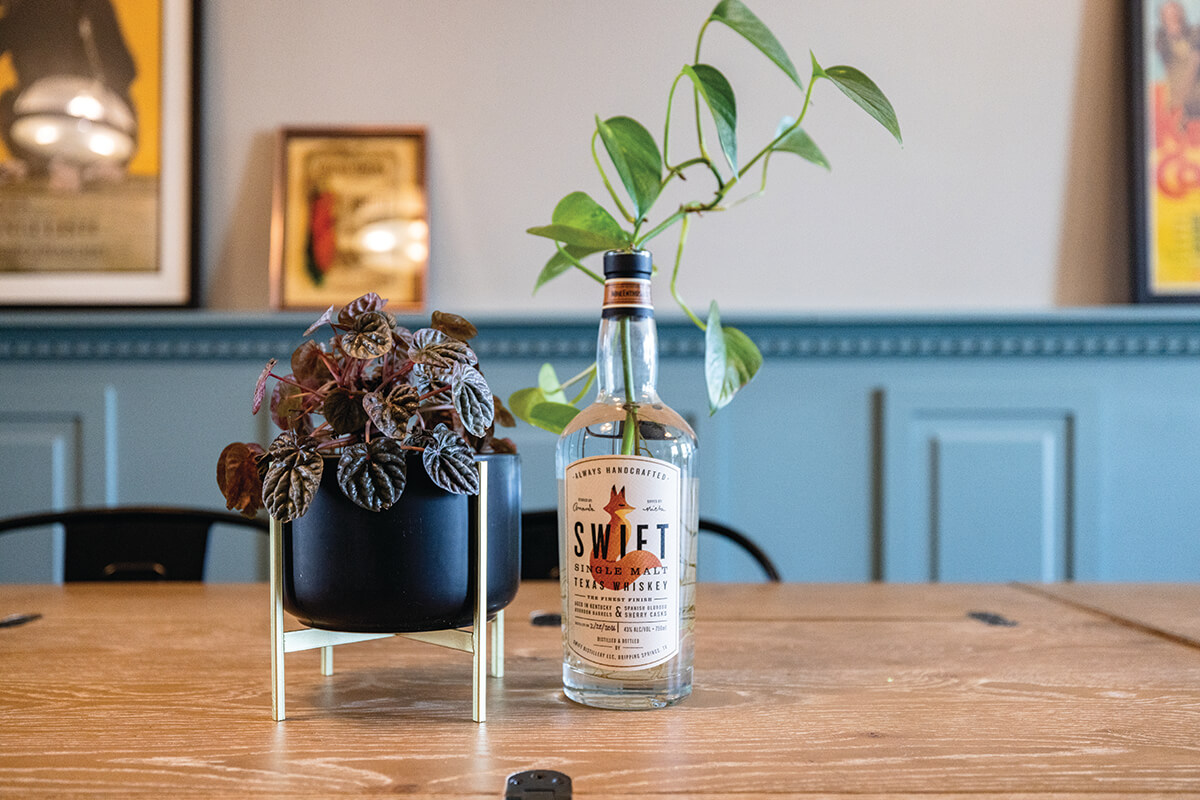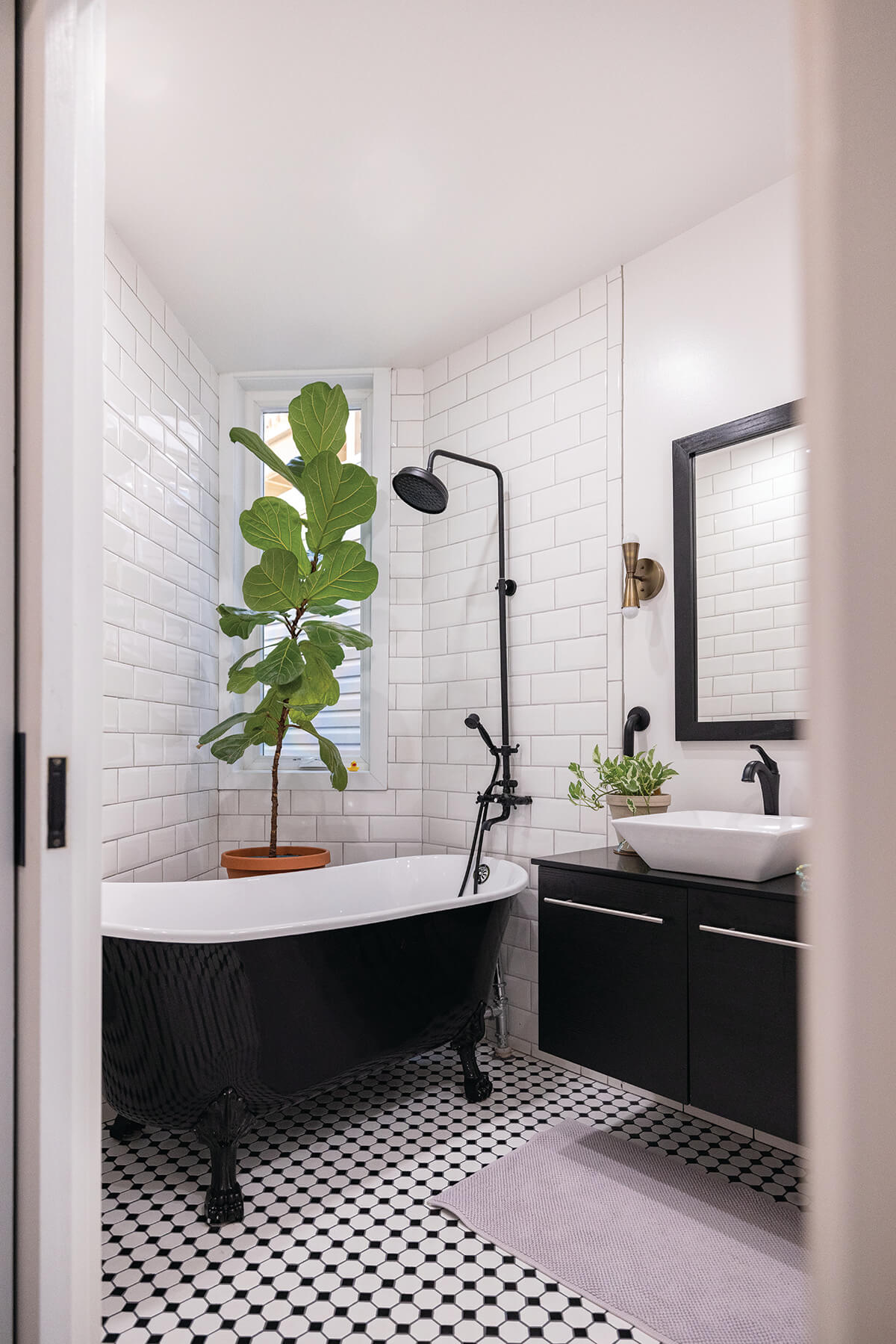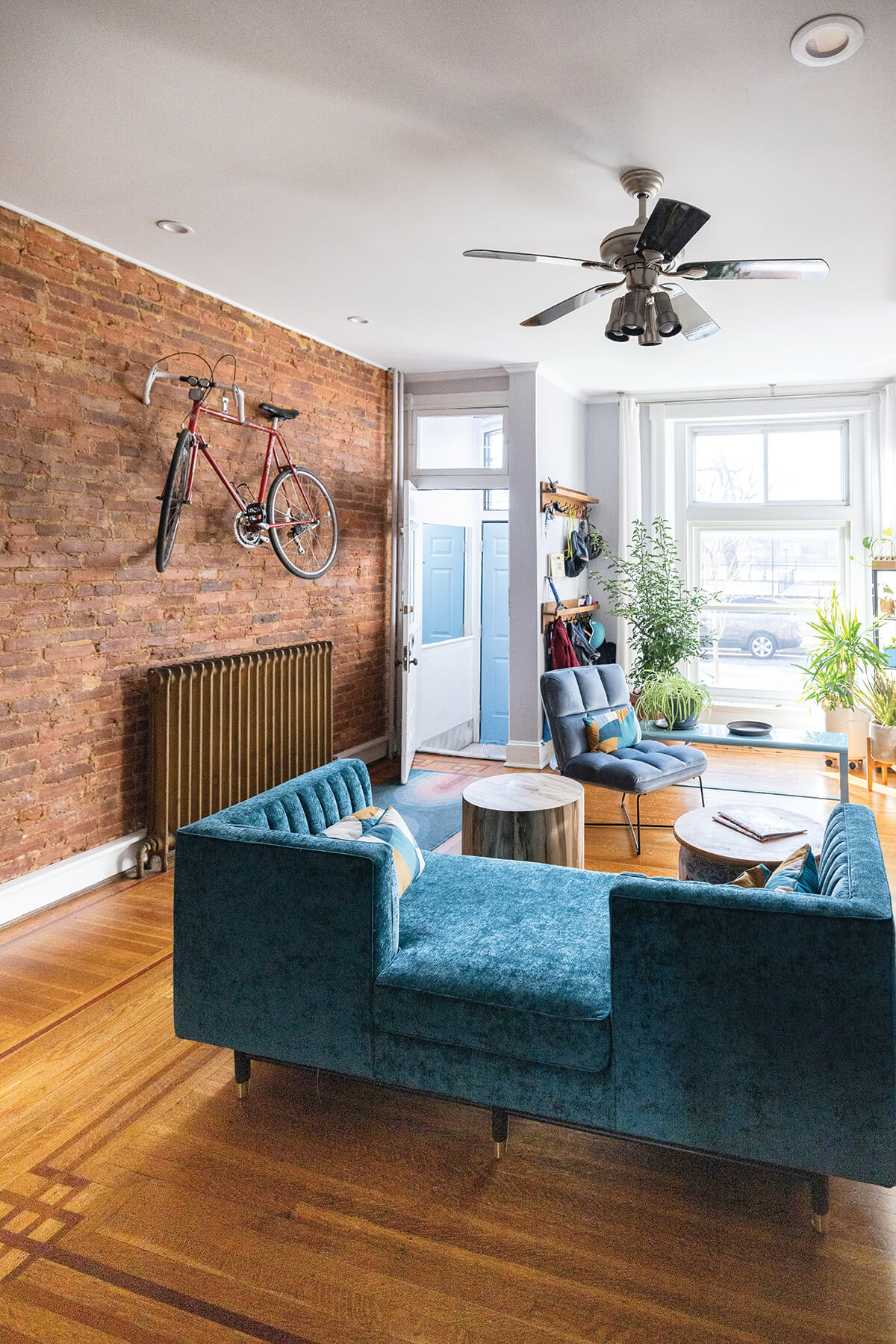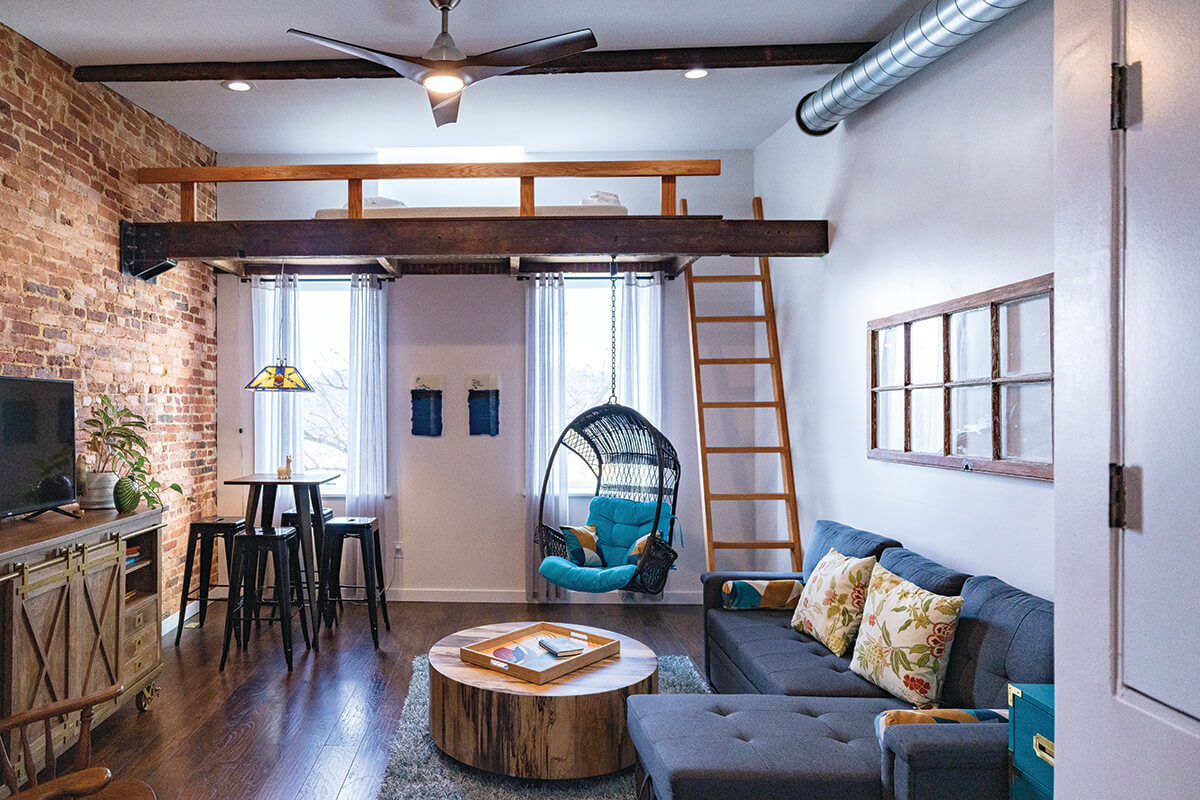 Edgerton has done rehabs before, but nothing like this, with the engineering feat of a huge rooftop deck and with "the flexibility to use the space as we need it—for ourselves, for multi-generational family, for extra help, and for income production."
This creative alliance became official when Keating and Edgerton married in September 2020—six months after starting the renovation. The home's flex space is about to get a workout with a new baby and the arrival of adoring grandparents. But the home already passed its first big test—hosting Friendsgiving this past November.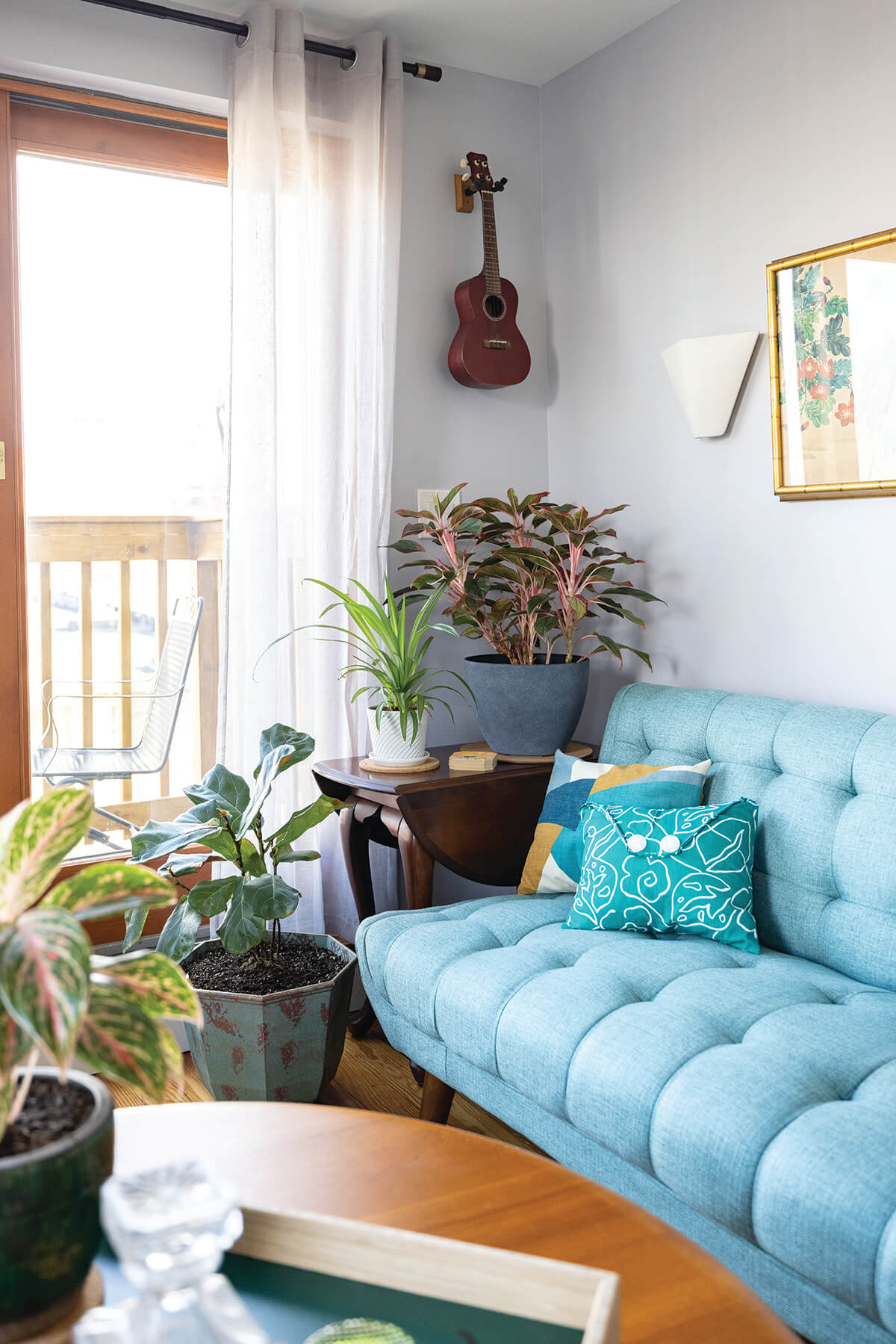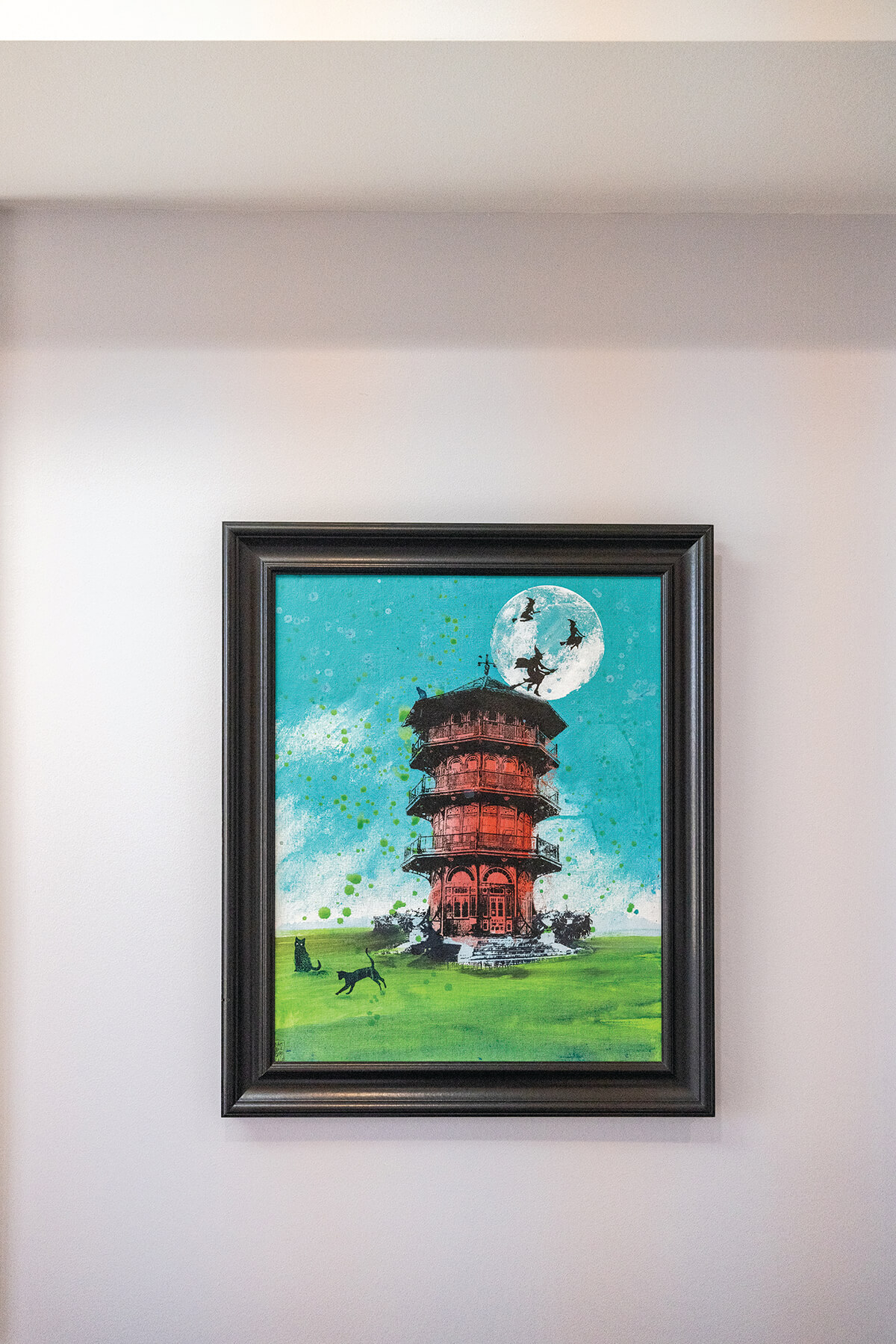 "It was everything we wanted it to be," Keating says. "We had candles everywhere and a huge potluck and we cooked two turkeys at once." Friends from around the city and colleagues from Creative Alliance joined with a host of others to celebrate. "We're both not only family-oriented but community-oriented," Keating continues. "Those connections are important to us. We're really contributing to creating a sense of welcome on our block."