A Body Shop Reborn
After transforming her career, a decorative painter turns her talents to transforming an industrial space into a home.
The crooked walls might have put off another buyer. Or the leaking roof. Or the bullet holes in the windows.
"It was the ugliest building I've ever seen," 39-year-old decorative painter and artist Kelly Walker says of the 5,500-square-foot residential and commercial building on the far western edge of Mt. Vernon.
"It was this sketchy, bad-energy [auto] body shop that had been abandoned for many years," Walker says. It had been renovated and converted to apartments, then foreclosed on and abandoned yet again.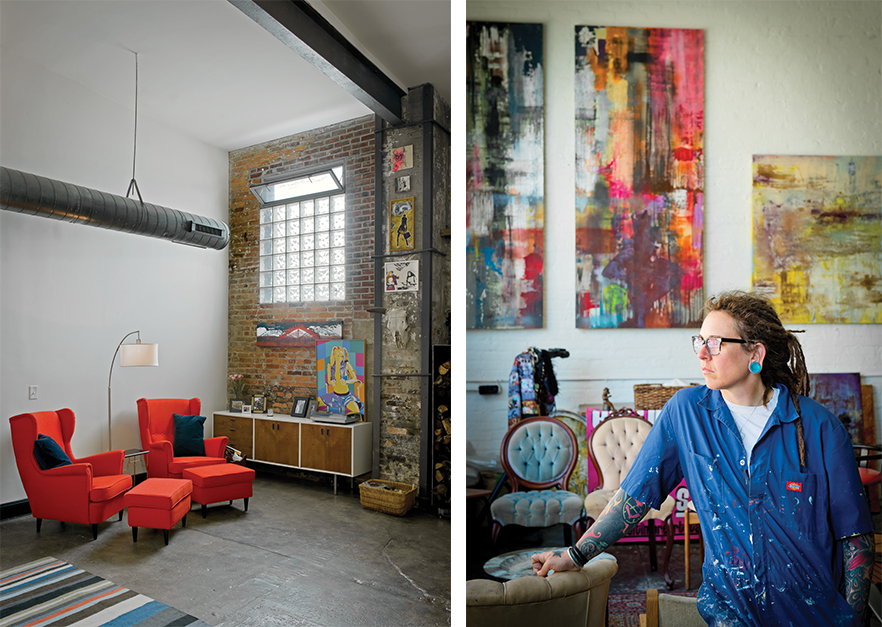 The ugliest building, maybe, but Walker had always wanted a body shop, for reasons both sentimental—her grandfather had once owned one—and practical. The big bay door that fronts the "work" side of the property, for example, would come in handy when she needed to paint indoors (think giant canvases). Her faux-finishing firm, Artstar Custom Paintworks, was booming, and Walker "was bursting the seams" of her five-bedroom Hamilton home. Plus, living at work would be ideal for someone who often find inspiration at odd hours.
The property's asking price was out of Walker's range, her then-girlfriend hated it on sight, and there were significant hurdles to buying and renovating it. Even so, "I knew it was meant to be as soon as I walked in," Walker says.
So she pushed ahead in 2013 with plans to purchase the property, which had attracted multiple buyers in spite of its flaws. What followed was a series of lucky breaks, starting with the city re-designating the property as residential rather than commercial, allowing Walker to secure a mortgage. More good fortune: Walker secured a loan that allowed her to outbid other buyers. And despite liens on the property from a previous owner, the title company took a risk and went ahead and closed it. Says Walker: "It was miracle after miracle after miracle with this place."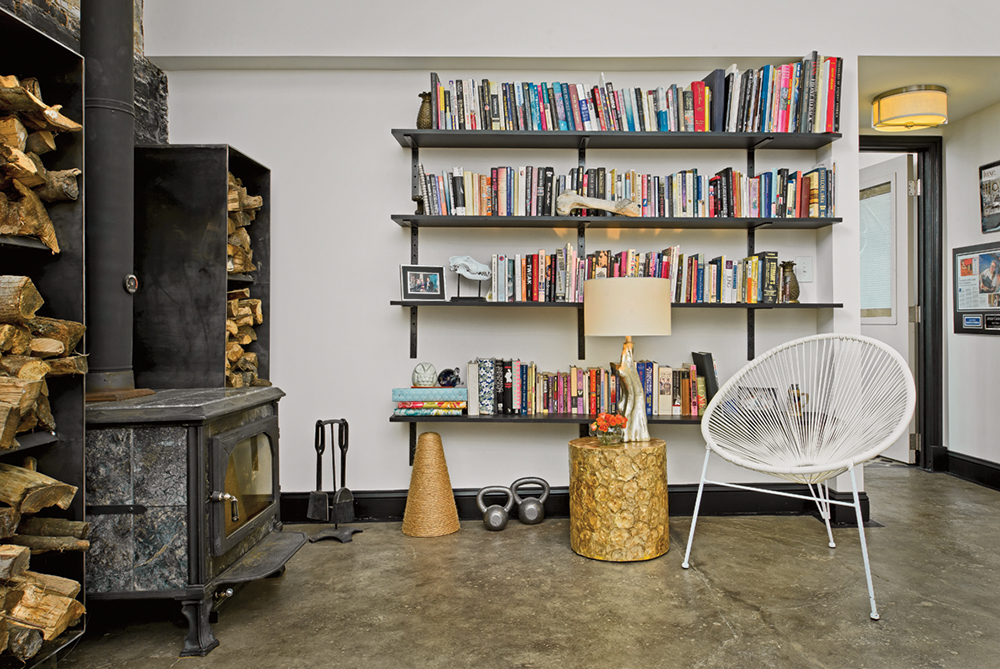 Though she describes herself as "always creative and always weird," Walker had, as a child, never seriously considered a future in the arts. Growing up in a small mill town in Indiana, she says, "I didn't know that people were actually artists." When her mother's remarriage pulled her into a new social orbit in North Carolina, Walker experienced the trappings of wealth for the first time. "I went to cotillion, learned to curtsy and use silverware—it was complete culture shock," she says. But by the early 1990s, Walker was struggling to fit in. "I'm gay, which I don't think matters at all, but it was a big deal [there]. In North Carolina, you can't be anything other than straight and narrow," she says.
Following her favorite band to Baltimore in 1994, she found a city that was "a perfect mix of blue-collar working class, with a little Southern charm, and then this cutting edge of culture and art and wealth," she says.
She decided to stay, taking a job as a bike messenger, where one day in 2001 she made a delivery to a faux-finishing company that would shift her life path. Peeking into the company's showroom, Walker was awed by its columns, gold-leaf-embellished walls, and vivid mural. "It was just breathtaking. I'm like, 'What do you guys do in here?'"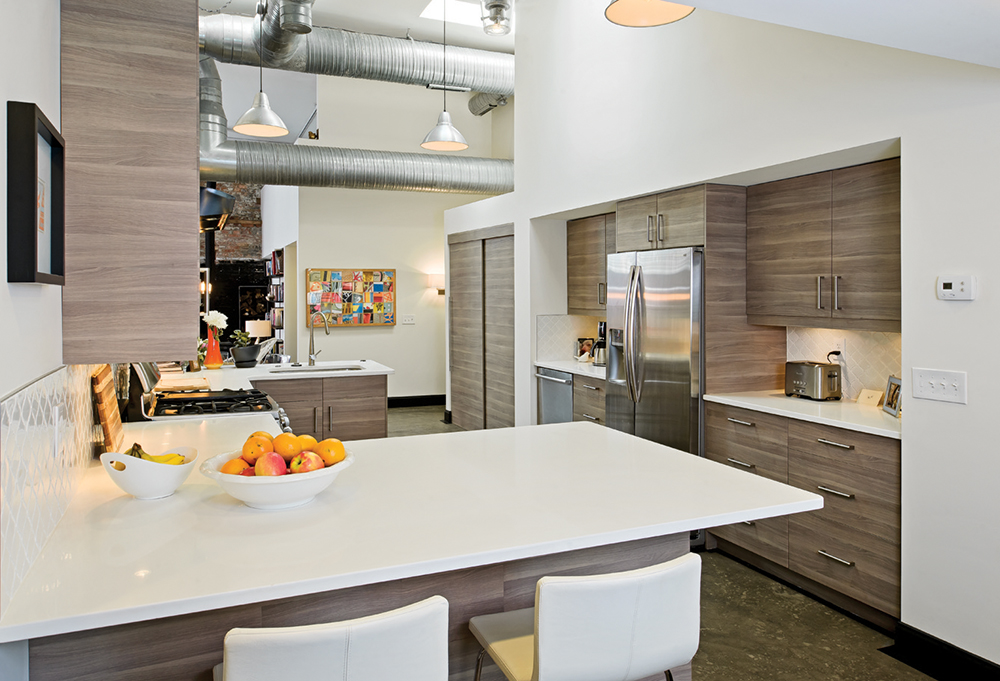 Walker soon discovered the company had an open apprentice position and, though she had no formal training, she landed the job, starting with "taping and schlepping and assisting," and learned the ins and outs of faux-finishing. Along the way, her artistic talents blossomed.
Just a year later, Walker founded Artstar and, by 2004, she'd established herself as a subcontractor for other painting companies, often picking up the less appealing types of restorations that experienced painters avoid—"It was a good way to learn color theory and how to think on my feet," she says.
By the time Walker purchased the Mt. Vernon property, she'd long since established herself as a decorative painter in her own right, attracting clients whose tastes run toward the "sophisticated, traditional with a modern-leaning aesthetic." Most often, her work involves decorative plastering or using paint and plaster to "make a space feel old," she says.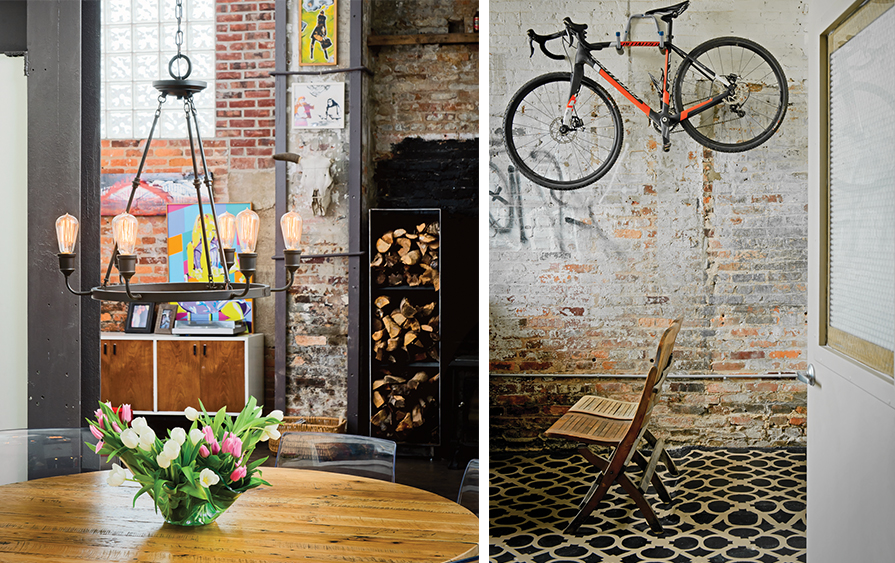 Renovating her new home allowed her to use not only her artistic talents but also "everything I learned all these years being in all these spaces and working with incredibly talented designers," she says. With a budget of about $80,000 and the help of a general contractor she met on a job site, Walker set out to convert the space into a three-bedroom home and workspace that was "modern, clean, and comfortable."
Job one was to correct the building's most egregious problems, including an interior design she calls "a toxic nightmare." Earlier renovations had left oddities that included a bedroom only accessible by ladder, too-high kitchen counters, and a concrete walkway upstairs with no barrier to prevent a hapless visitor from falling into the living room below.
In the kitchen, which lacked cabinets, Walker kept the general layout but added weathered teak cabinets from Ikea. Nearby, she updated a bathroom, easily accessible from the den, where she often meets with clients. Upstairs, Walker extended the walkway and added a low wall to create a loft for the master bedroom.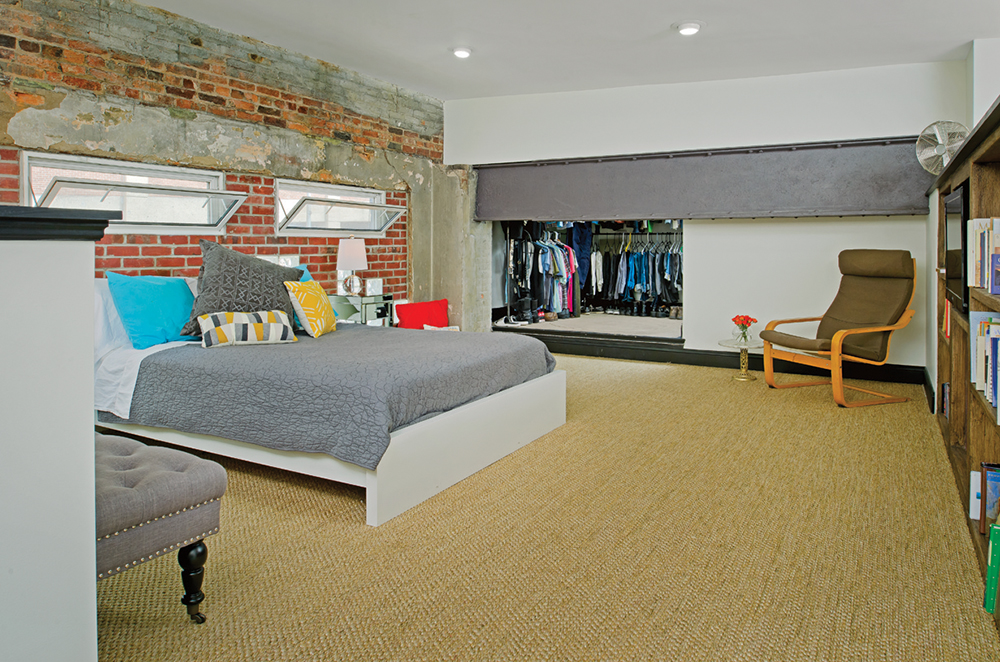 Throughout the home, exposed-brick walls, metal air ducts, and massive steel beams tie in with the building's industrial roots, as do the concrete floors, which Walker faux-finished to mimic acid-stained concrete. New and vintage elements such as a custom-built reclaimed-wood table, two used wood-burning stoves, and old schoolhouse doors add to the coolly distressed effect.
On the walls, Walker opted for white paint instead of a decorative finish in almost every space. "It just feels so clean and big," she explains. One exception is an accent wall in the living room, faux-finished to incorporate the natural distress of the original wall. Another is a stunning mural in the building's entryway, hand-drawn by tattoo artist Brett Burnham, whose work is also on exhibit on Walker's skin.
Walker also employed paint for more subtle means: A two-inch black stripe painted along the front of the baseboards visually compensates for the building's slightly crooked walls, for example.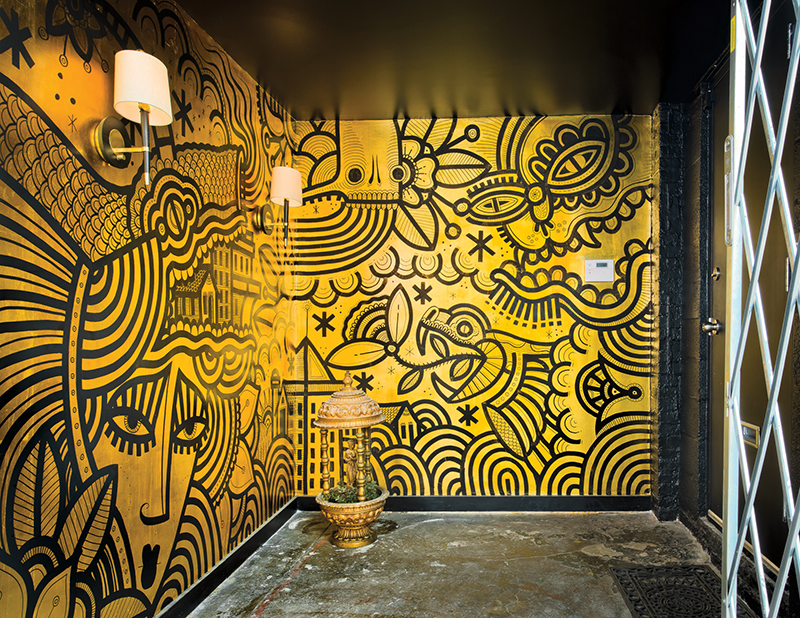 The finished space is so unique it's been on the must-see list for groups of art students.
"It's a really nice balance between the industrial elements that already existed" and the palette and texture Walker chose, says Cara Ober, an artist, professor, writer, and editor at online arts journal BmoreArt. As part of a professional development course she teaches at Maryland Institute College of Art, Ober brings students to visit studios around the city and Walker's residence and studio is "hands down their favorite," says Ober, who in the early 2000s held an art show in what is now Walker's garage studio.
So far, Walker is happy with the results, even though she knows the home will always have its quirks (like a master bedroom closet that requires you to duck before entering). That's fine with her. "I love the imperfections," Walker says, turning to her favorite quote to sum up her experience: "Start where you are, use what you have, do what you can. That has been the mantra for this renovation."