The Son Also Rises
David and Brandy Dopkin decorate with style and fond memories of patriarch, Eddie.
When David and Brandy Dopkin moved into their four-bedroom, four-and-a-half bath home on a cul-de-sac in Mt. Washington, they had very clear ideas about what they wanted in an abode. For Brandy, it was all about having a close-knit community and a place for their growing children, Jordana, 6, and Graham, 4, to play.
"I wanted the kind of neighborhood where I could knock on someone's door, borrow eggs, sit on the porch, and watch kids play in the court," says Brandy. For David, son of legendary late restaurateur/caterer Eddie Dopkin (Classic Catering and Miss Shirley's Café), it was all about having a showcase setting, as well as an easy commute to his three Miss Shirley's Café locations. "I'm very detail-oriented and a perfectionist," he says, laughing. "I like everything to be matchy-matchy."
Of course, when you understand all the odd similarities the two have, it's no surprise that the couple, married eight years, managed to have both of their criteria met in one home. Consider this: Both attended University of Maryland, College Park, at the same time; both taught fifth grade for five years in Baltimore County; and both of them—only children—were born on the same day in Baltimore 38 years ago within an hour of each other. But it wasn't until David's former girlfriend fixed them up that they came into each other's orbit.
"Brandy and I have so many things in common, it's crazy," says David, managing member of Miss Shirley's, "down to the fact that both our dads are Ed, and they both drove the same car in the same color." Adds Brandy, "We even grew up with the same breed of dog [a schipperke]."
There are, of course, some distinct differences. Brandy (who is head of human resources for Miss Shirley's) is extroverted, for instance, where David is on the quieter, more contemplative side. Though Brandy recalls growing up "in a very quiet home," she figured it was her job as a kid to shake things up. "So I'm the one who loves a lot of noise and has the whole neighborhood in the house. David used to get mad at me because when he'd come home from a busy workday, there would be a thousand people in the house."
But despite the influx of people and annual traditions such as Halloween parties, everything is in its proper place, and the overall effect in their home is one of calm and comfort, with oversized sofas, ottomans, and plenty of places to de-stress from the day.
"Our world is extremely hectic from the minute we leave this house," says Brandy. "The restaurant business, and customer service, and pleasing people is extremely demanding, so we needed our home to be a quiet place where we could regroup and re-center. And we can't get enough of the color brown."
Comfortable and cozy were the operative words used when discussing décor with local designer Joseph Lazzaro. "I'm all about Under Armour," says David. "If we don't have to get dressed up, we don't. We're not grand-chandelier type of people. We got married at the American Visionary Art Museum. We like funky, modern, eclectic."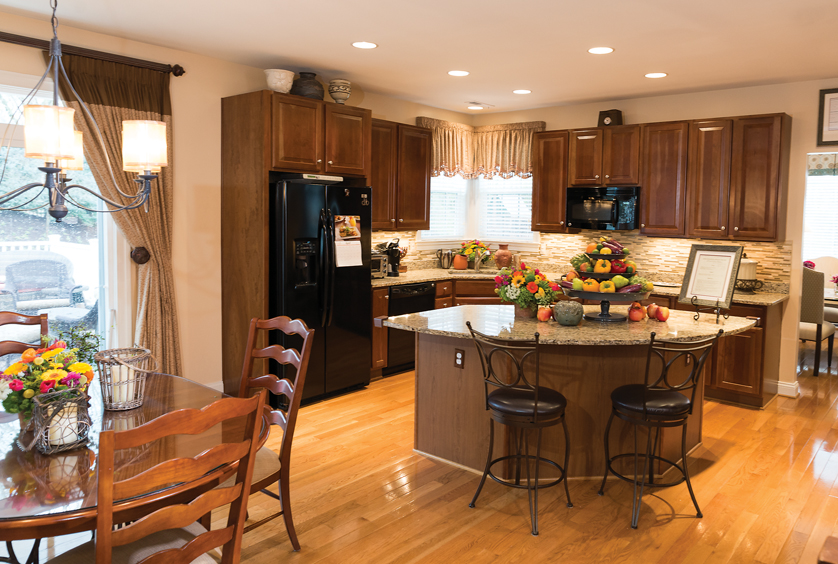 As in many households, the Dopkin kitchen—with its open, airy feel; dramatic curved, granite island; and state-of-the-art appliances—is the heart of the home, though the duo is fond of eating out. (Sofi's Crepes, Ambassador Dining Room, Ruth's Chris Steak House, and Volt are on speed dial, while takeout dishes from Miss Shirley's and Classic Catering are staples when guests are over.) "Believe it or not, Brandy and I are not culinary people," says David. "We eat out a lot." Concurs Brandy, "I hate to cook. I've always said, 'I don't get why you would cook when you can call the caterer.' Ironically, when I started dating David, I didn't even know he was affiliated with Classic Catering."
Though the couple worked with professionals to get a finished look, it was important for them to have their own imprint as well. "I always wanted a home that told a little bit of a story," says Brandy. "I don't like just going to Pier 1 and buying a plate—although you need those pieces, too. A lot of things in this house tell a story, and that's what's important to me."
The couple's history is told in nearly every room of the house, from the framed menu from the Ambassador, where they had their first date, to a Romero Britto serigraph bought on vacation in Miami, to a kinetic wood sculpture purchased in New York on the occasion of their fifth anniversary.
"I grew up in a really lovely home," says Brandy, "but things were placed because a decorator put them there, and it never told a story. In every room, we have little things that have meaning."
The home also reflects the Baltimore-born-and-bred couple's love of all things Charm City—from a delicate trio of Artscape elephants to a life-sized crab sculpture in the backyard to signed jerseys from hometown-team greats, including Ray Lewis, Cal Ripken Jr., Jim Palmer, and Johnny Unitas. Then there are the personal photos that speak to the family's long-standing relationship with the Ravens.
"Those are photographs of [late Ravens owner] Art Modell at different stages in his life," says David, pointing to a silver frame holding several vintage photographs. "There will never be anyone like him again." David's close relationship with football in Baltimore also included his stint as Classic Catering's director of food services for the Ravens and, these days, he still oversees Classic's Ravens accounts.
For David, meaning also comes from prominently displayed pieces that once belonged to his beloved father, who died last October. A Wurlitzer jukebox, a Classic Coke vending machine, and artwork that includes a playful 3-D Charles Fazzino Hanna-Barbera print and finely detailed Hiro Yamagata "Four Seasons" prints showcase his dad's sense of fun and whimsy. Unique family memorabilia furthers the family narrative.
"I threw a birthday party for my dad and had these Eddie bobbleheads made for every guest," says David, pointing to a small figure that resembles his father. "My dad loved Atlantic City, so he's holding blackjack chips, a Miss Shirley's oven mitt, and a spoon from Classic Catering."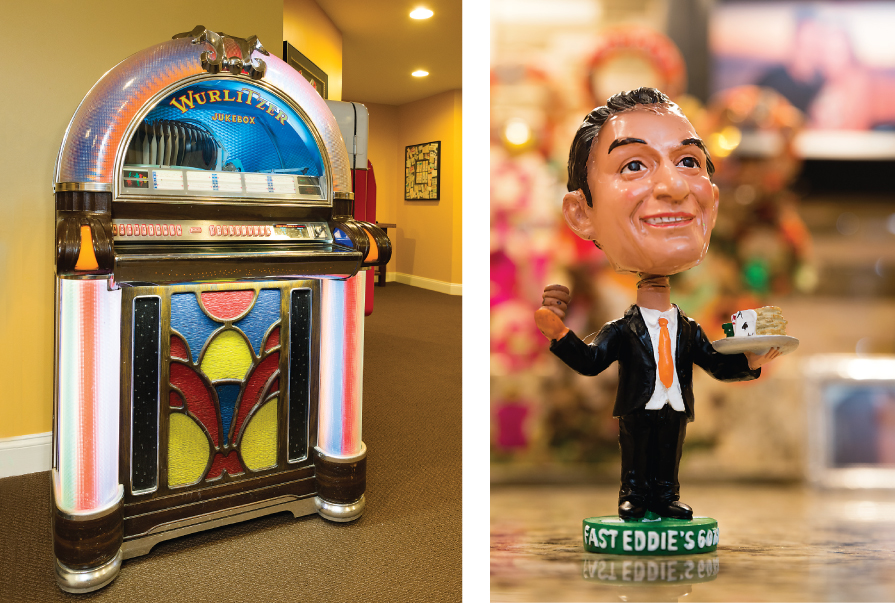 Of the many treasures in the house, the bobblehead sums up not only David's endless affection for his father but his own legacy, as well. Though some of the family history has been lost along the way, food has always been the Dopkin business, and David is the fourth generation of, as he puts it, "food purveyors and producers."
While the story that his great-grandparents were in the meatpacking business is somewhat apocryphal, what's certain is that his paternal grandparents, Ansela and Michael, opened the highly successful The Beef Inn on Smith Avenue in Pikesville in 1970, and later another outpost on Reisterstown Road. "My grandfather was supposed to be a silent partner with a couple of other guys," recalls David, "and they were supposed to hire a manager, but the manager lasted six months, and because our family lived a block away, they got stuck running it."
Food was a family affair. Says David, "My mother and father worked there with my grandparents, my aunts, my cousins, and Miss Shirley McDowell (who became the namesake for the southern Miss Shirley's Café)."
Almost at birth, David was a part of the business, too. "I've been told for 38 years that it said, 'It's a boy,' on the sign outside the Reisterstown Road restaurant when I was born," he says. "The family also loves to say that I'd be in a playpen in the dry-goods room lining up the cans and the boxes." His love of order, apparent in his home, carries through professionally, as well. "Today, I still go into Miss Shirley's, and, if I'm doing inventory, I still like to line things up. There's a lot of madness on Saturdays and Sundays, but when our very valued guests leave, every nook and cranny is put back together."
From the playpen, David graduated to standing on milk crates and working the register at his father's ever-growing enterprises, including a chain of bagel stores known as The Bagel Place; dressing up as the Easter bunny for Cal and Kelly Ripken's private parties catered by Classic; and, eventually, working the summers at the Ravens' training camp at McDaniel College before becoming director of food services at the Ravens' permanent home at the Under Armour Performance Center.
"My father trained us that you get whatever anyone wants," explains David. "Art Modell liked his kosher hot dog, David Modell liked a special banana Popsicle . . . or some players might want a special salad dressing. 'No' never entered our minds." The best piece of advice he ever got from his dad? "He'd say, 'Do it yesterday. Be proactive.' I learned from him that you always want to be thorough and detail-oriented. If the weather is going to be bad, for example, you call the generator people first."
Despite losing his mentor, David, who helped expand the Miss Shirley's brand from Roland Park to downtown Baltimore and Annapolis, has been able to continue the success of a business that cracks 6,000 cage-free eggs on Sundays alone. "I've always thought how much I think like my father," he says. "I knew what he was going to say before he said it. He may not be next to me, but I know what he'd do in certain situations."
Brandy is quick to add that David is a success in his own right. "There is this perception that David is Eddie's son, but David is the hardest-working person I know," she says. "For years, he was getting up at 6 a.m. and running those businesses. We didn't have a hiccup in the transition of my father-in-law going—he really prepared us."
After Eddie's death, David contemplated honoring his father's passion for parties by making his father's funeral (attended by the likes of Senators Barbara Mikulski and Ben Cardin, Mayor Stephanie Rawlings-Blake, and former Ravens linebacker O.J. Brigance) celebratory instead of somber. "My father would have turned his funeral into a party," says David. "He would have had orange yarmulkes for Shirley's and green yarmulkes for Classic. He would have turned it into a production. I asked the people at [Sol] Levinson's, 'What do you think about us giving out Goetze's Candy to end on a sweet note?'" Ultimately, David decided to stick to a strictly traditional service.
For now, however, the party continues at home. "Brandy is definitely the outgoing dance-at-seven-in-the-morning and get-down-with-the-kids kind of person," says David. "And that kind of joy and laugher and zest for life has gone straight to my kids and makes me more open to being silly."
What would Eddie say if he were still around? "If he could see me now, he'd say, 'I love you and I'm proud of you—let's take the kids to Disney World.'"