A Date With Debbie
The harbor-front condo home of Michael Phelps's mother is part modern style and part memory lane.
Debbie Phelps almost always buys things in threes. That's fitting: Her three children, including her youngest—swimming phenom Michael Phelps—are grown and living on their own, but never far from Phelps's heart or mind.
"I carried those back from Fukuoka," says 63-year-old Phelps, motioning to three parasols mounted against a charcoal wallpapered wall in the foyer of her harbor-front Ritz-Carlton Residences condominium in Federal Hill. The trip—to the 2001 swimming world championships in Fukuoka, Japan—had been one of her first international forays, and she'd brought home not only the parasols, but also a triumphant 16-year-old Michael, who'd broken his own world record for a gold medal win in the 200-meter butterfly.
It's fitting, too, that those parasols are the first things greeting visitors when the private elevator doors open to Phelps's second-floor residence. The foyer—warm, lush, and punctuated with this subtle memento—sets the tone for the whole home.
"When I walk in, I want my home to almost open its arms and wrap me up in them," says Phelps, who moved in 2013 to her current unit from a larger space in the same development, keeping much of the same design. "I want it to be comfortable. I want it to be home."
But in creating the space, Phelps had another goal in mind, this one tied to her family's remarkable journey. "I want my home to tell the story," says Phelps, sitting just steps from the foyer in a home office lined with images of the cities that played a starring role in her son's rise to fame, including Sydney, Athens, Barcelona, and London. Around her, and scattered throughout the home, are keepsakes collected as she traveled to competitions across the globe. "It's like opening a window to where things have been," she says.
Though the journey began in Western Maryland, where she grew up—and where she met ex-husband Fred Phelps—the past 15 years, in particular, have been a truly instructional affair. The run-up to those years had moved the family from Harford County, where Debbie Phelps was a public-school teacher in home economics, to Baltimore County, so that eldest daughter Hilary could pursue a swimming career with the North Baltimore Aquatic Club. Phelps's middle child, Whitney, and youngest, Michael, soon followed in their sister's footsteps, plunging Debbie Phelps into the hectic life of a swim mom. Both daughters proved to be accomplished swimmers, but it was Michael who captured the world's attention with his athletic feats, competing in the 2000 Sydney Olympics at age 15, nabbing six gold medals at the Athens Olympics in 2004, a record eight gold medals in Beijing in 2008, and then another another four in London in 2012—all contributing to his unprecedented total of 22 Olympic medals.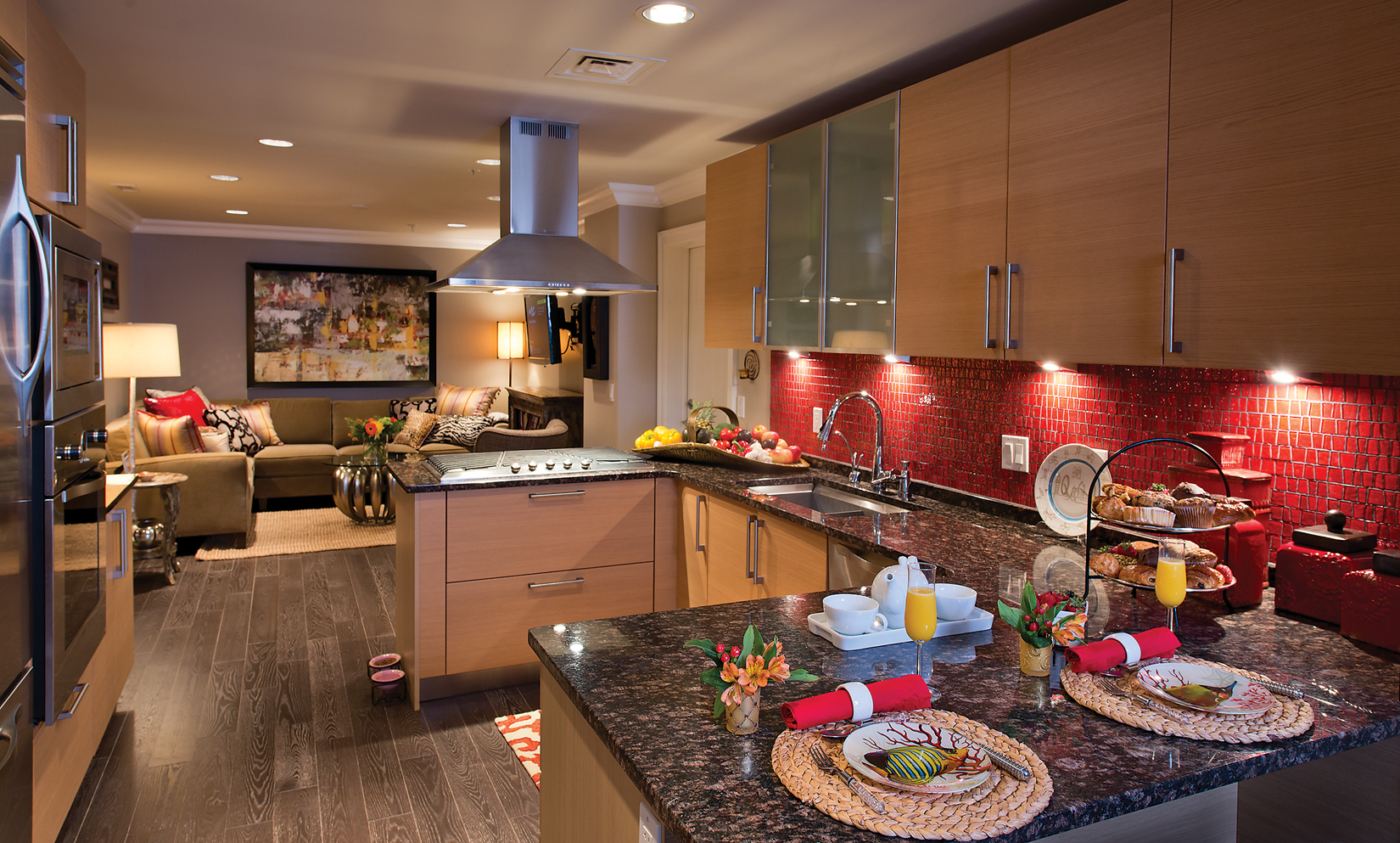 Debbie Phelps, of course, was there for it all, an exhilarating ride she details in her speaking engagements and in her book, A Mother for All Seasons. At televised competitions, when the camera panned from Michael in the pool to his mom in the crowd, she was often caught in what she calls a "DP moment," alternately cheering and wiping away tears. Her career, meanwhile, progressed on its own upward trajectory, taking her from the classroom into administrative roles and finally to her current position as director of The Education Foundation of Baltimore County Public Schools.
Though her Baltimore County homes—first in West Towson and then in Rodgers Forge—offered family-friendly living within striking distance of the swim center, Phelps says she'd always told her children she was eventually city-bound, in search of convenience and "the energy of the city." If she could be on the water—non-chlorinated for a change—all the better. In the meantime, she had to make do with the fountain in the backyard of her Rodgers Forge townhome that was "as close as I could get to the harbor," she jokes.
By 2010, with her children launched in their own lives, Phelps was ready to make a move. There was no need to search: She'd known since shortly after the 2008 Beijing Olympics exactly where she'd land. Heading home from Michael's official homecoming celebration at Fort McHenry, she noticed the brand new Ritz-Carlton Residences outside the window. "I remember saying to everyone in the SUV, 'I want to live there someday,'" says Phelps.
Moving in—first to a garden-style two-bedroom condo and later into the one-bedroom unit she now calls home—Phelps finally has the vibrant city life she wanted, plus maintenance-free living with breathtaking water and city views. Her new home also offers a welcome sense of security and privacy. The post-Olympics public outpouring of admiration for Michael was "humbling and warm and exciting," says Phelps, but there was no denying her family was now firmly in the public domain (a point driven home to Phelps one night as she sat in her Rodgers Forge family room and looked out the open door to see a stranger peering in). "It's like I said to Michael recently—he belongs to the public," Phelps says. Still, "sometimes people just need their space. I can have that here."
It's here that Phelps can relax on her "DP days," a once-a-month ritual she's adopted in recent years. "There's no watch, my phone is on mute or vibrate, and the kids know that if they call and I don't answer, mostly it's a Saturday and it's a DP day."
Often she heads to Harford County on those days, but "there are days I can come here, and I don't have to leave at all," she says. "It's always nice some days just to relax and leave your pajamas on and do nothing except watch Law & Order or football all weekend."
It's here, too, that the family can gather to connect and reflect on their collective experience, something they couldn't do while Michael was in the midst of his meteoric rise. Though the family and Michael's coach, Bob Bowman, had shared some of the same magical memories, "when we were living this, I didn't really know how Bob felt when Michael won the eighth gold, or how Michael felt after he didn't medal in the 400 IM in London," she explains. And with Michael always off to the next challenge, there was never the time nor the space to reflect. "This home gives us that. It's a place to talk through all the experiences, because, no, we have not gone through photo albums and said, 'Remember this? Remember this?'"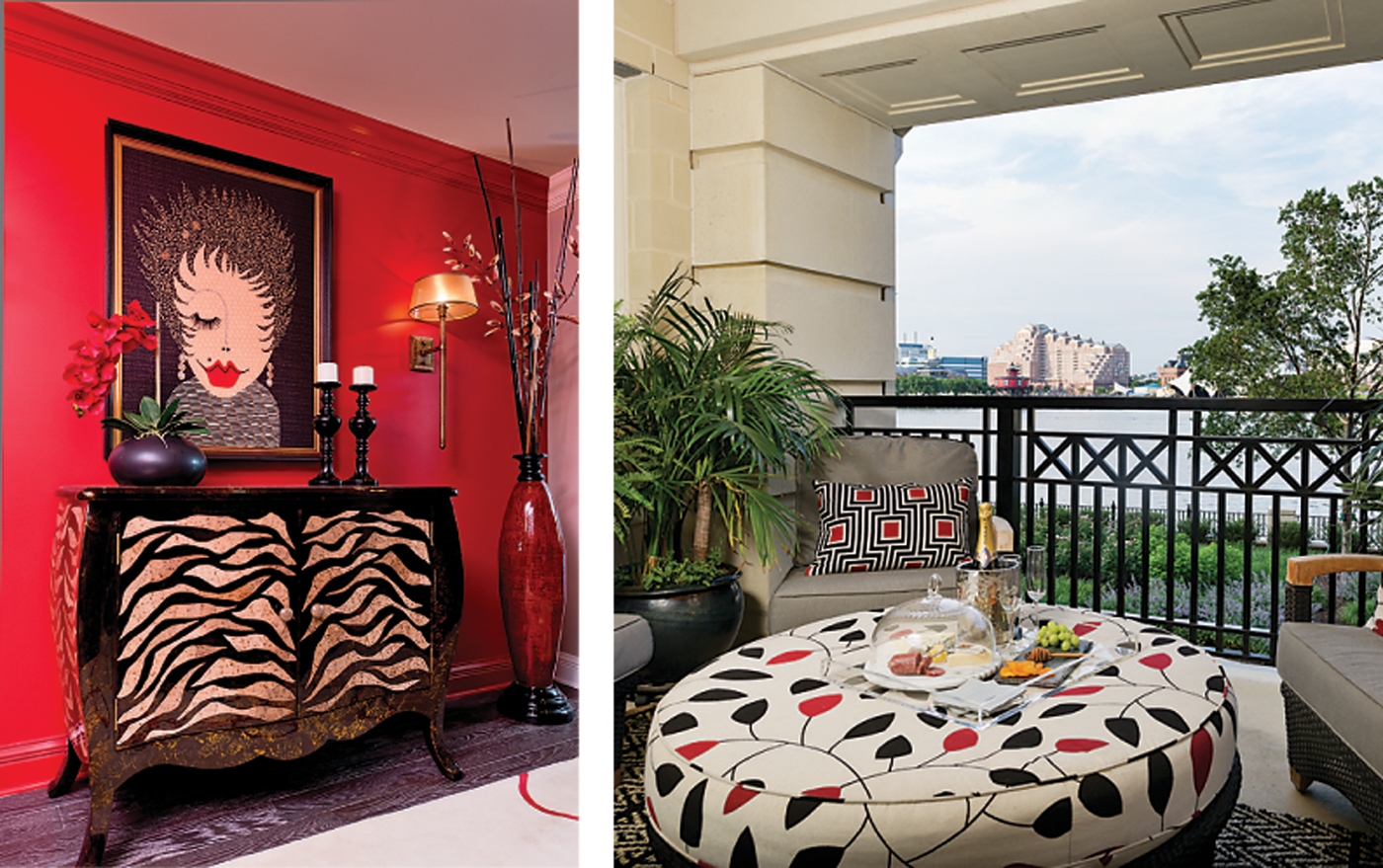 When she moved from Rodgers Forge, Phelps left behind all of her furniture, in part for her niece, who'd moved into her old home, "but also," Phelps pauses, "because it was a new chapter." To design the space that would reflect her style, she turned to Colorado-based interior designer Lita Dirks.
"Lita said, 'Tell me what you like.'" Phelps says. Although on this day in August, Phelps is comfortably dressed in a summery all-white ensemble, with chunky silver jewelry and peep-toed slingbacks, "for much of the year, I wear a lot of warm colors: reds and blues and greens," she says. With that in mind, she and Dirks put together a palette for the home that mirrors Phelps's wardrobe.
Her penchant for deep reds, plus a post-Beijing Olympics mindset lent itself to Asian-inspired touches like a crisp, lacquered dining-room china cabinet that's flanked by a terra-cotta soldier on one side and a copper kimono statuette on the other. But there are whimsical notes, as well, like the portrait of pearl-bedecked ostrich in one of the guest bathrooms or the zebra-striped chest in the hallway.
And of course, family is woven throughout, from the 12-seat dining-room table that fits the extended clan to the three slim statues standing sentry beside the living-room fireplace. ("This is Hilary, Whitney, and Michael," says Phelps, noting that Hilary's statue has its eyes closed, "just like her baby picture.")
Family also includes grandchildren Taylor, 8, and Connor, 6. And Grandma Phelps—that's "G" to the grandkids—wanted this to feel like home to them, too. As she notes this, she points out the childproof table, perfect for coloring or playing games, but more telling is her recounting of then-4-year-old Connor's first encounter with the three statues. As Connor began, in typical preschooler fashion, to "look with his hands," Phelps's first worry wasn't about losing an expensive piece of home décor but instead that, "he'll be so upset if it breaks."
Even the kitchen is, in its own way, part of the story. Sleek and functional, it's the kitchen of someone more excited about the new restaurant at the Ritz than the latest culinary gadget. Though her children are endlessly amused by the notion of a home-economics teacher who doesn't like to cook, Phelps is happy to cede the kitchen to her daughters, who visit often. "That is not my forte," says Phelps with a laugh.
In moving into her current unit, Phelps transferred much of Dirks's design, tweaked with the help of Rita St. Clair Associates to add color, especially on the walls, and to conform to a new layout. Eight months in, Phelps was still revising when an Asian-inspired trunk in the window of Harbor East's Arhaus caught her eye. "That's when I met Debbie," Phelps says of Arhaus interior specialist Debbie Shepard. "I said, 'I want that piece!'"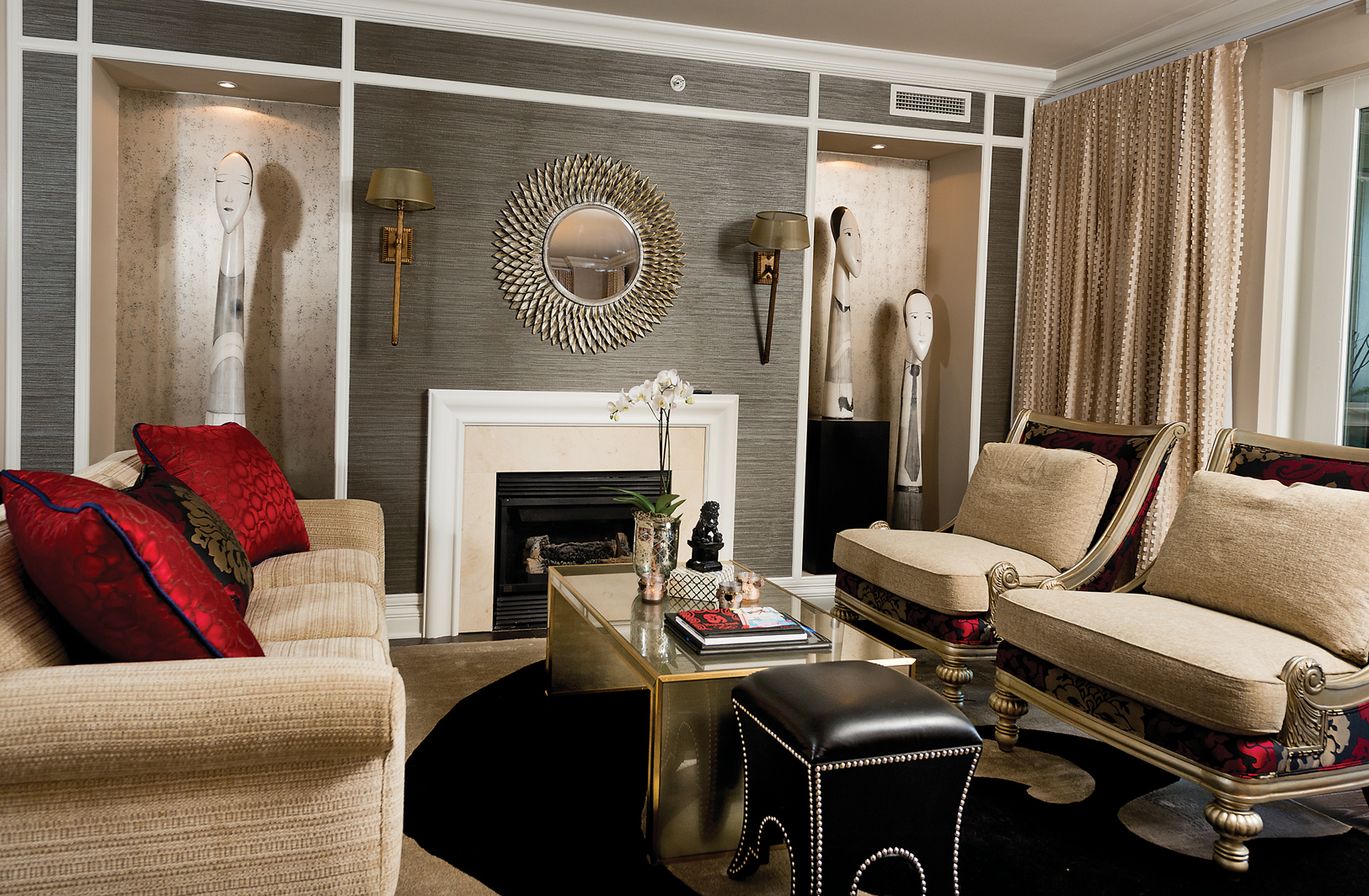 As the two walked the showroom floor and chatted, "we just clicked," says Phelps. The trunk is now featured beneath the parasols in Phelps's foyer, its taupe-painted finish complementing the neutral shades in the parasols. And Shepard is a newfound friend and design consultant.
Both Phelps and Shepard declare the home a work in progress. In the near future, they'll add a sitting area to the bedroom to capitalize on the stunning water view and a large, round table beside the kitchen to accommodate the growing family. But the biggest need is for display space, says Shepard. Tucked away in storage, Phelps has "some great treasures to work with from her travels," and her life, says Shepard. "They have sentimental value. We really need to have some of these out so she can enjoy them."
Phelps has designs for her life outside the home, as well, of course. In 2016, she'll reach the 40-year milestone as a public educator. She is "not by any means ready to stop working," she says, though her next move is still up in the air. "I've often thought about going back and getting my doctorate," she says, noting it would be more for self-satisfaction than anything else. "And, I don't know, maybe another book."
However her future pursuits unfold, they will be closely tied to family, including Michael, though the public focus on the champion now is not what anyone expected, after his DUI arrest in September, which prompted the swimmer to seek treatment and delay his return to competitive swimming.
"As a parent, it is very disappointing," Debbie Phelps said in an e-mail response to us following her son's arrest, which occurred after this interview. "But I am proud of him for taking responsibility and support his decision to focus on himself right now."
And while nobody knows where Michael's career will go next, Debbie Phelps's role remains unchanged. "We're just going to support him like we always have," she says.
No matter what, the Phelps family will always have each other—and a place to gather. "You raise your children with wings to fly. I feel like I've given them wings to be successful," Phelps says, edging close to a DP moment before breaking into a smile. "But it doesn't mean you can't all hang out together."