The Country Curator
Caretaker David Ferraro and his historic Patapsco home are a museum-perfect match.
During a few rare, wide-open hours on this unseasonably warm late-autumn day, 45-year-old David Ferraro is standing on his partially finished, historically accurate front porch, contemplating an afternoon bike ride. His plan is to cycle through the wooded trails of Patapsco Valley State Park, into historic Oella, over the Patapsco River across an iron bridge, and back home—16 miles in all.
He'll begin and end in his own backyard—which he doesn't own. The yard encompasses roughly two acres of the park, and gives him direct access to its more than 200 miles of trails and the river. He moved into the once-derelict early-19th-century stone home in 2014 as part of the Maryland Department of Natural Resources' Resident Curatorship Program. It's a sweet deal: Through the program, Ferraro gets lifetime rent-free living in exchange for restoration and maintenance of the historic home.
For Ferraro, who's been director of architectural services for the Reginald F. Lewis Museum since 2011 and is an avid cyclist, kayaker, and runner, applying to become resident curator was a no-brainer.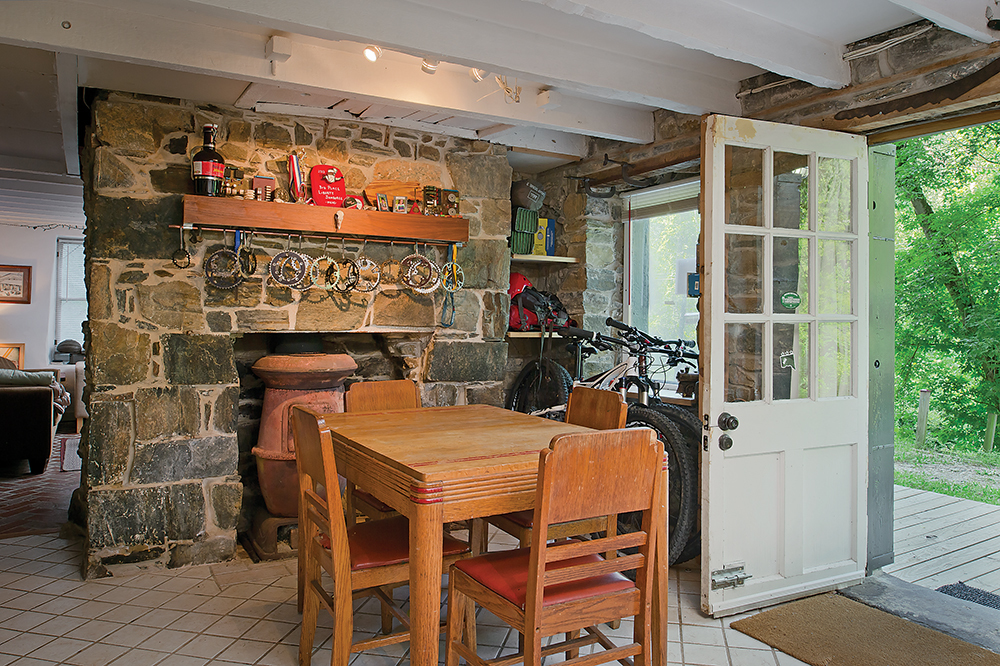 "I had been looking at houses in the curatorship program for 15 years," says Ferraro, sitting beside a wood-burning stove in the 1,000-square-foot home's rustic kitchen after his ride. Many were a good fit architecturally, "but kind of far away from what was happening in the rest of my life."
On the board of two nonprofits with ties to the park, Ferraro had spent countless hours within its boundaries. So when the Department of Natural Resources announced in 2011 it was seeking a resident curator for The Reserve Property, as the tract is known, "I was all over it. I knew right away this place had great bones."
Ferraro submitted a detailed proposal, restoration plan, financial statements—the works. But winning the bid was just the start. The house, abandoned for years, "was completely vandalized and gutted," says Ferraro. Mold and animals had moved in. Far from discouraged, "I was just excited," he says.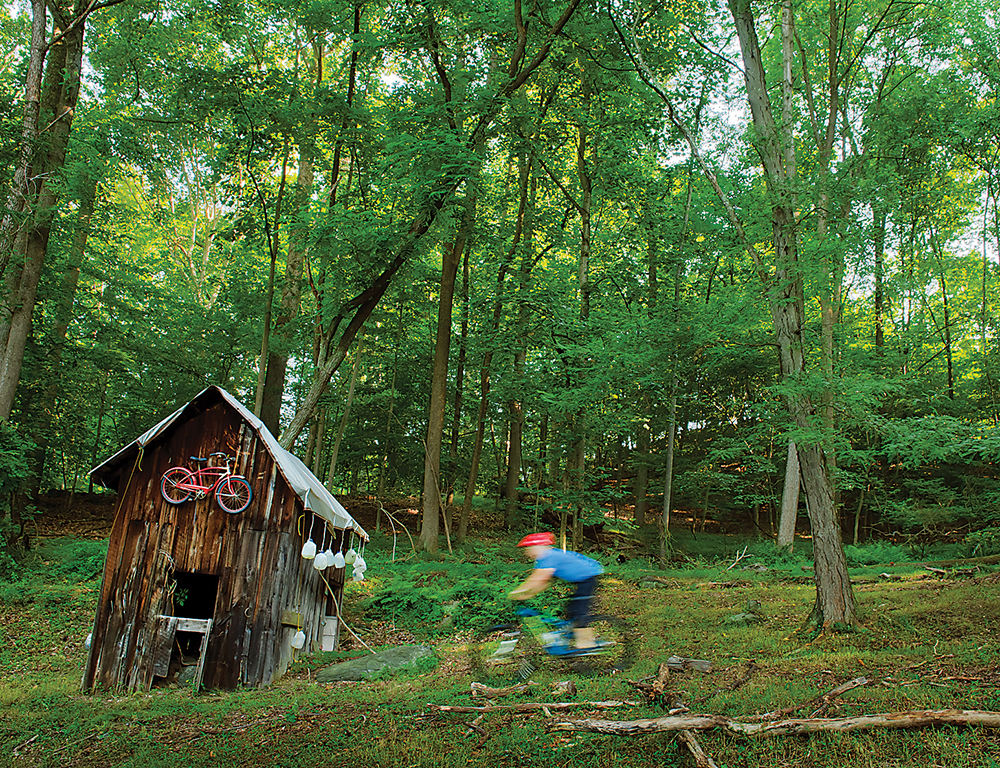 For the restoration, he would draw on his 20-some years of background in architecture and building, which had included stints at The National Aquarium, the United States Holocaust Memorial Museum, the Smithsonian's Office of Architectural History and Historic Preservation, and The Rachel Carson Homestead.
Even before his museum career started, "I had a real aptitude for building and fixing things," says Ferraro, who grew up in Westminster and spent summers working in construction and cabinetmaking.
As a student at the Maryland Institute College of Art, he'd studied painting, but found himself creating faux museum installations for fellow students, a development that would eventually land him at the Reginald F. Lewis Museum, where he's in charge of "the entire built environment." In other words, he's responsible for everything from constructing the exhibits to the building finishes to supervising the mechanical aspects of the museum.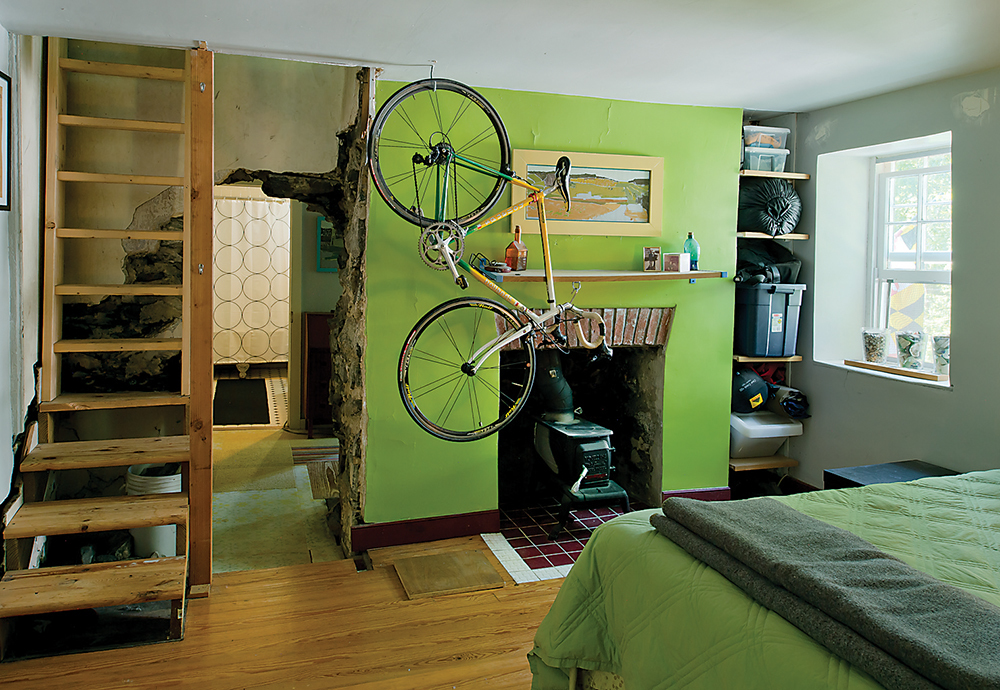 In his spare time, he rehabbed two historic homes—one in Federal Hill and another in Linthicum. "So I pretty much know what I want to do here," says Ferraro, who brought to this home technical lessons from his past renovations, but a slightly different aesthetic approach. "In the past, I've really focused on expensive kitchens and concrete counters and all these things that are really valued and are good, valid things," he says. This time? "It's a cozy place that's base camp for a rich life. That's it."
In the interior, which he is free to renovate without having to meet historic standards, that approach translates to simple touches like the repurposed birch ply, quartersawn white-oak kitchen countertops and, upstairs, an exposed stone entryway in lieu of a master bedroom door. A ladder leads to a third-floor bedroom, and a tiny second-floor room does duty as a mini painting studio.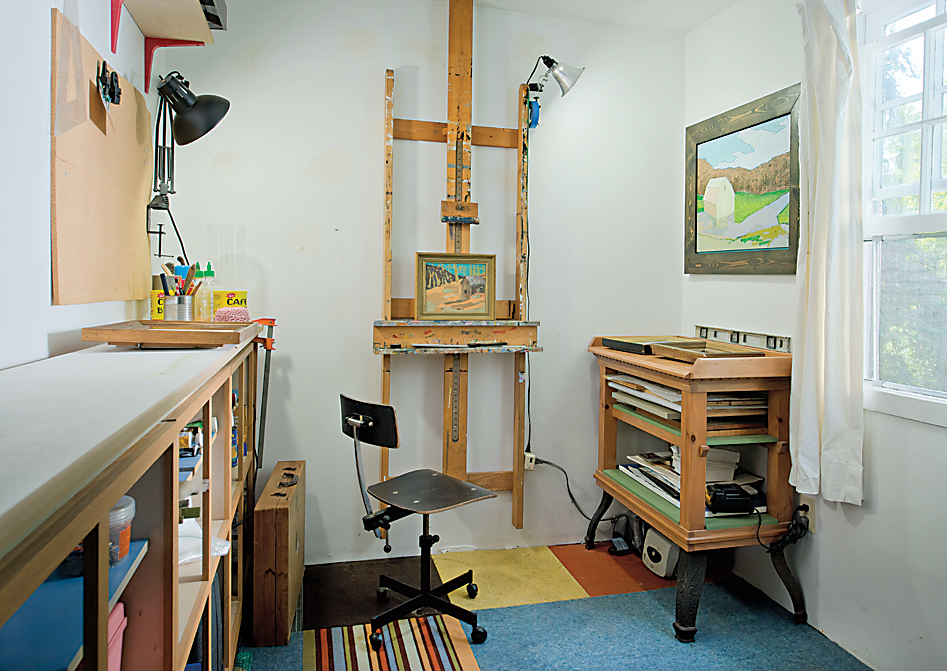 The home's simplicity adds up to a bit of unconventional living for Ferraro's 14-year-old daughter and 12-year-old son, who spend part of each week with him. "I heat it with wood, we don't have Wi-Fi, we don't have neighbors," says Ferraro. "But they love it."
Nearly three years in, he estimates he's 50 percent finished with renovations, including the new front porch, which will soon get a roof and, like the rest of the exterior, must be completed to Maryland historic-trust standards. The wood for the porch, for example, "had to be custom tongue and grooved," says Ferraro. "These aren't materials you can go to Home Depot and just get."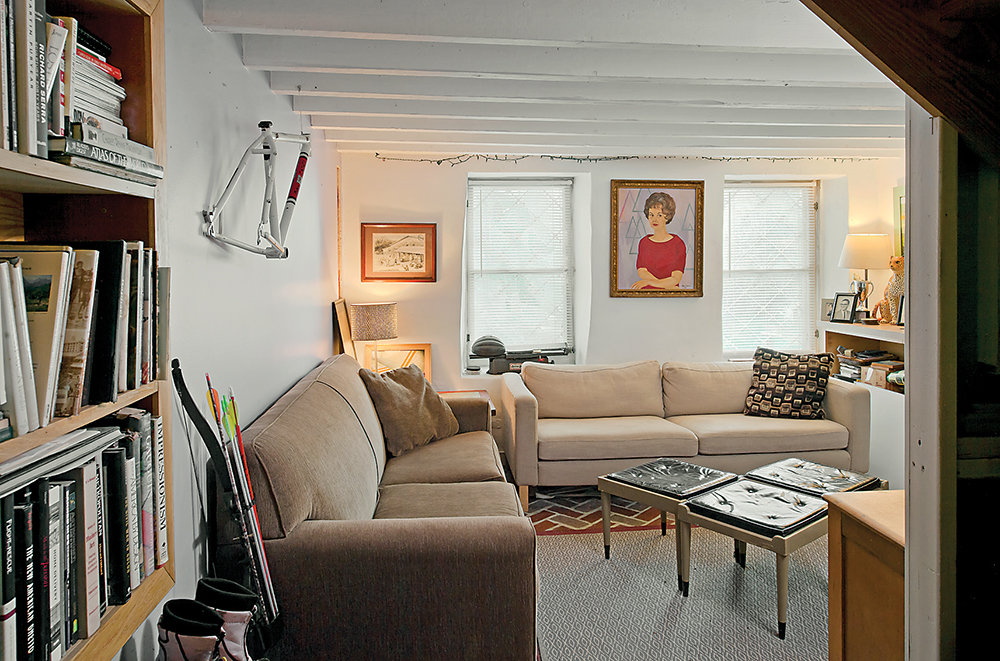 Though he'll pay no rent or mortgage, the home is nowhere near a freebie, explains Peter Morrill, curator program manager for the Maryland Department of Natural Resources. On average, resident curators spend "maybe $150,000 to $250,000 for initial renovations," he says. "It's a significant investment of time and money, but the exchange is you get to live in the middle of this gorgeous state park."
The tradeoff makes perfect sense to Ferraro: Though he's already done renovations valued by the state at about $100,000, the payback this fall, for example, will be sipping his early morning coffee on the porch while watching a pair of bald eagles fish in the river not far from his front door. "Mostly, I'm just thrilled to be here," he says. "I try not to think about the money, but more about the lifestyle it brings me and what it brings to my children. And I really do care about the park and the architecture. I take my stewardship pretty seriously."