Emily Emerick is Influenced by Her Work at Ladew Topiary Gardens
Emerick's garden bears little resemblance to the formal grounds she's overseen since becoming Ladew's executive director in 2002. But it's impossible for her to imagine her own outdoor space without Ladew's influence.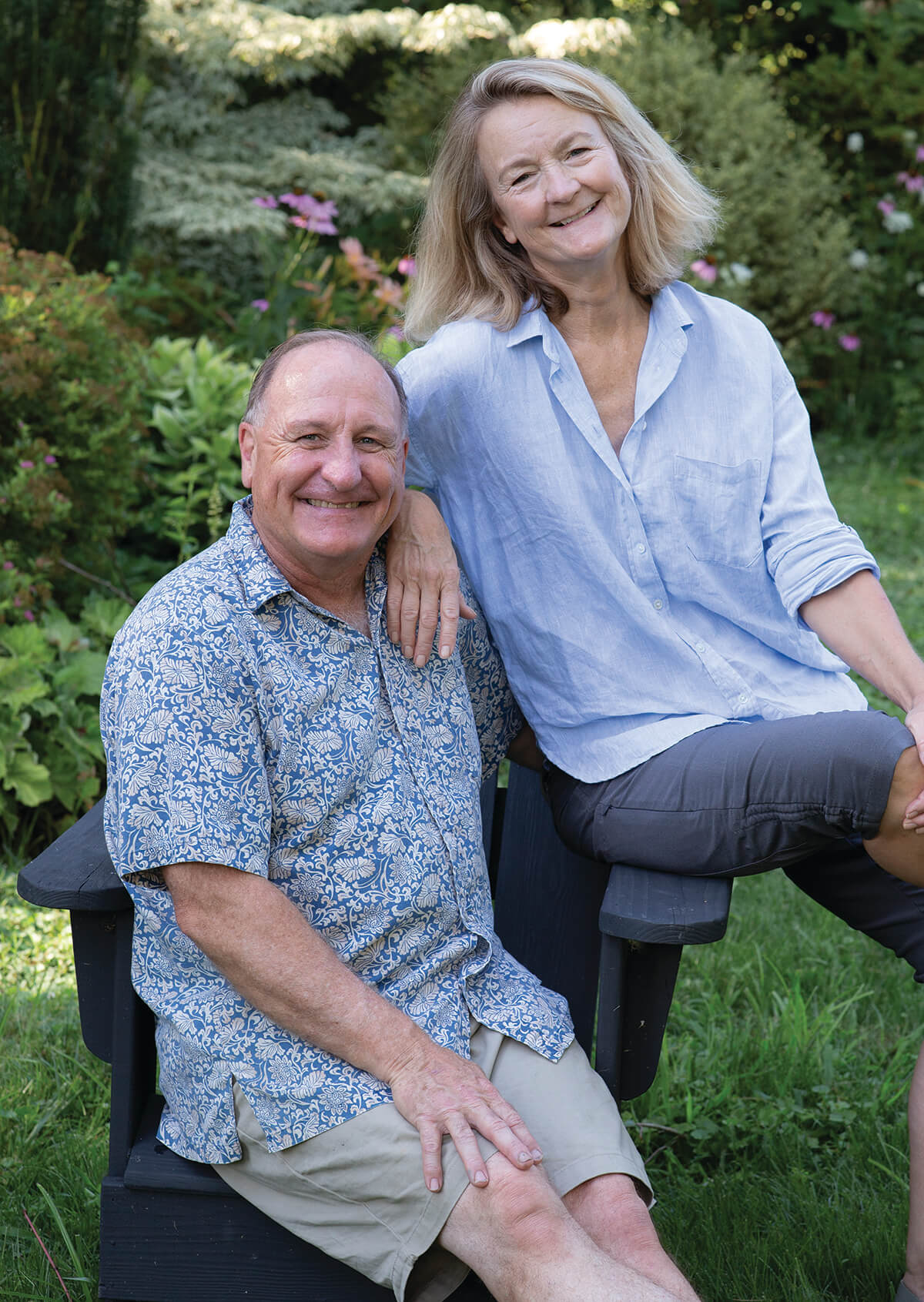 You could say the garden began with a beat-up BMW.
When Emily Emerick, executive director of Ladew Topiary Gardens, purchased her Cape Cod-style home in 1989 with husband David, it was surrounded by lackluster foundation plantings and the remnants of the previous owner's gardens—spirea and mock orange hedges, peonies, and climbing yellow roses. There was a massive tree in the front yard, a large windbreak of white pines on the property's west side, and more white pines making a veritable forest in a corner of the backyard.
"One of the first things I did was barter with a local nursery owner, and we swapped my husband's old BMW 02 Series for shrubs for around the house," she says. "The car wasn't running anymore and was costing a fortunate to repair, but my husband still hasn't forgiven me."
Once she pulled out the foundation plantings—keeping the best of the previous owner's garden, including the peonies—she planted cherry laurel shrubs. The shrubs then needed to be offset with new trees and the whole thing needed some daylilies. Thus began a garden's evolution that has lasted decades.
"Each garden started as a perfect kidney bean shape and then another kidney bean would be added and another, and now we have 100 or so feet of perennial beds in the back," she explains.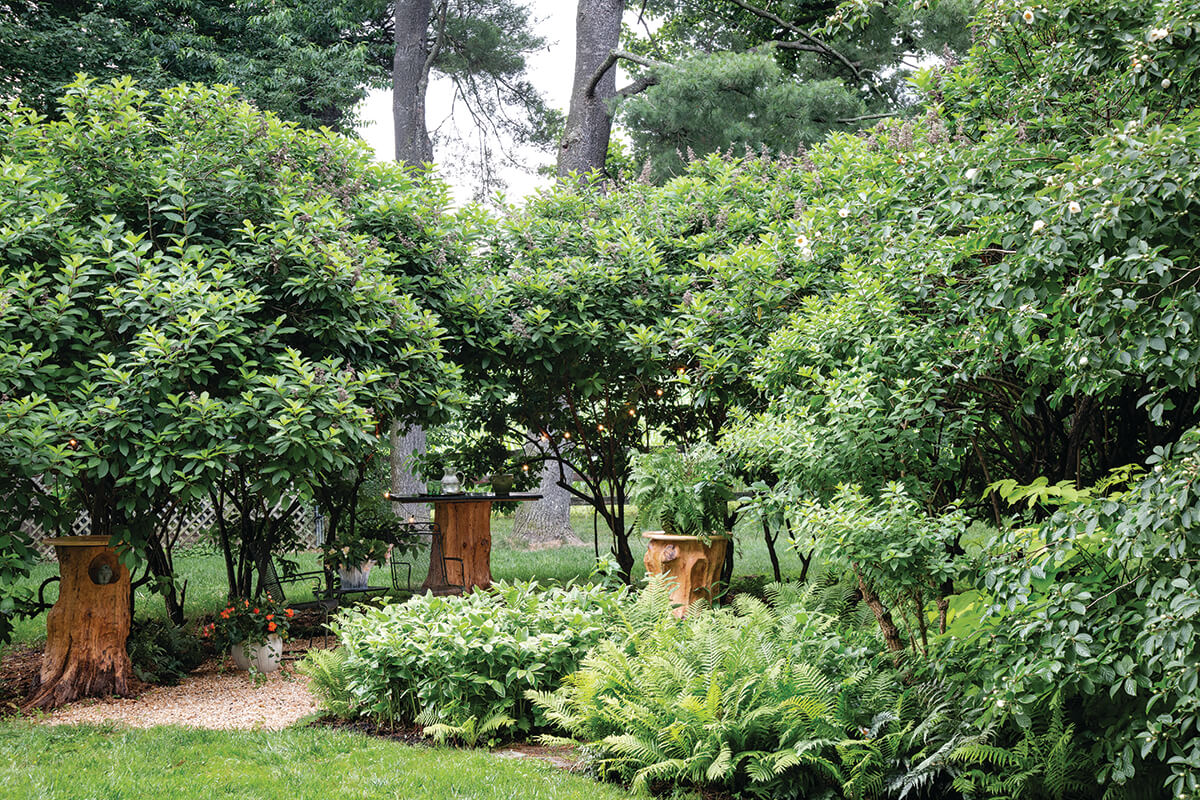 When a tornado took down many of the pines, friends helped them clear the debris and David pulled out stumps with a Bobcat. David, a woodworker, turned several of the tree stumps into high top tables, making a fun garden cocktail locale. Still, enough shade remained that Emerick started working on the front yard, where there was more sunlight, and she had a desire for privacy where the house faced the road. Every two years or so she's added a new extension to the perennial beds in front of the house, most recently this spring.
The backbone of Emerick's gardens is trees and shrubs. Early on, she worked with landscape architect Katherine Adams, who helped Emerick obtain some of her wish list of special trees, such as Heptacodium, Styrax obassia and a Cladrastis kentukea (yellowwood). Japanese stewartia is one of her favorite plants and it grows happily in the acidic soil made rich from years of pine needles. She also obtained several stewartia as saplings and trained them to espalier on the side of the house.
The gardens feature many plants that look good at all times of the year, particularly in the front yard. The Emericks sit in the south-facing living room in the winter and can enjoy the view of Hydrangea paniculata and twig dogwood in yellow, red, and coral.
That same front yard will soon be less "yard" and more plants. Inspired by the Homegrown National Park movement, Emerick wants her future expansions to transition space away from a grassy monoculture to gardens of native plants laced with winding paths.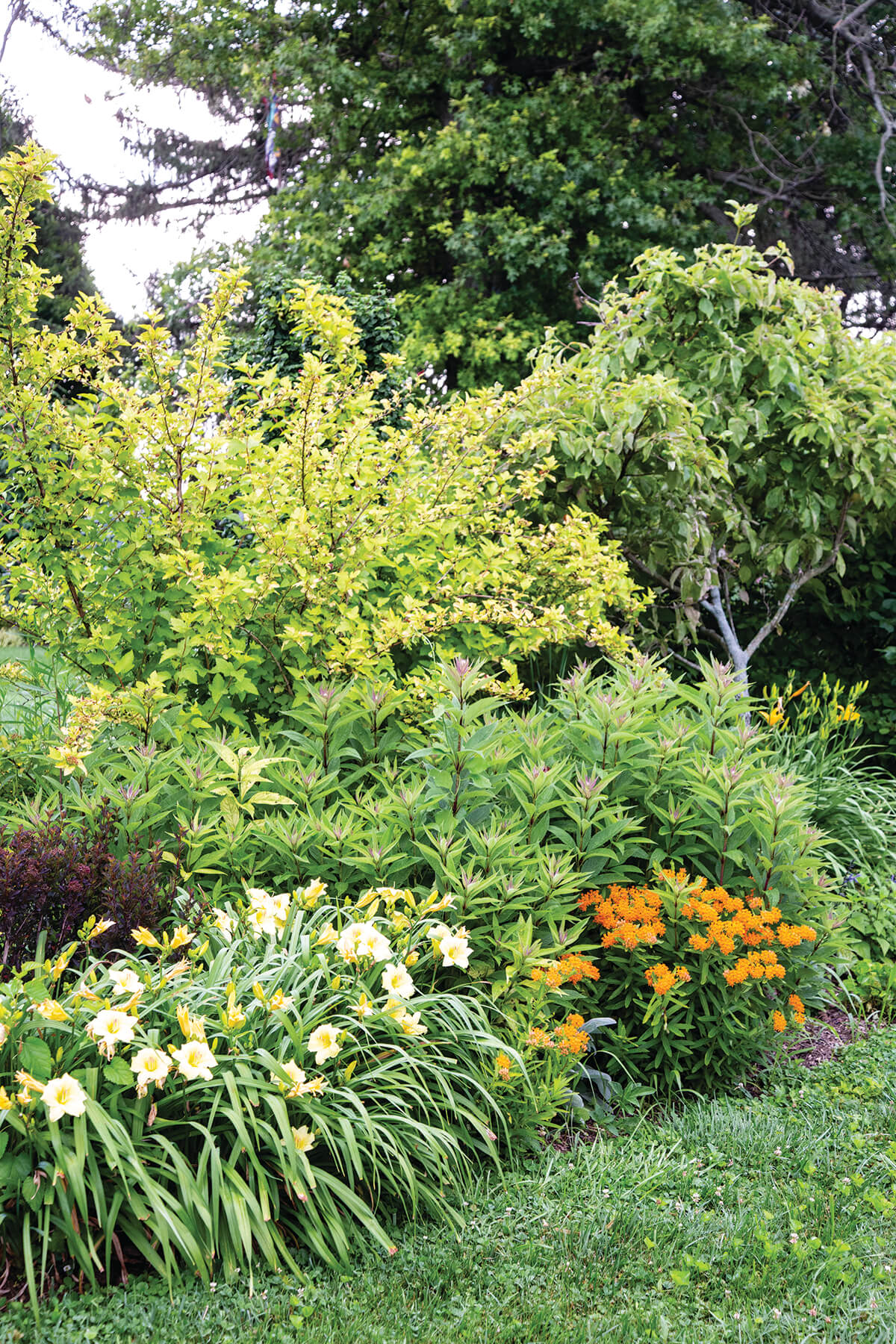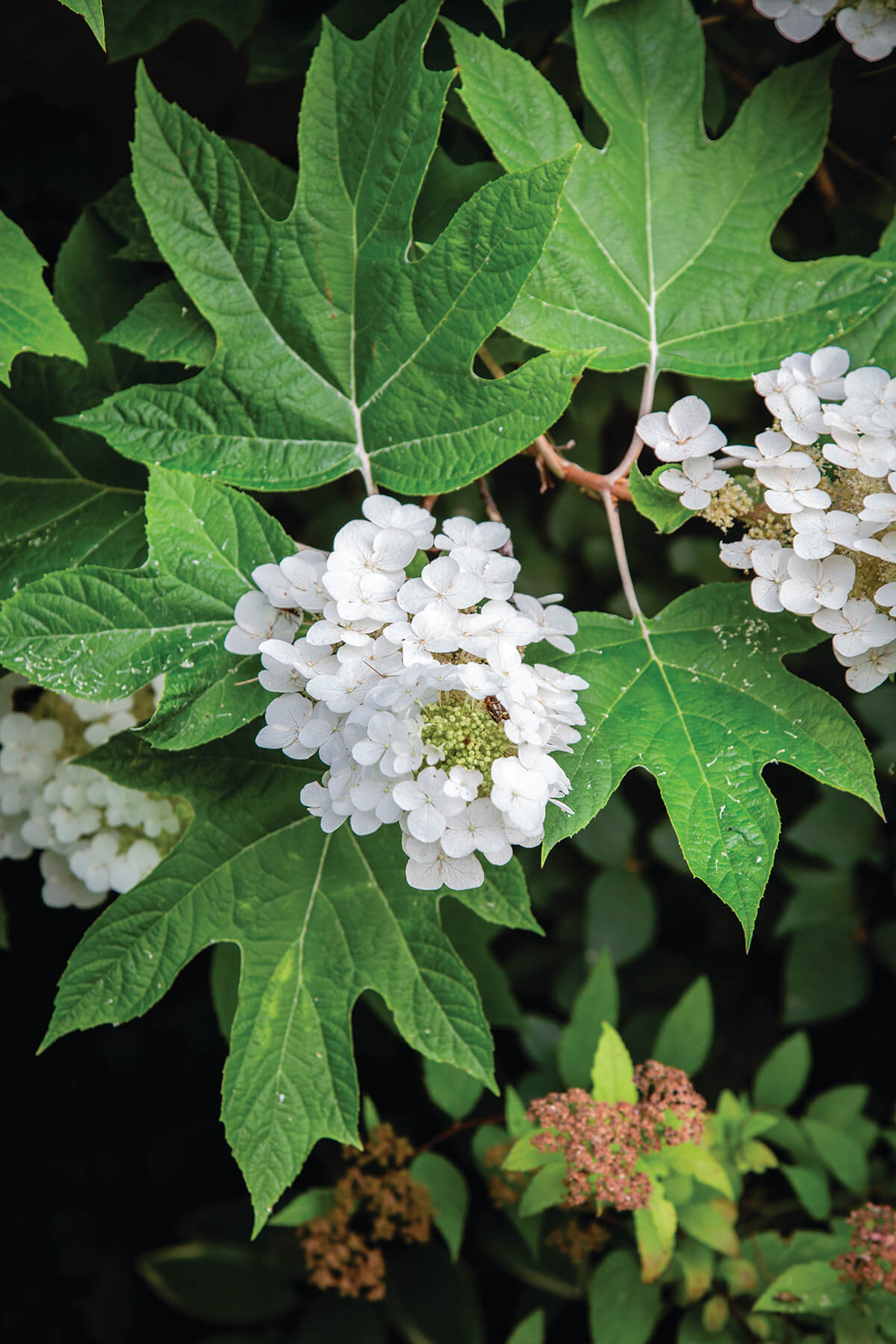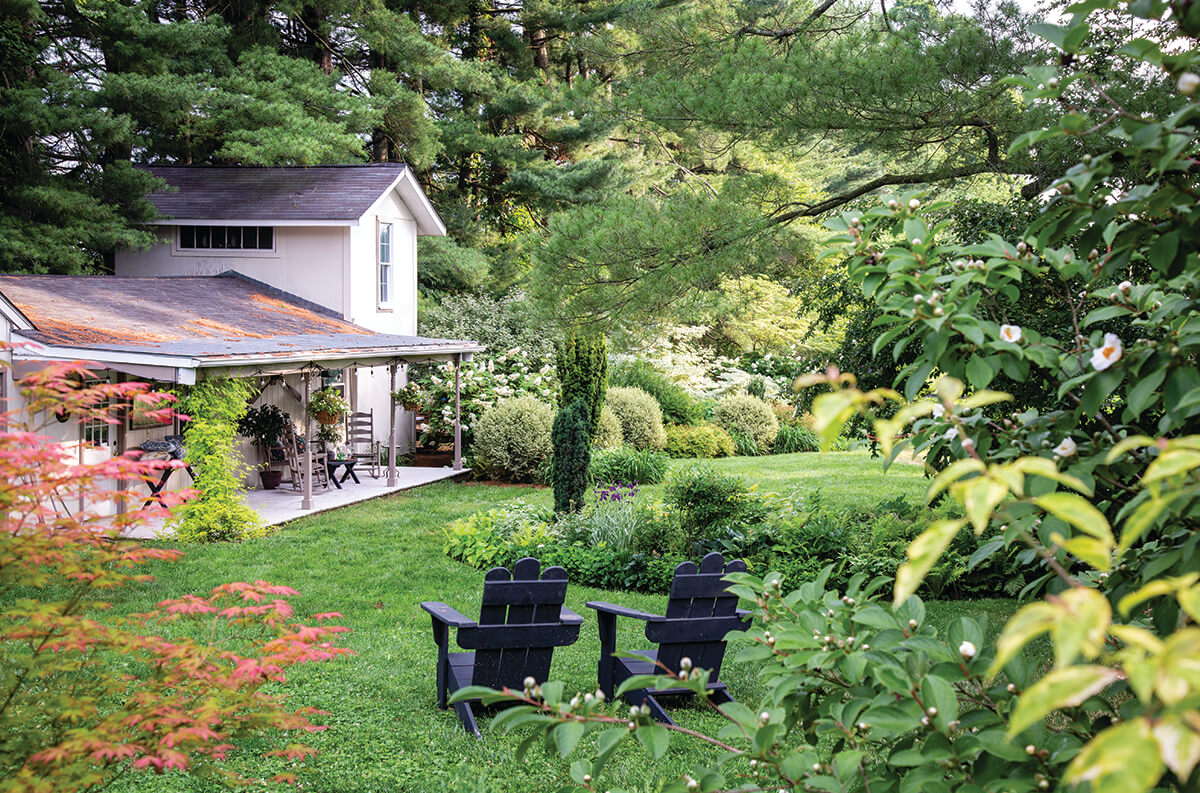 Although she works for a public garden, located just minutes from her Monkton home, Emerick says she is no horticulturalist but rather an intuitive gardener. She grew up in "old Ruxton," which she describes as a neighborhood of large yards where residents had formal gardens—think elegantly clipped boxwood hedges and Asian-inspired koi ponds. Emerick's mother was a vegetable garden enthusiast. Her youth in this verdant culture left an impression.
"It's driven home the importance of the early education nature programming we do at Ladew because I know how formative it was in my own life," she says.
"My mother died when I was 17," she continues. "As I got older and had my own family, my memories of being with her in the garden took on more importance. My own kids spent their childhood on a blanket or in a playpen while I was always five feet away digging in the dirt."
Emerick's garden, with its lush and charming perennial beds entwined with beautiful trees, bears little resemblance to the formal and expensive elegance of the public garden she's overseen since she became executive director in 2002. Yet she says it's impossible to imagine her garden without the influence of Ladew.
Not only does the garden inspire her creatively, it gives her practical tips, as well.
"I come here every day and see the importance of basic things, like mulch: I see the dangers and invasives and the benefits of natives; I see the importance of bones and best horticultural practices.
"But also, as a benefit of my job, I have visited so many gardens, and on average we have 10 lectures a year that I've attended for 20 years," she continues. "I've had the opportunity to speak with people who have some of the most core knowledge of plants and garden design."
Another important role Ladew has played in her home garden is as a supplier of plants. Emerick explains that she enjoys collecting plants she loves—and is then tasked with figuring out how to make her finds fit into her gardens.
For a plant hunter, there's no better stalking ground than Ladew's annual Garden Festival, which will celebrate its 15th year in May 2023. The event draws regional plant vendors displaying an exquisite variety of specimens. Emerick says the Ladew staff never take the best pick of the bunch, "but we do hover and hope it will still be available," she laughs.
The festival is time- and labor-intensive. Late one evening, Emerick was helping a plant vendor load his truck by the headlights of her car after the day's events. "Just as he was loading the pot into his truck, I said, 'Wait a minute, what is that?' I didn't see that earlier.'" She grabbed the plant, a variegated yew, paid $40 on the spot, and used it to anchor one of her gardens.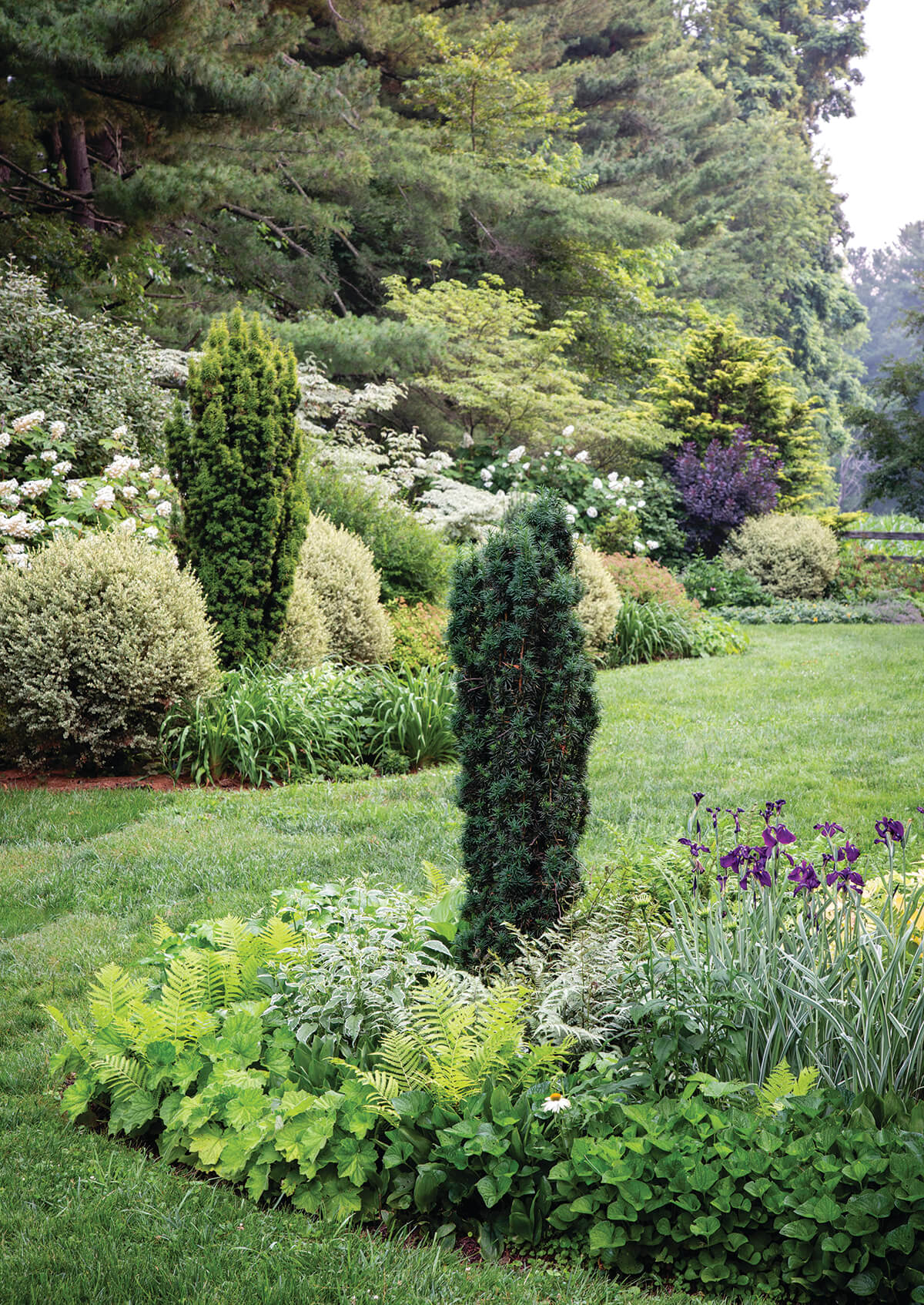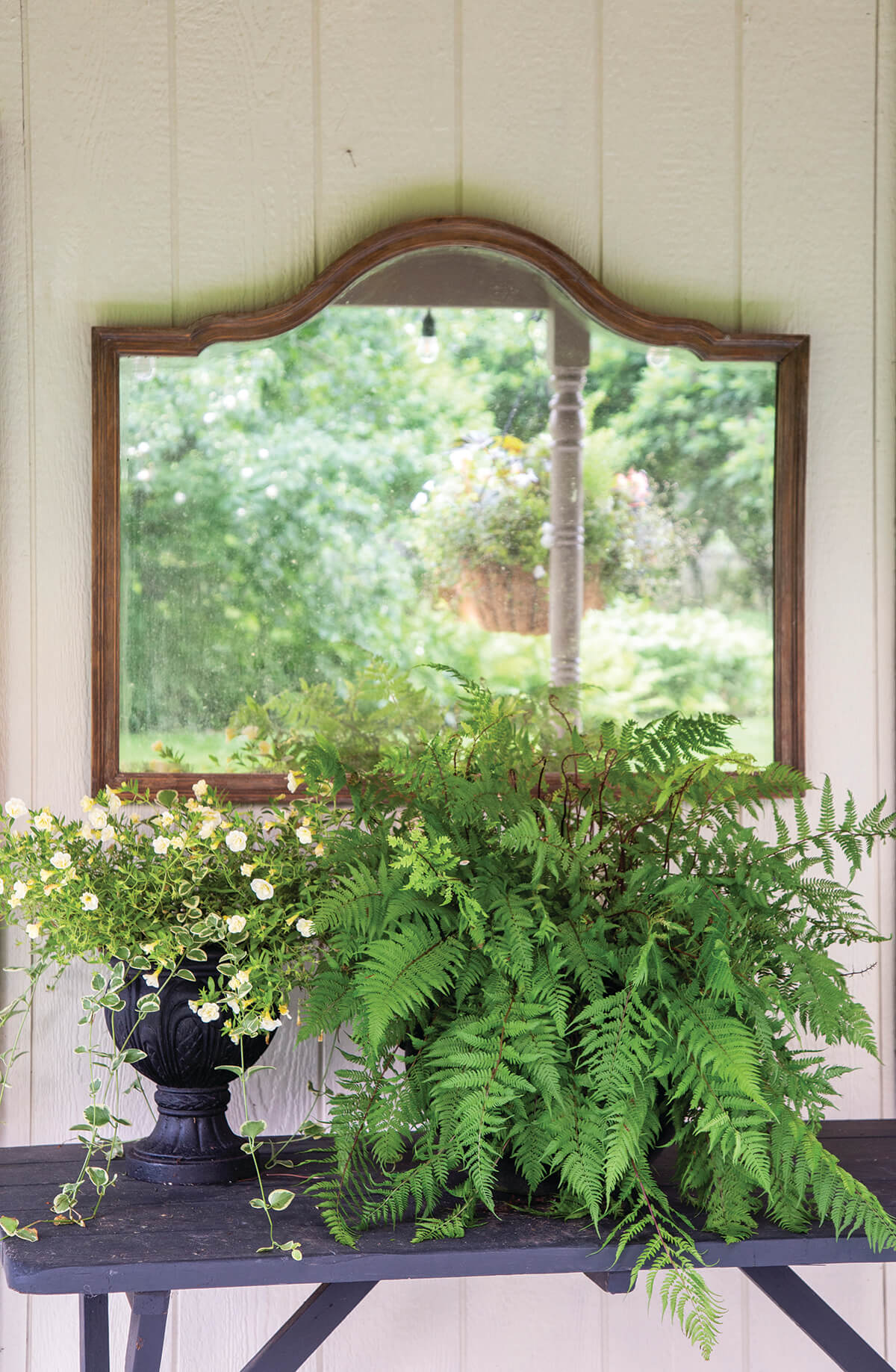 Emerick has a particular passion for variegated species—those with unique shades and strips of color—because they look so spectacular in the evening's gloaming, her favorite time of day to be in any garden. But if you're looking for topiary, you need to visit Ladew. Though she's tinkering with a tabletop topiary that seems inclined to be shaped like a bird—she laughs that her efforts are rendering an inelegent blue-footed booby—she leaves the precision clipping to the professionals.
Some of her container plants are leftovers from her daughter Grace's spring 2022 wedding. In a way, that event was the culmination of a lifetime spent pulling weeds, thinning crowded beds, adding to others, and moving plants as sun and shade dictated, watching as some trees died and others flourished.
"Twenty years ago, a friend stopped by, and I was in the yard, as usual, covered in dirt, as usual, and she said, 'Whenever I come here, I always picture that you're creating Grace's wedding garden,'" says Emerick. "And she was right." The garden has also hosted Emerick's sister's wedding, her niece's, and this fall her son will be married here, too.
"My garden isn't professional, but it is deeply personal," says Emerick. "It's a display of all the things I loved when I saw them, hopefully informed by visiting hundreds of gardens and listening to hundreds of lectures, and by being at Ladew."