Everything And The Kitchen Sink
A former Maryland State Senator and his wife create a first-floor transformation.
They have tackled state political campaigns, and have even switched sides from Democrat to Republican in a traditionally blue state. They founded a booming insurance company, worked with charities, raised children, and welcomed grandchildren.
At this point, you'd think former Maryland State Senator Francis "Frank" Kelly, 74, and his wife, Janet, who describes herself as being in her "early 70s," would be ready to kick back and maybe downsize to some condo on a fake lake in a gated Palm Beach golf community. But after living in their Hunt Valley home for 26 years, the couple decided to tackle another major project: renovating their kitchen. It was a job, however, that quickly snowballed into something much bigger.
"Originally, my vision was to get new cabinets," Janet says with a laugh. "But then a friend of ours came by and she said, 'Janet, why don't you take this wall out?'" That friend, notably, was interior designer Juliette Palarea, who had other ideas, too. "And, why don't you open that wall? And why don't you fix the step-down?," Palarea asked.
"My response," says Janet, "was 'Oh, well, that's much more than I planned.' But before I knew it, we had captured that vision as well."
The Kellys' seven-month-long renovation began with a crack team: high-end builder Delbert Adams Construction Group and Palarea of JP Styles.

Palarea created a new first-floor layout with an open-living concept, which led to redesigning the kitchen space, tearing down walls, refinishing the hardwoods, and—because the Kellys' foyer, den, kitchen, family room, and extended family room were all at different floor elevations—changing those elevations.
"One of the best changes in the house was the floor levels. There were a lot," says Palarea.
"Their smaller family room was sunken. And they wanted to bring that elevation up as the main part of the house, along with the kitchen and the front foyer," explains August Reichert, project manager for Delbert Adams Construction Group. "That offered us one challenge. We had to get our floor elevations on the same plane."
At first, Frank Kelly was hesitant about the changes.
"I didn't like the idea of leveling the floors," he recalls. "I liked the den before, but I have to tell you, I love it now. It's beautiful. Janet did a great job with it. I have learned to trust her and, when she makes a decision, to do it."
Janet and Frank wanted two working stations in their kitchen, one for meal preparation and entertaining, the other serving as a desk for Frank. It has a drawer designed solely for electrical outlets, to tuck away phone chargers and cords. The work station is described by the Kellys as Frank's "command center," where he can do his paperwork with a view of the TV.
"I have gotten comfortable at my work station," says Frank, grinning. This means paperwork has started to encroach on the new kitchen: "That's my protest," kids Janet. "Why are you leaving your papers out?"
While the two may disagree about the organization of the "command center," they do agree that the kitchen redesign turned out beautifully.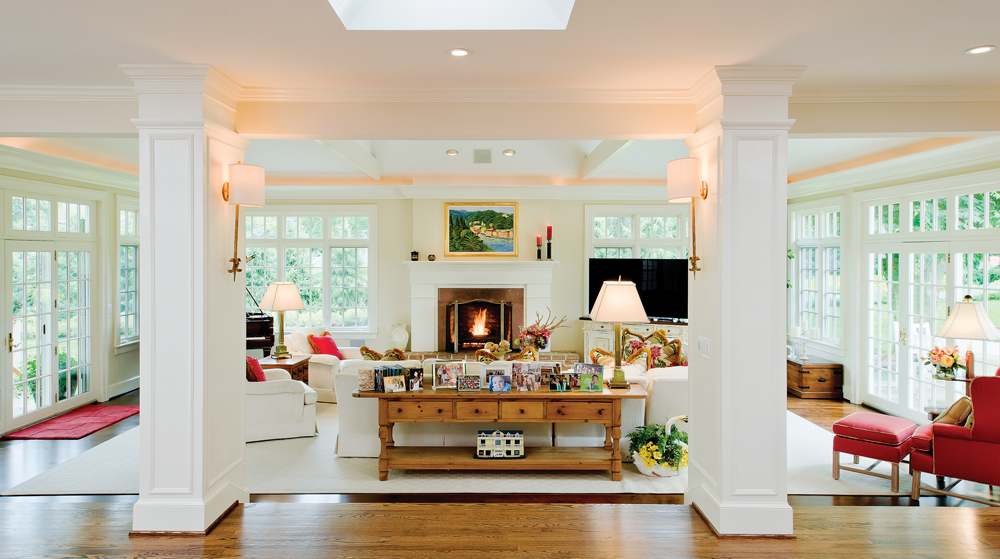 Palarea designed the new kitchen and helped pick out the cabinetry with her go-to guy, Christopher Dorsey of Kenwood Kitchens.
Their plan was to replace the previous dark-wood cabinetry with creamy white—giving it a fresh, clean look. The countertops on the two islands are soft cream-colored granite with flows of brown. The kitchen perimeter countertops are rich chocolate honed marble, contrasting nicely with the soft white marble backsplash. The kitchen's jewelry, cabinet knobs, and drawer pulls are antique brass with tortoise-stone accents.
Another subtler accent is the window above their kitchen sink area, which was replaced with a larger one to bring more sunlight into the space.
"Janet is a serious cook," says Reichert. "She uses the kitchen. The function was definitely important to her. The style, the sink size, the stove, her refrigerator and oven—those were all really key things. It's a kitchen that will be used, and it needed to be designed for someone who would use it for entertaining."
The Kellys maintain a full social calendar, hosting political events, charity functions, luncheons, and family holidays at their home.
"I love to entertain," says Janet. "And one thing I can do now is entertain for 65 people here," she adds, referring to the new open-concept plan where the kitchen eating area opens up to their extended family room. "Even though the house isn't enormous, we are still able to do that."
Predictably, the new kitchen also has turned into the main gathering spot. "It is interesting during parties. Everyone always wants to be in the kitchen," Frank says.
One reason for that is the sense of space that the open floor plan achieved—which is what required walls to come down.

Palarea and Reichert knew that in order to achieve the overall vision for this space, a steel beam needed to replace a load-bearing wall that separated the kitchen from the lower-level, extended family room.
"The idea is what they wanted to capture—take a smaller, older family room and create a breakfast room-dining area that was an extension of the kitchen," says Reichert.
The beam became, Reichert says, "one of the outstanding features that made a tremendous difference in how the house space worked and how the space flowed."
Reichert's team, with the help of Palarea, installed two decorative support columns to replace the wall. The space became expansive—the extended family room has a wall of beautiful windows that draws in the sun. The windows give guests a view of the Kellys' manicured backyard, including a glimpse of the small, charming putting green. The view, along with the rooms, blends well.
"I love the feeling. I love how it feels," says Janet. " It's not ostentatious. It feels friendly and inviting."
During the renovations, the Kellys had to rough it a bit: They turned their laundry room into a makeshift kitchen, which wasn't ideal—but they knew it was temporary. And rather than the artfully displayed pictures they previously had on the walls, zippered vinyl tarps cordoned off construction zones. But even though there was a little disarray, the Kellys say they actually enjoyed the process.
"It was fun to come home at night to see the progress that was being made," shares Frank.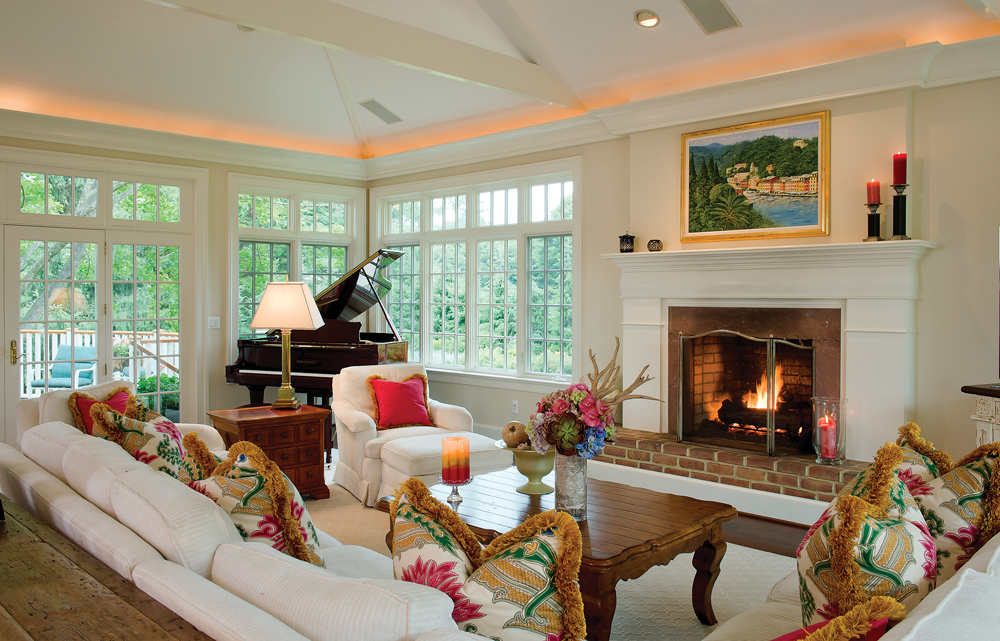 Not only was the project rewarding for the Kellys, but also for the people they hired.
"The most memorable part of the project was them saying 'yes' to it. I was shocked," admits Palarea. "I really had no indication that they would go from just a kitchen remodel to an entire first-floor gutting. Every room on the first floor, except their bedroom, was affected and changed by the renovation. That was a very exciting day."
"The Kellys were terrific to work with," says Reichert. "They were available when decisions had to be made, or finalized and changed. They were active participants in the project."
But as with any home renovation, there was the unexpected.
"Everything was done," recalls Janet. "We were all excited. We were up and running, and we went away for a period of time. But when someone came in to check our house, they found that our new ice machine had conked out and there was water all over the floors in the kitchen, and they were all buckled. We had to do all the floors all over again."
"It was a $10,000 mishap," says Frank, "but we had insurance that covered some of it."
Despite that hiccup, they are so happy with the results of the project that they even did something similar to their kitchen at their 20-year-old Bethany Beach home.
And the similarities between a home renovation and a political campaign? "You better plan well," says Janet, "and you have to be adaptable."
"You have to prepare for the unexpected, especially in a political campaign," adds Frank. "But as well as you plan it, you're still dealing with people."