Worth the Wait
Twenty years of renovation yields a fabulous farmhouse.
Helen Norman remembers it was a cool, clear spring day 21 years ago when she and her husband, Mark Elmore, stood on a hilltop overlooking a 130-acre tract with a stone house in White Hall. In the distance, their 2-year-old son, Peter, was running through a wheat field, his blond hair ruffling in the breeze.
"Mark and I looked at each other and said 'We'll buy it,'" she recalls. Her mother, a real-estate agent, clearly was not happy, though.
"The house was horrible," Norman admits. "We took a big chance. We knew when we bought the place, it would be a lifetime project."
There are homes that are renovated in a matter of months. There are renovations that spring seemingly fully formed and beautiful from beneath dust cloths. And then there are homes where the renovations never seem to end.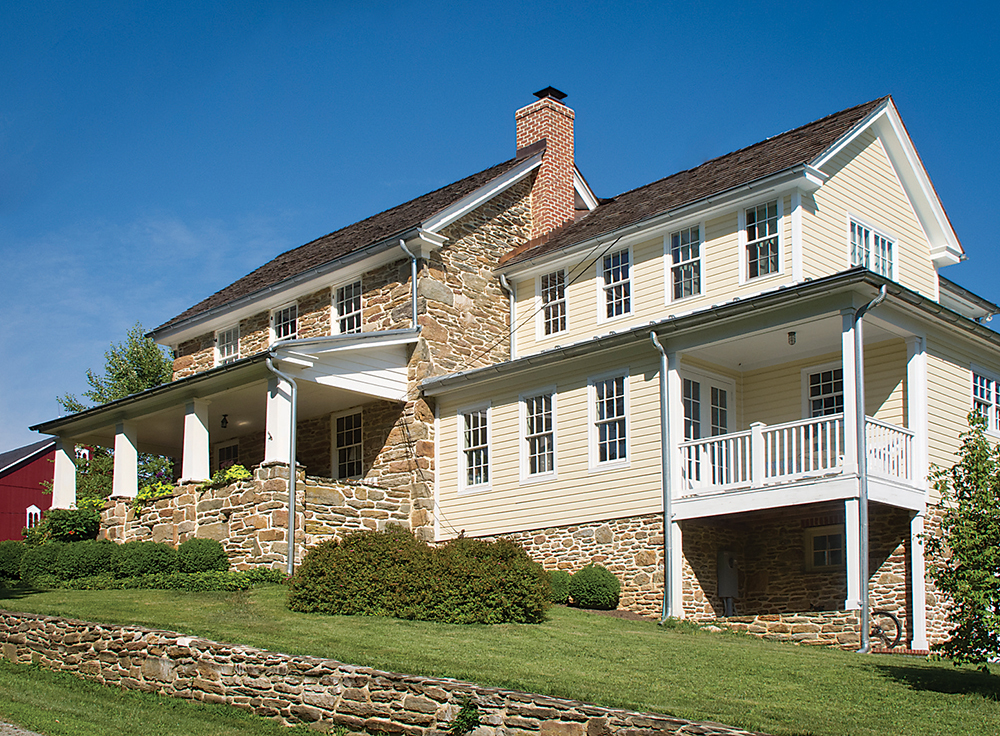 The home that Norman and Elmore dubbed Star Bright Farm—based on the "star light, star bright" nursery rhyme that Elmore used to recite to Peter—would be the latter.
Built in 1850, the house had been uninhabited for several years. It had no modern kitchen or bathroom and no closets. But Norman, a freelance photographer, and Elmore, who is owner of Gaga Marketing, had been living in New Jersey, and wanted to return to Norman's home state of Maryland.
"I grew up in an old farm house in Baldwin, eating sustainably before it was cool because that's just how my mother lived," says Norman, who has shot for publications including Martha Stewart Living, Better Homes and Gardens, and Southern Living. "We always knew we wanted to raise our family on a farm."
This house realized Norman's dream of owning an old stone structure, plus it was located close enough to her brother, Drew, owner of White Hall's One Straw Farm, that he could use some of the acreage for organic farming.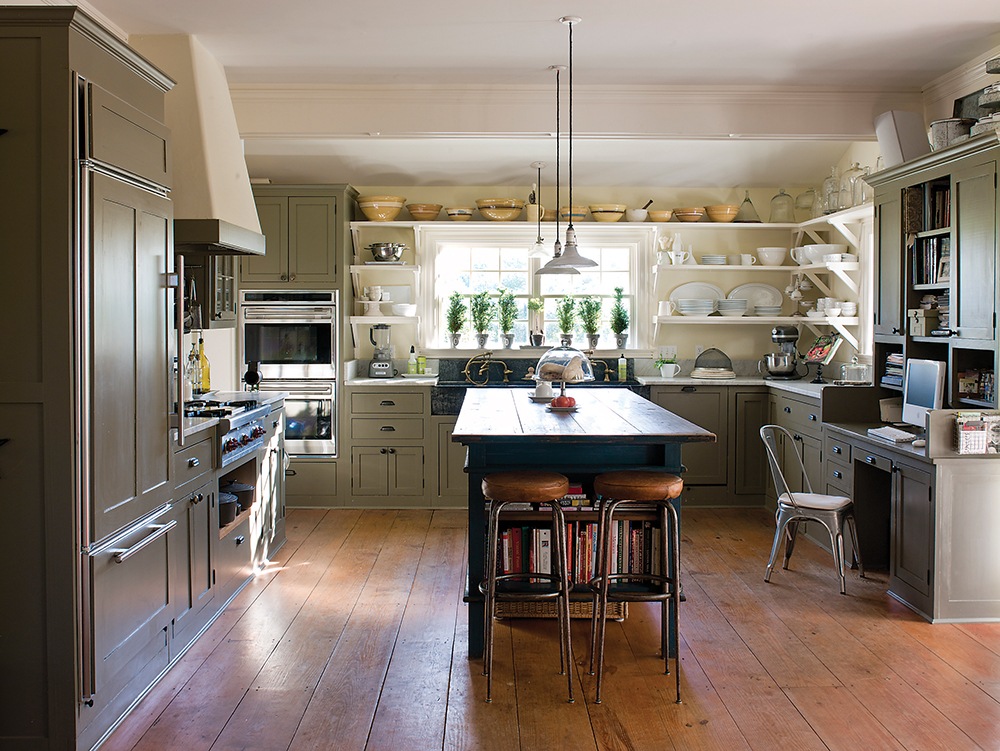 But job one, when they purchased the house in 1994, was making the property habitable—and fast—because Norman was pregnant with the couple's second son.
"Patrick arrived a month early, probably because I was moving an armoire the day he was born," says Norman, laughing. "We moved in with everything but the kitchen sink, because it hadn't been installed yet. And we lived in that adorable 1,100 square feet for 10 years."
They chose restoration homebuilder Southfen to transform the space, but were determined to preserve many original aspects of the house. Those included historic details like the living room's fireplace mantle, the wooden front door, and the unique, curved windows. The redesign also features a lot of built-ins that, Norman explains, "are more efficient in a small house than furniture."
"Unless you have gobs of money, renovation takes patience and you have to be able to visualize it as being done, and that gets you through the day. If you don't visualize it done, you'll never get there," says Norman.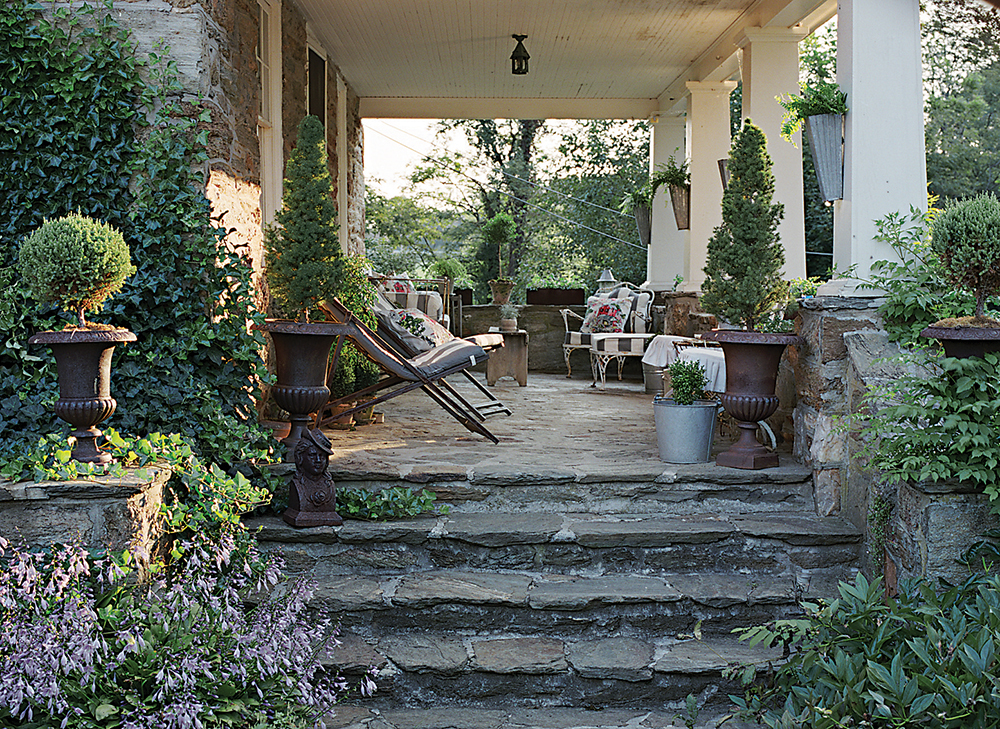 The family moved into a guesthouse on the property while the addition was constructed. "We wanted to add on to the house, but I wanted my stone house to be the hero," Norman explains. Wesley Burton of Burton Architecture and builder Mark Morrill expanded the house to a total of about 3,000 square feet, adding a kitchen, a master suite with a vaulted ceiling, and a basement.
"Rather than adding on and making the house enormous, we started using the outbuildings," Norman explains.
The smokehouse is now used for storage, while the milk house is where Norman has her office and a potting shed. And in 2001, the couple completed the renovation of the two-story guesthouse, using wood beams recycled out of a barn that belonged to Norman's parents. The guesthouse also features stone and brick floors. Most recently, a large barn was turned into a party space, featuring a poured concrete patio that includes a new kitchen garden laid out by Norman with guidance from a garden-editor friend at Southern Living.
The transition between old and new on the main house is practically seamless, thanks in part to Norman lucking into a huge haul of stone from a nearby dismantled barn, which was used in the addition and can be seen to best effect in the masonry fireplace in the kitchen.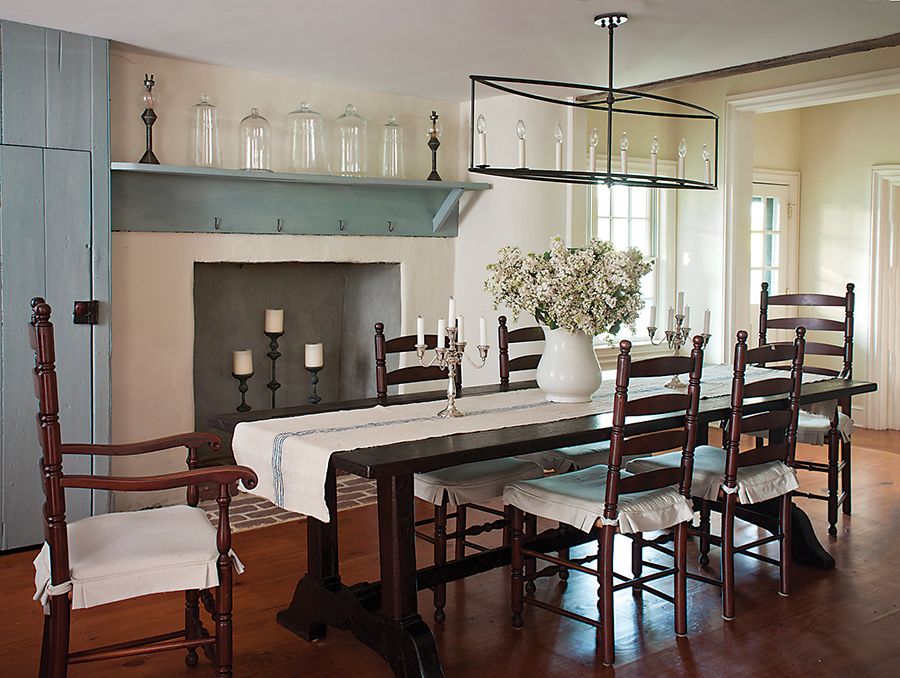 The old part of the house is cozy with its low ceilings and petite rooms, but the addition gave Norman a show-stopping kitchen with a ceiling that soars to over nine feet high. To replicate the look of old wood floors, they bought wide yellow pine from the lumber yard, laid it down tongue-and-groove style, but then top-nailed it into place.
Then, through an editorial photo shoot she did, Norman discovered Hoffman Woodward, makers of furniture and home accessories in East Berlin, PA. Jan Hoffman helped design the striking island built by her husband, David Woodward, a piece of master craftsmanship held together entirely by dovetailing (no nails) and painted a hand-mixed peacock blue.
Then, add a 6-foot-long soapstone sink to the picture: "It was Jan's recommendation to do a shallow sink," says Norman, "because I knew I wanted a two-bay farm sink, but, with a deep sink, you're always breaking things."
Norman, who designed all the interiors herself, has no shortage of vision. She has been influenced by the interior design and fashion photography she has done over the years and is an avowed Europhile. This is perhaps most evident in what she calls the garden room, a small space with a vintage French tile floor (sourced from Ann Sacks in New York), an exposed stone wall, and an old soapstone sink. Norman lined one wall with a built-in, creamy-white hutch to display china.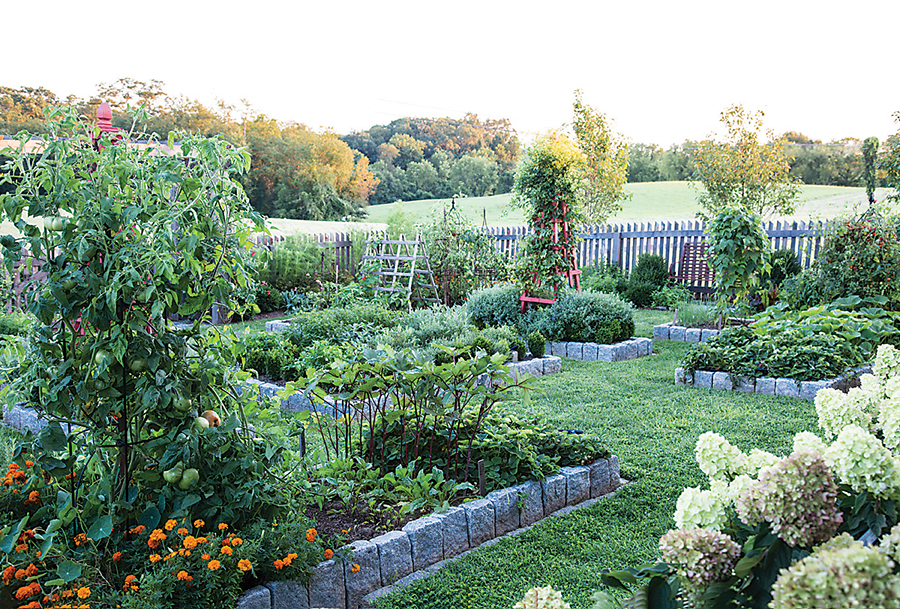 Another thing to consider is that the house is on a functioning farm and needed to be durable enough to handle dirt, dogs, and boys. Not surprisingly, slipcovers became Norman's best friend.
Norman also wanted to make the vintage and antique pieces she and her husband inherited from their parents' formal homes fit with her more casual style. The home is a happy mix of country and chic, old and new. In the master bedroom, for example, Norman asked Manor Decorative Services to hand-stitch heavy-weave drop-cloth upholstery onto an Empire-style sofa. "I think that's a great way to modernize a pretty fussy piece of furniture," she says.
Norman likes the juxtaposition of Persian and needlepoint rugs against the wood floors and the informal white slipcovers on the furniture. In the dining room, a Spanish refectory table provides seating for 16 at Thanksgiving, while a new chandelier is evocative of an older time, yet thoroughly modern.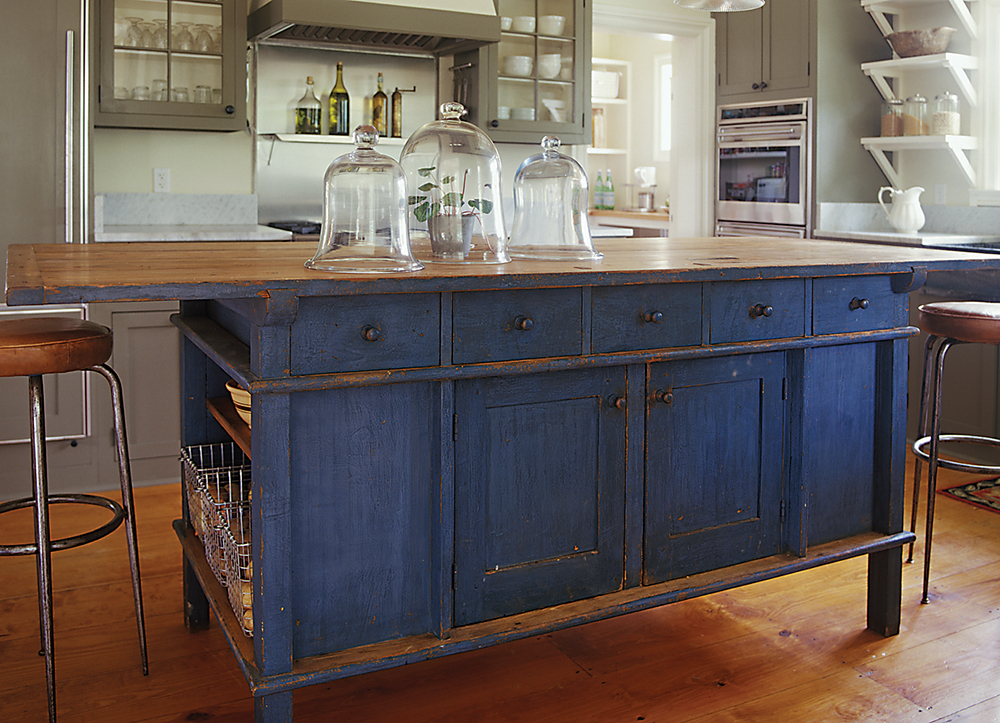 Renovating an old house is a process full of surprises that takes time and money.
"Every second of time and a lot of money has been spent [on the house]," says Norman. Now that 20 years worth of projects are winding down, though, Norman confesses she's a little wistful. But she and her husband realized the vision they had on the hilltop that spring day in 1994. "We have created a home for our kids. And this, for them, will always feel like home."