The Ultimate Pet Guide
Here's everything you need to know to care for your beast friend.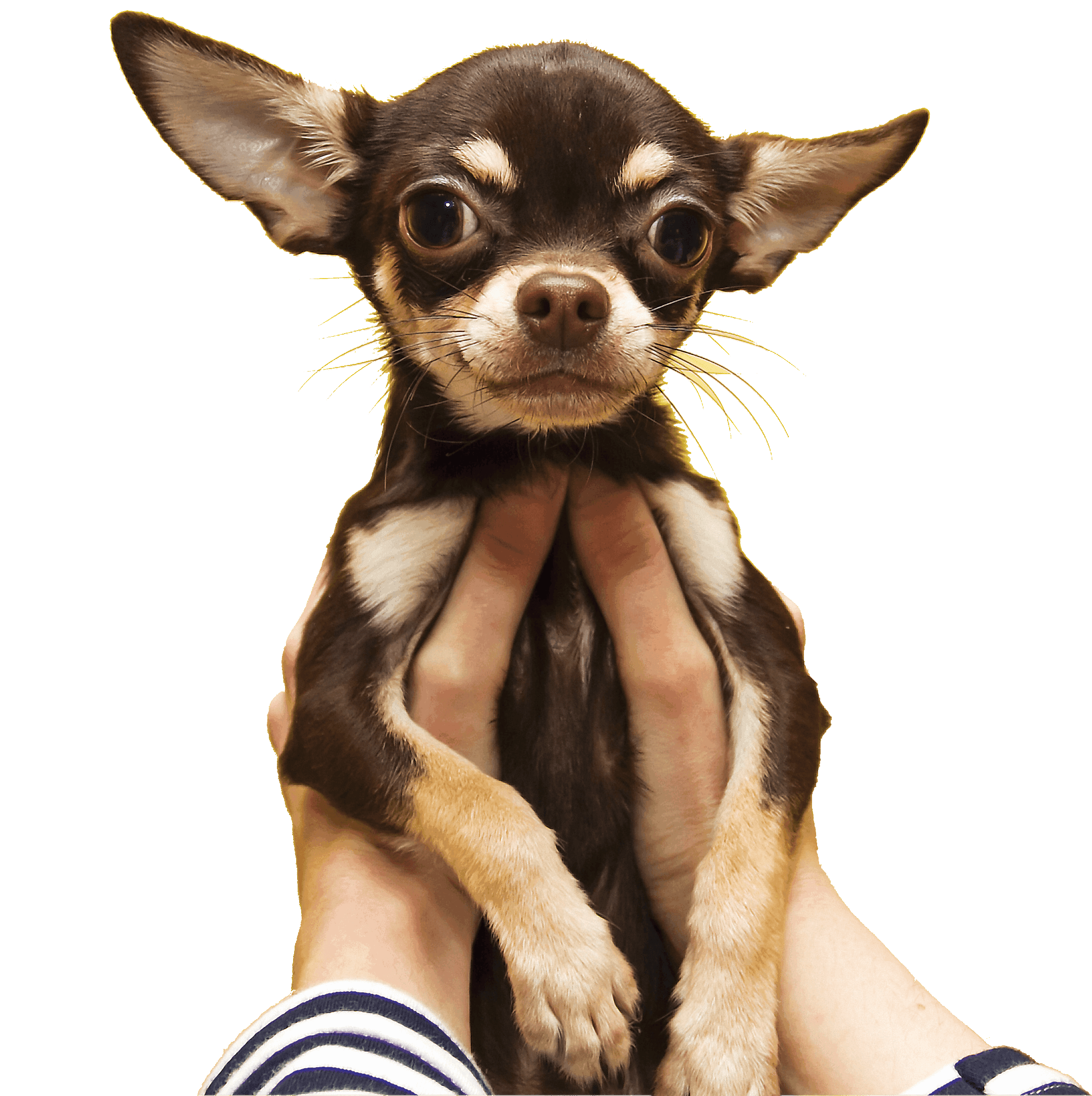 Why do we love our pets? Is it those early-morning kisses that work better than any alarm? Because they make good exercise companions or keep us endlessly entertained? Or is it because we are our best selves when we're in their company and their limitless love leaves a permanent paw print on our hearts? For all of these reasons—and others—pets are trending now more than ever. As millennials postpone marriage and child rearing, pet ownership is on the rise. In a 2015-2016 survey, the American Pet Products Association found that 65 percent of American households—that's about 79.7 million—have a pet (up 9 percent from the first year the survey was conducted in 1988). With 85.8 million cats and 77.8 million dogs in our homes, it's practically raining cats and dogs (as well as Juliana pigs, as you'll see in our sidebar). As your pet's bipedal bestie, here's everything you need to know. From dog parks and pet stores to trainers (thanks to those trainers, your fluffy friend is an honor student), we leave no stone—make that bone—unturned.
Pet Stores
Bark!Don't be fooled by the name—while dogs are the stars, Bark! caters to pets of all types, from cats and bunnies to ferrets. The original location opened in 2005 as part of Conscious Corner, a collection of sustainably minded stores in the Clarksville Square Shopping Center that includes a vegan cafe, organic grocery, and fair-trade clothier. Today, Bark! has eight locations across Baltimore, Howard, Anne Arundel, and Montgomery counties. Known for its knowledgeable staff, it's not unusual for an employee to sit on the floor and play with your pup after helping you find the perfect raw food or natural treats. Come here for hard-to-find foods and guidance for even the most restricted pet diets. If Bark! doesn't have it in stock, they're happy to special order whatever you need. Multiple locations, including 5805 Clarksville Square Dr., Clarksville, 443-535-0200
Dogma—Life, With Your Pet Since Virginia Byrnes and Scott Stanton opened this upscale pet boutique in 2005, it has grown to include locations in Brewers Hill, Mount Washington, and Locust Point. Beloved by urban pet parents for its one-stop selection of food, toys, accessories, and grooming services, Dogma stocks functional and classy products that will fit into even the trendiest row house. (Think Jax and Bones luxury pet beds that come in dozens of prints.) Let Spot show off his local pride with a Natty Boh collar or dapper doggy bow tie from the rainbow-hued wall of collars and leashes, or send kitty on a euphoric trip with a baggie of organic Goodnip catnip that is available in strains like Mice Dream and Purrple Haze. The express grooming service (quick jobs like teeth-cleaning or nail-clipping) offers your pooch TLC on a drop-in basis, or you can book ahead for full-service grooming so that when your mother-in-law visits, Rover looks Westminster-ready. DIY dog-wash stalls are also available without reservation. Multiple locations, including 3600 Boston St., 410-276-3410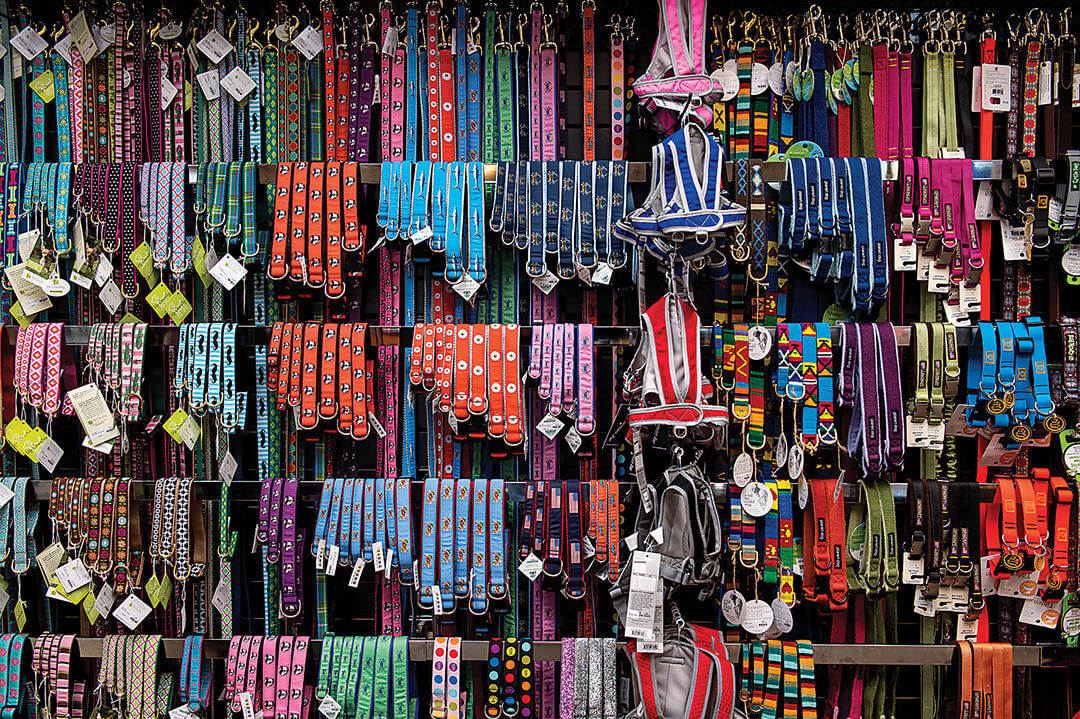 Dogs & Company Inconspicuously tucked away inside the Snowden Center in Columbia, Dogs & Company offers a large selection of all-natural pet food, including dry, canned, raw, and freeze-dried varieties (with mouth-watering ingredients like wild Alaskan salmon and sweet potato)—plus, a smart and friendly staff to help guide you. A natural-supplements section offers alternatives to chemical-laden products like flea and tick treatments, as well as supplements for joint health and arthritis prevention. Three DIY dog-wash stations come with everything you need to wash and groom your pooch at an affordable price—just bring a brush. There's even a "cafe" waiting area stocked with water and a Keurig coffee machine. 6925 Oakland Mills Road, Suite R, Columbia, 410-997-5888
Howl When Howl opened in Hampden 13 years ago, it was the first pet store in the area to focus on natural and organic foods—something owner Robin McDonald discovered out of necessity when her dog suffered from digestive issues. At Howl, shelves are lined with natural brands like Stella & Chewy's, Orijen, and Nulo, and locally sourced sustenance from Baltimore Dog Bakery. There's even a line of poultry feed from the area's urban farmers. Bulk bins of healthy treats and chews are on offer, while racks feature unique toys and Fast Dog-brand patterned collars handmade in Baltimore. When it's time to lug that 20-pound bag of food to your car, you'll be grateful for the ramp and off-street parking lot in the back. 3531 Chestnut Ave., 410-235-2469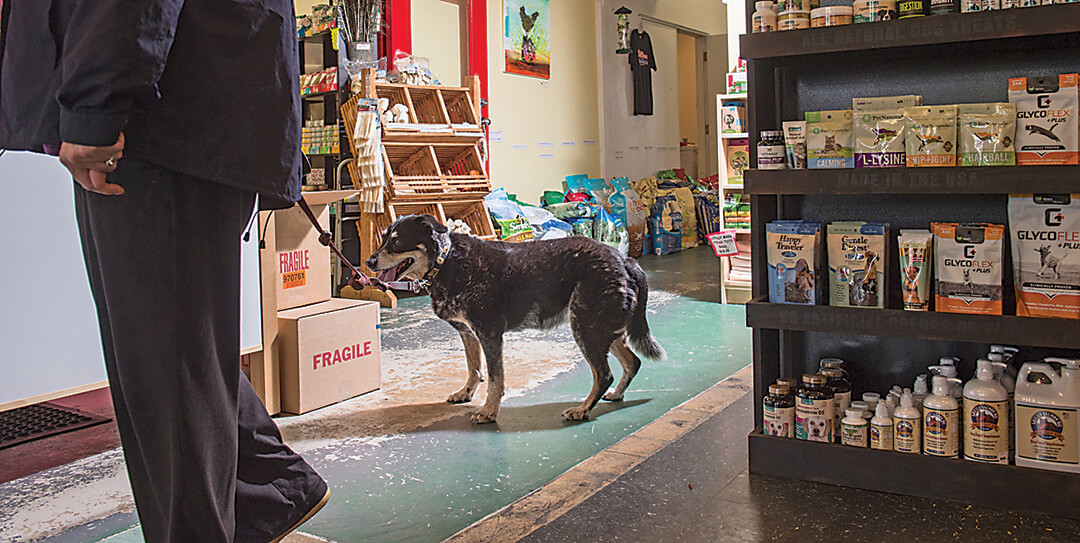 Mutt Mart In less than two years, Mutt Mart has become an integral part of the Hamilton community by providing fun activities and affordable resources to local pet owners. Located in a beautifully restored old house, Mutt Mart is more like a social hub than a pet shop (although there's plenty of organic food to be found)—with recurring events like Coffee & Doughnuts for Cats & Dogs, and Yappy Hour concerts that benefit the Maryland SPCA and other rescue organizations—plus topnotch local trainers Best Friends Dog Obedience and Smarty Pants Dog Training. Environmentally conscious shoppers will find upcycled chew toys and biodegradable poop bags, while the wallet-conscious will enjoy the selection of gently used supplies that can help temper the often high cost of bringing a new four-legged member into the family. When your puppy grows, Mutt Mart will even accept gently used items in exchange for store credit. 2904 Hamilton Ave., 443-708-7870
DAY CARE/BOARDING/WALKERS
Good Doggie Daycare From the cubbies for personal belongings to the vibrantly painted rooms with plenty of play equipment, this Remington spot feels like dropping your kid off at day care. The staff here treats each pup like their own child, too, engaging them throughout 13 indoor play areas specifically designed with big dogs, small dogs, puppies, and seniors in mind. If you're heading out of town, you can feel good entrusting Fido to Good Doggie's fun staff and knowing that it's a 100 percent cage-free facility. After all, founder JoAnne Garrett wouldn't have it any other way for her own canine babies, American Eskimos Sammie and Petey. Sixteen webcams let you check in on your pooch from every angle, even from across the globe. (We love catching the adorable doggies napping on the cots.) 529 W. 29th St., 410-889-3031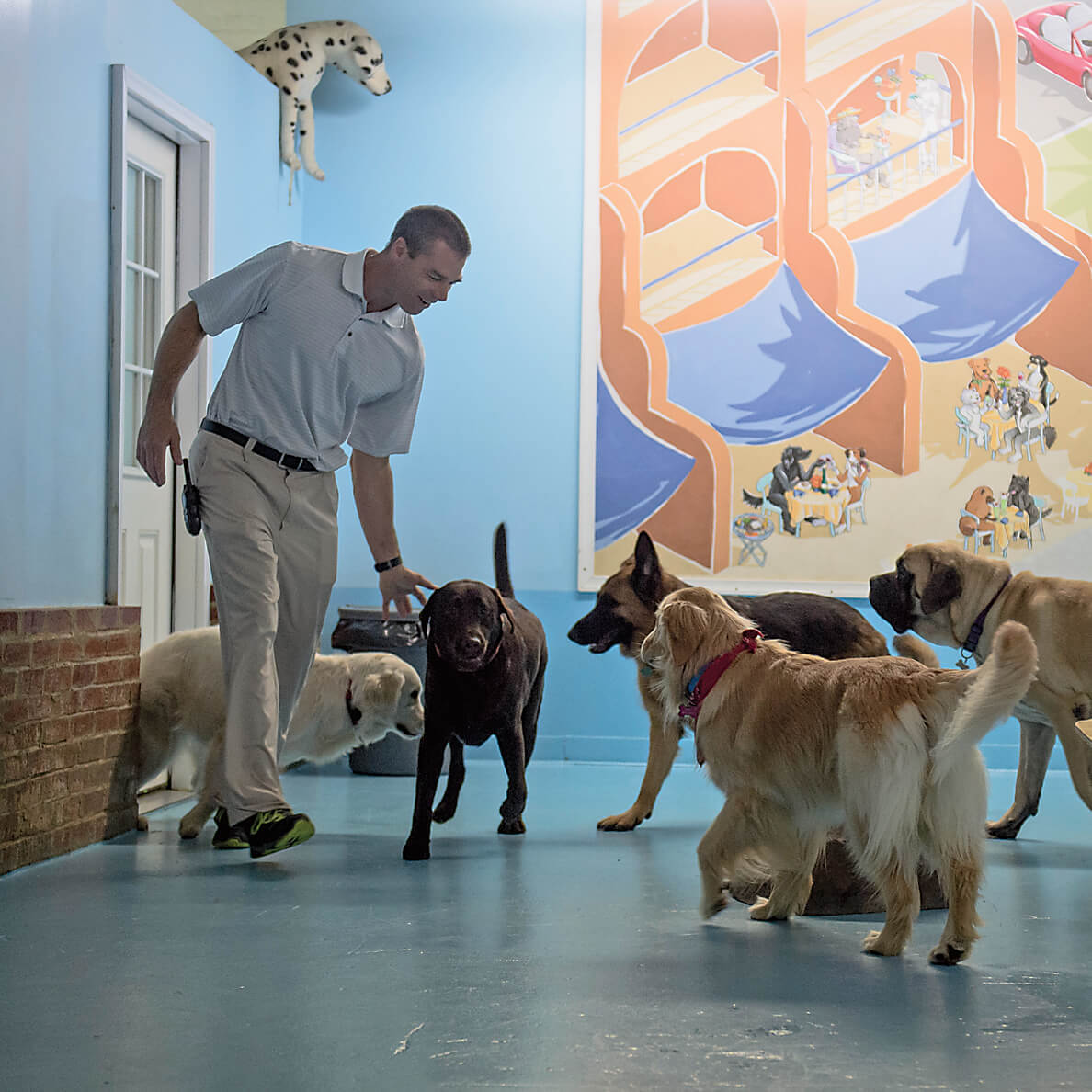 Reisterstown Boarding Kennel Once your pet gets used to RBK's spa treatments and luxury amenities, he won't want to come home. Boarding here means an indoor-outdoor suite to call his own, Canine Caviar-brand wet and dry food via "room service," and an upgrade option for a cable-equipped flat-screen TV. A combined 50,000 square feet of outdoor activity areas (we're talking hay-bale mazes and a pool specially designed for dog safety) keep pups entertained all day long. At the grooming spa, both dog and cat clients can enjoy treatments like brushing, blow-outs, and "pawicure" nail trims. But even more than the amenities, pet parents love the staff for treating their babies like family. Case in point: During January's Jonas, the resort kept generators and snow blowers at the ready, and constant updates on conditions and safety gave snowed-in pet owners peace of mind. 14454 Old Hanover Road, Reisterstown, 410-833-2090
SoBo Dog Daycare & Spa Tucked away just blocks from the harbor in Locust Point, SoBo Dog Daycare has been serving locals and visitors (like downtown hotel guests) since it opened in 2009. Designed as a one-stop shop for city dog parents, SoBo has solutions for day care, boarding, and grooming all under one roof. Drop your dog off on the way to work (don't forget to check in via webcam), and rest assured he'll be waiting for you at the end of the day tired, happy, and smelling great, thanks to Mucky Paws Spa. Groomer Nicole Caruso has more than a decade of grooming experience, and she's happy to tackle breed-specific patterns or special requests. Fluffball owners tired of constant shedding can opt for a special service for undercoat breeds including Furminator shampooing and conditioning, blowing out the loose coat, and a brush-down to keep extra shedding at bay. This spring, SoBo launched Senior Sundays to provide light play for dogs ages 8 and older. 1624 Beason St., 410-539-7626
Pets and Their People
You can tell a lot about a person by the company they keep. Here are some of Baltimore's best-knowns—and the furry ones they love.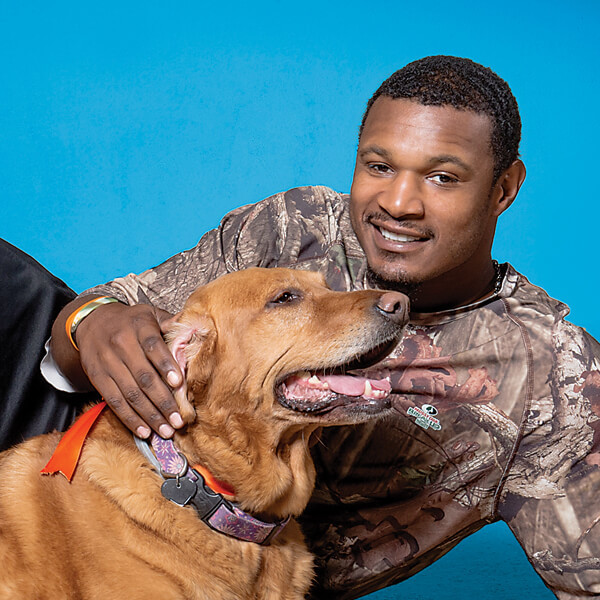 ORIOLES CENTER FIELDER ADAM JONES &
RETRIEVER-LAB MIX MISSY
"I first met Missy when I was still dating my wife. Missy was on 10 all the time. She is in that stage of her life when she doesn't want to rush anymore," says Jones, who adds that when Missy does have energy, she loves to run on trails. "Pets don't judge you. You could be smelly and they'd just lick you more. They don't understand hardships—they just understand that their owner makes them happy."
GOUCHER'S KIMBERLY BOWEN &
COLLIE CHLOE
"I named her after the fashion house Chloe," says Bowen, the wife of Goucher College President José Antonio Bowen. "She has her own Facebook page and a cult following at Goucher. The students once put a GoPro camera on her and talked about doing a campus tour from a dog's perspective. When people see her, they say, 'There's the president's dog.' Not, 'There's the president's wife.' I'm her pro bono press agent."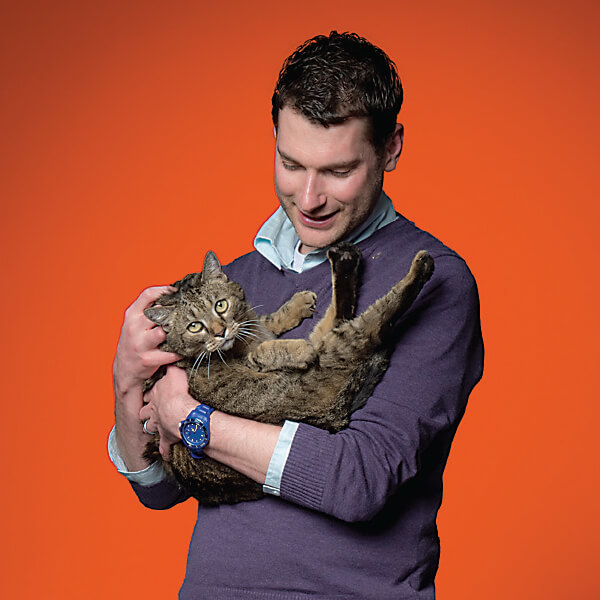 MIX 106.5's REAGAN GARFIELD &
DOMESTIC SHORT-HAIR MURPHY
"When I was in high school, I got a cat that I named Quentin," says Warfield. "We had Quentin Tarantino on our show and I told him about it, and he was blown away. As for my cat Murphy, he is affectionate with me and my wife, Sara, but sometimes he goes into battle mode with other people. Why do I love animals? There's this innate sweetness. We will always have this connection that's stronger than words."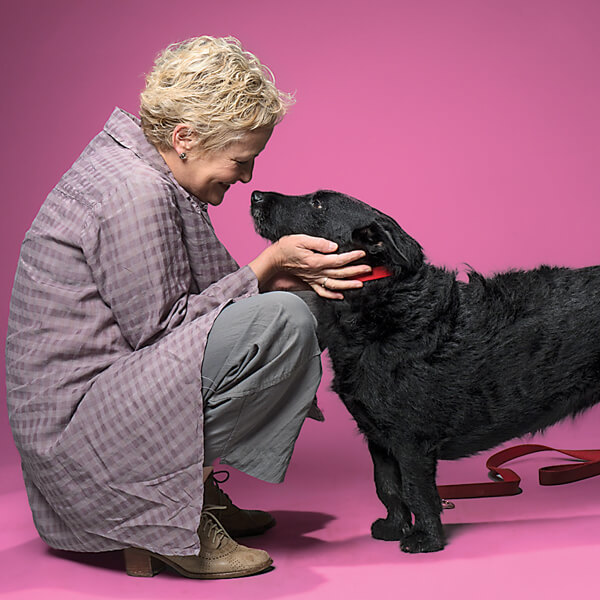 ALMA CUCINA LATINA OWNER IRENA STEIN &
SCOTTIE TERRIER-CORGI MIX ALICE
"At the SPCA, Alice was called Pancake, which had to do with her size," says Stein. "She was big and looked more like a sausage than a pancake. I called my daughter and said, 'I don't want a silly name—what should I call her?' And my daughter said, 'Call her Alice.' Since we've adopted her, we walk in the woods every day and she's very fit. Alice and I are the perfect match—and I'm sure she thinks the same."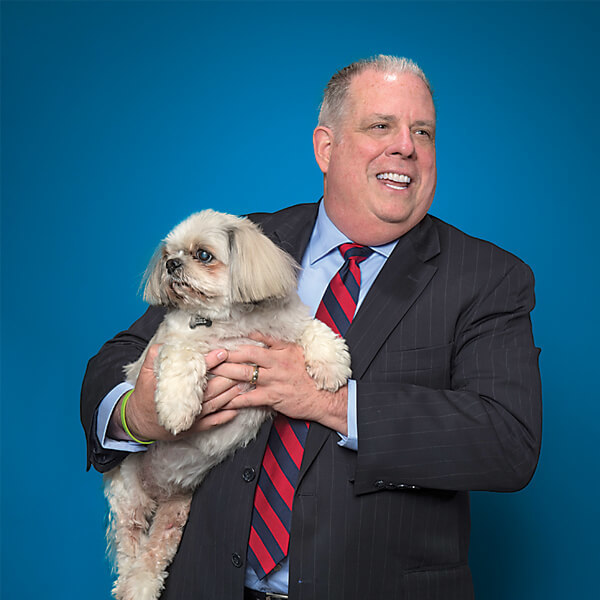 GOV. LARRY HOGAN &
SHIH TZU LEX
"I've always had dogs," says Hogan, "and there's a picture of me as a newborn laying on top of an Irish Setter. I'm about the size of the Irish Setter's head. I've had dogs my whole life. I absolutely love dogs—not just my dogs, but everyone's dogs. I've had this one for 16 years. She probably knows about 100 vocabulary words and the name of each of her toys. I'll say, 'Go get the Democrat,' and she gets her donkey, or, 'Go get the Republican,' and she gets her elephant."
DOVECOTE CAFE'S AISHA PEW, COLE, &
RESCUE MUTT BACON
"Bacon got his name because we are clearly foodies," says Cole, who doesn't use a last name. "We have a cafe and we joke that everyone loves bacon. He is very friendly and his name just reflects his personality. He's cute and engaging and he loves, loves, loves people—and they love him." Says Pew, "Cole is such a loving caregiver and it's so wonderful to see the bond between them."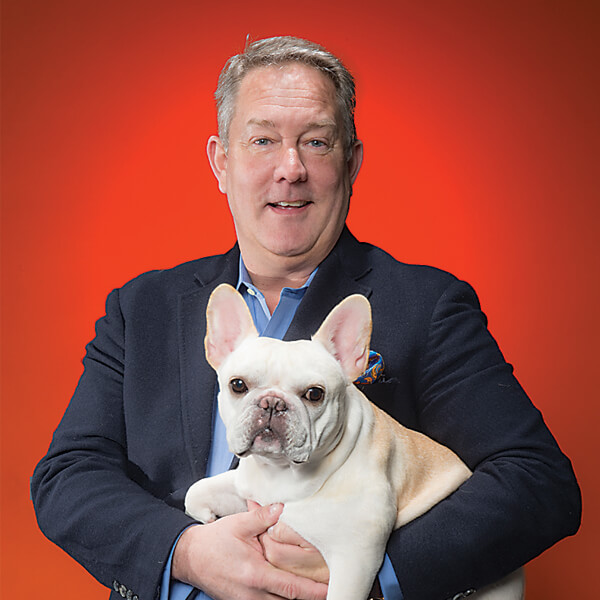 JENKINS BAER'S OWNER JAY JERKINS &
FRENCH BULLDOG BEATRICE
"Beatrice was a gift from my husband for my 51st birthday," says Jenkins. "We knew we wanted a small dog because of the way we travel. And she's beige, and I like beige. She comes to work with me every day and at home she's allowed on all our furniture. All she has to do is look at me and I know that her entire existence depends on me—and my happiness depends on her."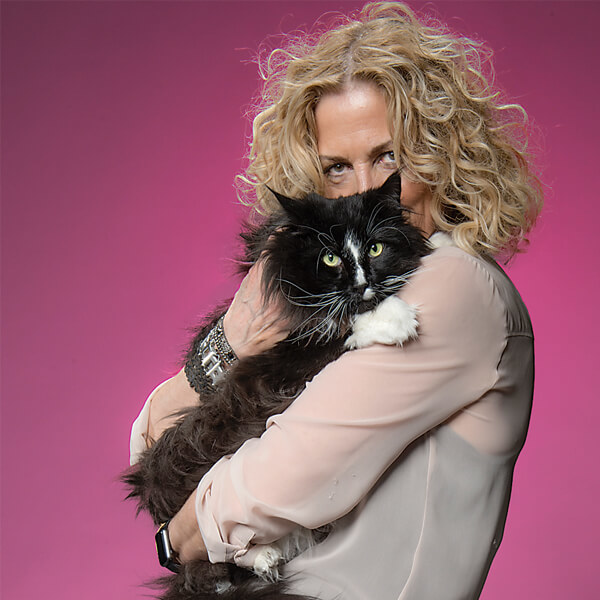 THE BALTIMORE SUN'S SLOANE BROWN &
NORWEGIAN FOREST CAT WALDO
"My husband Steve had always been a dog person," explains Brown. "I thought, 'How can I endear him to cats?' Norwegian Forest cats are known for being dog-like, because they run in packs. Waldo has loads of personality and his white stripe reminds me of the character from Where's Waldo? When we have friends over, he has to be a part of the crowd. For a cat, he's quite the social butterfly."
ORIOLES THIRD BASEMAN MANNY MACHADO &
ALASKAN KLEE KAI KOBE
"This is my first pet, so I didn't know I was going to love him this much at first," says Machado, who admits that he FaceTimes with Kobe whenever he's on the road. "But every time you step through the door—if it's a rainy day or a losing game—he's always smiling and happy to see you. Pets add so much brightness to your home and to your family. They take your heart."

Waggity Tails Want to have your dog at your wedding but don't want to stick your maid of honor with the leash? Need someone to drive your pup to the vet? Waggity Tails, a professional dog-walking and pet-sitting service in Baltimore and Harford counties, is there to lend a helping hand. Founded by Courtney Boyle-Anderson in 2014, Waggity Tails is a fully insured company employing animal-loving professionals who have passed background checks and are certified in pet first aid and CPR. Your pet will love the individual attention and comfort of staying in their own home, and you'll love the constant communication—sitters send text and photo updates and leave a "paw"gress report at the end of the visit. Waggity Tails also offers overnight stays, care for cats, and services like poop pickup and plant watering. Abingdon, 443-854-9424
Woofs and Wags Pet Lodge Woofs and Wags took over the spot formerly occupied by City Pet Center in 2015. Since then, co-owners Shawn Fuller and Paul Chrzanowski have transformed this Brewers Hill kennel into a bright and welcoming space for day and overnight boarding. A small retail area in the front offers chic and modern products, from bags and beds to leashes made from upcycled rock-climbing rope. Framed photos and ribbons from Fuller's stint as an American Kennel Club breeder of merit for Italian Greyhounds adorn the training room. Don't worry, daily training will help your dog keep up with good habits while you're away, and the indoor playroom and fitness area (complete with a dog treadmill and "treadwheel") allow for plenty of exercise in any weather. 504 S. Haven St., 443-563-2174
GROOMERS
Bark 'N' Bean Located in a strip mall adjacent to Annapolis's Quiet Waters Park, this beloved coffee shop-groomer combo has been around more than a decade. Ever since it opened as Muddy Paws in 2005, the unique concept (renamed Bark 'N' Bean) has garnered loyal customers for its affordable prices, relaxing setting, and friendly employees. From behind the washing and grooming stalls, passionate groomers can be heard laughing and chatting, calling the dogs by their names, from Trevor the pug to Ronan the Great Dane. And the pampering's not just for the dogs—pet parents can relax while they wait with a cafe Cubano or iced chai from the full espresso bar (at press time, undergoing its second renovation). 130 Hillsmere Dr., Annapolis, 410-268-7387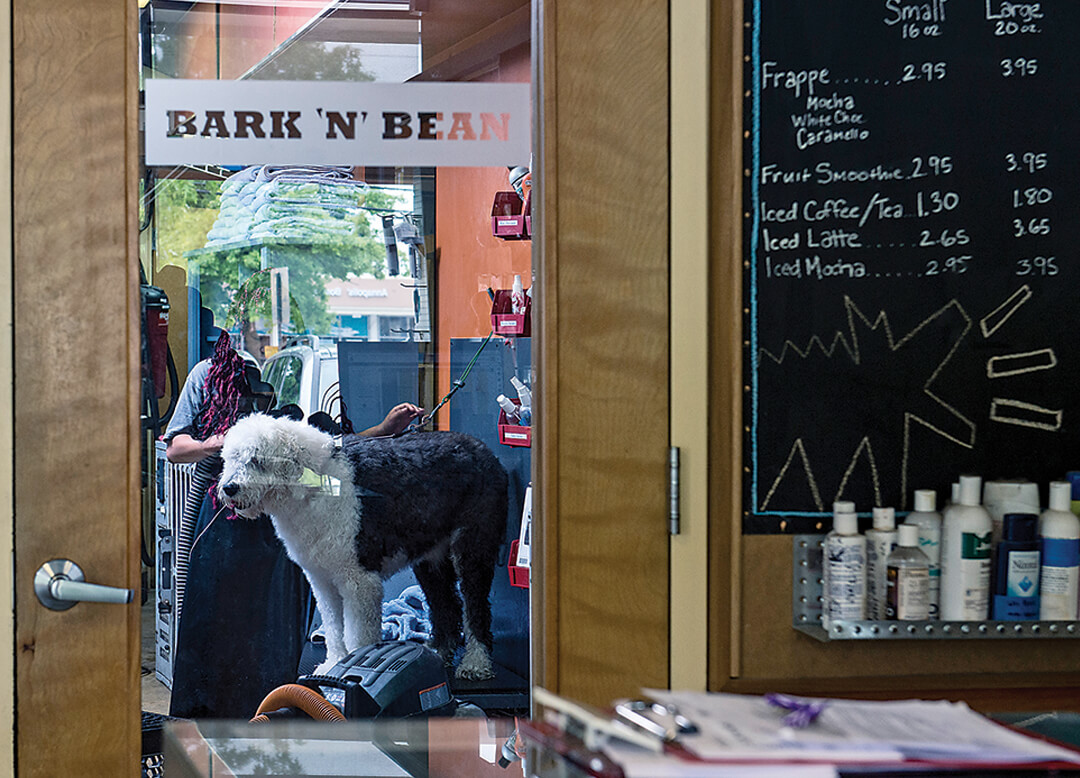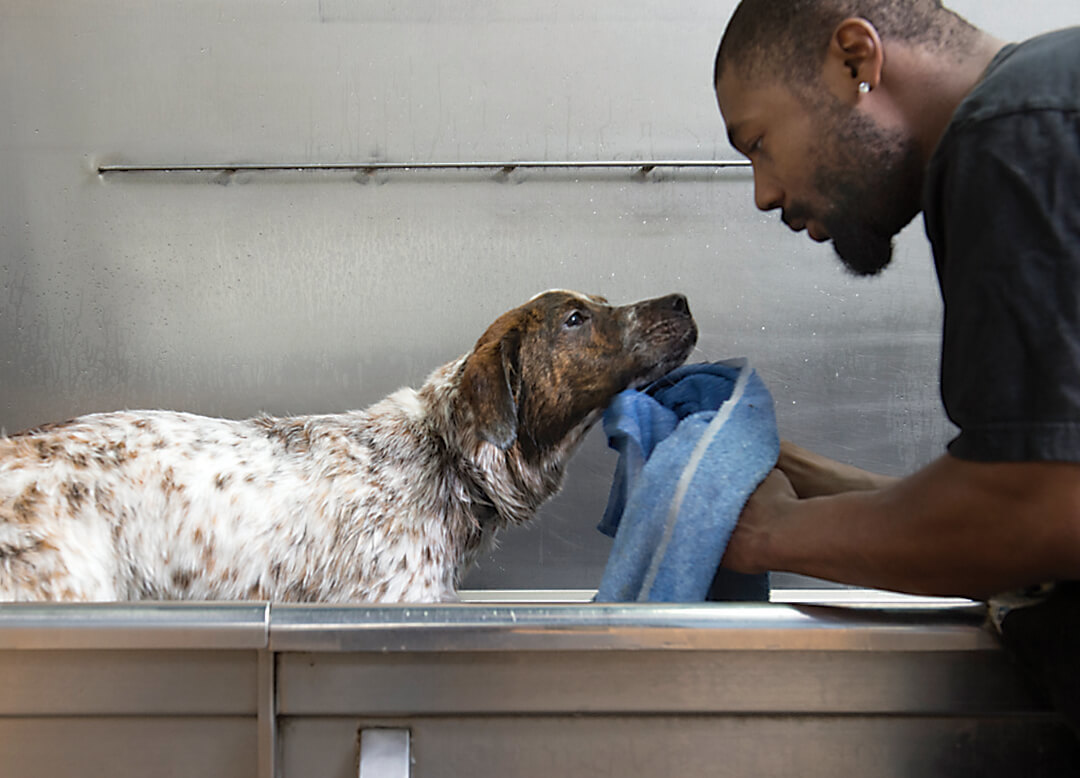 Pampered Paws Salon From breed-specific grooming to a quick bath or nail trim, Donna Weiner and her team of seven stylists have been keeping their clients looking their best since the Timonium shop opened in 2008. "We do what's best for the dog, not what's best for us," says groomer Kathy, who puts even skittish dogs at ease. With so many repeat customers, groomers here know their puppy patrons by name, treating each dog as if it was their own. "Everyone here is very friendly—it feels like family," she says. "We welcome new furry friends." 114 W. Padonia Road, Timonium, 410-628-7055
Scrubadub Dog Wash & Grooming Shop Groomer Phil Fosler's loyal fans followed him when he relocated from Mount Washington to Hampden, where he's now independently located within the bright purple Barks & Blooms dog day care. If you don't mind getting down and dirty with your pooch, Scrubadub is open seven days a week for self-service dog baths, complete with tubs for all sizes, towels, aprons, and dryers (just BYO shampoo, or buy your own bottle for $5). Plus, pet parents rave about the customer service—Fosler has been known to squeeze in appointments last-minute, and he instantly puts dogs at ease. When he's not communing with canines, you can find him performing as the lead singer of West Baltimore metal band Octaves. 3500 Ash St., 443-919-7909
Dog Tags
There's more to a moniker than meets the eye. Boh, Natty, Princess, Anakin. What we name our pets can say a lot about where we come from or what we like—even what's happening in popular culture. Take Bella—it's been the most popular female puppy name since 2006, according to about 1 million records examined by Vetstreet.com. Not coincidentally, that was the year after the Twilight series hit the shelves, with its protagonist Bella Swan.
As with babies, some pet parents have names picked out years beforehand. Others wait until they've gotten to know the pet's personality.
Dogma—Life, With Your Pet owner, Virginia Byrnes, believes that cutesy dog names are going out of style. "People humanize their animals more than they used to," she says. "There are no more Rovers." Byrnes, who owns a Wheaton terrier-Border collie mix named Gladys, is thinking of rescuing another dog. "The trick to using names for people is that it can't be the name of someone you know," she says. "We're thinking of Bernie." ("There might be a subliminal connection," she says of the name shared by the Democratic presidential candidate.) "My first choice was Albert, but that's the name of a friend." Another trend: Pet parents are adding made-up last names—perhaps a further nod at humanizing. "We have one customer with a Southern accent who calls [the store] and says, 'This is Biscuit Cornbread's mother,'" Byrnes says with a laugh.
Clever pet names give owners a chance to show off a sense of humor, too. Says Byrnes, "We have one client who has this giant mastiff. He's a ridiculously huge dog and his name is Tiny."—RK
Sit Stay Style Mobile Pet Spa
Anyone who has ever devoted a day to prettying up their pup knows that there's nothing more convenient than mobile grooming. Sit Stay Style's trailer has been outfitted with a stainless steel tub and grooming table, so it has all the amenities of a typical groomer in a mobile setting. After the trailer pulls up to your house, your furry friend will be clean, styled, and walked back to your door in about an hour—with no time spent in a crate waiting. Stylist Kim Halligan first founded Sit Stay Style in 2007 as a brick-and-mortar business, but swapped the shop for a tricked-out trailer two years later. "I realized that the mobile service was so much better and less stressful for owners and their pets," she says. With 12 years of experience, Halligan's clients rave about her work. 410-914-7297
Snooty Pooch Grooming Spa and Pet Boutique Need to drop your pup off for a bath and style, but can't rush back to pick her up? It's cool—along with grooming services, the Snooty Pooch offers day care for dogs under 40 pounds. With an encyclopedic knowledge of breed-specific cuts, the employees have a way of understanding what styling works best for your dog. Because the staff here really cares about animals, they go above and beyond simple grooming. Many have experience as vet techs, so groomers have been known to spot minor medical concerns you may not have noticed. When she walks out immaculately groomed (with a bandana to boot), your pooch has plenty of reason to be snooty. 8313 Belair Road, Nottingham, 443-838-2239
PARKS
Locust Point Dog Park When neighborhood residents wanted somewhere to let their dogs run and socialize off-leash, they banded together under the leadership of Marguerite Kelley and her husband Jamie to raise money for this park that opened in 2009. Run by volunteers and donations, the free park has lots of fun landscaping features to keep Fido entertained, like a big hill, a super-size tree trunk, and a water fountain reservoir. During summer months, dogs of all sizes can be found splashing in a stream while owners relax on benches under the shade of potted trees. Extra bonus: concrete, stone, and AstroTurf landscaping means a trip to the park doesn't require a bath for your pooch when you get home. 1627 E. Fort Ave.
Meadowood Regional Park Although there's no dedicated dog area here (and dogs must stay on-leash), this multipurpose park, conveniently located at the intersection of Falls and Greenspring Valley roads in Baltimore County, has plenty to offer families with dogs in tow. A bridge at the park's entrance from the parking lot offers a view of Deep Run stream, while a 0.8-mile paved pathway weaves through six athletic fields that bustle with young lacrosse players on weekends. Plus, a
playground and picnic pavilions make it easy to hang out with the kids and the pooch on a summer day. 10650 Falls Road, Lutherville, 410-887-3678
Patterson Dog Park This fenced off-leash area in Patterson Park opened in late 2012 with the help of the volunteer-run Patterson Park Dog Park Association. For a small annual fee, owners can purchase a dog park license from the Baltimore Animal Rescue and Care Shelter that provides access to Baltimore City-owned dog parks. Both the main park and the separate area for small and elderly dogs have professionally designed landscaping with artificial turf, paved walkways, stone boulders, and fountains—a wonderland for city pups tired of busy streets. Noncanine visitors will appreciate the benches, free waste bags, and trash cans that help keep the park clean. 200 S. Linwood Ave.
Paw Point at Lake Roland Those nervous about socializing their dogs off-leash can take comfort in the fact that all dogs at Paw Point must submit an application, and there are strict procedures to follow in the case of a (rare) incident. While dogs are welcome on-leash throughout Lake Roland's many trails and recreation areas, the Paw Point fenced off-leash area has a code-controlled entrance for members only. A membership offers entry to 1.25 acres of mulch and grass, plus access to a swim area. The park puts on events throughout the year, like a Howl-O-Ween pet costume party, Bark With a Park Ranger nighttime hikes, Dogs and Donuts, and clean-up days. 1000 Lakeside Dr., pawpoint.org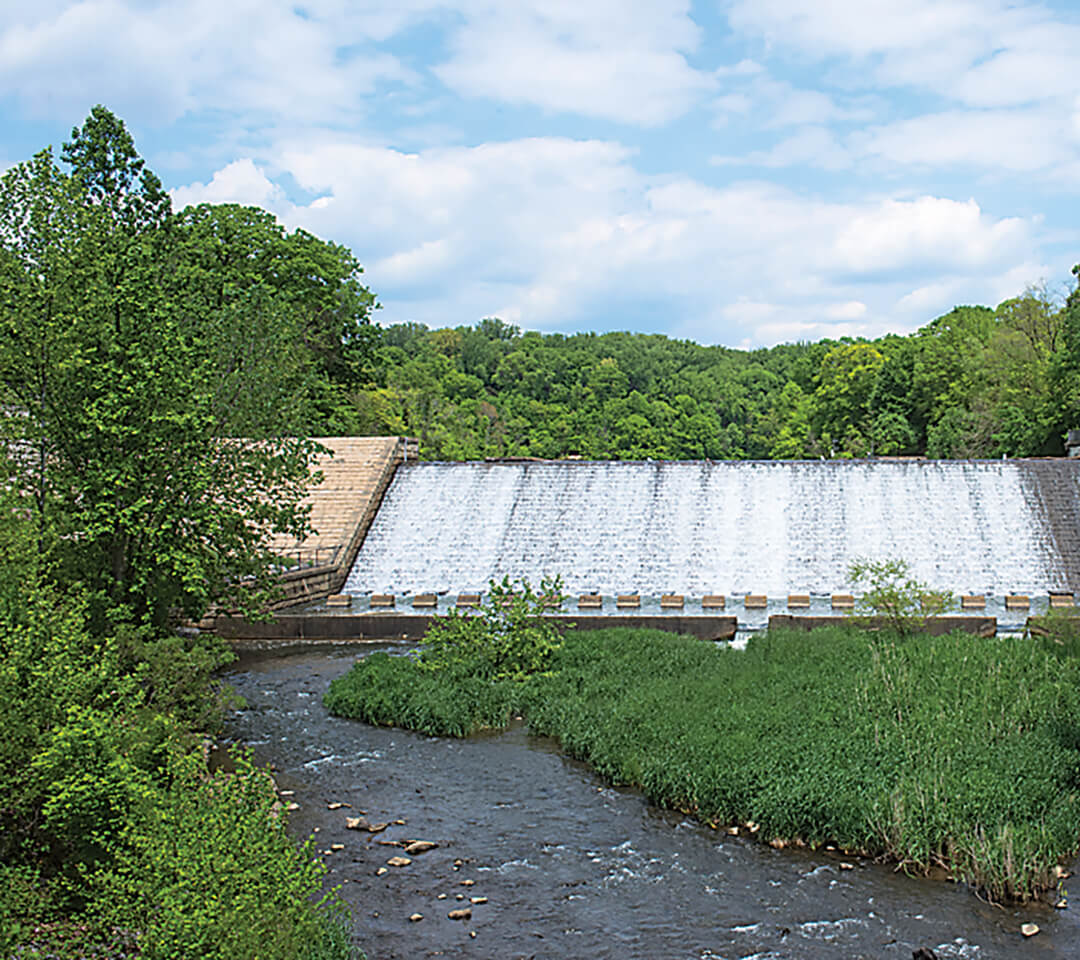 Worthington Dog Point Park Unlike many city parks, there's no AstroTurf to be found at this spacious, off-leash dog park created by the Howard County Department of Recreation and Parks. Pups with a daily or yearly permit can enjoy the park, which has an area for small, timid, or elderly dogs. There are plenty of grassy fields and agility ramps, and the larger, fenced upper field can be rented for special occasions. The park even has its own Facebook page where photos of happy dogs and their owners are uploaded daily. 8170 Hillsborough Road, Ellicott City, 410-313-4700
This Little Piggy
When looking for a pet, think outside the pen.
In January 2015, Kerrie and Dennis Kuczinski brought a new pet to their spread in Glyndon. The addition, which they named Elvis, exhibited typical dog-like behavior. He signaled to go outside when he had to relieve himself, loved to cuddle, came when he was called, and wagged his tail. Only Elvis wasn't a dog, but a Juliana pig, one of approximately 90,000 specialty and exotic animals owned as pets nationwide.
Eighteen months later, the couple couldn't be happier. "I've always been drawn to pigs," says Kerrie, a registered nurse at St. Joseph Medical Center in Towson. "[But] I never thought I'd be so in love with him." Of course, Elvis does have some atypical needs. For instance, pigs have an innate instinct to root, or dig up soil. "We learned that the hard way," admits Kerrie. Luckily, her husband owns a landscaping business and was able to fence off a portion of their yard, so Elvis could "dig and root to his heart's content."
Elvis has other quirks, too. For instance, he doesn't like rain or snow and prefers to stay on the house's main level because "that's where the refrigerator is," says Kerrie. While the Kuczinskis are thrilled with their porcine pal, Kerrie wouldn't recommend a pig to just anyone. "They're very independent. They can be very stubborn. It's like having a toddler around that never grows up," she says. —AM