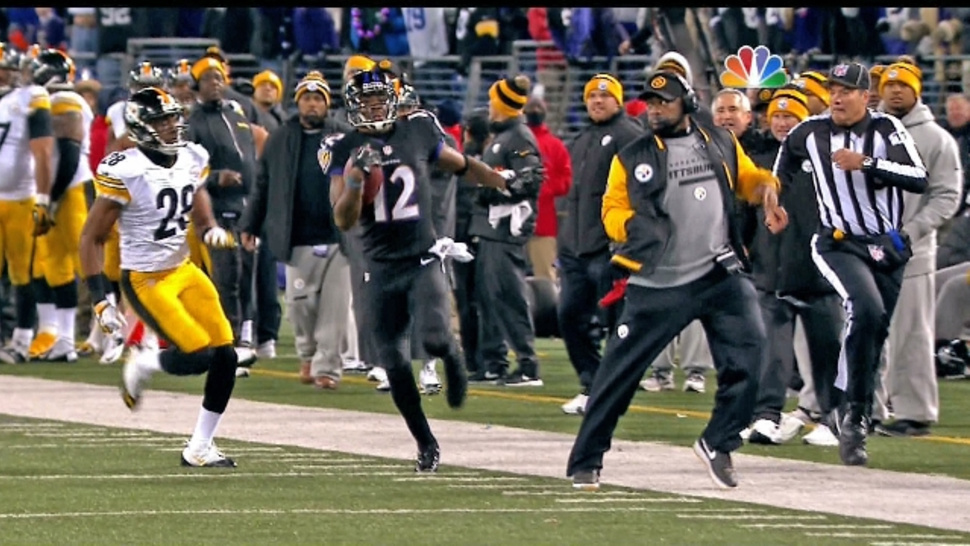 Reddit
The Ravens travel to Pittsburgh this weekend to take on their archrival in a key AFC North game. We don't need any other reasons beyond that to get fired up, but in case anybody wants to talk smack to Pittsburgh fans, and there are a few around, here's 10 more reasons to root against Steelers:
1. Steelers head coach Mike Tomlin tried to trip Jacoby Jones on a kickoff return: This was almost too bizarre to believe watching it live last November, but Steelers head coach Mike Tomlin actually stepped onto the field, trying to trip up Jacoby Jones. At the least very least, Tomlin was trying to force Jones back toward the middle of the field where another Steeler besides the head coach could make a tackle. The Steelers, of course, were losing at the time and you likely won't see a shadier move by an NFL head coach on the sideline for the rest of your life. 
2. Steelers fans have the ugliest accents in the country, which is saying something if you've ever been to New Jersey: Don't take our word for it, Pittsburgh actually won an "ugliest accent" tournament this month, knocking off Scranton, another Pennsylvania town, by the way, in the finals. This is why we can't listen to the NFL Today—Pittsburgh-native, talking-head yinzers Dan Marino and Bill Cowher.
3. Bumblebee uniforms: It's hard to put into words exactly how out of place the Steelers's throwback, striped black-and-yellow uniforms look on a football field. Some have described Ben Roethlisberger as the world's biggest bumblebee. Others compare them to old striped prison outfits. All we know is, we've seen enough of Roethlisberger and his buddies in those flesh colored pants.
4. Head ref admitted he handed the 2006 Super Bowl to the Steelers: Why this wasn't reported more at the time, we don't know. But in 2010, Super Bowl XL head official Bill Leavy admitted to blowing two key fourth quarter calls (not to mention a few others earlier in the game, like Roethlisberger's TD sneak), saying he'll go to his "grave wishing he'd done better."
5. Steely McBeam: As one blogger put it, the mascot looks like the deranged offspring of Bill Cowher and Marge Simpson. A few years ago, one of the men who hired to play the mascot was arrestedon charges of D.U.I. He had a blood alcohol level of .166 after running a red light. Then McBeam, according to a report in the Pittsburgh Tribune-Review, complained the ground wasn't level after failing the walk-and-turn test three times. Just like a Steeler to make excuses.
Oh, and McBeam was apparently unable to verify his correct address. Heinz Field, right McBeam?
6. Steroids:All those Super Bowl rings in the 1970s? Remember those Steeler linemen with the tight, short sleeves and huge guns. Hmmm. Among others, Steeler center Mike Webster, tackle Steve Furness, and guard Steve Courson admitted using steroids.
Jim Haslett, currently the defensive coordinator of the pro football team in Washington, admitted to experimenting with steroids as a Buffalo linebacker, and has said the use of those drugs among NFL players started with the Steelers.
7. Dirty players: Former Steelers's wide receiver Hines Ward was voted the dirtiest player in the NFL in a 2009 poll of 296 players, receiving nearly double the vote of his closest peers, including former Steeler Joey Porter, who tied for second. Current Steeler Troy Polamalu (Reason No. 8 to hate the Pittsburgh Steelers) came in at No. 9. Several years ago, the NFL even adopted the "Hines Ward" rule, which made blindside blows to the head illegal after Ward broke the jaw of a Bengals linebacker with just such a tactic.
8. Troy Polamalu: Insures his hair with Lloyd's of London.
9. Terry Bradshaw: Career passer rating: 70.9. Career completion percentage: 51.9 percent. Threw two more career touchdown passes than interceptions. Embarrassing singing and acting career, not to mention broadcast work, overshadow anything accomplished on the gridiron. Turnover-prone quarterback lucky enough to play on great defensive teams and buoyed by a strong running game.
10. Immaculate Reception: The whole of Steeler lore dates back to a single botched call in the 1972 AFC playoffs. The play is an infamous Bradshaw pass intended for Frenchy Fuqua—that deflected backwards as Fuqua was hit— and was scooped up by Franco Harris, who ran it in for a game-winning TD. Whether Franco actually scooped up the ball before it hit the ground remains unclear to this day. What isn't in doubt, is that Fuqua admitted afterward in the locker room that the ball had hit him in the chest—which should've made Franco's catch illegal—a violation of the former "double-touch" rule (two offensive teammates can't touch a pass in succession) in place at the time.
So, basically, all the Steelers's success and the Steeler Nation stuff is founded on a lie. And then performance-enhancing drugs, more gifts from the refs, dirty players, and a cheating head coach.
Go Ravens.