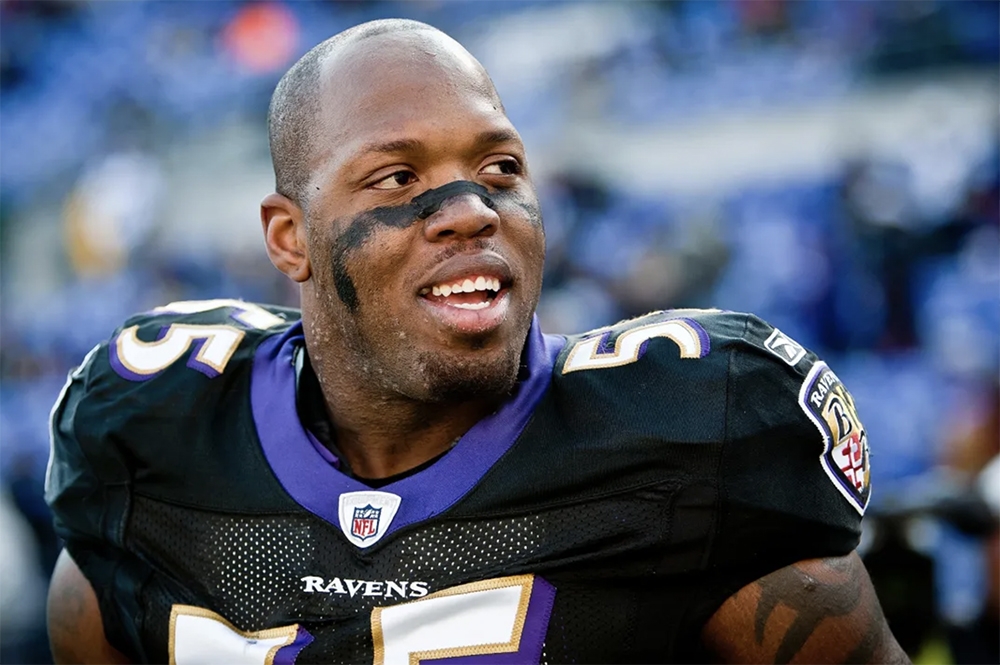 Shawn Hubbard / Baltimore Ravens
Excuse us for feeling like the Ravens and Orioles are colluding on some master plan to make us learn as many new names and storylines as possible before they begin their 2019 seasons. It's hard to keep up with all the changes.
This week alone: Terrell Suggs gone, to Arizona (here he is in Cardinal red—weird); Eric Weddle signed with a team in Los Angeles; C.J. Mosley, he of the cathartic playoff-berth sealing interception and a four-time Pro Bowler, is now the richest inside linebacker in the NFL, with the New York Jets; Joe Flacco was officially traded to Denver; and outside linebacker Za'Darius Smith said he's headed to Green Bay. There's no telling how many hours the Ravens' social media staff spent posting nostalgic thank you tributes to the departed.
Meanwhile, former Orioles captain Adam Jones signed with the Arizona Diamondbacks (are there good crabs in the southwest or something?)—he got a video tribute, too—and first-year O's manager Brandon Hyde named Alex Cobb the team's Opening Day starter.
And we haven't even talked about the big additions to town: safety Earl Thomas and running back Mark Ingram, whom the Ravens signed at the start of the NFL's free agency period and whom the team will introduce at a press conference in Owings Mills on Friday morning.
It's always difficult to say goodbye to familiar and respected sports heroes—which we've done a lot of the last few months (see Buck Showalter, Flacco, and Jones). But change also creates opportunities, and fresh starts. Two-plus months into this year, that's the story of Baltimore's biggest teams. The question now is what comes of the all the new?
Well, for starters, the Ravens' addition of Thomas, who has been widely regarded as one of the league's best safeties but missed most of last season with a broken leg, seems fitting for a franchise that will see Ed Reed inducted to the Hall of Fame this August at that position. Thomas was the leader of the Seattle Seahawks' legendary "Legion of Boom" a few years ago.
A pairing with fellow safety Tony Jefferson has already led a few observers to create equal parts patriotic and funny "Thomas Jefferson" references to the twosome.
The continued changing-of-the-quarterback guard will get the most attention, though. The Ravens thanked Flacco for the memories after the trade was made official, and he in turn thanked them.
To the Ravens, the fans, and the city of Baltimore: Thank you for an incredible 11 years. I'll always be proud and grateful for my time spent as your quarterback. Though it's time to move on, this team will always mean so much to me. #ravensflock pic.twitter.com/Ln6EgWepdU

— Joe Flacco (@JoeFlacco) March 13, 2019
At around the same time, second-year quarterback Lamar Jackson, who has been handed the keys to the offense, posted to his Instagram account a self-recorded video of him driving 105 miles per hour on a highway, apparently without wearing a seatbelt.
The video ended up on TMZ, and Jackson apologized for the "bad decision," and said he "will set a better example going forward." Jackson is 22 years old, and we've praised him before for his authenticity, but clearly has some growing up to do.
He deleted the troublesome video from his account, but left public his thoughts on all the free agency moves, which also don't seem to sit right.
The only thing that would have made this week more interesting is if former Steelers running back Le'Veon Bell chose to sign with the Ravens instead of the Jets, which he was reportedly close to doing.
We're also close to the O's first game of the year, now less than two weeks away against the Yankees in New York. Cobb, who was 5-15 with a 4.90 earned run average in 28 starts for the Orioles last season, is now apparently the O's best pitcher.
That might not sound promising, but we'll take our chances with something new.