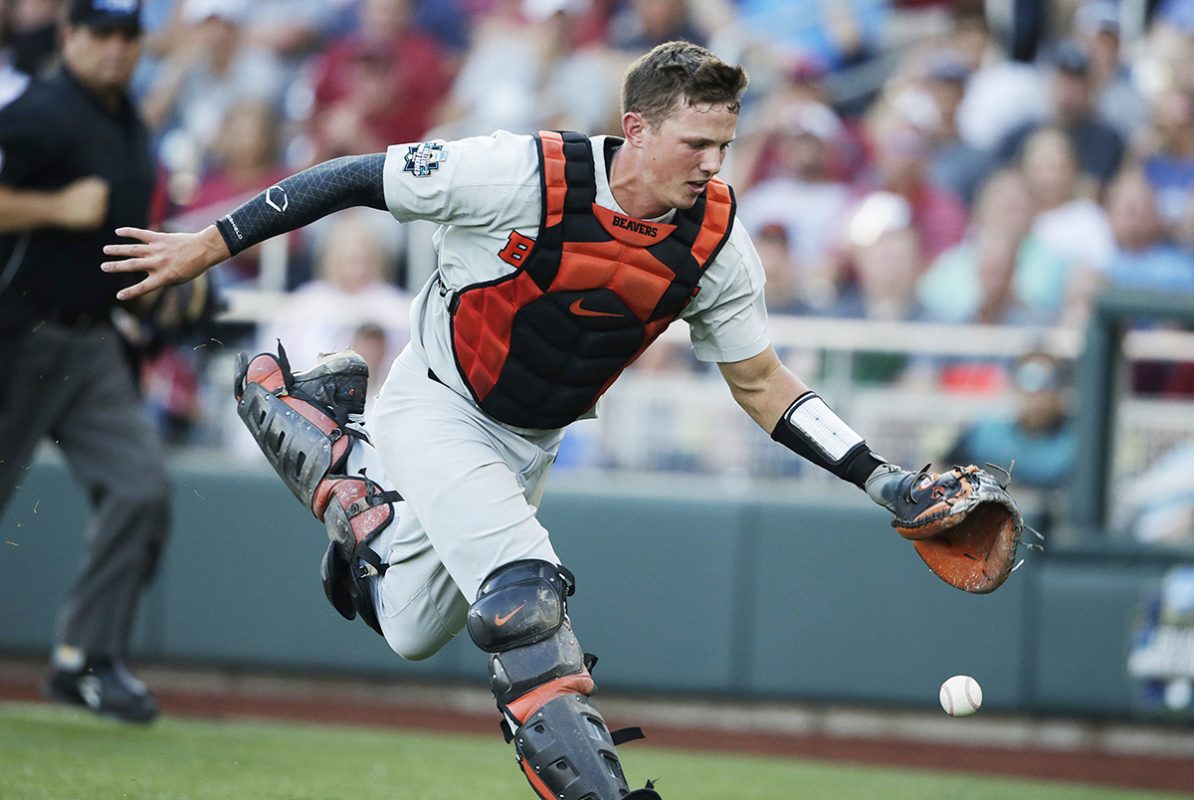 AP Photo/Nati Harnik
If Adley Rutschman is as wise and humble as his grandfather ("When are we going crabbing?" the old man asked his 21-year-old grandson after the Orioles drafted him with the coveted No. 1 overall draft pick on Monday night), we're in for some good times for the next decade or so. If all goes according to plan.
On first impression, speaking as the main attraction at a press conference in a land far, far away in Corvallis, Oregon, where Rutschman made a name for himself playing at Oregon State University, the kid sure sounds mature beyond his time spent living, and three years attending college.
That's good news when his fresh, rosy-cheeked face is the new image of the Orioles rebuild.
"I always pride myself on how I carry myself every day, the things that I can control," he said. "My grandfather likes to say, 'Control the controllables.'" We've heard a sports psychologist or two say the same exact thing as grandpa, who is Ad Rutschman, 86, a legendary football coach back home in Oregon.
"That's exactly what you need to do as a baseball player," said Rutschman (pronounced Rutch-man). "There's so many things that are out of our control. For me, I play hard every day. I'm going to give my best effort. Maybe I'm not doing it offensively one day, but that doesn't mean I still can't help the team win defensively. That's how I view it."
Get to know the name, and the person, O's fans. Yes, help is on the way. "It's a true honor to be selected No. 1 overall," he said. "It's one of those things you dream about."
Even with skipping his senior year of college (he's been drafted as a junior), Rutschman might not take the field at Camden Yards for a couple years. That's the expectation even for a guy who has a ton of baseball potential, a 6-foot-2, 215-pound switch-hitting catcher who is a front-runner to be named college baseball's top player after hitting .411 this season. He'll start somewhere in the Orioles minor league system.
But, who knows? With how practically everyone is talking about him, he might arrive at the major leagues sooner. In addition to the seemingly uncanny composure, he sure has the skills and the pedigree. His father, Randy, was a college catcher and is now is considered one of the foremost youth teachers of the position in the Pacific Northwest. Rutschman feels like a baseball purebred.
"The perfect prospect," former MLB general manager Steve Phillips said of him this week, one of the highest compliments of many good things said. Baseball America, the leading scouting publication of the sport, has called him the best prospect since Bryce Harper.
Rutschman is the type—chosen with the 1-1, as baseball insiders like to say, first pick of the first round of a draft in which more than 1,000 other players were selected this week—who could one day be a household name around these parts, much like Manny Machado or Adam Jones. Depending on who you ask, he could develop into a better player than either of them.
He's proven his wares in college and improved over time, helped by a summer stint in the Cape Cod league (Think Freddie Prinze Jr. in Summer Catch) after a freshman year in which he hit .234. The next season, in 2018, Rutschman batted .408 and helped the Beavers to a College World Series title, as the series' most outstanding player with 17 hits. They called him "Clutchman." Then he starred for Team USA last summer, where he hit with a pro-style wood bat, compared to the metal ones they use in college.
To give you an idea of his athleticism, he was even a kicker on the Oregon State football team as a freshman, and set the Oregon state record with a 63-yard field goal in a high school game. Can we schedule a friendly competition with Justin Tucker right now, please? Rutschman may end up playing some first base for the Orioles, too. The only knock on him is his speed.
Just last week, while he played again in the NCAA tournament, the opposing team, leading by three runs, decided to walk him with the bases loaded and allow a score, instead of taking the risk of Rutschman belting a hit or home run and scoring more. That's an absolutely unheard of thing to see your opponent do, an ultimate sign of respect. "It is pretty surreal," he said.
And, aside from his skills on the field, he seems like someone who would be great to take home to mom and dad. His Instagram page appears to show a well-rounded, respectable guy doing regular things, like quoting lines from Chevy Chase's Christmas Vacation. In a nice coincidence, he won't even need to get familiar with new colors, as Oregon State wore orange and black.
"Adley is a future fixture for this organization," new Orioles general manager Mike Elias said. "The amount of work that's goes into what he's done and becoming the number-one pick is not something that's ordinary. I met Adley this winter and was immediately struck by him and impressed by his maturity and leadership. We're very excited about what this is going to do for our future."
Rutschman is the first pick made by Elias, who likely will have another No. 1 overall pick to work with next season, based on the way this year's going. The ability to pick the best prospects from across the baseball landscape is a key part of the Birds' plan, and what made this leadership regime successful in previous stops like Houston, which won a World Series, and St. Louis, which did too. This is the business of winning, after all.
Which brings us back to grandpa, who had a bit of advice for the kid who may sound mature beyond his time, but who still can't hold a stick to 66 more years of experience. "The first thing you do is bury the first million bucks in the backyard," was the message for when he signs a lucrative contract.
Before all that, though, Rutschman has got finals at Oregon State to finish next week. "I've still got some school to do," he said. "That's going to be rough." Then we'll be happy to give him a warm welcome to Baltimore.