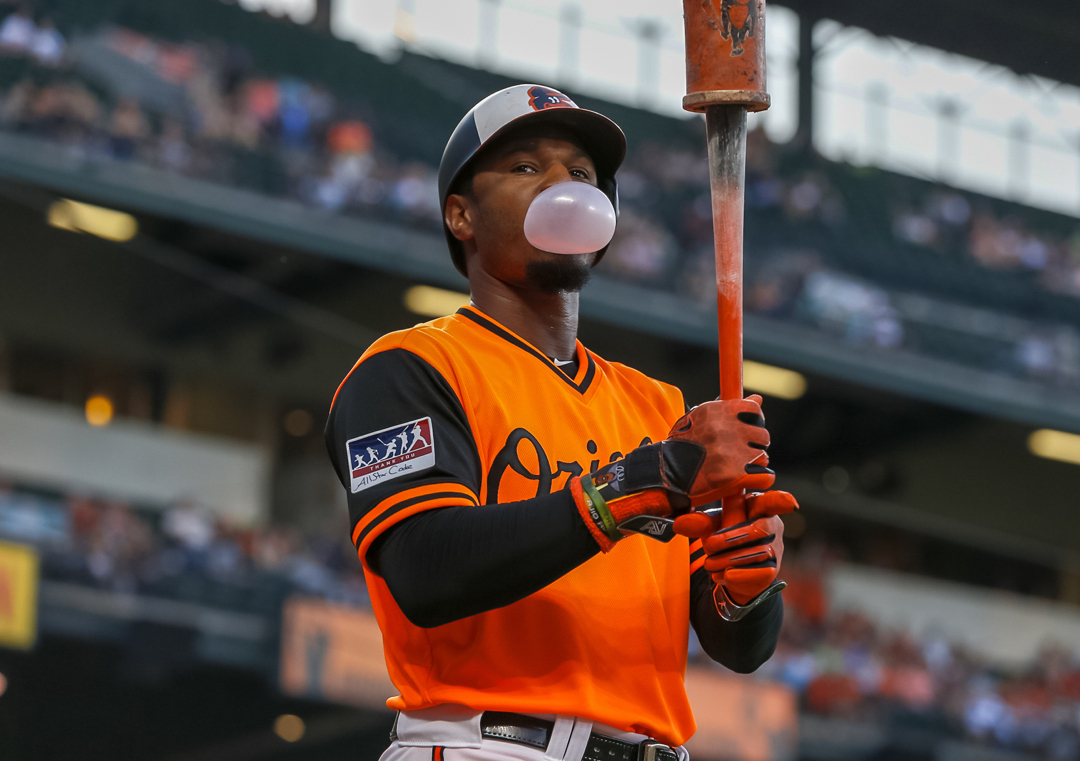 Baltimore Orioles
Adam Jones has been around a while. I can guarantee he doesn't remember, but I talked to him seven years ago, at the start of Buck Showalter's first full season in Baltimore, which coincided with my own arrival here. While reporting on a story for the New York newspaper I used to work for, looking ahead to Showalter's return to his old Yankee Stadium stomping grounds a few days later, I approached Jones at his locker in Camden Yards before a Sunday afternoon game and asked how things we're going so far, with Buck at the helm.
"Heck of a lot better than last year, I can tell you that," he said, earnestly, and without hesitation. The O's were in first place in the division at the time. "Winning is a lot better than losing."
Jones, who arrived in 2008, obviously knows the toils of the pre-Buck years, as much as the spoils of success during the memorable playoff runs in 2012 and 2014. And now, 33 years old and near the end of his 11th season wearing an O's uniform, he's a metaphorical bridge of sorts to the bad times again, finding himself of all people—benched for four recent games, including last night against the A's at home—as the latest piece of evidence of perhaps the most dismal of the franchise's 64 seasons.
The O's have lost more than 100 games—104 to be precise; just three short of the team's infamous low-water mark of 107 defeats in 1988—and they still have 16 games to play the last three weeks of the season.
There's speculation of a possible offseason house-cleaning, meaning goodbye to Buck and general manager Dan Duquette. We already saw the roster imploded—Manny Machado, Zach Britton, Jonathan Schoop, Kevin Gausman, Brad Brach, and Darren O'Day, where art thou?—and sold for prospects. Hope for the future, they say.
But, jeez, the present is hard to digest. If the O's don't have the resources or yearning to keep a player like Manny, what, exactly, is the point of all this? Empty green seats at Camden Yards are the lasting image of the last several months, which hit a bottom on Monday with a little over 9,141 fans announced in attendance.
That came after a weekend series away in Tampa Bay in which Jones, the team's de facto captain, was benched for three games in favor of giving "the younger guys" playing time, after he already acquiesced to management about a month ago and shifted from his traditional centerfield position to the less glamourous right.
The benching led to this tweet . . .
. . . and support from Jones' teammates, like shortstop Tim Beckham, who was quoted this week in the The Sun saying, "As much as he's done for this city, as much as he's done for this organization, he should be in there every day." Jones also happens to lead the team in batting average since August 1.
So, sadly, it appears Jones and the O's could now be headed for a bad breakup once the year is over. He, and Chris Davis, with his own set of circumstances, again wasn't in the lineup last night, displaced by Joey Rickard, who's 27, not exactly young by baseball standards and former top pick D.J. Stewart. Nothing says more about the state of the franchise than this situation.
Here's Jones, the not-too-long-ago centerfielder and pie-throwing centerpiece, whose been a pro's pro for 10-plus years and with the Orioles for at least five, a "10-and-5" status that, under Major League Baseball's negotiated player rights, gave him the ability to veto a trade that would have sent him to Philadelphia in late July.
And did anyone else notice that it was Jones (and a few others) who were put on billboards around town and featured in MASN giveaway posters, and not the lame-duck Machado, clearly the team's best player, before the season started?
Jones is a guy who's appealed for a contract extension for several years, and subtly told the media during FanFest his desire for one again. But he hasn't gotten one.
More recently, he mentioned publicly that if the O's mentioned trading him to a contender for just the rest of this season, he'd be up for it, and would still consider signing back to play in Baltimore, where his wife is from and where he's spent most of his adult life.
Then, of course, Jones nixed the trade to the Phillies, who were in first place in their own division. That decision presumably ruffled a few front office feathers, and certainly got us to where we are today, amid the O's looking to the future at the expense of a fan favorite.
Professional sports is a business, at times more than it should. We know that from the Orioles' enduring TV contract discussion with the Washington Nationals that's set to impact the team's finances, big name players we've seen leave or not sign here, and the hopefully-not-important fact that the team's lease at Camden Yards ends in 2021, and has yet to be extended.
There are so many questions without answers right now, not the least of which is who's really running the team? Brothers John and Louis Angelos seem to be in charge, with their father and owner, Peter, 89, reportedly in declining health.
For now, there are 10 games left at Camden Yards this season, and six straight starting tonight. We already missed a chance to wave an official goodbye to Manny Machado, although the writing was on the wall.
If this is also the end here for Jones, let's hope the team gives anyone who wants to see him one more time the opportunity to say, "We love you, A.J."