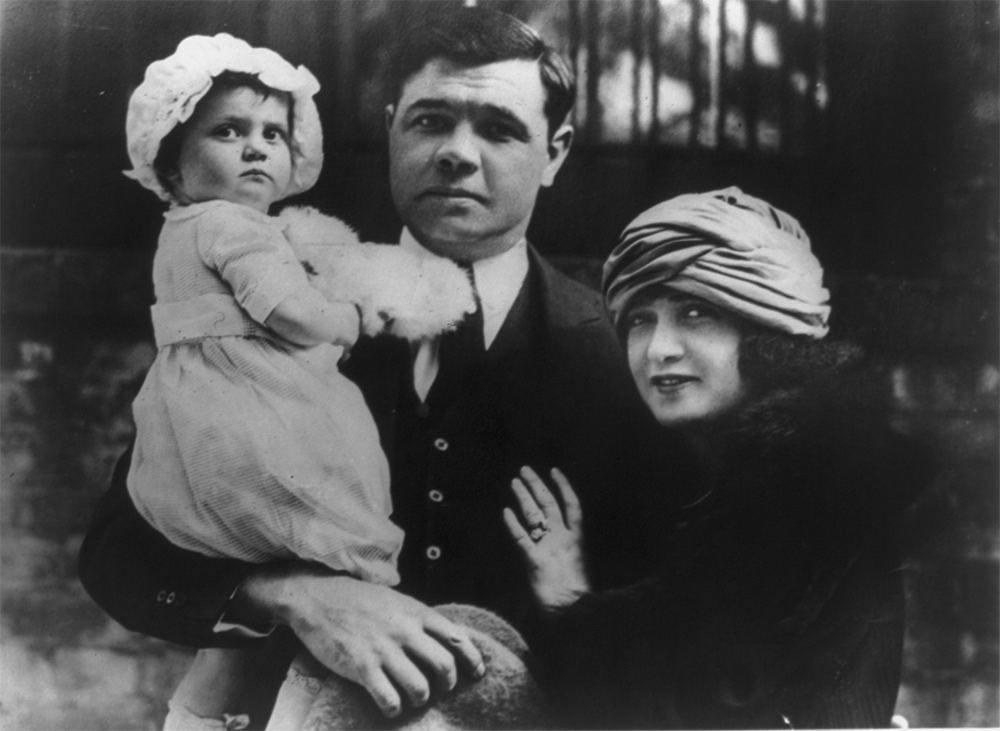 Courtesy of the Library of Congress
Babe Ruth exhibit opens at National Portrait Gallery.
In today's dispensable, Snapcat-able world, it's hard to imagine a public figure maintaining as much fame as Babe Ruth did in the early 20th century. From the start of his professional baseball career in the major leagues (1914) until his death (1948), Ruth was one of the most portrayed, photographed, and documented figures in America. Throughout his 22 seasons in the majors and his 714 home runs, Ruth's stats and image appeared in the papers every week. Needless to say, the National Portrait Gallery has plenty of material to work with, as it opens its newest exhibit today "One Life: Babe Ruth," which runs through May 15, 2017. The exhibit will feature more than 30 objects, including prints and photographs of Ruth, personal memorabilia, and selected artifacts of advertising that he endorsed.
Of course, Ruth was made most famous with his time on the New York Yankees, but he was actually born in Baltimore—you can visit his house, now the Babe Ruth Birthplace and Museum, on Emory Street in Ridgley's Delight. In 1914, his first baseball gig was being signed to minor league team for the Baltimore Orioles. About six months later, the man who would become known as the Sultan of Swat was sold to the Red Sox for a figure rumored to be as low as $8,500. Our local (and newly renovated) Babe Ruth museum has been working with the National Portrait Gallery for over a year now, and donated seven items (including a Quaker Oats ad and a box of Ruth's underwear) to the exhibit.
"They're trying to represent Ruth fully, not just as a baseball player, but as America's first rock star," said Michael Gibbons, executive director of the Babe Ruth Birthplace and Museum. "He was the first athlete to ever endorse a product, the first one to have an agent. So we helped provide them with evidence of the cultural side and family side of him."
Slate writes exposé on Kevin Plank's Port Covington development project.
We have written several stories about Plank Industries' upcoming development project in Port Covington, which will be the new home of the Under Armour campus, as well as resident, restaurant, entertainment, green, and "maker" space. Though the idea of developing 260 acres of mostly empty industrial land (and keeping the athletic company headquarters in Baltimore) seems like a boon for local economy on the surface, this week Slate's Rachel M. Cohen dug in deeper to the deal. Cohen writes that Plank's real estate firm, Sagamore, has asked the city for a whopping $535 million in tax increment financing (TIFs). "Though beloved by titans of commercial real estate," she writes, "TIFs tend to draw scrutiny because they divert so much money away from a city's general fund."
The piece goes on to shed light on how the Port Covington project could affect quality jobs, affordable housing, and public education—arguably the three most important issues to the city of Baltimore. City leaders are currently looking into how they can slow down the deal to ensure that the jobs stay local, the pay is fair, and that housing in Port Convington is reasonably priced. "I think it's being fast-tracked, it's unfair to the taxpayer, and proper due diligence cannot be made so quickly on such a complex piece of legislation," Councilman Carl Stokes told Slate. "It's quite frankly unethical and doesn't allow us to do any independent market analysis. We're not facing a legal deadline, but we're under a lot of pressure from the developer." As Cohen so astutely put it, in Under Armour terms, "#WeWillSee."
Terps go to the NBA.
The 2016 NBA draft was on Thursday and we saw some familiar names get called up. University of Maryland's Diamond Stone, who expected to be picked in the first round, was surprisingly announced as the 40th overall pick by the New Orleans Pelicans, who immediately sent in a trade to the Los Angeles Clippers. Stone told The Sun that the second-round pick actually gives him more motivation. "I probably have the biggest chip of the draft," Stone said. "I'm hungry. Every big [man] picked in front of me, it's just like when I see them, it's going to be war. I've just got to play my hardest every game and show these people why it was a mistake to sleep on me."
Just seven picks later, fellow Terp Jake Layman was informed that the Portland Trail Blazers were trading up with the Orlando Magic to take him. Portalnd sent $1.2 million and a 2019 second round pick to pick the Maryland forward. "I've watched them play a lot," Layman told The Washington Post. "They shoot a lot of threes. Their offense will fit me well. I think it's a great fit. It definitely gives me a lot of confidence. It shows that they really wanted me, to go through that much work to get me. I think it's a great time." Seems like the love is mutual.
Jake Layman, your newest Trail Blazer, is quite photogenic » https://t.co/gXAr6KfXge pic.twitter.com/ZfkqRmkdf1
— Trail Blazers (@trailblazers) June 24, 2016

Ravens (current and former) show off their cute kiddos.
It's off-season for the Ravens (though, believe it or not, training camp is about to start). So instead of game highlights, we'll bring you hard-hitting, super-exclusive cute baby photos. First up is the news that former Raven Torrey Smith—still beloved by Baltimoreans everywhere—and his wife, Chanel, welcomed their second baby boy into the world. Kameron James Smith was born on Friday, June 22, and furthered his parents' mission to produce the most adorable humans alive.
Bros pic.twitter.com/rflPkh0vaN
— Torrey Smith (@TorreySmithWR) June 23, 2016
Not to be outdone by his former teammate, quarterback Joe Flacco posted a rare, personal photo of him and his son, Dan, to celebrate #NationalSelfieDay. Just look at those curls.
Looks like Dan wants in on #NationalSelfieDay! #RavensSelfie @Ravens pic.twitter.com/6uym3aVgeJ
— Joe Flacco (@TeamFlacco) June 21, 2016